If you spend $950 on a phone like the Galaxy Note 8, you're going to want some measure of protection. That means putting your Note 8 in a case.
There are a lot to choose from: Some show off the design of the phone, others keep you from dropping it, and others will help it survive a nasty fall. No matter what kind of case you're looking for, we've got you—and your new phone—covered.
Update 2/1/18: We've added picks for battery cases, as well as the Tudia Tamm, Case-Mate Wallet Folio, Case-Mate Waterfall, and Incipio Carnaby cases.
Best transparent Note 8 cases
To show off your Galaxy Note 8 as Samsung intended, you'll want a clear case—and a polishing cloth. Because the back of the Galaxy Note 8 is made of glass, it picks up fingerprints very easily. You'll need to clean it before you pop it into the case. Polishing the case itself doesn't hurt, either.
Best rugged Note 8 cases
With a glass back and side-hugging display, the Galaxy Note 8 is as fragile as it is expensive. You'll need a tough, rugged case if you want the ultimate protection against drops and spills. While they'll make your Note 8 even bigger and add a considerable bit of bulk and weight, you won't need to baby your phone while using it.
Best Note 8 shell cases
The Galaxy Note 8's glass back and giant screen make it a little cumbersome to hold, so a basic case can make the phone much easier to use by adding a grippy back and textured surface. They make your phone look good, too.
Best Note 8 wallet cases
If you want a case to protect your phone and carry your cash, then a wallet case is for you. Unless, of course, you've gone all-in on Samsung Pay or Android Pay.
Best ultra-thin Note 8 cases
Ultra thin cases don't offer the kind of protection you're going to get from a rugged or even a grippy shell case. But they will keep the back from getting scratched and scuffed, and possibly prevent cracking from a minor fall, without adding too much in the way of extra bulk.
1. Spigen Thin Fit
What is it: A thin, attractive case with shock-resistant cutouts at the corners.
Price: $20
Colors: Black, gray, gold, blue
Wireless charging: Yes
Standout feature: While most minimal cases have a simple one-color design, Spigen's Thin Fit case has a reflective cube pattern.
Why we love it: The Thin Fit case is as thin as other cases we've tested, but its deep cutouts and unique corner design truly keep the integrity of the Note 8's shape. And the pattern on the back offers a subtle grip and texture that adds an extra degree of holdability that other minimal cases don't have.
The Spigen Thin Fit is our current pick for best ultra-thin Note 8 case.
2. MNML Case
What is it: An extremely thin and extremely minimal case that mainly offers scratch protection.
Price: $25
Colors: Black, white, blue, red
Wireless charging: Yes
Standout feature: It's the thinnest case we've tested.
Why we love it: We're big fans of the Note 8 design and don't want to hide it in any way. The MNML case's slightly translucent body mixes nicely with the back of the Note, and the small strip of silicon between the camera and the fingerprint reader helps your finger find the sensor easier.
Best-looking Note 8 cases
Ultimately, you just want your Note 8 to look good, no matter what case you decide to put on it. Mind you, these are all subjective—you might think the OtterBox Defender is the most beautiful thing you've ever seen—but some case just stand out for their looks above all else.
1. Samsung Alcantara
What is it: An official Samsung case made of synthetic Alcantara suede like the Surface Pro keyboard.
Price: $50
Colors: Black, green, pink, gray
Wireless charging: Yes
Standout feature: It feels more luxurious than any other case we tried, and it looks fantastic.
Why we love it: Samsung's Alcantra case probably won't protect your Note 8 from a major fall (the bottom edge is completely exposed), but it will defend against light drops and scratches. But it's the way it feels in your hand that puts it above other cases we tried.
The Samsung Alcantara is our current pick for best-looking Note 8 case.
2. Caseology Legion
What is it: A stylish case with a metallic backing that and reinforced rubber corners.
Price: $30
Colors: Black, rose gold, aqua, gray
Wireless charging: Yes
Standout feature: The metallic back wraps around the sides giving the phone extra protection and classy looks.
Why we love it: The two-tone metallic back changes the look of the Note 8, and the tiny numbers in the corners let it rest on a table without scratching the surface. The rear covering looks smooth but isn't slippery, and the beveled edges let it rest nicely in your hand. And the generous S Pen hole makes it easy to remove the stylus.
3. Tech21 Evo Check
What is it: A rubberized silicon case with a hard ring around the edges.
Price: $45
Colors: Clear, blue, smoke
Wireless charging: Yes
Standout feature: While technically clear, there is a checkered pattern on the back that adds a nice bit of flair to this otherwise plain case.
Why we love it: Simple and understated, the Evo Check is at first glance a functional case for the Note 8. But there are subtle design cues we like. The white ring pops next to the all-black front, and the small sections of translucent plastic by the ports and buttons give it a degree of character.
4. Case-Mate Waterfall Case
What is it: A two-piece case with strong shock protection and cascading glitter.
Price: $40
Colors: Rose gold, silver
Wireless charging: Yes
Standout feature: It's gotta be the sparkle. No other cases we've used are quite as ostentatious as the Waterfall… but in the best way possible.
Why we love it: Case-Mate's Waterfall case turns your Galaxy Note 8 into a glittery, shimmery snow globe that's as fun to play with as it is to look at. The silicon bumper inside the case offers added shock protection and the hard shell will keep cracks at bay, but even without all that, we'd still love the Waterfall case.
5. Incipio Carnaby Case
What is it: A classy, fabric-wrapped case that makes your Note 8 looks like it's dressed to the nines.
Price: $35
Colors: Blue, dark gray, light gray
Wireless charging: Yes
Standout feature: Like Samsung's Alcantara case, Incipio's Carnaby case has fashionable good looks and a luxurious feel that you won't find on many other cases.
Why we love it: In a word, looks. Incipio has created a case that's elegant and chic, while still protecting your phone from bumps and bruises. And its denim-like texture feels great.
Best Note 8 battery cases
The Note 8 has a big battery that will get most people through a full day of use, but if you're looking for more, you can try out one of Mophie's Note 8 battery cases. Be aware that with each of the cases we tried, we had sporadic issues with NFC and the S-Pen. Users who value those features may want to buy one of the other cases in this round-up and carry around a battery pack instead.
1. Mophie Juice Pack Case
What is it: A 2,950mAh battery that doubles as a Note 8 case.
Price: $100
Colors: Black
Wireless charging: Yes (for the battery inside the case, not the one in the phone)
Standout feature: Duh, the battery. Plus its novel snap-on design makes it easy to connect.
Why we love it: The mophie Juice Pack isn't a looker and will add a considerable bit of weight to your Note 8, but it's a great way to ensure your phone will last through a full weekend of use. Snap it on and it will begin charging your Note 8, stopping when it reaches capacity. Then when your Note 8 gets low you'll only need to press the button on the back to give it a refill. And when it gets low, you can place it on a wireless charger to fill it back up.
2. Mophie Charge Force Case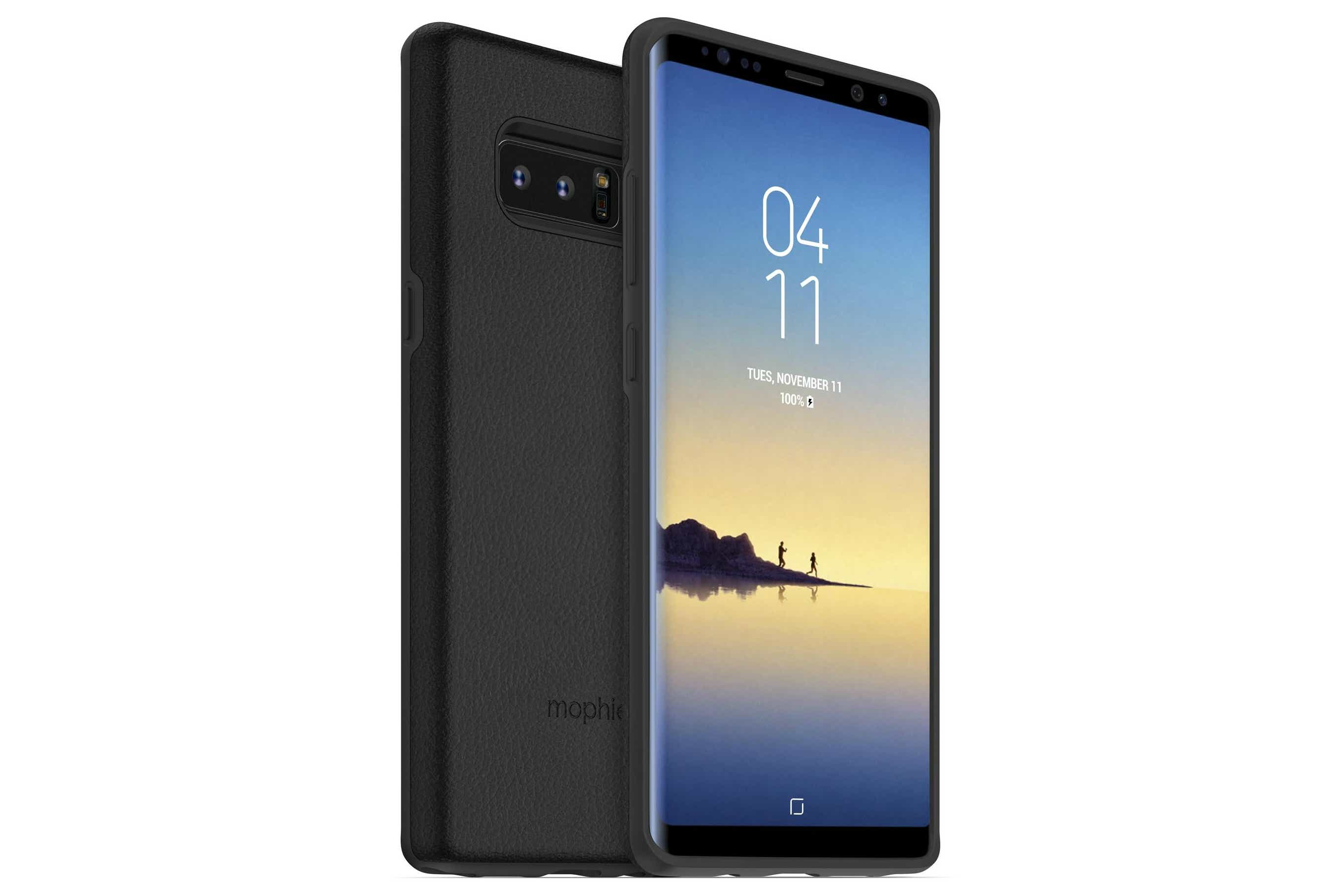 What is it: A faux leather black case with an internal magnetic for attaching a battery
Price: $50
Colors: Black
Wireless charging: Yes
Standout feature: The case feels great and is nice and thin while still offering the benefits of a full-fledged battery case.
Why we love it: The Mophie Charge Force is basically a battery case without the battery. But when you attach the small 3,000mAh battery to it (sold separately for $45), you can add another day or so of use. Like the Juice Pack, it has a set of lights to indicate how much power is left, and it's small and light enough to keep in a pocket all day. And when you're not using it with a battery, the case offers good protection in a clean, classy package.