You need this Star Wars gift guide. There's no way any human could navigate the millions of Star Wars-themed items available, thanks to Disney's merchandising-industrial complex. But you want this Star Wars gift guide, too, if you are (or you're shopping for) a Star Wars fan who's also a tech geek.
"Tech geek" describes 100 percent of the staff at PCWorld, and as for Star Wars…well, I saw Episode IV more than 24 times in the first year (yes, I lost count), Episode V 14 times in the first year, and Episode VI 8 times (blame the Ewoks). Just call me OG Star Wars. Meanwhile, my esteemed colleague Gordon Mah Ung has three replica lightsabers, including one he gave to his wife for their first wedding anniversary. Awwww!
We actually used all the gifts we included. We'll tell you what we liked and didn't like about them so you can make an informed choice. We'll update this guide from time to time when we come upon something else worth mentioning.
1. Star Wars Special Edition Titan Xp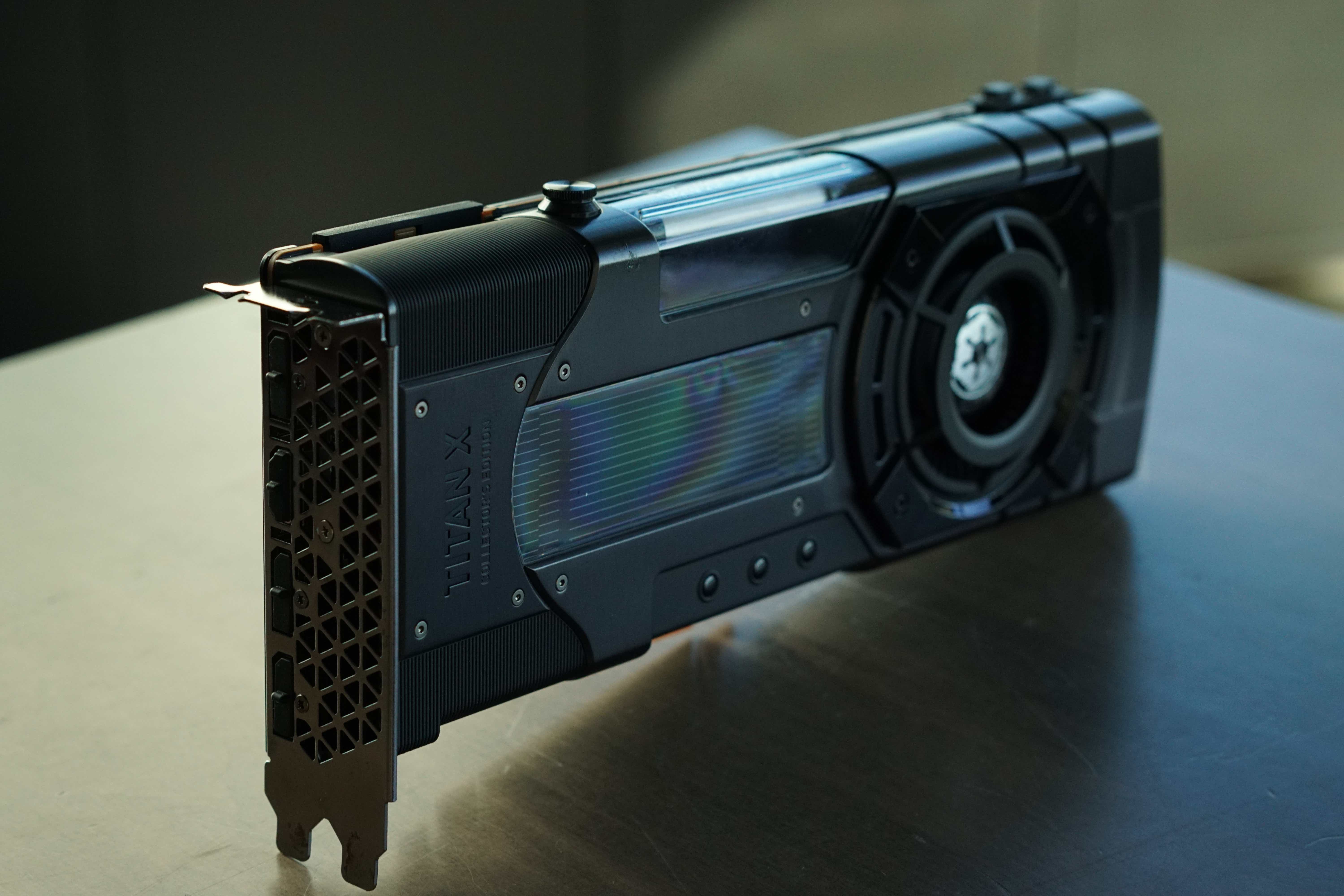 Price When Reviewed:
$1138
We all know the Empire abolished slavery on Tatooine, sent the organized crime Hutts underground, and cracked down on spice running. So if you want to celebrate all the good the Empire has done for the Galaxy, do it with a limited edition Nvidia Titan Xp.
Sure, friends may say a GeForce GTX 1080 Ti is a fast card, but that's because they haven't witnessed the power of this fully unlocked and operational Pascal graphics chip. And yes, by fully unlocked we mean all 3,840 CUDA cores and 12GB of GDDR5X memory.
Even better, it's almost a deal at $1,138 (gold star if you know how they came up with that price), because the next step up is a $3,000 Titan V. The Star Wars Titan Xp is probably the only GPU out today that might actually increase in value over time (assuming you don't open the box and ruin its collectible value.) —Gordon Mah Ung
2. Star Wars Special Edition Yoga 910 Rebel Alliance
Price When Reviewed:
$1088.00
The Yoga 910 is already a very nice laptop, and Lenovo's Star Wars Special Edition makes it even better. Make your allegiances clear the next time you flash your gear at the cantina in Mos Eisley spaceport. We're assuming you will prefer the Rebel Alliance version, but an Imperial version is also available. —Melissa Riofrio
3. Star Wars: Jedi Challenges
Price When Reviewed:
$199.99
Lenovo's Star Wars: Jedi Challenges is augmented reality done right. It's easy to set up and use, and the games are fun, though limited to the Star Wars movie franchise. Best of all, it's affordable at $200 (beware of higher prices at certain major online retail sites).
The kit includes an authentic-looking Jedi lightsaber, a single tracking beacon that you use to establish your location in a room, and an augmented reality headset that you pair with a long list of compatible smartphones. Because the headset comes with interchangeable microUSB, USB-C, and Lightning connectors, it could theoretically be used with any phone that can download the app. However, some phones may lack the display or processing power needed for the game to work correctly.
The games range from hand-to-hand combat with various characters (using the lightsaber, natch) and skill levels, to a relaxed game of holographic chess (tip: Let the Wookie win). —Melissa Riofrio
4. Star Wars BB-9E App-Enabled Droid with Droid Trainer
Price When Reviewed:
$149.95
BB9E is a new droid debuting in Episode 8: The Last Jedi. As you can tell from the color, it's an evil Imperial droid, and we look forward to seeing it square off against BB8. Sphero's version charges on a round base and includes a second Training Base so you can practice maneuvering this malevolent ball of evil. You can get the BB8 or R2-D2 Sphero droids, too, and have them interact via the same special Star Wars Sphero app. —Melissa Riofrio
5. Star Wars R2-D2 App-Enabled Droid
Price When Reviewed:
$179.99
The R2-D2 Droid delighted us so much, we didn't want to stop playing with it. Sphero finally ventured beyond a simple rolling ball and made a droid replica that looks, moves, and sounds like our favorite spunky, snarky, three-legged robot. Setup is easy: You charge the droid via an included microUSB cable, and download Sphero's special Star Wars app, which works with R2-D2 and his newer counterparts, BB8 and BB9E. You can even have the droids interact with each other through the app. —Melissa Riofrio
6. Star Wars Special Edition Yoga 910 Galactic Empire
With the power of Lenovo's Yoga 910 behind you, there's nothing to stop you from ruling the galaxy. Make your Imperial ambitions clear with the Galactic Empire version of this fine laptop. Or if your allegiances lie elswhere, there is a Rebel Alliance version available as well. —Melissa Riofrio
7. Star Wars Droid Inventor Kit
Price When Reviewed:
$99.95
We haven't seen so many droid options since that Sandcrawler pulled up outside our moisture farm. The kit is pretty much a basic RC vehicle with a clear R2-D2 shell loosely bolted on.
But is it worth spending an entire season's savings? Maybe. While our Star Wars- and tech-savvy 12- and 10-year-olds had no problems building Artoo, they complained about the lack of instructions in the box itself. If you're expecting more of a toy-like experience, think of this kit as more LEGO than Hasbro.
The Droid Inventor Kit's strongest feature is its ability to be repurposed. Once that R2-D2 shell gets boring, it can be easily modified into something else. In that way, the Droid Inventor Kit fulfills its mission, but just know it's not as polished as other droids out there. —Gordon Mah Ung
8. Star Wars Snow Speeder 75144 Building Kit
Price When Reviewed:
$199.99
The LEGO Snowspeeder kit is what you get when you have hours of time to kill—or holiday guests to keep busy. With 1,703 pieces and 461 steps, it's a time investment, though the payoff is a gorgeous replica with moving parts and surprising details.

As with any LEGO kit this big, you have to respect the process. Read the instructions and build in the exact order, or you'll quickly end up in a world of hurt, having to backtrack to figure out which piece you forgot to attach. (Highly organized groups could build in parallel stages, but prepare for arguments.) The bright-orange spudger that comes with each kit will be your lifesaver. —Melissa Riofrio
9. Star Wars R2-D2 USB 3.0 Charging Hub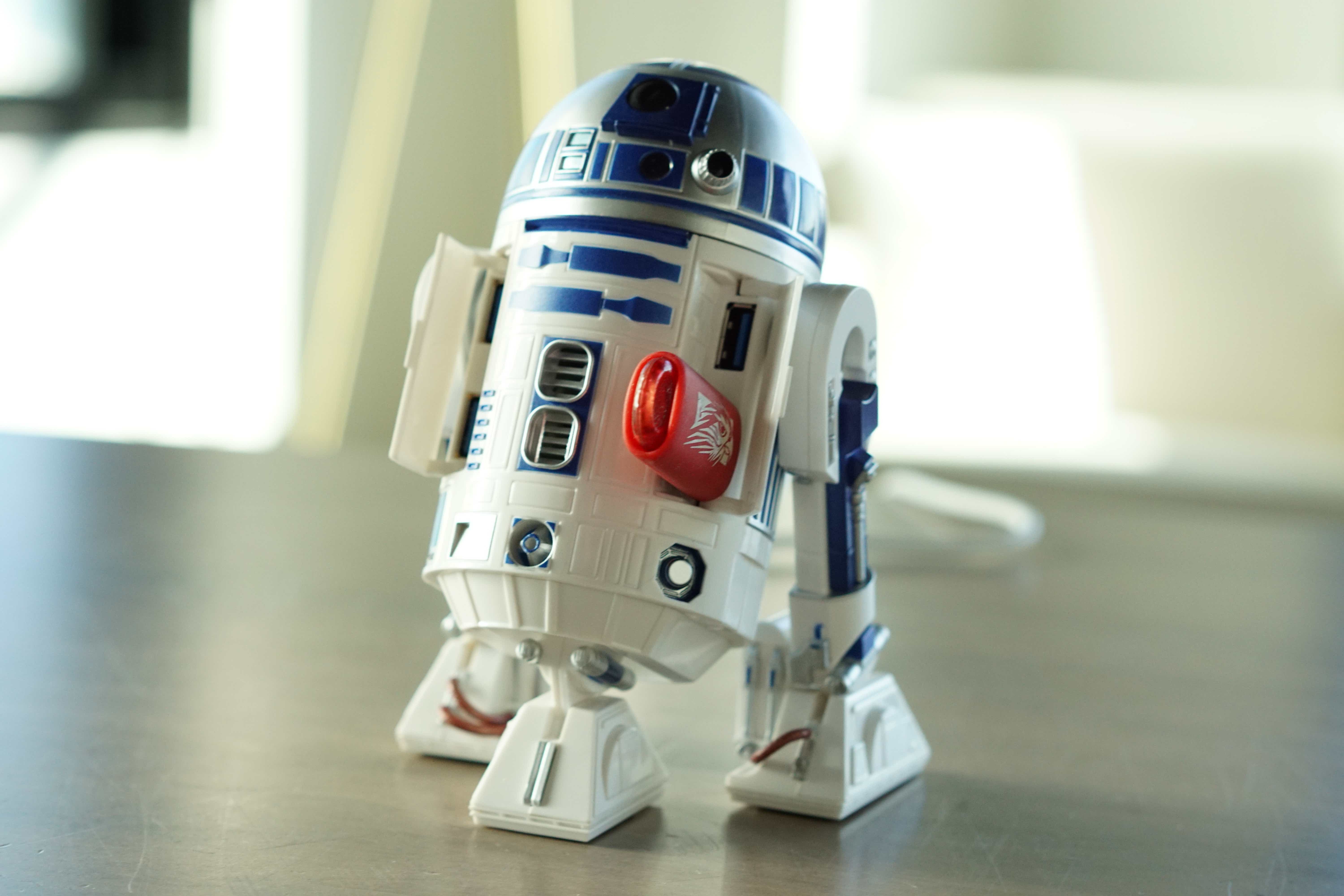 Price When Reviewed:
$59.99
This Astromech droid features four USB 3.0 data ports and interfaces with most binary load lifters, as well as any PC, at up to 5Gbps. R2-D2 happily chirps and spins his head when you insert a USB device, which leads to the one problem: While even hardcore Star Wars fans will rejoice at having Artoo around, its input on whether it's wise to go to the Dagobah system and constant pleas to pilot your T-65 will try your nerves. You can switch off the sound, but the head will still spin every few minutes. Once the novelty of that wears off, you'll be reaching for your restraining bolt activator.
If you're looking for high-power phone charging, we measured the output at about 8 watts, which is about as exciting as the prospect of staying on for another season of moisture farming on Tatooine. But hey, it's an astromech droid, not a power converter from Toshe station. —Gordon Mah Ung
10. Star Wars Millennium Falcon Multi-Tool Kit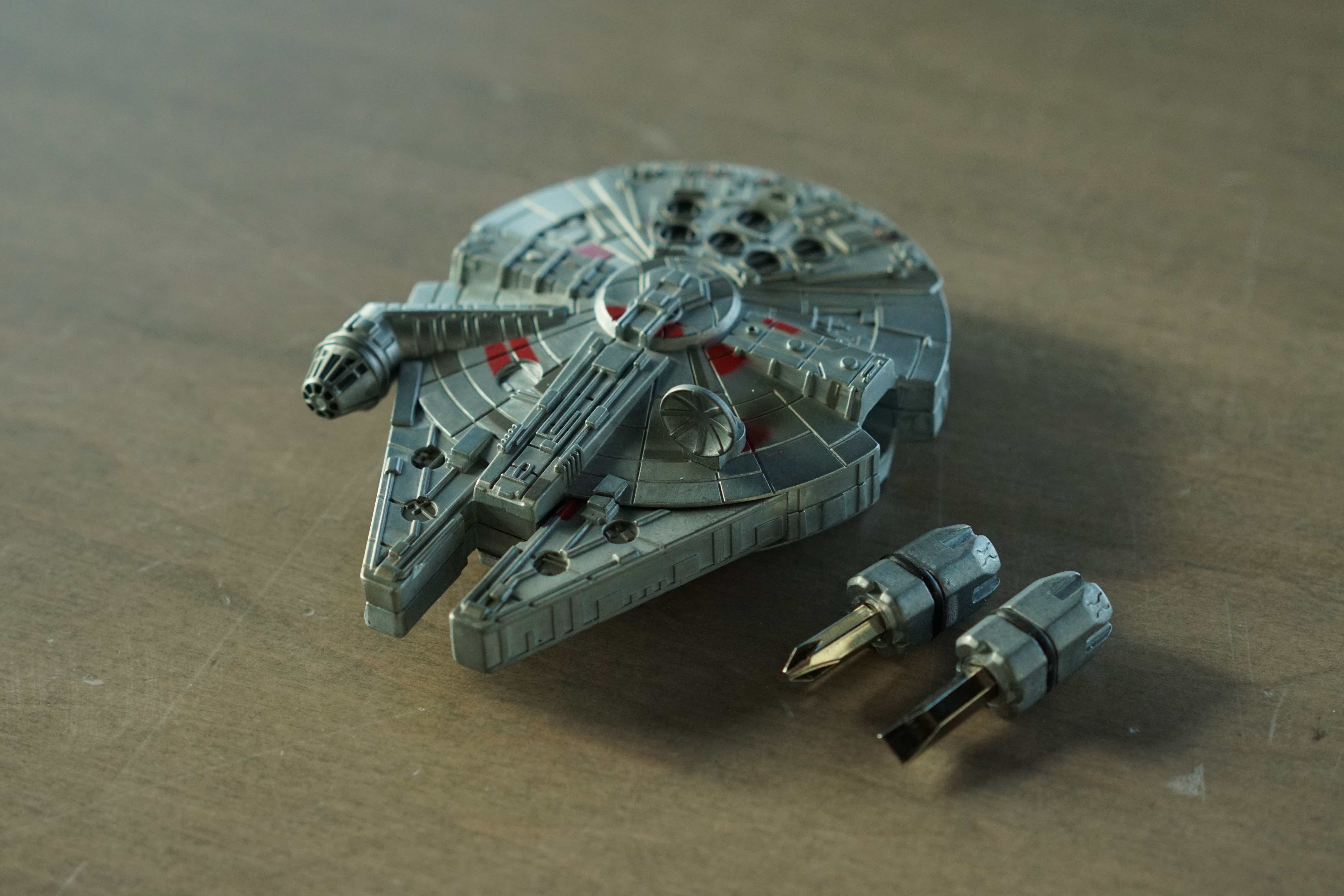 Price When Reviewed:
$29.99
Who knew the fastest hunk of junk in the galaxy could double as a multi-cool kit? (Yes with a "c"). That's what you get with Thinkgeek's Millenium Falcon Multi-Tool Kit. The kit includes an adjustable wrench as well as four hex-wrench tools, plus a slotted and Philips driver. The body is constructed of metal that has good heft but you can still sense its limitations. Let's say we wouldn't want to try to remove large bolt with it. And yeah, that pirate DirectTV dish Han installed is probably going to snap off.
Frankly, the Millennium Falcon Multi-Tool Kit is best as a conversational piece on your desk rather than a replacement for a Leatherman. But at least your co-workers can yell at you: "Chewie, bring me the hydrospanner!" when they need a small job done. —Gordon Mah Ung
Star Wars holiday gifts
The market for snow globes and ugly holiday sweaters tends to go down after December, but we're keeping these holiday favorites around. Who knows, you might find them on sale now…and it's never too early to shop for next year.
1. LEGO Star Wars Advent Calendar 75184 Building Kit
Price When Reviewed:
$39.99
The LEGO Star Wars Advent Calendar checks off three important boxes for me. LEGO, check. Star Wars, check. Advent Calendar, a holiday addiction for me: check. It's a lot of holiday fun in an affordable and low-effort format.
You get 24 toys to put together, none of them requiring more than a few minutes' work (unlike the major commitment of a big LEGO kit). The calendar box includes a foldout tableau portraying the desert planet of Tatooine and the ice planet of Hoth, so you can play games as you build figures. It's great holiday bang for buck. —Melissa Riofrio
2. Star Wars Darth Vader Lack of Cheer Holiday Sweater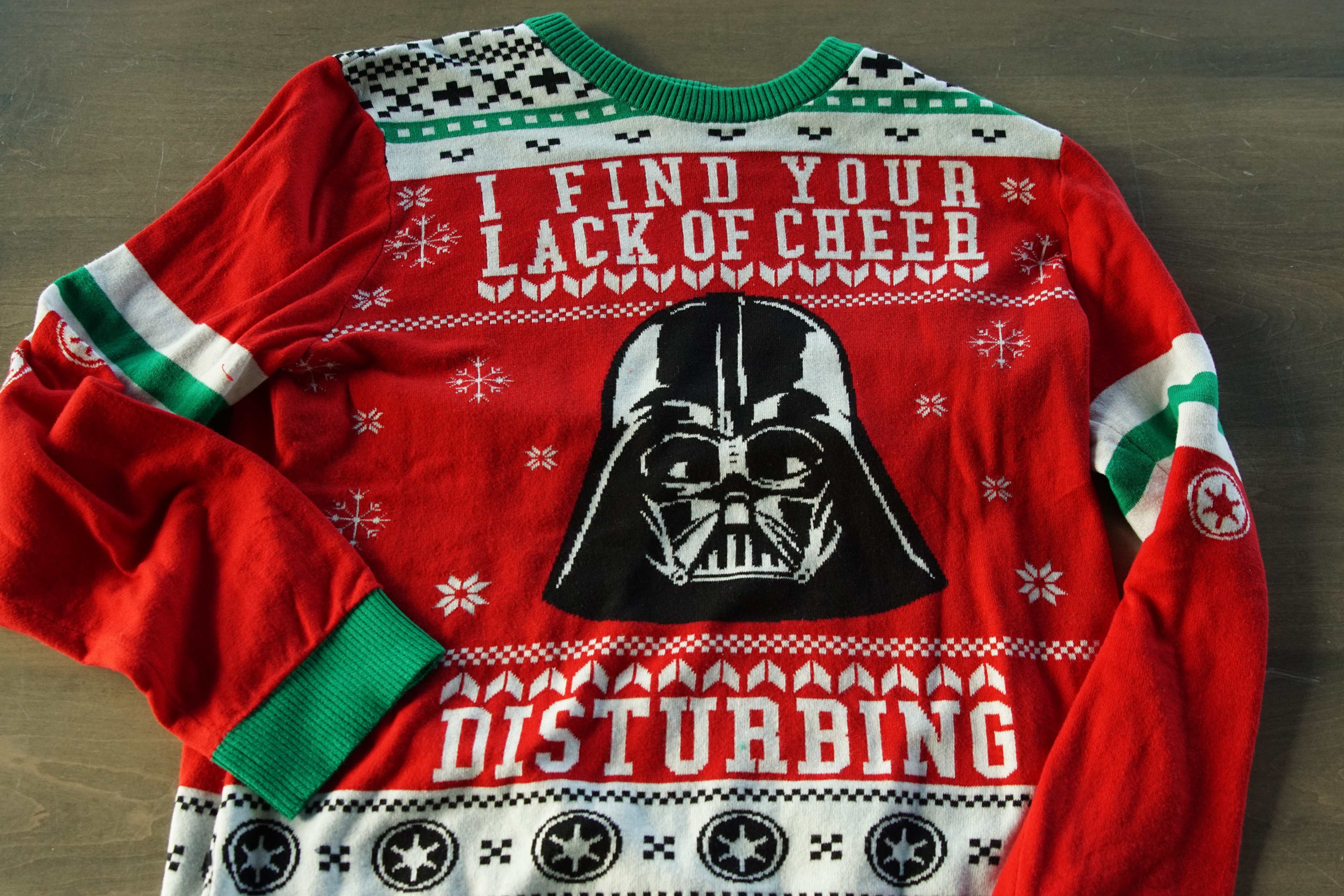 Price When Reviewed:
$49.99
It's pure Alliance propaganda that Sith lords traipsed about only in fearsome black. In fact, during the holiday season, the Sith were often seen merrily celebrating the gift giving spirit with such "ugly" sweaters as this one. While it might sound like a threat, Lord Vader was in fact urging all loyal Imperial citizens to be cheerful—or else. —Gordon Mah Ung
3. Star Wars Exogorth Space Slug Snow Globe
Price When Reviewed:
$37.27
Full disclosure: We didn't try this gift, but if the Wampa Cave Snow Globe sells out, this looks like a great alternative. The Exogorth Space Slug Snow Globe shoots this old, staid gift category out of its deep hole in a desolate moon faster than you can say, "Chewie, get us outta here!" —Melissa Riofrio
4. Star Wars Wampa Cave Snow Globe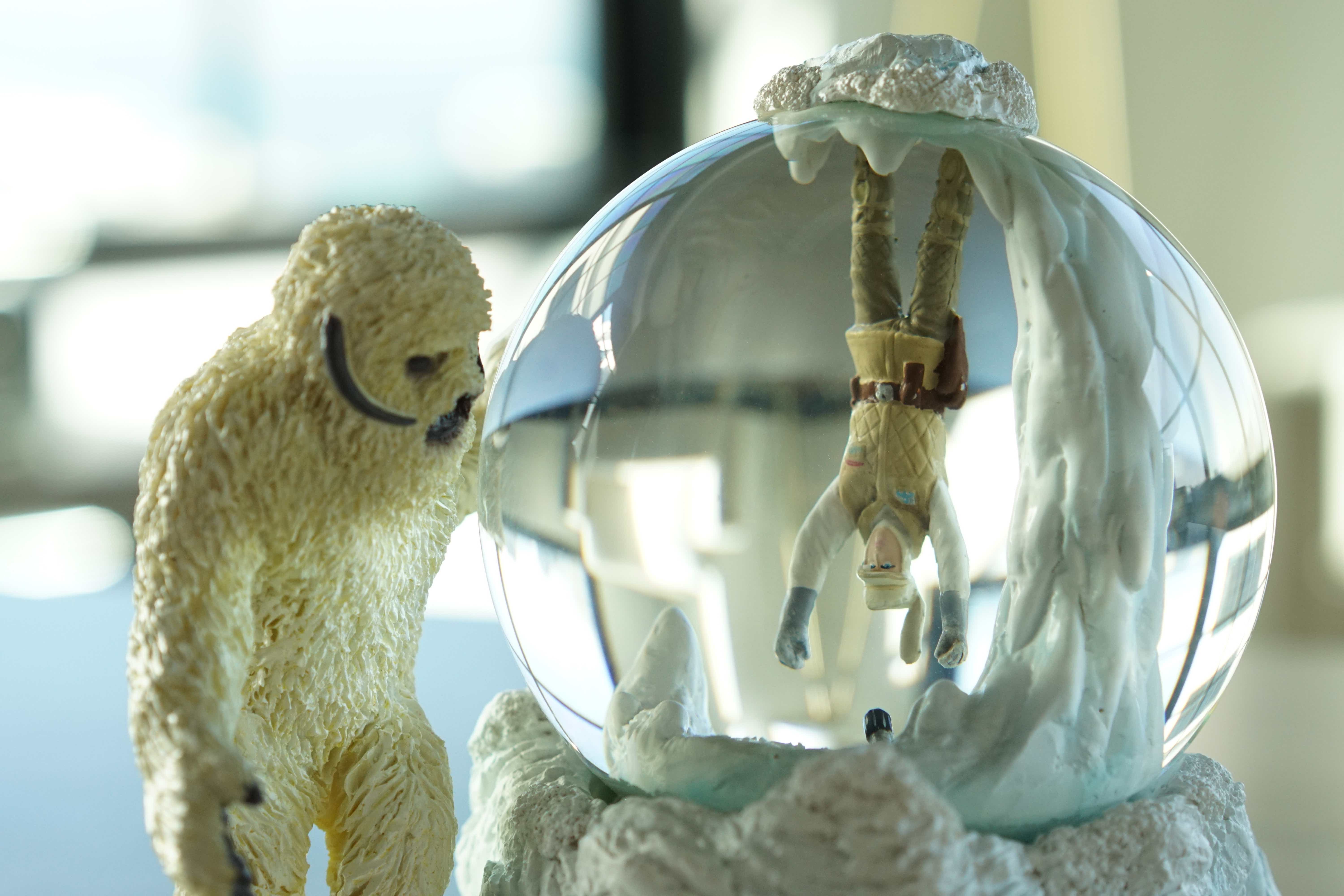 Price When Reviewed:
$39.99
The Star Wars Wampa Cave Snow Globe turns the whole snow globe racket on its head—literally, with Luke hanging upside-down from the ceiling of the snow cave as the ravenous Wampa draws near. Shake the globe, and the gentle shower of snowflakes brings one of the most exciting sequences from the original series back to life.
Give this to the collector who has a few too many snow globes with banal sleigh-ride, Santa, or other overused holiday tropes. They need to mix things up. —Melissa Riofrio
Editor's note: At presstime, the Wampa Cave Snow Globe was sold out (ack!), so we provided an alternative…