At a Glance
Expert's Rating
Pros
The most effective GPU cooler we've tested
Very quiet fans
Overclocked and built to overclock more
GPU support bracket included
Cons
Gargantuan size
Some coil whine
Performs like GTX 1080, priced like GTX 1080 Ti
Our Verdict
The Sapphire Nitro+ Radeon RX 64 Limited Edition eliminates Vega's heat and noise issues with the most impressive cooling we've seen.
Four long months after AMD's flawed Radeon Vega graphics cards launched, custom versions are finally starting to trickle out—and the wait was worth it. The monstrous, yet luxurious Sapphire Nitro+ Radeon RX 64 Limited Edition relies on brute force to squash the most troubling problems that plague reference Vega cards. This beast sports the most wildly effective cooler to ever cross our test bench, and it manages to toss in a factory overclock while providing impressive tools for enthusiasts to push performance even further.
Curing Vega 64's terrible heat and noise requires tradeoffs, though. Keeping the Sapphire Nitro+ Radeon RX 64 Limited Edition cool and quiet requires an awful lot of metal—and an awful lot of power. Then there's the cost: At $659, this card is priced closer to a GeForce GTX 1080 Ti than Vega's traditional rival, the GTX 1080. Is it worth the premium?
Let's dig in.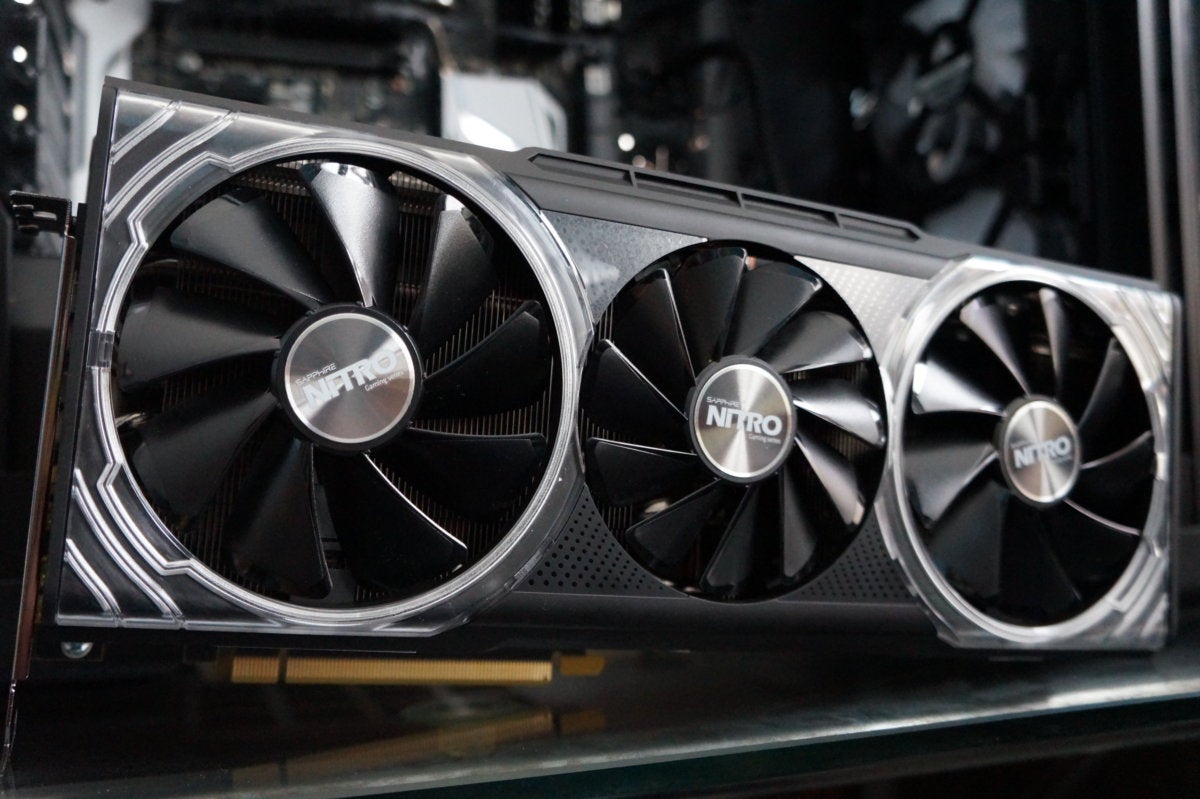 Sapphire Nitro+ Radeon RX 64 Limited Edition specs and features
Like most custom graphics cards, the Sapphire Nitro+ Radeon RX 64 Limited Edition puts its own unique spin on things, but shares many of the same tech specs as the reference GPU. Here's a look at the core Radeon Vega tech specs before we examine Sapphire's own tweaks.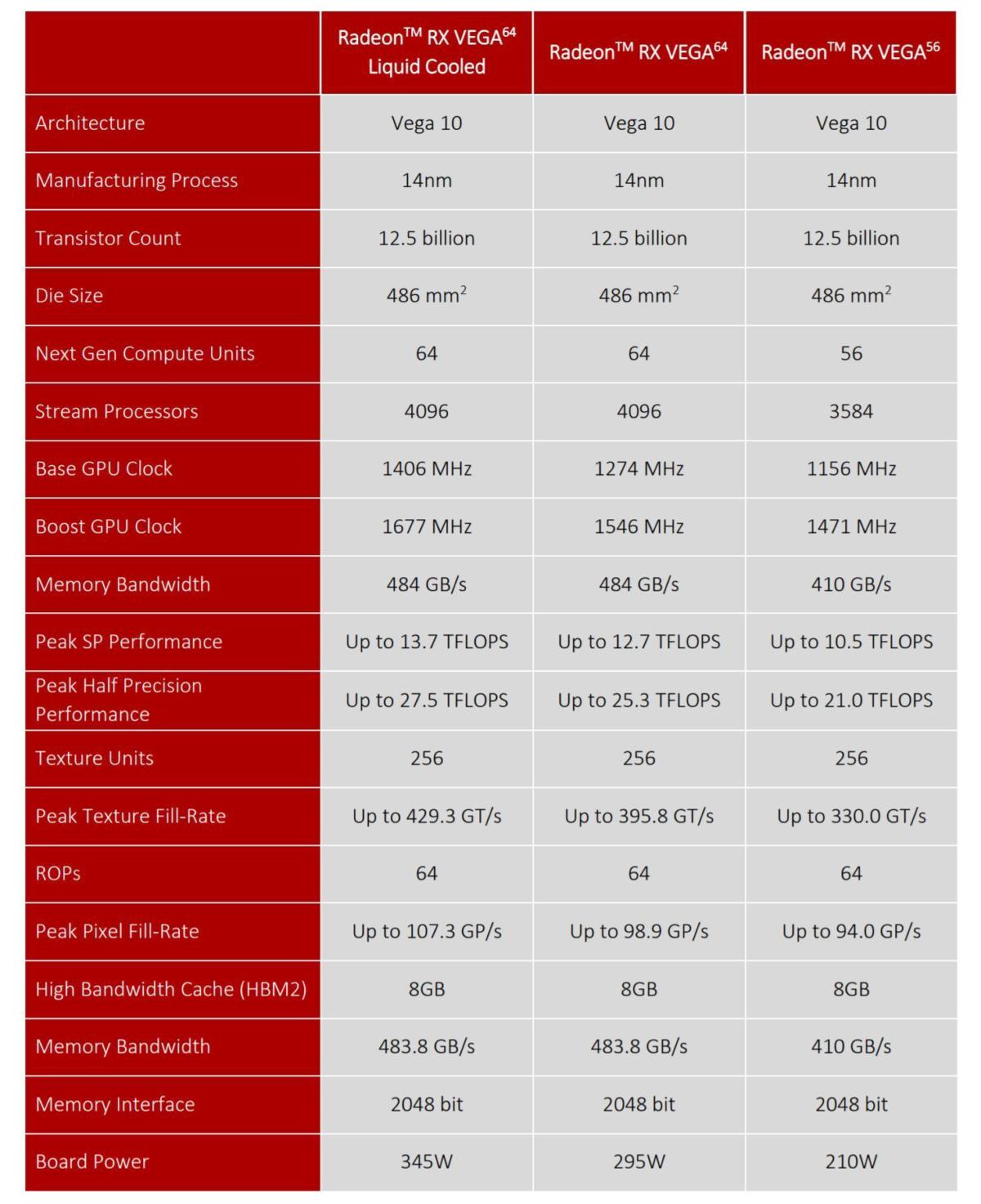 Usually we kick off a graphics card review with a discussion about the tech specs but that's not what's most noteworthy about this card—instead, it's the sheer size of the custom cooling solution. It's hard to tell in these pictures but the Sapphire Nitro+ Radeon RX 64 Limited Edition is an absolute monster of a graphics card, dwarfing traditional two-slot designs in every dimension. This beast goes three slots deep, 4.75-inches wide, and 12.25-inches long. It's big. By comparison, AMD's Radeon RX 64 reference card sports a two-slot design that's 3.75-inches wide and 10.5-inches long.
The Nitro+ Limited Edition is so massive, in fact, that Sapphire ships it with a nicely constructed GPU support bracket to keep the card from sagging in your case. The black nickel-plated bracket doesn't demand any precious additional PCIe slots, unlike some aftermarket GPU supports, and it complements the look of Sapphire's Nitro branding. The company plans to sell it separately as well.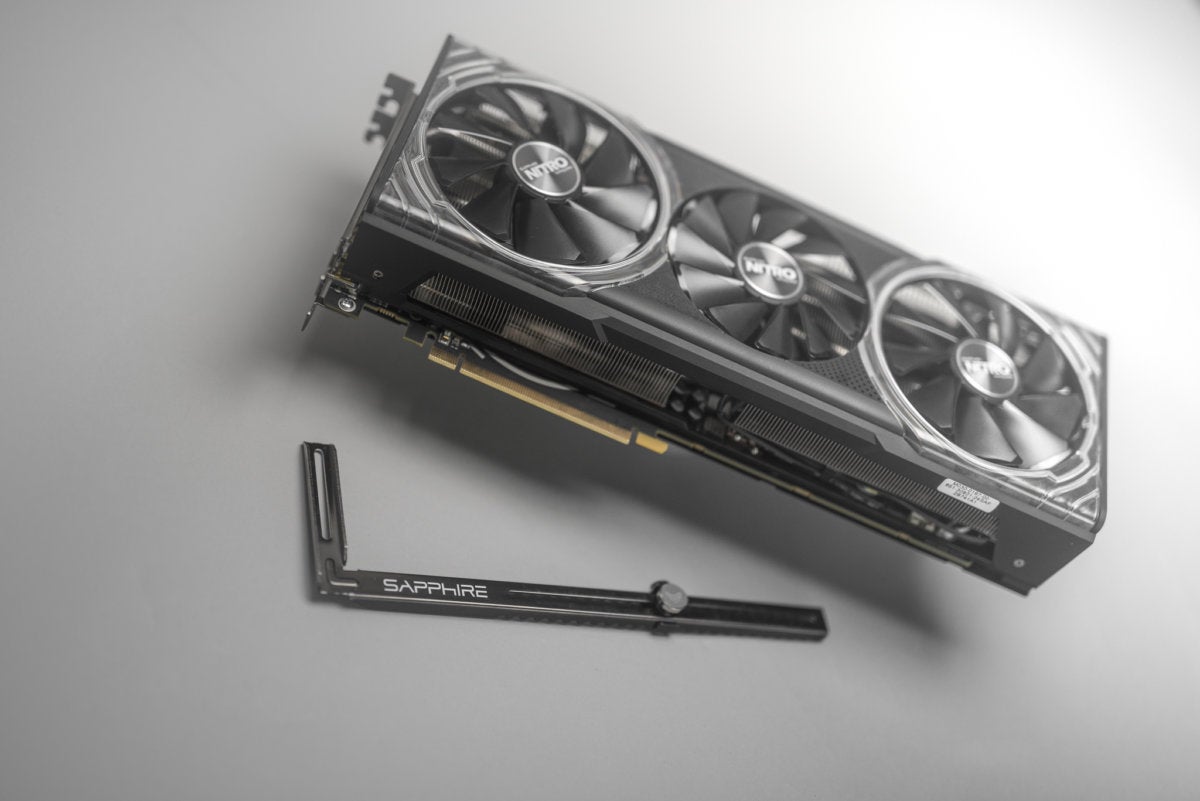 Sapphire tells me the Nitro+ Limited Edition was designed to let overclockers push Vega 64 as far as possible, and the card's construction is proof of that. The Nitro+ Radeon RX 64 Limited Edition returns to a vapor-chamber cooling solution similar to Sapphire's well-received Vapor-X models during the Radeon R9 200-series era.
That's bolstered by six nickel-plated heat pipes (three 3mm, three 6mm) that help to keep the GPU and high-bandwidth memory stacks chilly, topped by an impressively gargantuan heat sink. The VRMs on this 14-phase card get a separate chamber of their own with two dedicated 6mm heat pipes and use black-diamond chokes, which Sapphire claims are 10 percent cooler and 25 percent more power efficient than standard chokes.
Like I said: Lots of metal.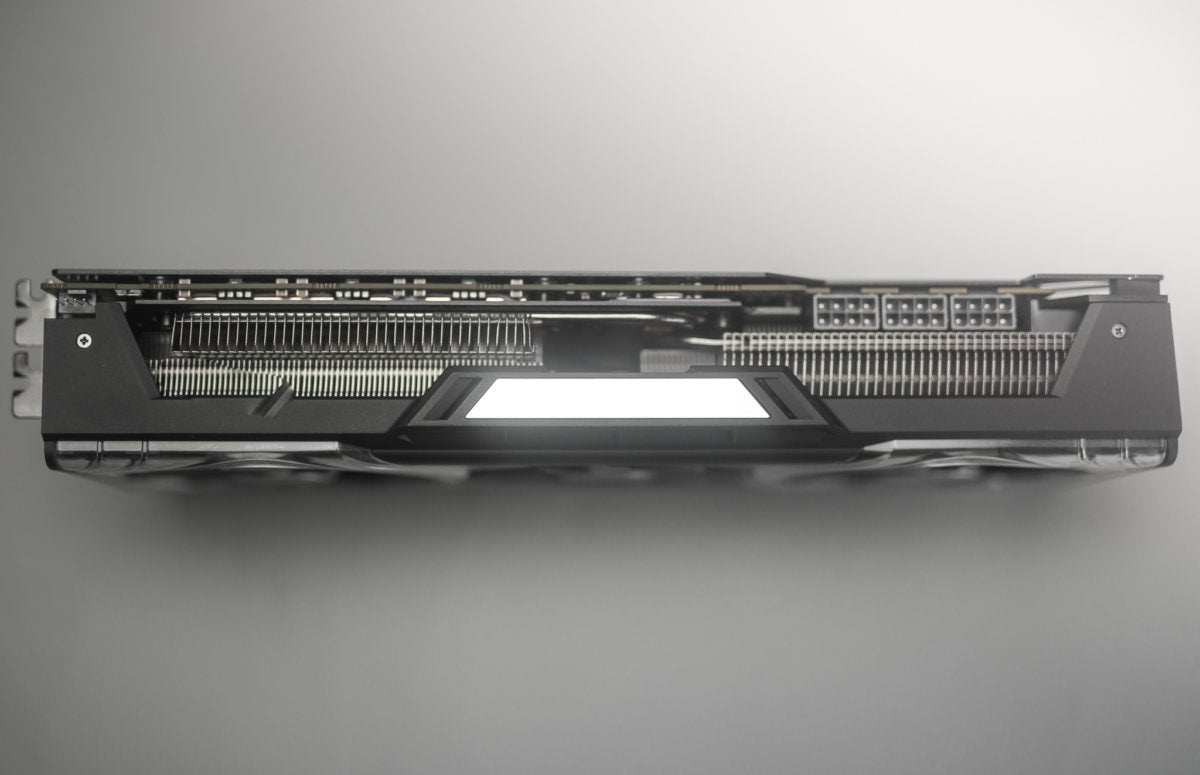 Not one, not two, but three large fans sit atop the heatsink. They won't kick into action until the GPU temperature hits 55 degrees Celsius, and since the Nitro+ Limited Edition doesn't get anywhere near that hot except during gaming, the card stays utterly silent during normal desktop use, unlike reference Vega cards. The fans support Sapphire's Fan Check and Quick Connect initiatives, allowing you to check their health in Sapphire's Trixx utility and quickly pop out individual fans if one needs replacing.
Sapphire is also introducing "Turbine-X" with the Nitro+ Radeon RX 64 Limited Edition. Turbine-X adds a PWM fan header to the rear end of the card's custom PCB, similar to what you find on ROG Strix graphics cards that support Asus' FanControl technology. That header can power up to two case fans, which then take orders from an on-card hardware controller that monitors five temperature sensors on the graphics card's PCB to ramp fan speeds up and down as needed. Nifty!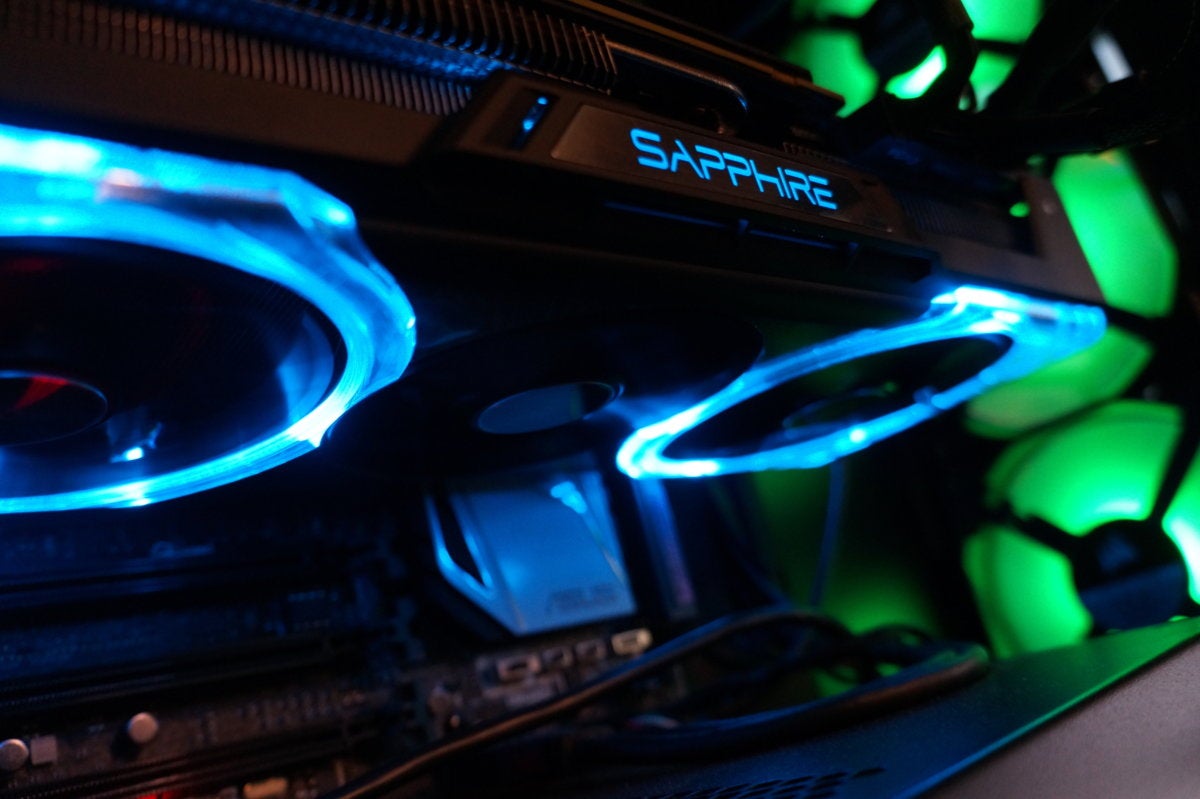 You may have noticed the clear acrylic around the two fans at the card's extremities. Those house RGB LEDs that can be customized with a new version of Trixx. The Sapphire name on the edge of the Nitro+ Limited Edition glows as well, along with the Nitro logo adorning the card's full-length backplate. And yes, you can disable the lighting completely if illuminated PC gear gets you grumpy.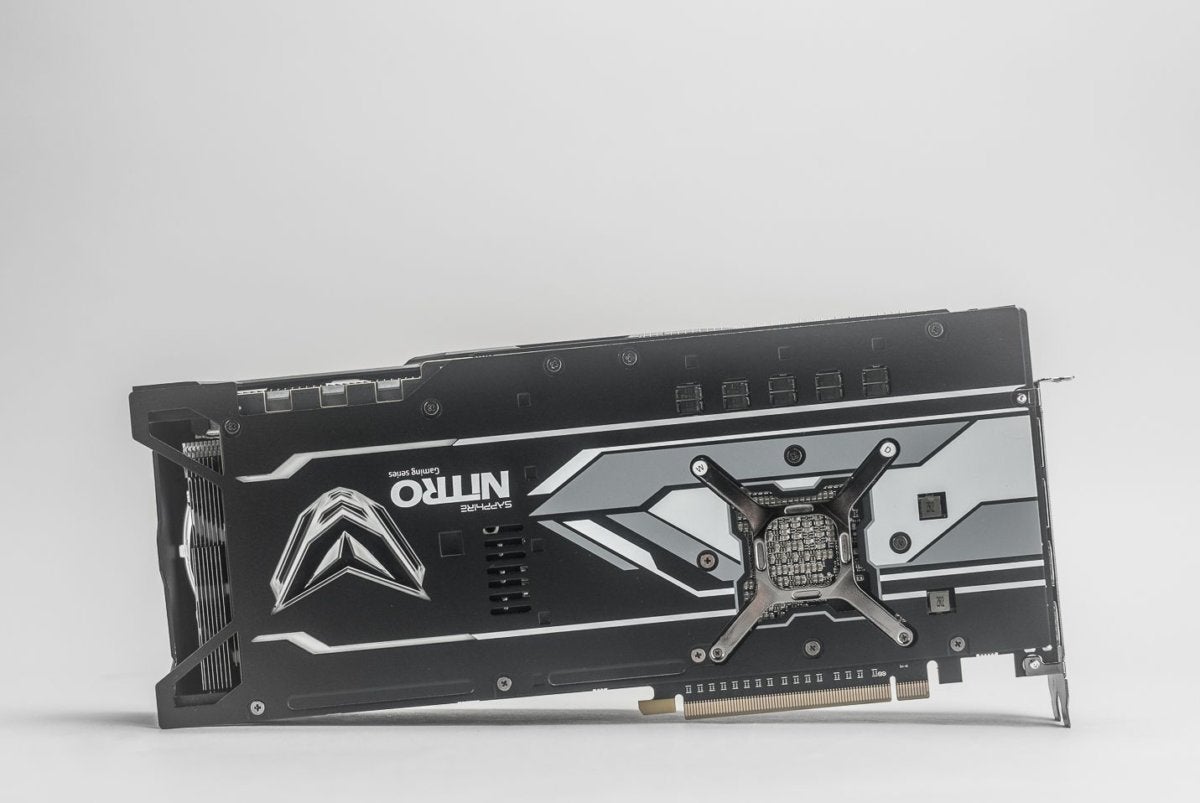 Whew! Sapphire sure stuffed this card with cooling potential, and as you'll see in the performance section later, it pays off when it comes to the biggest flaws in reference Vega 64 cards.
Sapphire ostensibly engineered this for maximum overclocking potential in case you happen to get a golden Vega GPU, but the Nitro+ Radeon RX 64 Limited Edition ships with a decent factory overclock in place, too. Reference Vega 64 cards ship with a 1,274MHz base clock and 1,546MHz boost clock, though those limits can be exceeded if the card stays cool. The Nitro+ Limited Edition offers 1,423MHz base/1,611MHz boost clocks. That's halfway to liquid-cooled Vega 64 speeds, which top out at 1,677MHz.
The Nitro+ Limited Edition also offers a secondary "efficiency" BIOS, accessible via a switch on the edge of the card. It's slightly more conservative than the default clock speeds for reference Vega 64 models, with 1,273MHz base/1,529MHz boost speeds. Of course, you can use the Wattman tool in Radeon Software to shift the card between Vega-specific Power Save, Balanced, and Turbo power profiles, too.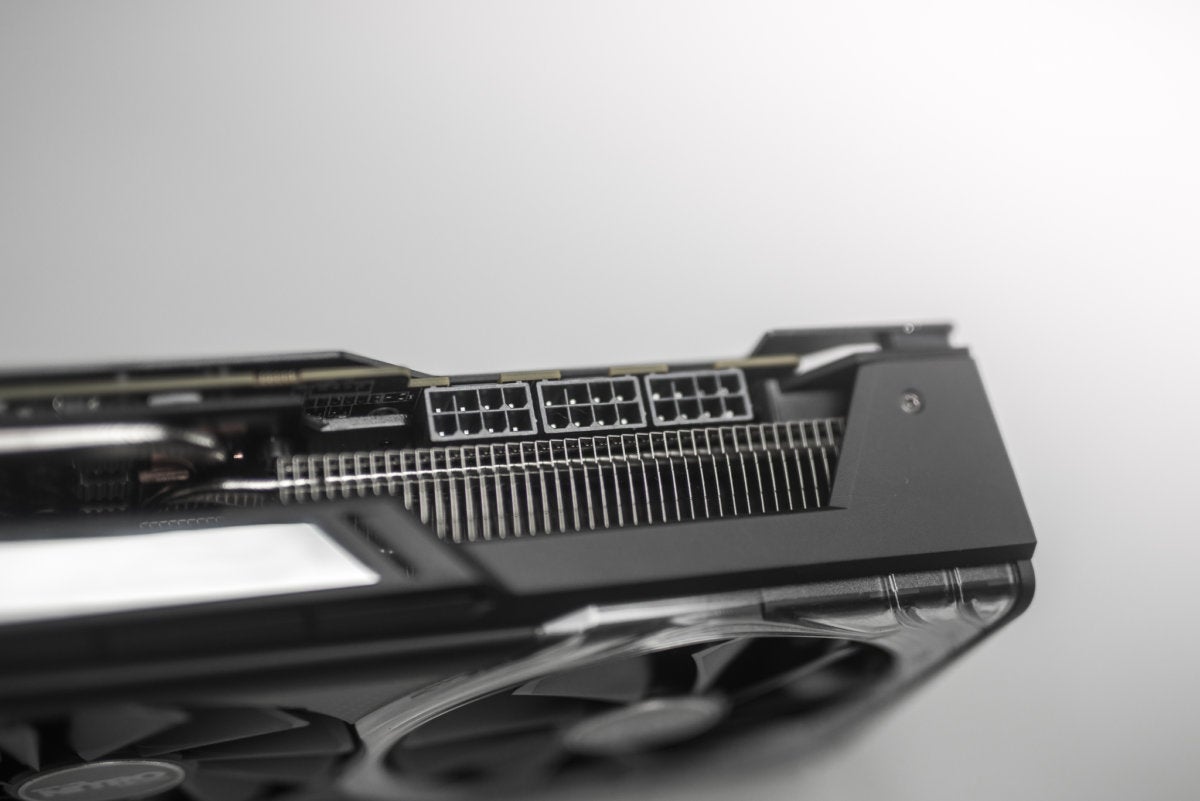 Speaking of power, you're going to need an enthusiast-class power supply to run the Nitro+ Radeon RX 64 Limited Edition. Sapphire recommends three 8-pin power connectors and a minimum of an 850-watt PSU. That's not as excessive as the 1,000W requirement for liquid-cooled Vega 64, but for comparison, Nvidia suggests a 500W PSU for its similarly powerful GeForce GTX 1080, which only requires two power pins. Sapphire's overbuilding this card a bit though—the third power connector's mostly there to support high-end overclocking. The card's power connector circuit includes a fuse protector to keep your hardware investment safe in the event of a power surge.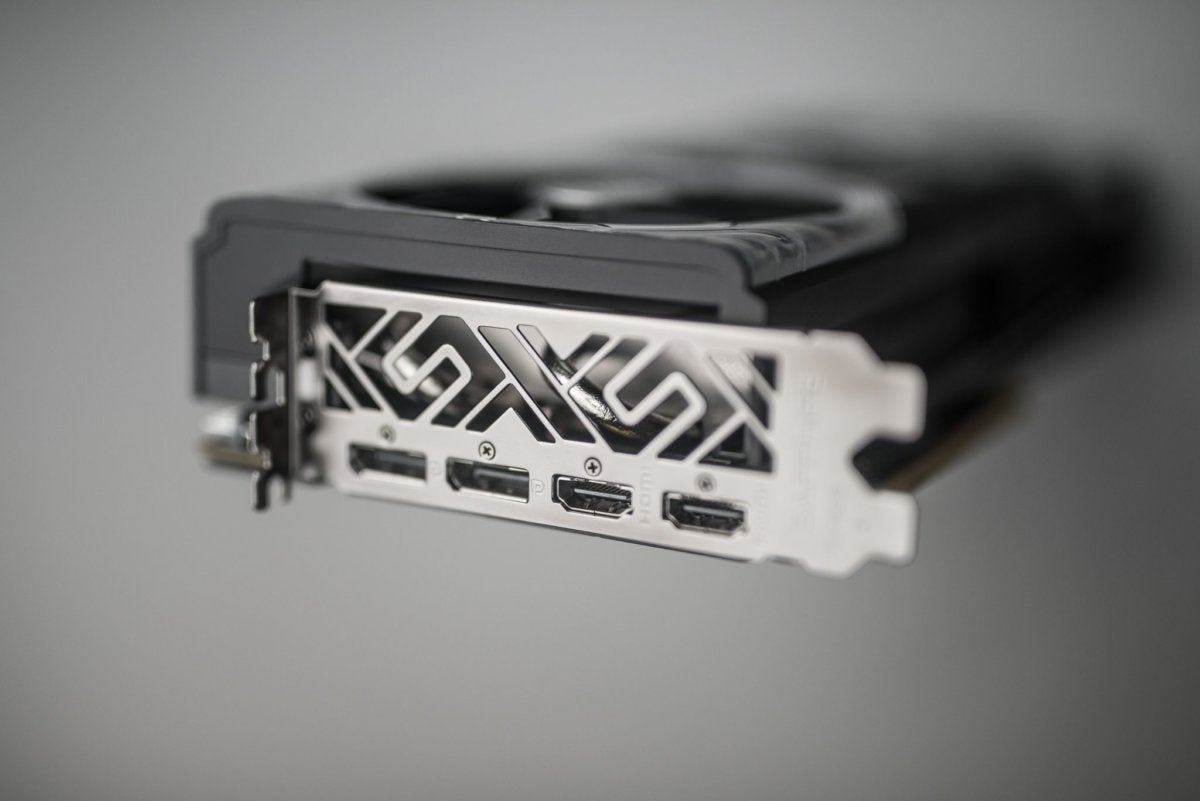 Sapphire also changed up the port configuration on the Nitro+ Limited Edition to make it more VR-friendly. While the reference models pack a single HDMI port and a trio of DisplayPorts, Sapphire's card has two HDMI ports and two DisplayPort connections instead.
Okay, now you know everything there is to know about the Sapphire Nitro+ Radeon RX 64 Limited Edition—except for how it performs in action. Moving on!
Next page: Our test system configuration, game benchmarks begin
Our test system
We tested the Sapphire Nitro+ Radeon RX Vega 64 Limited Edition on PCWorld's dedicated graphics card benchmark system. Our test bed is loaded with high-end components to avoid bottlenecks in other parts of the system and show unfettered graphics performance.
Intel's Core i7-5960X with a Corsair Hydro Series H100i closed-loop water cooler ($110 on Amazon).
An Asus X99 Deluxe motherboard.
Corsair's Vengeance LPX DDR4 memory ($205 on Amazon).
EVGA Supernova 1000 G3 power supply ($200 on Amazon).
A 500GB Samsung 850 EVO SSD ($140 on Amazon).
Corsair Crystal Series 570X case, deemed Full Nerd's favorite case of 2016 ($180 on Amazon).
Windows 10 Pro ($180 on Amazon).
We're comparing the heavily customized Sapphire Nitro+ Radeon RX 64 Limited Edition against AMD's Vega 64 reference duo, the $499 air-cooled RX Vega 64 and $599 liquid-cooled RX Vega 64. (That's suggested pricing; in the real world, Vega cards are virtually impossible to find and, when available, their prices are wildly inflated.) All were benchmarked using the Balanced power profile on the stock BIOS, running AMD's new Radeon Software Adrenalin Edition. To show how the Radeon cards compare against their GeForce counterparts, we've also included results from the $500 GTX 1080 Founders Edition and the PNY GTX 1080 Ti XLR8, which cost $735 before going out of stock across the internet. Sapphire's card is almost the same price, right? We prefer to use reference cards in our reviews, but our GTX 1080 Ti Founders Edition died.
Each game is tested using its in-game benchmark at the mentioned graphics presets, with VSync, frame rate caps, and all GPU vendor-specific technologies—like AMD TressFX, Nvidia GameWorks options, and FreeSync/G-Sync—disabled. Given the capabilities of these particular cards, we're testing at 1440p and 4K resolutions alone. They'd all scream at 1080p.
Game benchmarks
The Division
The Division ($50 on Amazon) just received a massive overhaul with its 1.8 update, adding large new sections to the map as well as new PvP and PvE modes. It's a gorgeous third-person shooter/RPG that mixes elements of Destiny and Gears of War, using Ubisoft's Snowdrop engine. We test the game in DirectX 11 mode.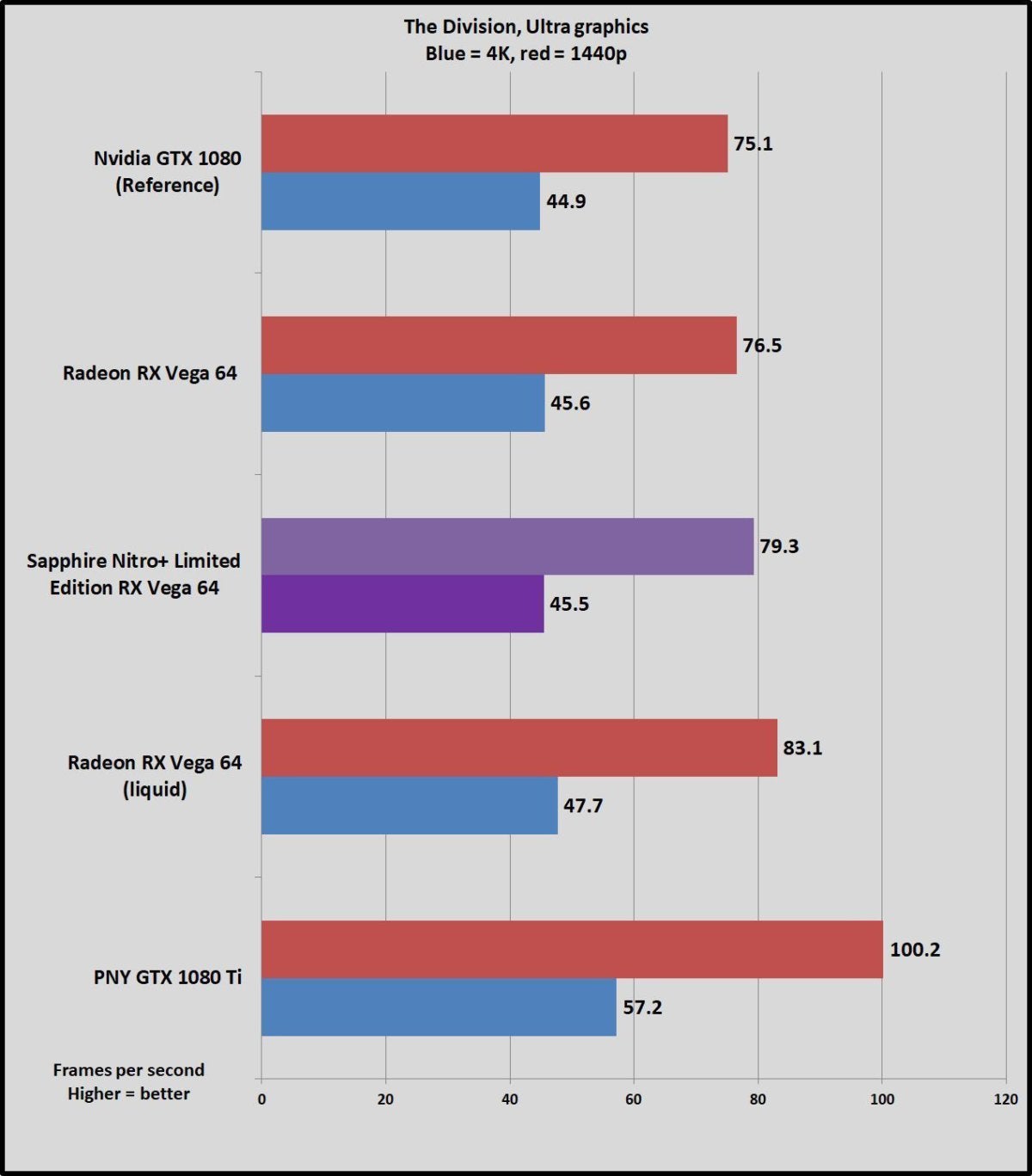 Here, we see some trends that'll hold true over most of these benchmarks. AMD has kept plugging away at its drivers since Vega's launch, and now even the reference model holds a very slight lead over the GeForce GTX 1080, whereas before it was very slightly behind, by a mere 1fps in August.
All three Radeon RX Vega cards perform within a hair of each other at 4K resolution. Things open up a bit more at 1440p, where the Sapphire Nitro+ Radeon RX 64 Limited Edition comes in a few frames faster than the standard Vega 64, and a few frames slower than the liquid-cooled Vega 64. That makes sense, as the Nitro+ Limited Edition's maximum clock speeds falls squarely between the speeds of the two reference cards.
None of AMD's Vega cards, including the $659 Sapphire Nitro+ Radeon RX 64 Limited Edition, comes close to challenging Nvidia's GeForce GTX 1080 Ti.
Next page: Ghost Recon: Wildlands
Ghost Recon: Wildlands
Next up: Ghost Recon: Wildlands ($60 on Amazon), a stunningly beautiful and notoriously punishing game based on Ubisoft's Anvil engine. The Ultra graphics settings at 4K absolutely kneecaps graphics cards, so we test at Very High, which "is targeted to high-end hardware." It's a game that includes some Nvidia GameWorks features, but again, we test with those disabled.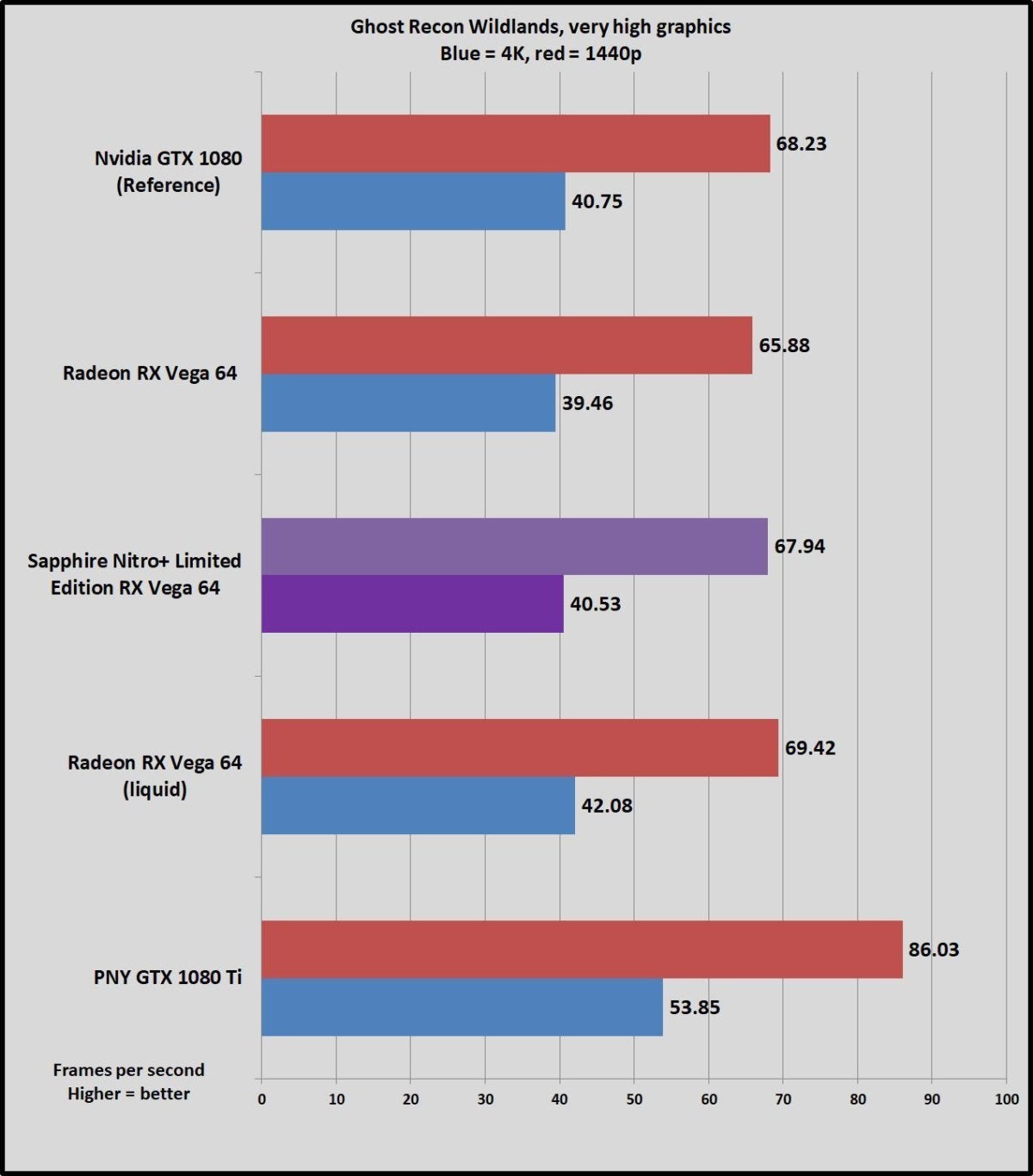 Vega's seen some slight frame rate improvements in this game since launch, too. The Nitro+ Limited Edition falls between the Vega 64 air-cooled and liquid-cooled models yet again.
Deus Ex: Mankind Divided
Here's another graphically punishing game, but this one favors AMD hardware. Deus Ex: Mankind Divided ($60 on Amazon) replaces Hitman in our test suite since its Dawn engine is based upon the Glacier Engine at Hitman's heart. We dropped all the way down to the High graphics preset for this one, and tested in DirectX 12 alone as that mode performs better on both AMD and Nvidia graphics cards.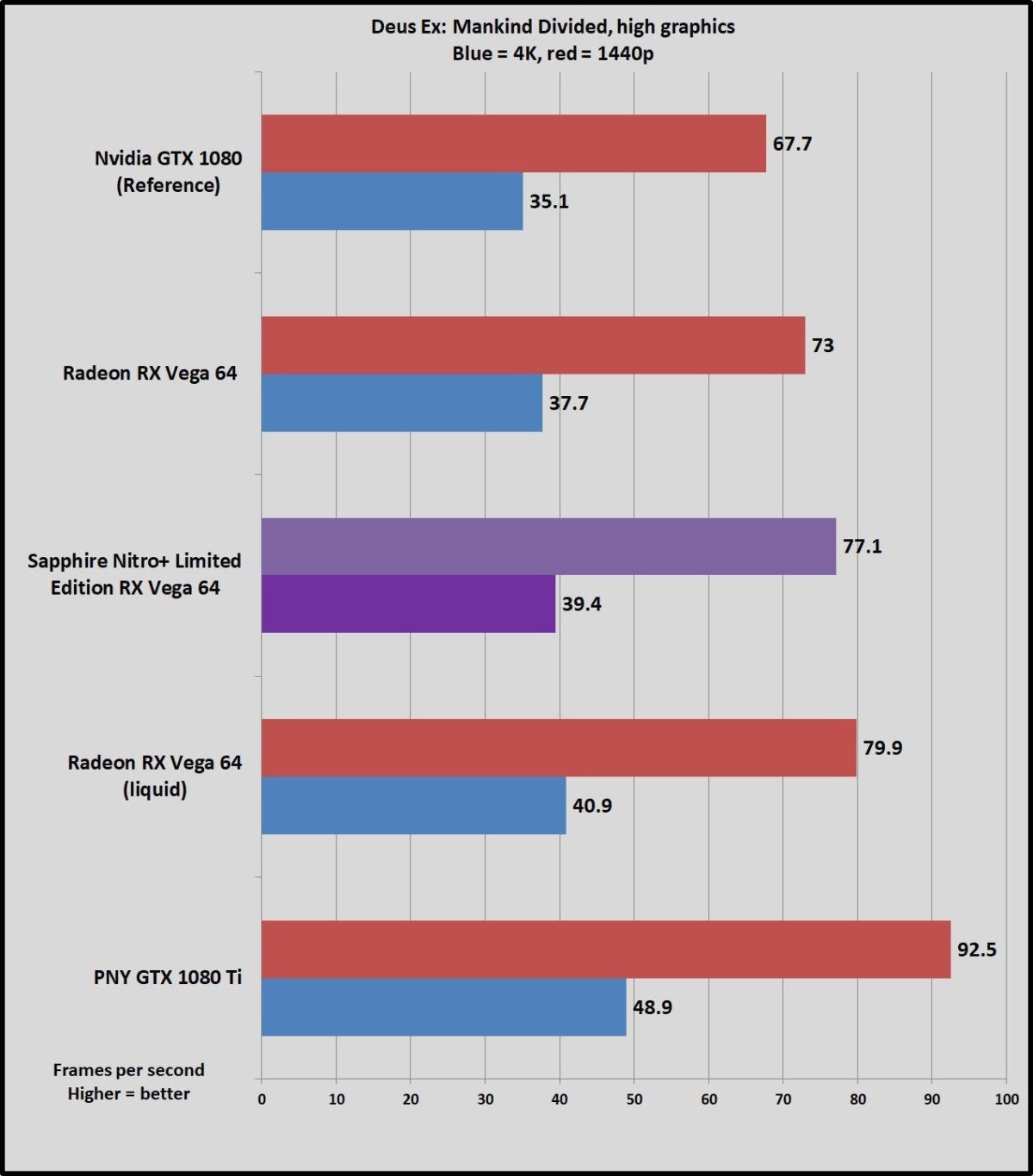 Next page: Rise of the Tomb Raider
Rise of the Tomb Raider
Rise of the Tomb Raider ($60 on Steam) tends to perform better on GeForce cards, conversely. It's another drop-dead gorgeous game.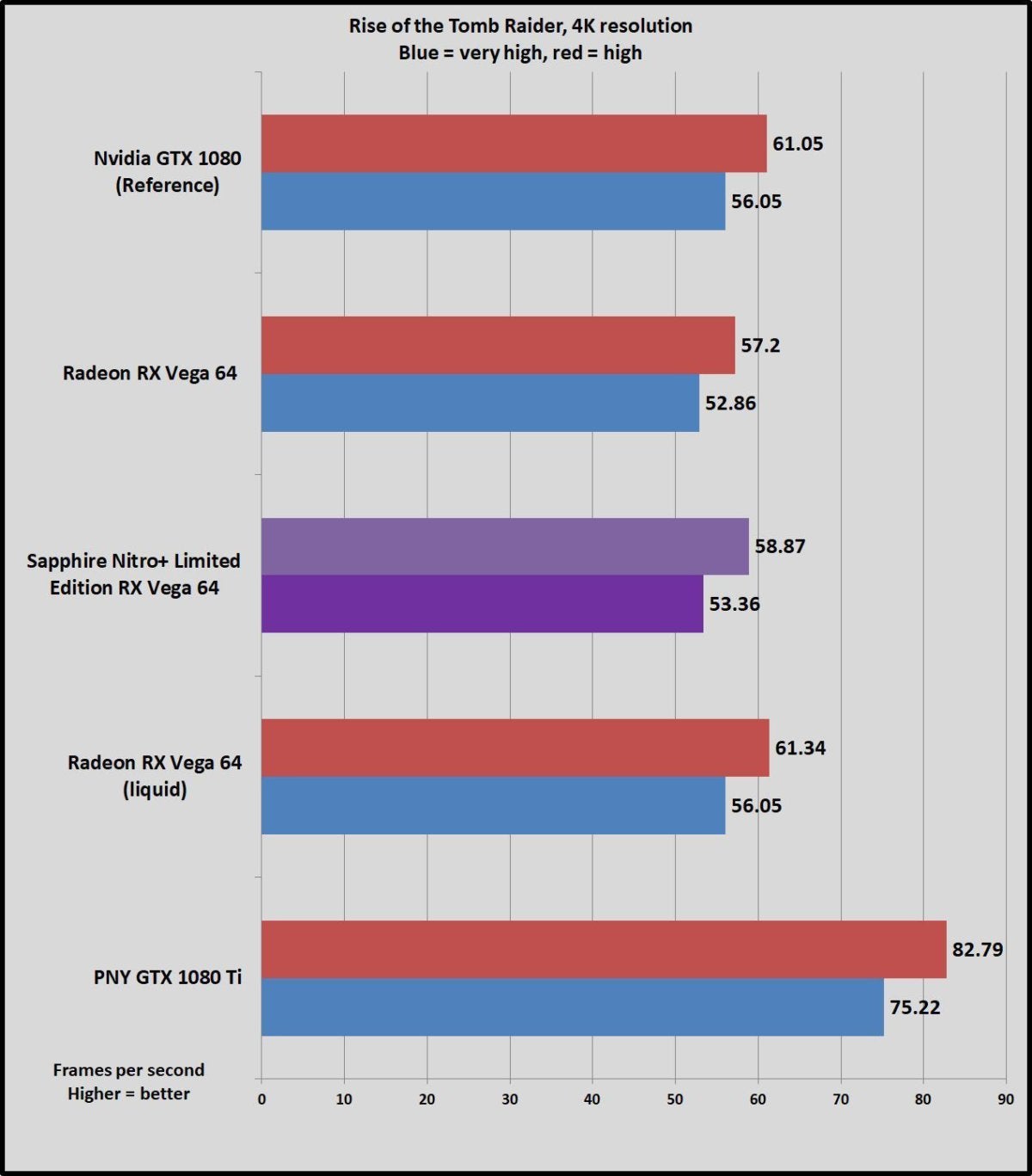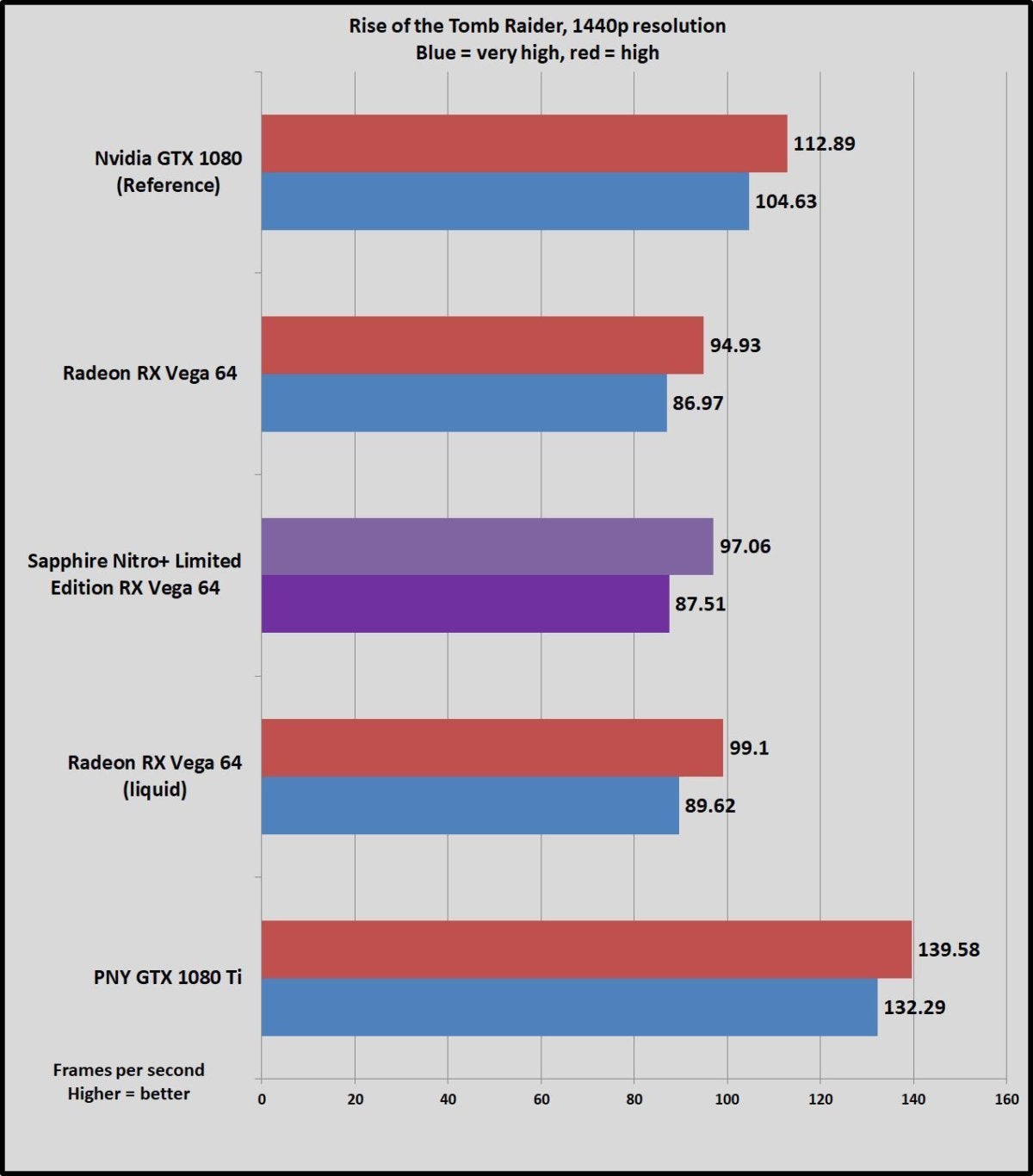 The Vega trio hangs tight with the GeForce GTX 1080 at 4K resolution, but falls far behind when the resolution's dialed back to 1440p.
Next page: Far Cry Primal
Far Cry Primal
Far Cry Primal ($55 on Amazon) is yet another Ubisoft game, but it's powered by the latest version of the long-running and well-respected Dunia engine. It performs well on both AMD and Nvidia hardware. We benchmark the game with the optional Ultra HD texture pack enabled for high-end cards like these.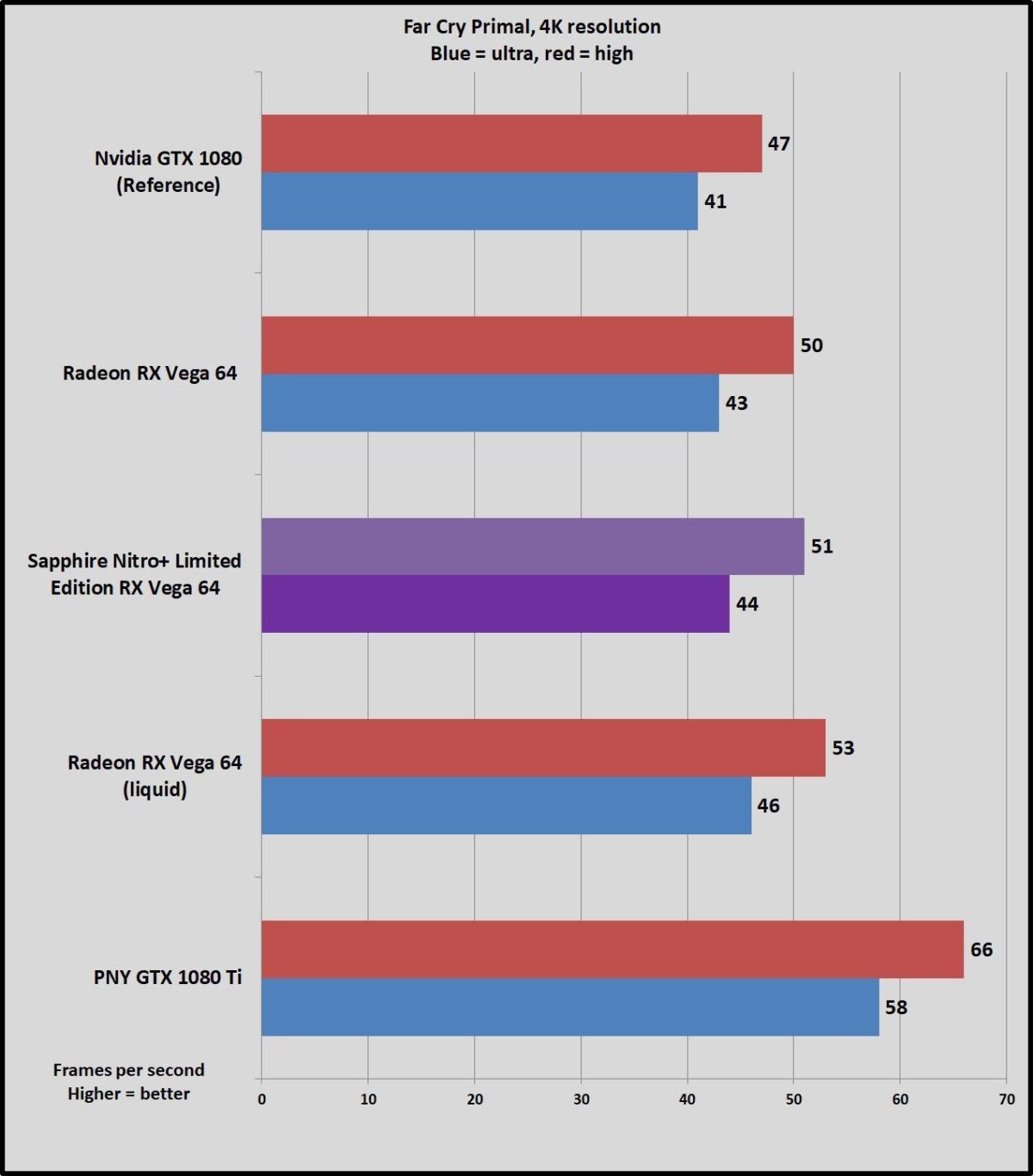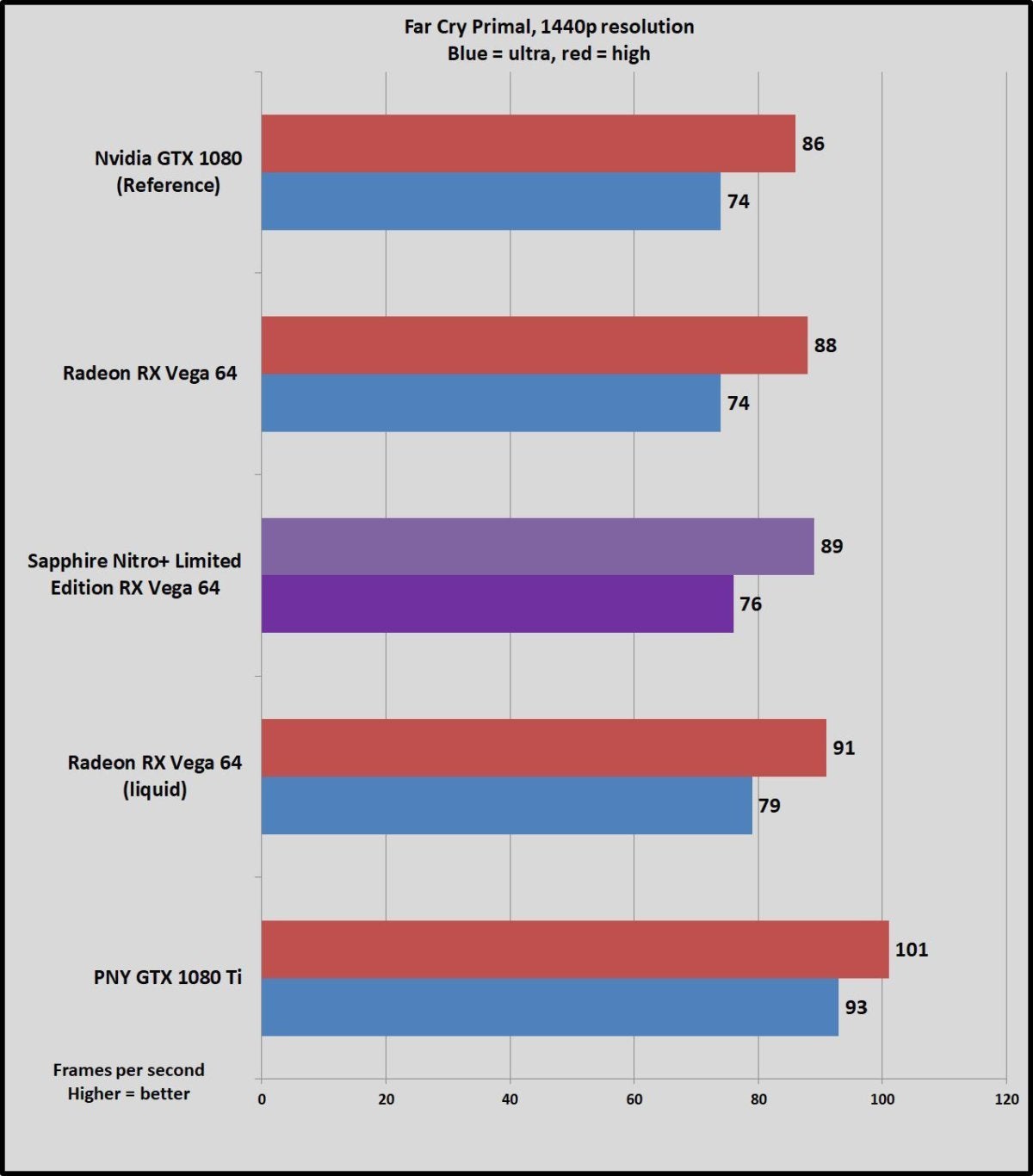 Next page: Ashes of the Singularity
Ashes of the Singularity
Ashes of the Singularity ($40 on Steam), running on Oxide's custom Nitrous engine, was an early standard-bearer for DirectX 12, and all these years later it's still the premier game for seeing what next-gen graphics technologies have to offer. We test the game using the High graphics setting, as the wildly strenuous Crazy and Extreme presets aren't reflective of real-world usage scenarios.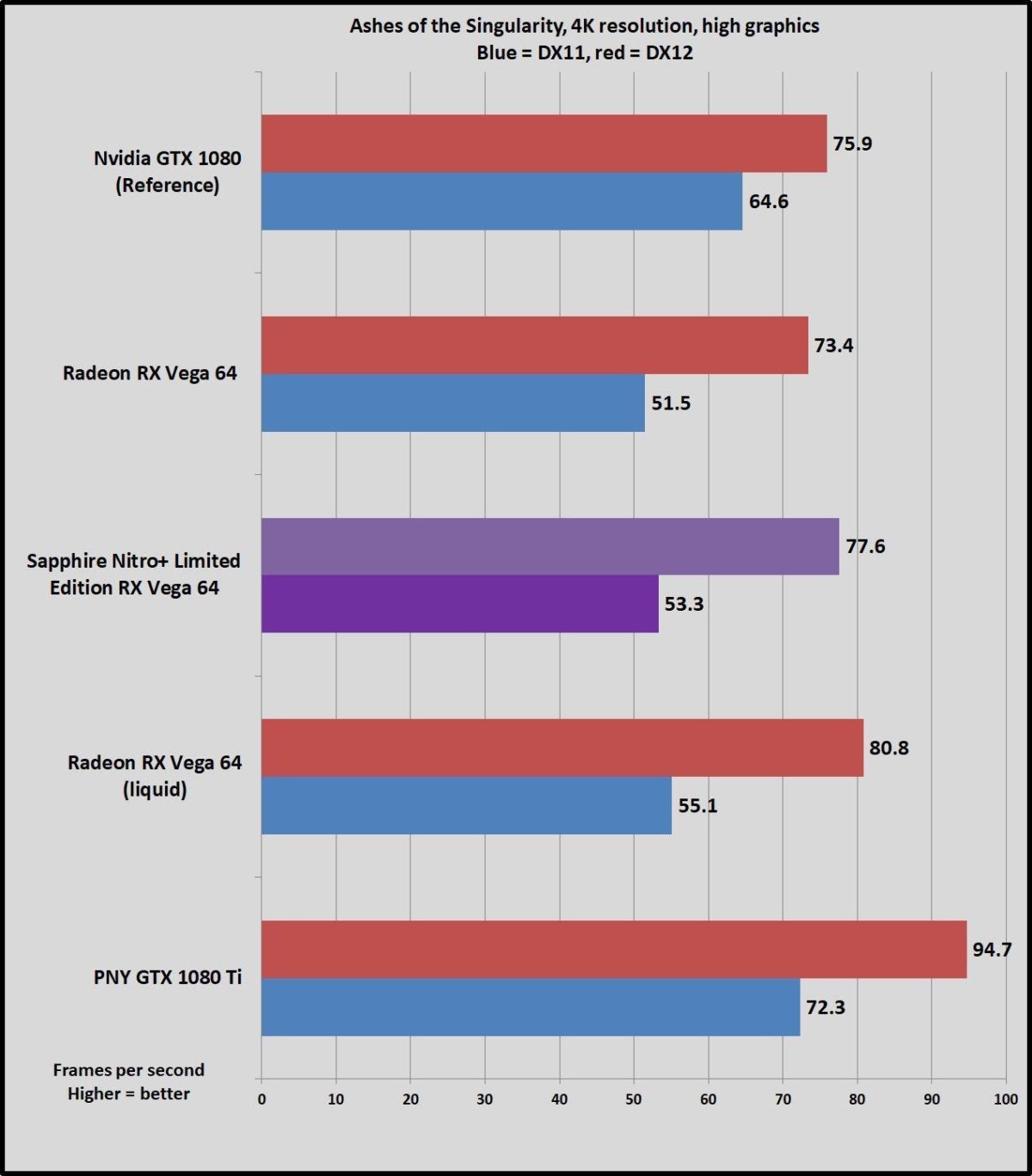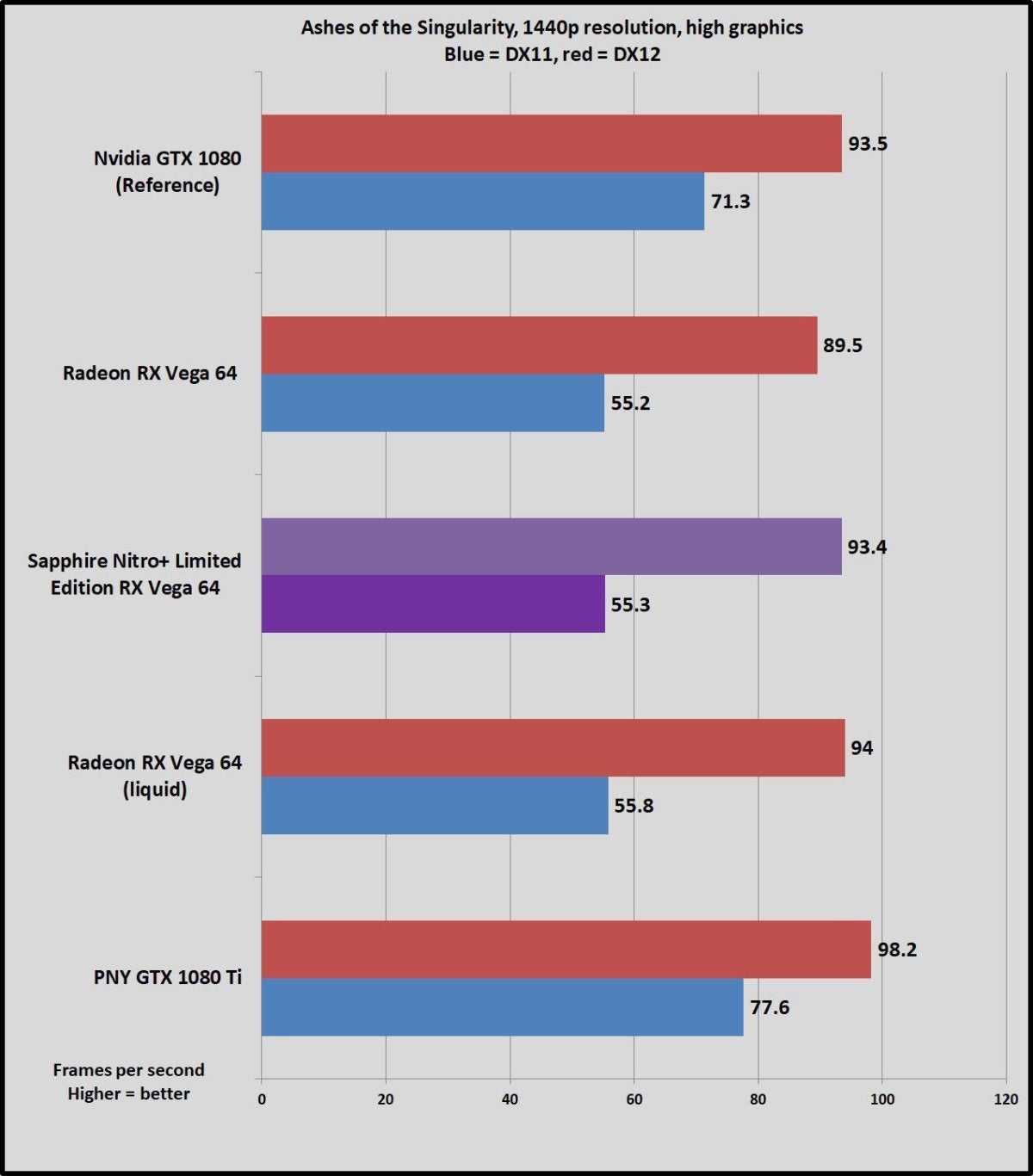 The Sapphire Nitro+ Radeon RX 64 Limited Edition falls between its siblings yet again. The GTX 1080 destroys AMD's Vega trio in DirectX 11, but Vega goes toe-to-toe with Nvidia's card in DirectX 12. If you're on Windows 10, that means neither side holds a major advantage; but if you're on Windows 7, which doesn't support DirectX 12, GeForce is a better buy for Ashes fans.
Next page: Power, heat, and noise
Power, heat, and noise
Power
We test power under load by plugging the entire system into a Watts Up meter, running the intensive Division benchmark at 4K resolution, and noting the peak power draw. Idle power is measured after sitting on the Windows desktop for three minutes with no extra programs or processes running.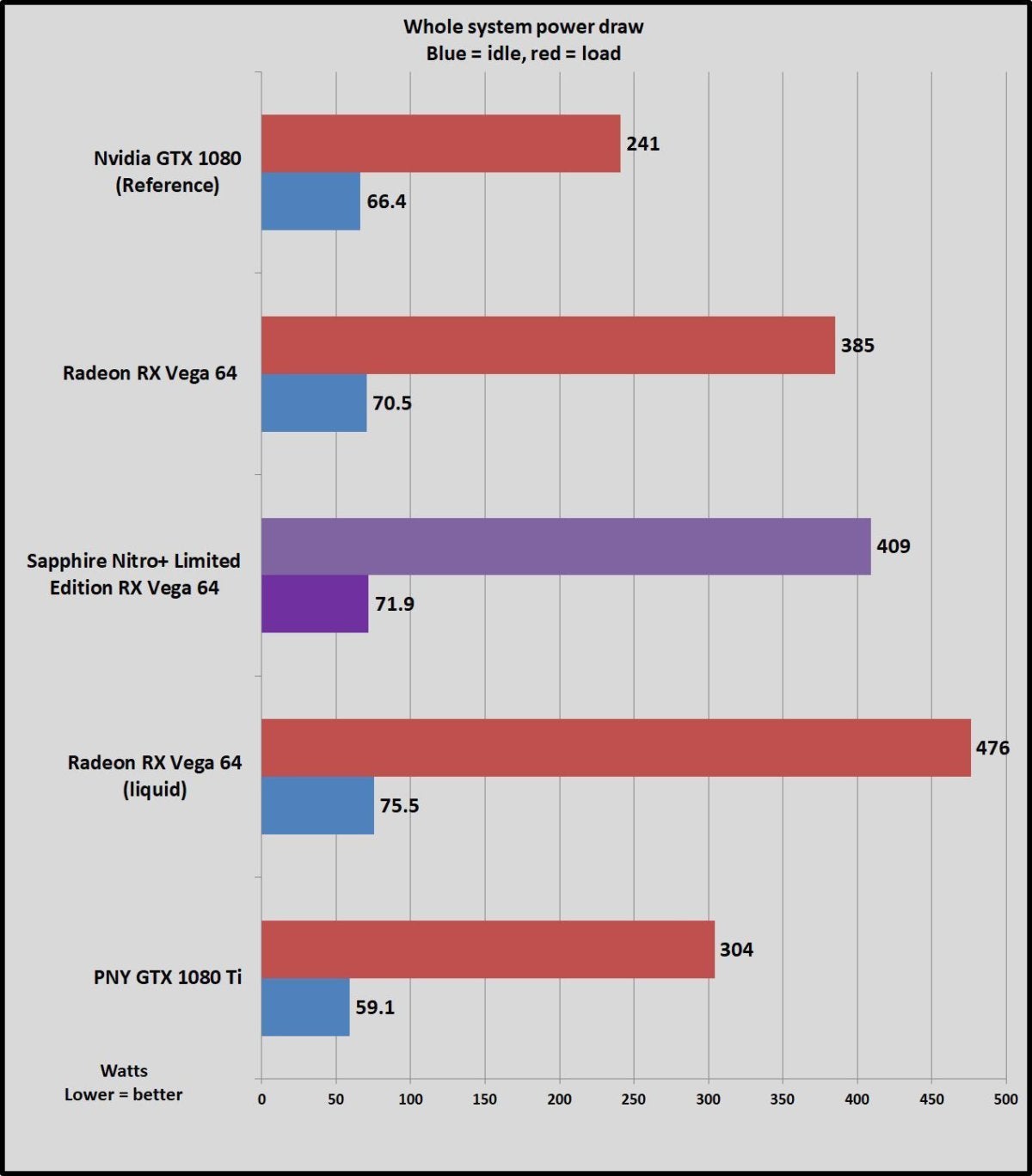 It's no secret that Vega draws wildly more power than Nvidia's GeForce cards. And it's no surprise that Sapphire's overclocked, LED-laden, triple-fan Nitro+ Limited Edition sucks down even more juice than the reference cards. But the compromise was worth it, as you'll see in the next section.
Heat and noise
We test heat during the same intensive Division benchmark at a strenuous 4K resolution, by running SpeedFan in the background and noting the maximum GPU temperature once the run is over. These tests are conducted after first performing numerous benchmark runs so the cards are warmed up.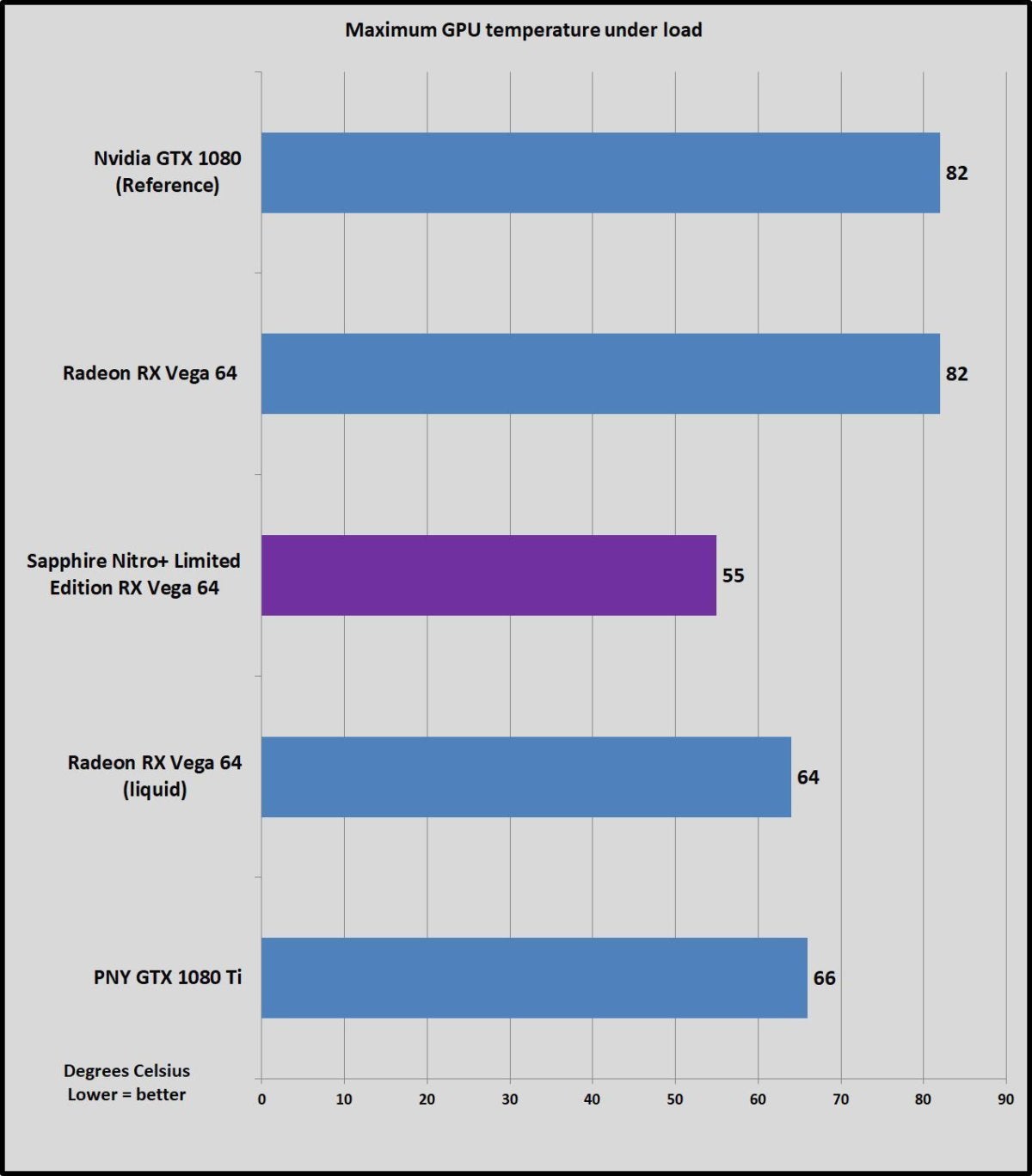 Look at that temperature. Sapphire's monstrous cooling system manages to run chillier than the liquid-cooled Vega 64! That's downright wild (even though AMD should've slapped a bigger 240mm radiator on its card). Separate from our formal test, I played Destiny 2 for two hours straight on the Nitro+ Limited Edition at 4K resolution with every graphics option cranked as high as possible, and still the temperature fluctuated between 58 and 59 degrees Celcius. We've never seen an air-cooled card run so cold in this test. All that metal pays off.
It's effective on the noise front, too. The Sapphire Nitro+ Radeon RX 64 Limited Edition's fans aren't silent, but they're damned quiet, especially if you have it in a closed case, and doubly so if you have it in a closed case underneath your desk. (The reason we test graphics cards in traditional cases rather than open-air test benches is to get a feel for real-world use cases.)
Unfortunately, our review sample exhibited a high-pitched coil whine while gaming. The lack of fan noise might have made it more obvious. It's not so obnoxious that you'd notice it while gaming with music or in-game audio blaring, but you can definitely hear it during menu screens. Interestingly, our liquid-cooled Vega 64 also exhibits coil whine.
Next page: Bottom line
Should you buy the Sapphire Nitro+ Radeon RX 64 Limited Edition?
Obnoxious heat and noise levels are the glaring problems with reference Vega 64 graphics cards. AMD's reference model trades blows with Nvidia's $500 GeForce GTX 1080 in pure performance, but that doesn't matter. Just being in the same room as them sucks. Vega's sky-high power draw is another drawback, but one that some people frankly don't care about once their PCs are plugged in.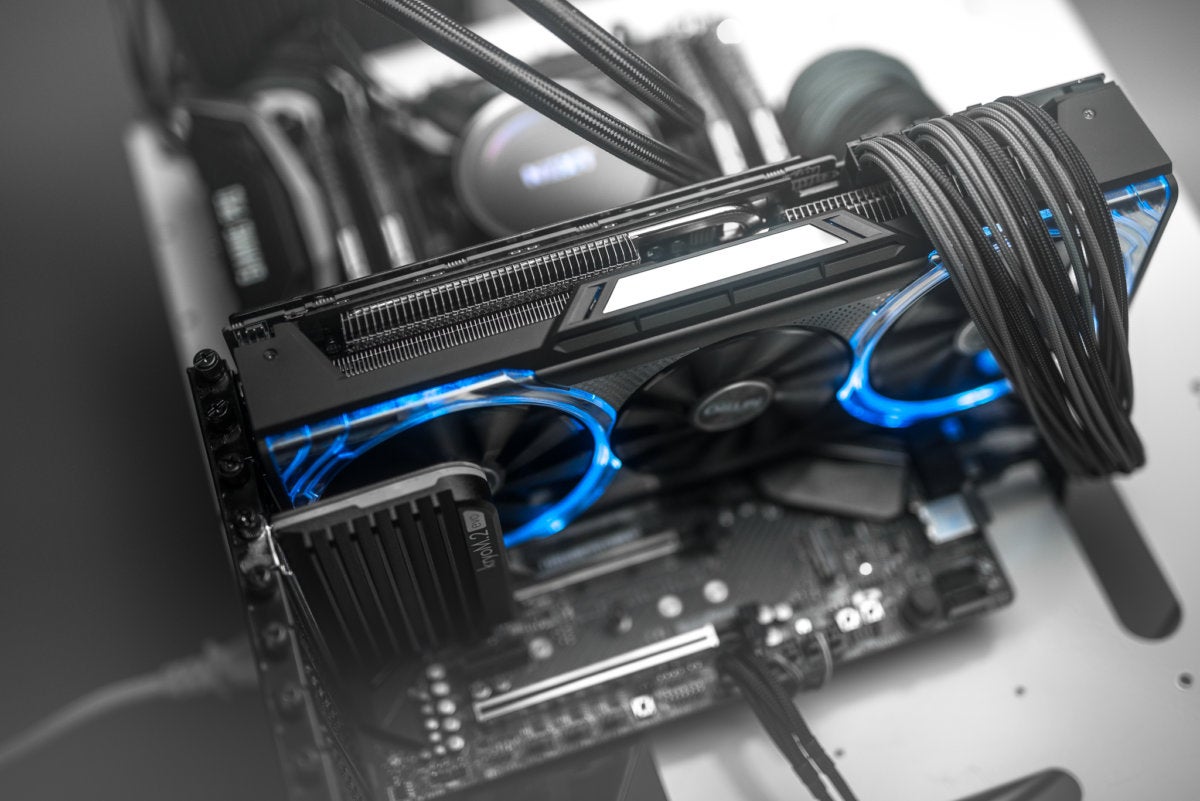 With the Nitro+ Radeon RX 64 Limited Edition, Sapphire rolls up its sleeves, leans into Vega's massive energy draw, and puts the pedal to the metal to tame those core Vega concerns through sheer brute force. It achieves its goals wonderfully. This hulking beast is the graphics card equivalent of a Hummer. We've never seen a high-end GPU hit temperatures this low, and that includes AMD's liquid-cooled hardware. It's whisper quiet. It's incredibly attractive. It's loaded with extra features. Hell, it even comes with a support bracket to help your GPU stay straight and stylish in your case.
Another well-regarded custom GTX 1080
MSI GeForce GTX 1080 Gaming X
Price When Reviewed:
$609.99
But like a Hummer, all that luxury comes at a steep price. Vega 64 punches in the GTX 1080's weight class, but at $659, the Nitro+ Radeon RX 64 Limited Edition lurks closer in price to the $700 to $800 GeForce GTX 1080 Ti, and Nvidia's titan blows it away in sheer performance. Highly reviewed, highly customized GTX 1080 graphics cards like the Asus ROG Strix GTX 1080 can be found for $570 on Newegg, and Nvidia's GPU is proven to overclock like a champ. Out of the box, the Nitro+ Radeon RX 64 Limited Edition gives you a mild overclock with all the cooling and power management tools you need to crank clocks through the roof manually, but that extra performance isn't guaranteed. AMD's Vega architecture isn't known for having abundant overclocking headroom, either. Even slight speed boosts to Vega result in large power draw leaps.
The Nitro+ Limited Edition's price will likely climb shortly after the card launches, too. Right now, you can't find any reasonably priced Vega cards in stock—Newegg's e-shelves hold a single Vega 64 reference card for a whopping $680 as I write this. And Sapphire isn't joking around with the Limited Edition tag. It's not going to eliminate the Nitro+ LE series when the first run sells out, but new inventory will only be made when there's a free gap in the company's production schedule.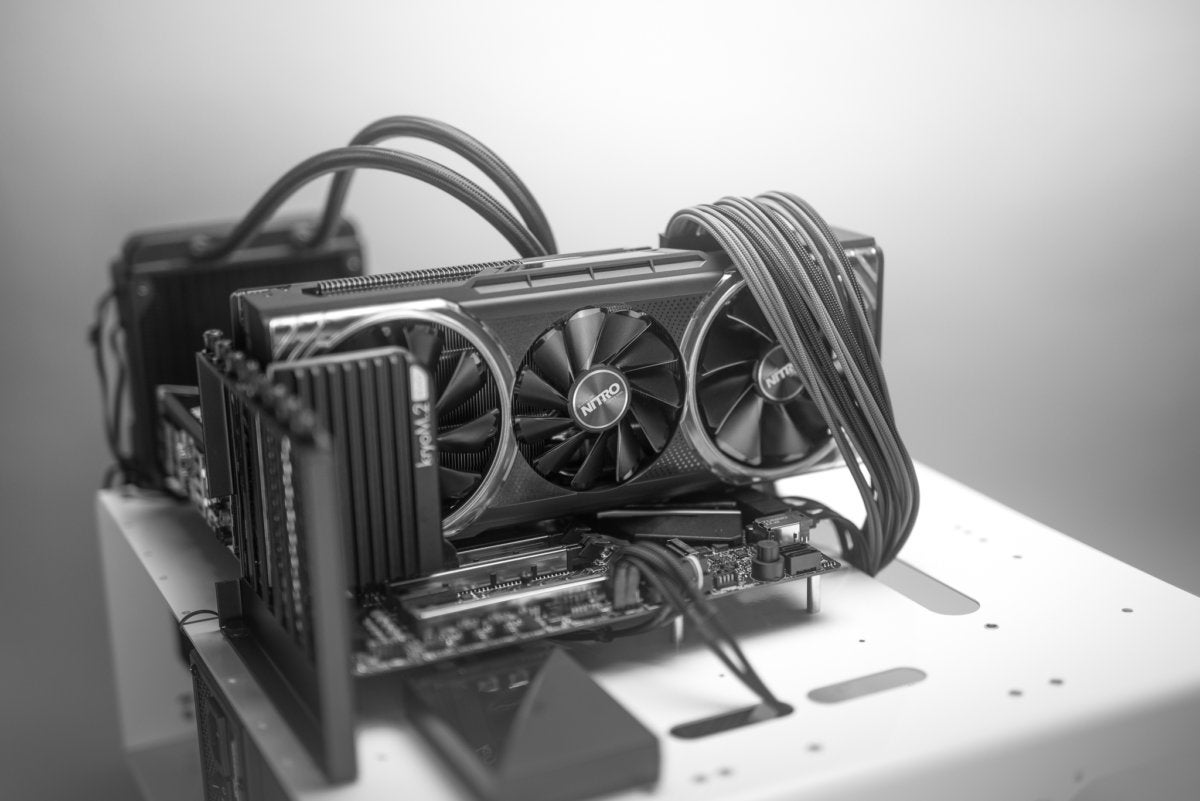 All that considered, most people would be better off buying a GeForce GTX 1080 or GTX 1080 Ti, depending on your needs and budget.
Mentioned in this article
Nixeus EDG 27″ IPS 1440p 144Hz FreeSync monitor
Price When Reviewed:
$419.99
Still, there will be some people for whom the Nitro+ LE, high price and all, is the right option. AMD doesn't charge display makers to use its game-smoothing FreeSync technology, so FreeSync monitors lack the hefty upcharge associated with Nvidia G-Sync screens. If you've invested in a high-end 1440p or 4K FreeSync gaming monitor—displays like the 144Hz, 1440p Nixeus EDG 27 ($400 on Amazon) or Samsung's wild 49-inch FreeSync 2 monitor, the CHG90 ($1,175 on Amazon)—then you need a beastly Radeon card to power it. Playing on a 4K FreeSync monitor with Sapphire's card proved mighty delicious indeed.
If you're willing to spend the money to achieve high-end Radeon ecosystem nirvana, then the astonishingly cool, impressively quiet Sapphire Nitro+ Radeon RX 64 Limited Edition will give you the best Vega 64 experience possible. It's much better than the liquid-cooled Vega 64.