Finally, it's calmed down around here. We've had a weirdly busy December, what with a Destiny expansion, a Battlefront II expansion, Doom VFR, and Fallout 4 VR—not to mention all the games I didn't get to cover yet, like Reigns: Her Majesty, Okami HD, and Gorogoa.
We're finally done though, as evidenced by the paltry amount of news this week. Time to settle in, relax for a few weeks, and maybe dig into the enormous backlog I'm sure you've built up over the last few months—or will build up in the Steam Sale soon. And hey, Company of Heroes 2 is free right now so…
That, plus Crytek sues the developers behind Star Citizen, Sea of Thieves finally shows off what you do in the game, Destiny 2 gets wintery, and the developers behind You Must Build a Boat and To the Moon show off their respective new games. This is gaming news for December 11 to 15.
We could be heroes
Humble is killing it with freebies lately, and this week brings yet another coup—World War II RTS Company of Heroes 2 is gratis through the Humble Store from now until Saturday morning. Not a long time, but more than enough for you to jump over there and hit "Add to Cart." It spits out a Steam key, so even those of you who are staunch Valve proponents have no reason to abstain. And if you like the core game, the DLC is on sale too.
Not so soon-i
Ni No Kuni 2 was set to be one of the first big PC releases of 2018, due to arrive January 19. Unfortunately it's now slipped that release date too (this is the second delay) and will instead appear on March 23, which is quite a bit busier—the same day as EA and Hazelight's A Way Out actually, and just a few days before Far Cry 5. But hey, new trailer.
Jingle jangle jingle
Mentioned in this article
Wolfenstein II: The New Colossus
Price When Reviewed:
$59.99
Wolfenstein 2's first real post-release content is out this week,The Freedom Chronicles: Episode 1, subtitled The Adventures of Gunslinger Joe. There's a trailer out, and I thought the concept held promise (you play as an ex-quarterback) but fair warning—Steam reviews seem pretty down on it, with plenty citing not just a short run-time but also a lot of reused segments/assets from the base campaign.
Call me Ishmael
You Must Build a Boat devoured probably two days of my life in 2015, so I'm pretty stoked to hear developer Luca Redwood has a new game coming in 2018. It's titled Photographs, and the description has me hooked already:
"Photograph's big secret is that it's not a puzzle game. It's five puzzle games. The game is divided into five distinct stories, set in five different times and locations, A player will learn how to solve progressively difficult puzzles in one story, and then move to the next story which has completely different gameplay."
Quite a change from the Match-3 roots of You Must Build a Boat and 10,000,000, but it sounds pretty interesting regardless.
Third time's the charm
Mentioned in this article
Tom Clancy's Rainbow Six Siege
Price When Reviewed:
$49.99
Who would've guessed when Rainbow Six Siege launched that two years later Ubisoft would be gearing up for a third round of post-release add-ons? And yet here we are. This week Ubisoft started selling the Rainbow Six Siege Year 3 Pass, giving early access to eight new operators plus exclusive uniforms and some credits to spend in the store, and a year-long boost to your in-game rewards. Pretty cool for a game some thought was dead out the gate.
Pirate's life for me
Mentioned in this article
Sea of Thieves
Price When Reviewed:
$59.99
Sea of Thieves is one of my most anticipated titles in 2018, but suffice it to say details have been thin regarding what players will actually do in the game—aside from getting fake-drunk and playing accordion of course. Rare pulled back the curtain a bit this week though, with eight minutes of video focused specifically on progression systems. It looks promising.
Land among the stars
Ask people which video games made them cry and 2011's To the Moon still comes up pretty damn often. If sobbing hysterically sounds like a good time to you, then you might be interested to know that Freebird Games's latest title is out now. Titled Finding Paradise, it's a pseudo-successor to both To the Moon and previous game A Bird Story. Check out the launch trailer below:
Santa is a Warlock main
Mentioned in this article
Destiny 2
Price When Reviewed:
$59.99
'Tis the season for holiday-themed video game events. Overwatch's Winter Wonderland event kicked off this week, and next week Destiny 2 enters the fray with "The Dawning." Winter-themed armor and exotics are coming, as are snowball fights, gift-giving, and the return of Destiny's Mayhem multiplayer mode—basically your average multiplayer match, but with ability recharges shortened considerably. Given how slow Destiny 2's PvP is, it might be a refreshing change.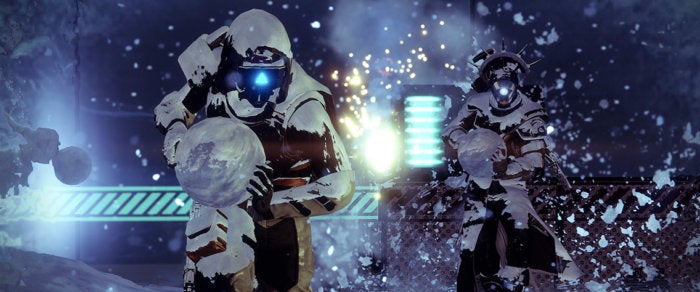 Oops.
Let's end this week on the Next Big Video Game Lawsuit. With Zenimax v. Facebook on hiatus, it's been a while since we've had a good legal scrap to talk about.
This week Crytek, makers of CryEngine, sued Cloud Imperium Games. The complaint is long and meandering, but the gist of it is that Crytek licensed the engine to CIG for a discount, with the stipulation that CIG make exclusive use of CryEngine, prominently display CryEngine in the finished product, and contribute "bug fixes and optimizations" to the engine on Crytek's behalf.
Crytek alleges that all of these stipulations have been broken, with CIG switching to Amazon's Lumberyard engine (itself a fork of CryEngine), minimizing CryEngine's prominence in marketing materials et al, and failing to contribute the agreed-upon bug fixes. Crytek also argues that selling the Squadron 42 FPS campaign separately from Star Citizen proper makes it a separate game requiring a separate license—a license CIG failed to secure.
CIG, for its part, denies any wrongdoing. Issuing a statement to PC Gamer, CIG said "This is a meritless lawsuit that we will defend vigorously against, including recovering from Crytek any costs incurred in this matter." The usual, basically—although they'd better have an ace in the hole, because Crytek's allegations look pretty foolproof at the moment. I've seen some speculation that CIG will argue Crytek breached the terms of the contract first, but if that's the case then CIG hasn't said anything yet.
Yet another bizarre chapter in Star Citizen's already-storied development cycle though.