You don't have to buy a case for a Raspberry Pi, but doing so makes the experience that much nicer. That's particularly so if, for example, you plan to use a Pi 3 B+ as a home-theater PC or even a secondary desktop.
A whole sea of options exist out there, though, ranging from simple acrylic cases to elaborately carved wood shells. So we dug into the mix to find the best of the bunch at different prices—and came up with a selection that should make minimalists, HTPC fans, gamers, hardware hackers, and even hot-rod enthusiasts happy.
The best Raspberry Pi cases
Greased lightning
Retailer: c4labs Price: $15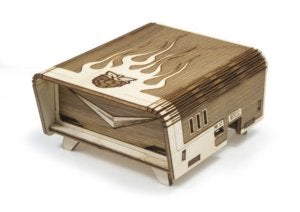 C4 Labs sells a snazzy-looking wood case that has 1950s-style hot-rod flames and the Chevy Bel Air symbol. The case uses laser-cut birch wood, and works with the Raspberry Pi 3, 2 and model B+. The enclosure has appropriate access to all the various ports, including room for a GPIO ribbon cable.
If this case isn't your thing, ModMyPi also has an interesting Helix case made from "flame grilled" medium-density fiberboard. It works with the Raspberry Pi 3, 2, and model B+. This case doesn't require any screws, as it uses push fit pins to come together. The manufacture recommends that users avoid disassembling this case often, in order to keep from damaging the tight-fitting pins.
Official Rasberry Pi 3 Case
Retailer: Amazon Price: $6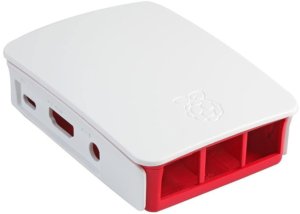 The official Raspberry Pi 3 case is pretty basic as cases go, but we just had to include it since it's the "official" way to dress up your RPi 3.
The case is attractive enough, and the main idea behind it is to make the case as affordable as the Raspberry Pi itself. The list price for the official case is $9, but you can usually find it for $6 from third-party retailers on Amazon.
Super Nintendo Case
Retailer: Pigmented (via Etsy) Price: $110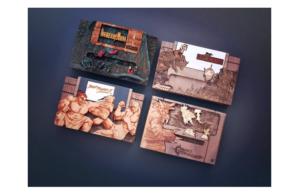 Here's one for the ultimate Raspberry Pi Zero and Super Nintendo fan: Etsy maker Pigminted will take your favorite Super Nintendo game and turn it into a custom-made case for your Raspberry Pi Zero. These cases don't come cheap at $110 each, but just look at the detail.
In addition to the case, you also get a stand for the device. Pigmented also sells an $180 version of this kit that also includes a Raspberry Pi Zero W (an upgraded version of the Zero with Wi-Fi and Bluetooth support), the various wires necessary to work it, and a controller.
Pi Stacks
Retailer: ModMyPi Price: £12.95 ($16.76 at this writing)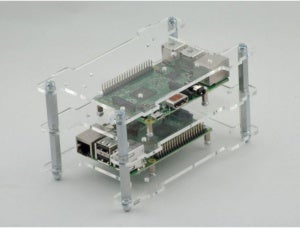 Sometimes a single Raspberry Pi just won't do. For those times when you're working on a dual-Pi project, the Multi-Pi Stackable case is a useful option. The case is basically two acrylic shelves for mounting your Raspberry Pi boards. There are no sides, allowing for an open air design to keep your hard working RPis cool.
Working with more than just two boards? You can buy more cases to stack on top of each other for a tower of delicious and affordable computing power.
Motion sensor
Retailer: ModMyPi Price: £16.00 ($20.71 at this writing)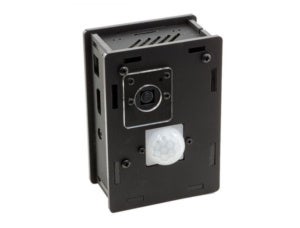 A case that will appeal to project enthusiasts, the Pi PIR Motion Camera box is an all-in-one enclosure for a Raspberry Pi-powered motion sensor camera. This ModMyPi case has enough room to house the Raspberry Pi, the Pi Camera Module, and a PIR motion sensor. There's also room for a magnetic camera lens for those so inclined. It's also designed so that the Pi Camera's red LED won't affect the "ambient light captured by the camera," and comes with mounting bracket if you want to put the newly created device on the wall somewhere.
The case's purchase price includes the PIR motion sensor, but you'll have to pick up a Pi Camera (and RPi3 board) yourself.
Super NES
Retailer: Amazon Price: $20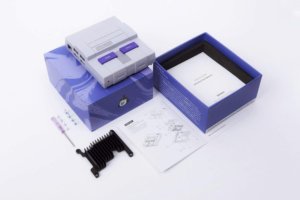 Appeal to your inner retro gamer with this mini replica of the Super Nintendo Entertainment System. The case, called the Super Kintaro, features the same classic buttons on the top—and they're functional. It also comes with a custom heat sink to make sure you don't experience a meltdown during a Super Mario World session. This particular case is compatible with the Raspberry Pi 3 and 3 B+.
If you need any help creating your classic console once you've got the SNES case, check out our SNES classic RetroPie emulator build guide.
Lego NES
Retailer: RaspPiPC Price: €24.75 ($28.06 at this writing)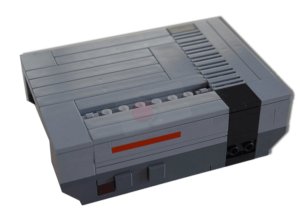 Spain-based RasPiPC has a Nintendo Entertainment System case. You can find all kinds of versions of an NES case online, but this particular model is made from Lego. It works with Raspberry Pi 2 and 3.
Be warned this case is for hardcore Lego fans, as you'll have to construct the thing yourself. (Want an easier and cheaper NES-themed option? Try this $16 one made by Kintaro.)
Pi-boy
Retailer: VagrantInd (via Etsy) Price: $70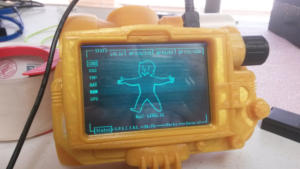 This 3D-printed Raspberry Pi case is for fans of the Fallout video game series. This option is a wearable replica of the Pip-boy personal computing device—a central part of the gear used by the main characters in the Fallout series. This particular model is based on the Pip-boy 3000 Mark IV from Fallout IV. Anyone ordering this case will need to supply measurements to make sure the item will fit.
To make this case into a true Pip-boy, you'll also need a touch screen, the Pi Camera, the Pip Boy software, and your Raspberry Pi board (either the Raspberry Pi 2 or 3).
Commodore Amiga 500 Retro Raspberry Pi Case
Retailer: retropicases (via Etsy) Price: $32.56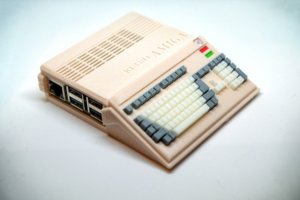 While the Raspberry Pi is a modern PC, retro gamers love it because it's cheap and can run older software so well. If that's why you bought a Raspberry Pi 3, 2, or B+, then this 3D-printed case might be for you: It looks just like the Amiga 500 computer and keyboard. (You'll have to supply a replica monitor, disk reader, and mouse yourself.)
This particular case snaps together, so you won't need to worry about screws or other little fiddly parts. It also provides access to all ports.
Adafruit case
Retailer: Adafruit Price: $8 ($5 for the case, $3 for the lid)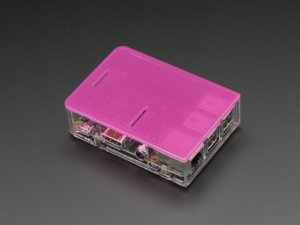 Adafruit has its own line of polycarbonate cases for the Raspberry Pi 3 / 2 / Model B+ that are simple base units with snap-on lids. The base costs $5 and comes in a wide variety of colors that includes clear, gray, orange, blue, green, purple, and pink.
The snap-on lids ($3) are optional since tinkerers may enjoy having a base to cradle their board, while still having easy and free access to all the various board components—most importantly the GPIO pins. The beauty of buying the base and lid separately is that you can mix and match to create your own unique color combination.
Puck Case
Retailer: theC4Lab Price: $15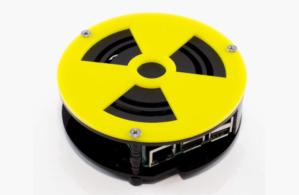 Etsy is home to a variety of unique cases for a Raspberry Pi, and this one's especially interesting. Compatible with the Pi 3 B+ and Pi 3, It's a puck case with a radiation symbol on the top (unless that's supposed to be a reel-to-reel tape) that looks quite compact.
Since this acrylic case with metal fasteners is made to order, it won't be shipped out the day you order it.
Thor's Hammer Pi Case
Retailer: 3dWholesalePCLLC (via Etsy) Price: $46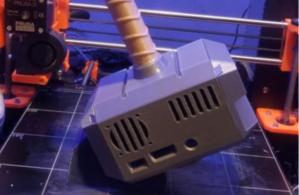 Thor may have lost Mjolnir in the Marvel Cinematic Universe, but there's little chance you'll misplace the diminutive Raspberry Pi encased in this made-to-order replica.
The case is sold by 3dWholesalePCLLC but was designed by Darren Furniss. It features enough room to house the Pi, a fan, and a side door for the SD card. You'll need a 2.5mm hex driver for the screws.
DeathStar Pi Case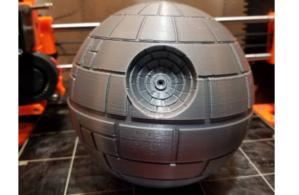 Retailer: 3dWholesalePCLCC (via Etsy) Price: $50
You'll have a hard time finding a cuter version of the Empire's planet-destroying space station, much less one that can house your Raspberry Pi 3.
Another pop culture special for the Raspberry Pi 3 from 3dWholesalePCLCC and Darren Furniss, this Death Star replica includes a Pi Camera hole right where the Alderaan death ray should be. There's also a fan vent at the top for a 30mm fan.
Media Pi Plus
Retailer: sb components Price: $50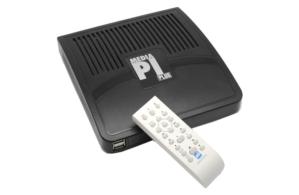 This case straddles the worlds of both Raspberry Pi cases and kits. The Pi makes a great media streamer when Kodi software is installed, and this Media Pi Plus case takes that up a notch.
Though its nondescript black box appearance is as bland as a standard cable box, it offers a 5-port USB hub, an integrated power switch, room for a hard drive (DVR!), integrated IR, and a remote control. And yet, despite packing all of these features, it still only needs a 5V power supply.
The Media Pi Plus works with the Raspberry Pi 3 B+ and 2.
More Raspberry Pi cases
These are our favorite cases that we've found so far, but there's a whole world of interesting Raspberry Pi cases out there for you to explore—especially on Etsy. Among the sea of gaming-themed options are aluminum shells and even custom-etched, mixed-material frames.