At a Glance
Expert's Rating
Pros
8th-gen Core chip delivers outstanding performance
Excellent value for the money
Comfortable, sturdy typing experience
1920×1200 display is higher-res than average
Cons
Battery life falls far below the competition
Pen holder blocks a USB port
Our Verdict
Lenovo's IdeaPad Miix 520 is an outstanding Windows tablet in terms of price and performance, held back only by shorter-than-expected battery life.
Best Prices Today: IdeaPad Miix 520
The Lenovo Ideapad Miix 520 aspires to compete with Microsoft's Surface Pro, and it checks nearly all of the boxes: excellent performance; a bright, high-resolution display; and a comfortable typing experience. Only in battery life does it fall well short. Nevertheless, the Miix 520 is a great alternative to the pricier Surface lineup.
As Windows tablets coalesce toward the 12.2-inch panel size used by the Miix 520, comparing them is all about tradeoffs. The Miix 520, which is currently available in only one configuration (currently about $990 on Amazon), upgrades the typical tablet display from 1080p to a 1920×1200 panel. But that higher resolution affects battery life, as you'll see later in our tests. The other major features are detailed below.,
Lenovo Miix 520: Basic specs and features
Display: 12.2-inch (1920×1200) IPS
Processor: Intel 1.6GHz Core i5-8250U (Kaby Lake-R)
Graphics: Intel 620 (integrated)
Memory: 8GB DDR4 (2,133MHz)
Storage: 256GB SSD
Ports: 1 USB 3.0 (Type C), 1 USB 3.0 (Type A), microSD, headphone jack
Wireless: 802.11ac (2×2), Bluetooth 4.1
Cameras: Front (5MP, fixed-focus) Rear (8MP, autofocus)
Battery: 39Wh
Operating system: Windows 10 Home
Dimensions and weight: 11.8 in. x 8.1 in. x 0.4 in., 0.6 in. with keyboard; 1.9 lb (tablet), 2.72 lb (with keyboard), 3.06 lb (tablet, keyboard plus charger)
Price as reviewed: $999
Unlike Microsoft, Lenovo bundles the detachable keyboard as well as a stylus, known as the Active Pen 2.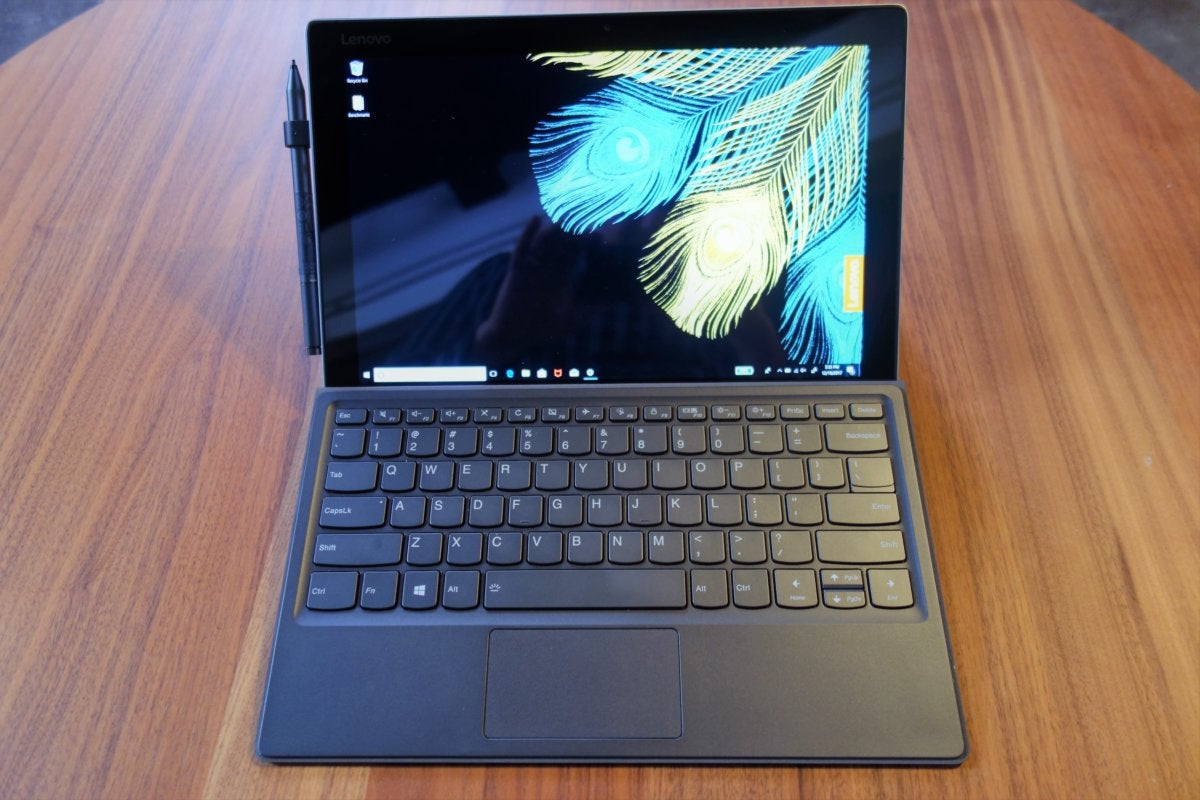 Lenovo Miix 520: Build quality and display
Save for Lenovo's silvery "watchband" hinge, the Miix 520's platinum silver exterior is discreet, as is the case with most tablets. Unlike the crisp, minimalist lines of the Microsoft Surface Pro (2017), however, there's much more of a sense of "busy:" a fan grille runs along the top of the tablet, ports cluster to the left-hand-side, and speaker grilles pop out here and there.
The watchband hinge isn't just for show. It supports the weight of the tablet (which, at 2.72 pounds with the keyboard, is a bit heavier than the competition), and it reclines to 150 degrees (the same range as the Surface Pro) with hardly a wobble. Lenovo uses the thin "sheath" kickstand that most tablet makers (except HP) employ, though, which can jab your thighs after prolonged use.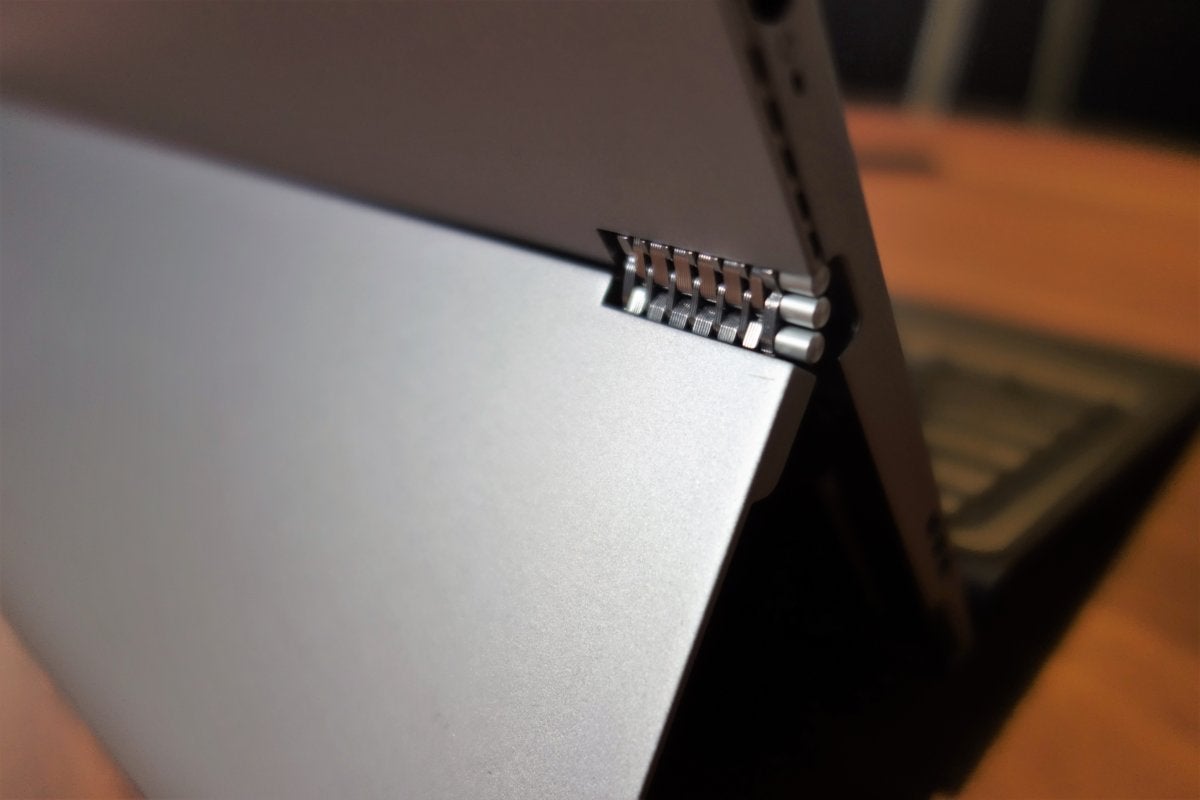 When powering on the Miix 520, you may notice one of the design touches that please habitual Lenovo users: the on-screen battery gauge. You also have the option (via the Lenovo Vantage software, discussed later) of placing a battery icon widget on your taskbar.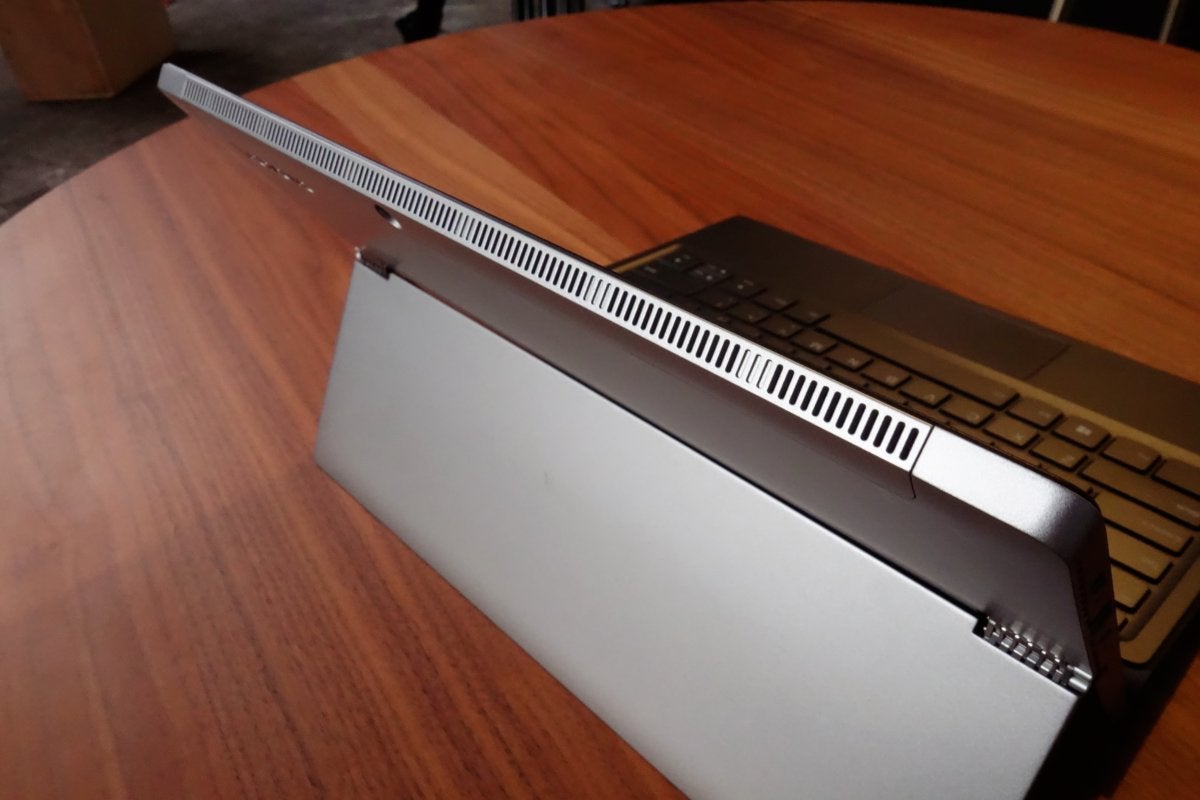 While the Miix 520's 12.2-inch, 1920 x 1200 IPS panel taxes battery life and lacks the visual pop of, say, the OLED screen used by the Samsung Galaxy Book, the experience is worth it. There's a perceptible improvement in display quality compared to 1920×1080. The luminosity maxes out at just 298 nits, which is somewhat less than the competition, but we consider something between 250 and 270 nits to be comfortable for average use.
Unfortunately, one aspect where the Miix 520 skimps too much is Windows Hello. The tablet lacks a fingerprint reader, and the 5MP front-facing camera is not Windows Hello-capable. The rear-facing 8MP camera is suitable for Mixed Reality Viewer, a fun new feature in Windows 10 where you can snap a photo with your tablet and then drop in one of thousands of 3D objects to spice it up.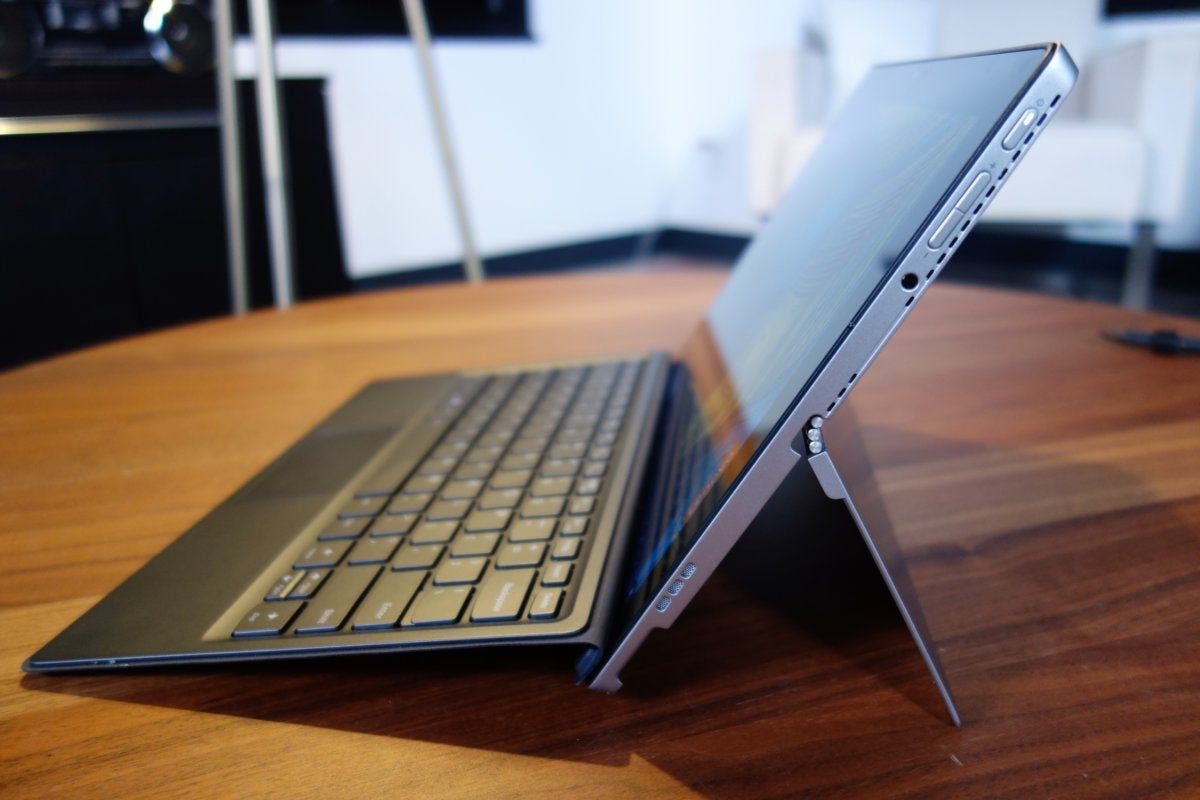 (If you read our original report on the Lenovo Miix 520, we noticed one change. Lenovo had originally told us that the rear-facing camera, dubbed WorldView, would pair with a bundled MagicWindow app that would let you insert 3D images into regular images. That app has not been bundled, and it's not clear—even after checking with Lenovo—what happened with WorldView.)
Lenovo Miix 520: Keyboard, ports, and speakers
Lenovo is known for its keyboards, and the Miix 520 generally does not disappoint. Instead of the Alcantara fabrics that have become the design trend du jour, Lenovo opts for a more basic pleather, which surrounds the keyboard and works just fine. Each key is large enough to offer a comfortable landing, and the 1.5mm travel lends itself to prolonged typing.
The row of relatively tiny function keys at the top includes dedicated controls for toggling the touchpad, adjusting the brightness and sound, and locking the tablet. Users can also toggle the keyboard backlight, a nice touch that isn't always duplicated on rival machines. Unlike the Lenovo X-series tablets, the Miix 520 also forgoes both trackpad buttons, as well as the iconic red TrackPoint pointing stick.
Though the trackpad feels rather small, the glass surface allows smooth scrolling, and clicks registered in all but the very upper regions of the trackpad.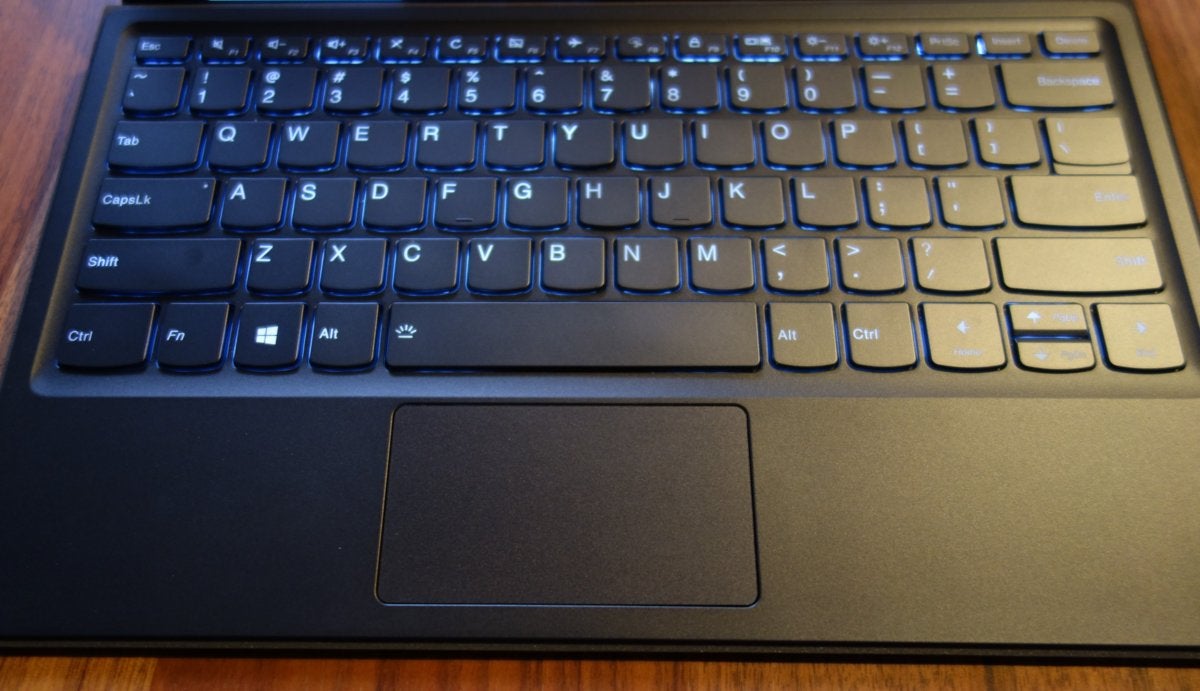 About the only flaw I found was a small amount of keyboard flex, though you'll only notice it by pressing firmly on a key near the center. It's not enough to affect everyday typing.
Lenovo more than makes up for that with the seemingly bulletproot magnetic connection between the keyboard and the tablet itself. Like other tablets, the Miix 520 uses a dual hinge that folds back, creating two points of contact and angling the keyboard slightly. The keyboard grips so tightly that I was able to suspend the tablet itself from the keyboard. In other words, if the tablet is perched on your lap and falls backward over your knees, it probably ain't going anywhere.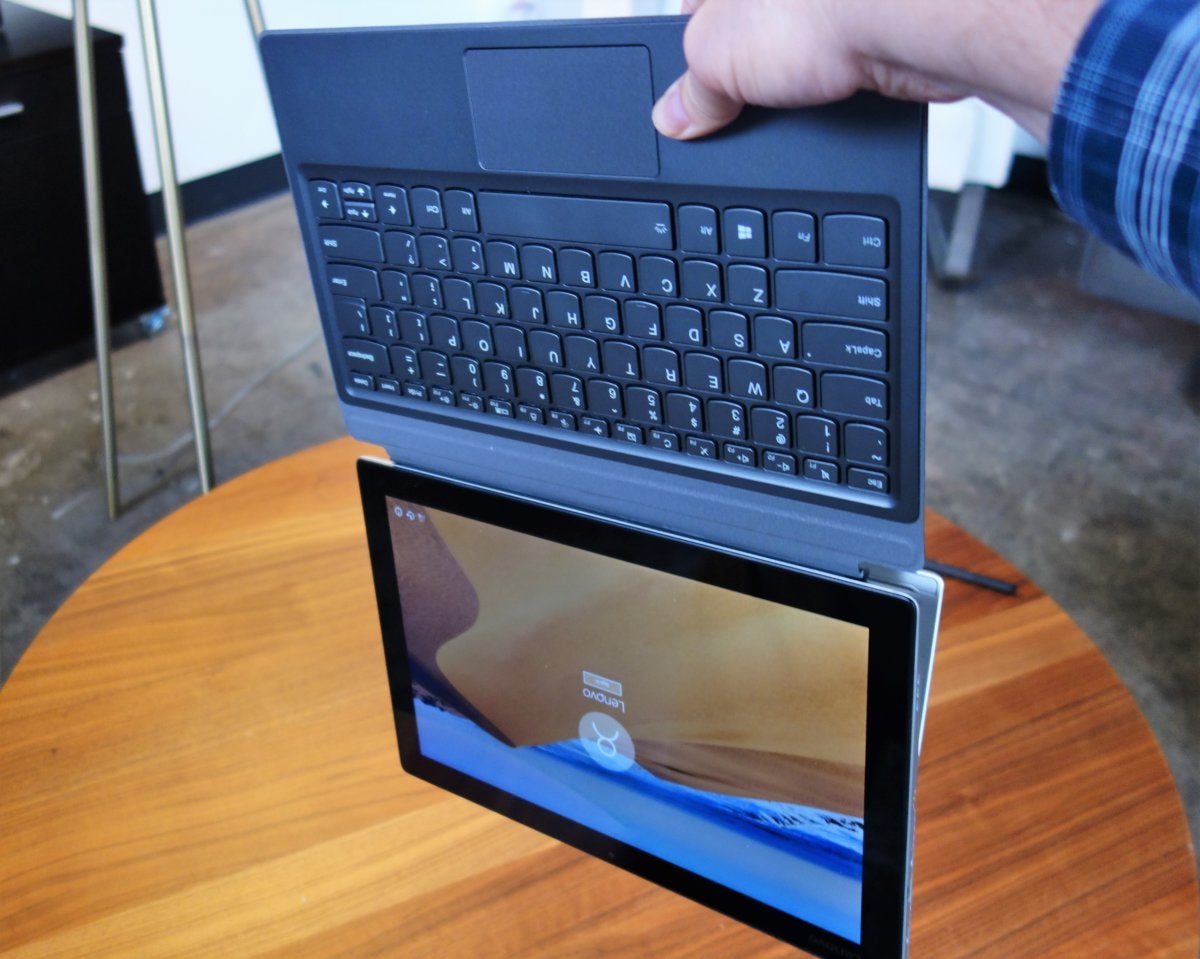 Ports are a key concern with any Windows tablet, especially as manufacturers manage the transition from legacy USB-A connectors to the new USB-C standard. The Miix 520 wisely splits the difference with two USB 3.0 ports: one Type A and one Type C. The Type C port doesn't support the high-speed Thunderbolt protocol, nor is it used for charging—there's still a dedicated power port, leaving both ports available for use. No dongles are included.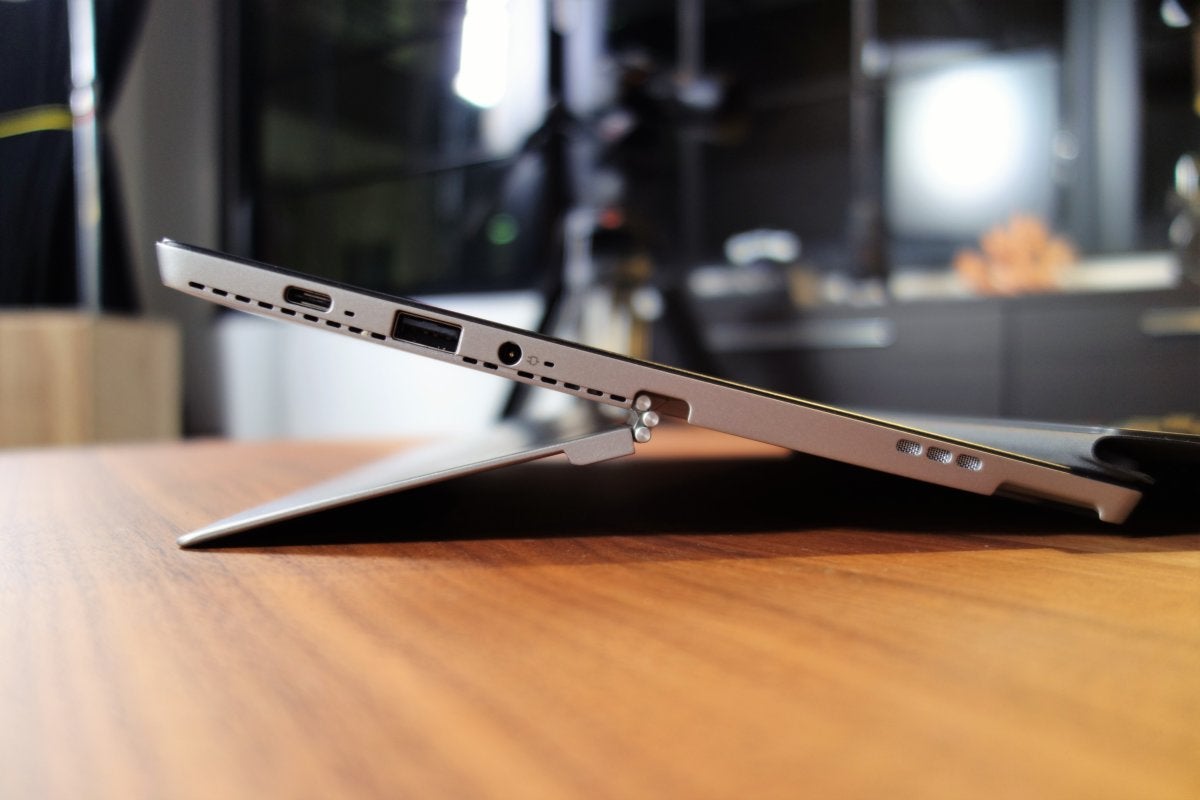 Don't forget about the microSD slot tucked away on the back of the tablet, either. (On Lenovo's website, the manufacturer erroneously reports that the Miix 520 includes a microSIM slot instead.)
The Miix 520's speakers deliver audio at satisfactory levels—a little softer than, say, a comparable HP tablet, but with good midrange and response in the upper registers. Over headphones, the Miix 520 digs deep to deliver the low-end bass response its own internal speakers lack, with some of the most enjoyable audio I've experienced from a tablet. A nice bonus is an actual Dolby Audio app, complete with the graphics equalizer so often missing from Windows machines. (Somewhat sadly, though, it lacks any presets.)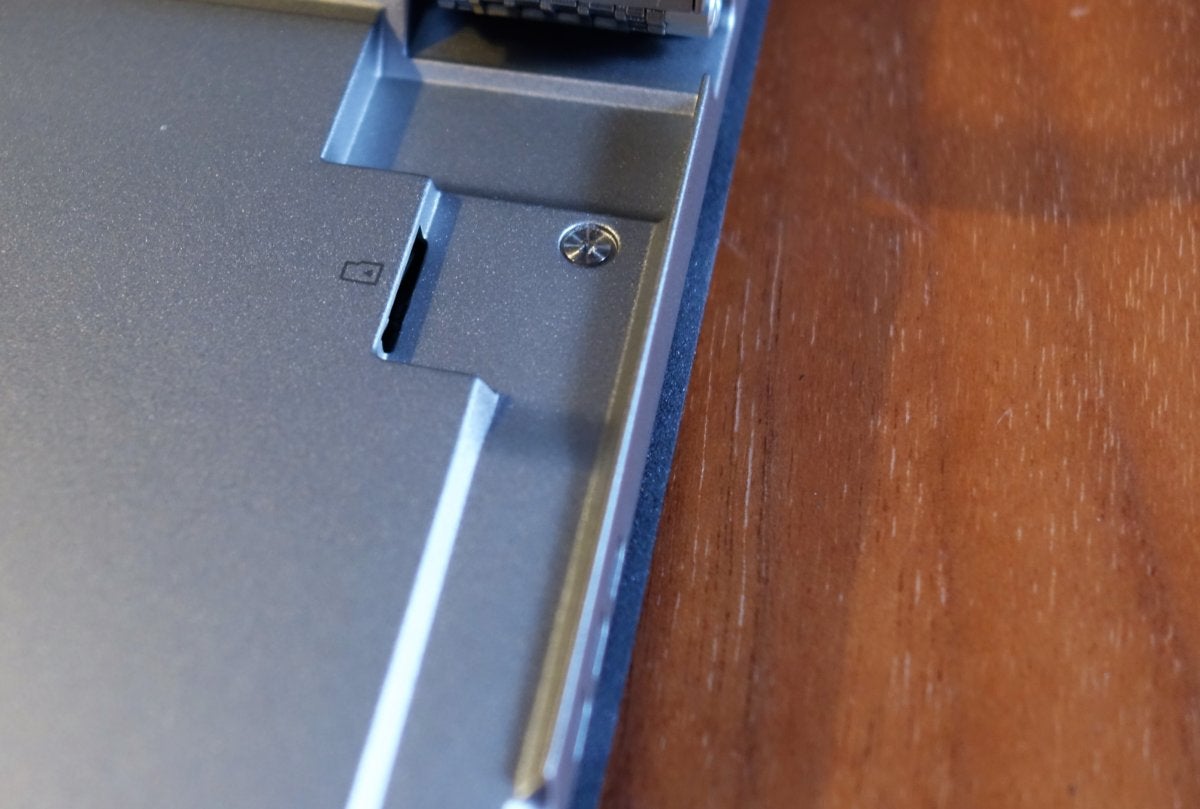 The Miix 520 ships with what Lenovo calls the Active Pen 2, a sturdy stylus with 4,096 levels of pressure, though no tilt support. Lenovo also helpfully includes Wacom's own Wacom Pen stylus app to manage the Active Pen 2.
Though using the Active Pen 2 is a breeze, assembling it is much more complicated than with other pens. You'll need to unscrew the top, then use a coin to disassemble that piece into two more pieces, install the smallest pair of coin batteries I've ever seen, reassemble the top, then drop in a AAAA battery to power the whole contraption. It's a task you'll want to devote some care to. Lenovo appears to use separate batteries for powering the wireless connection to the tablet as well as the general stylus functions, but the payoff isn't immediately apparent.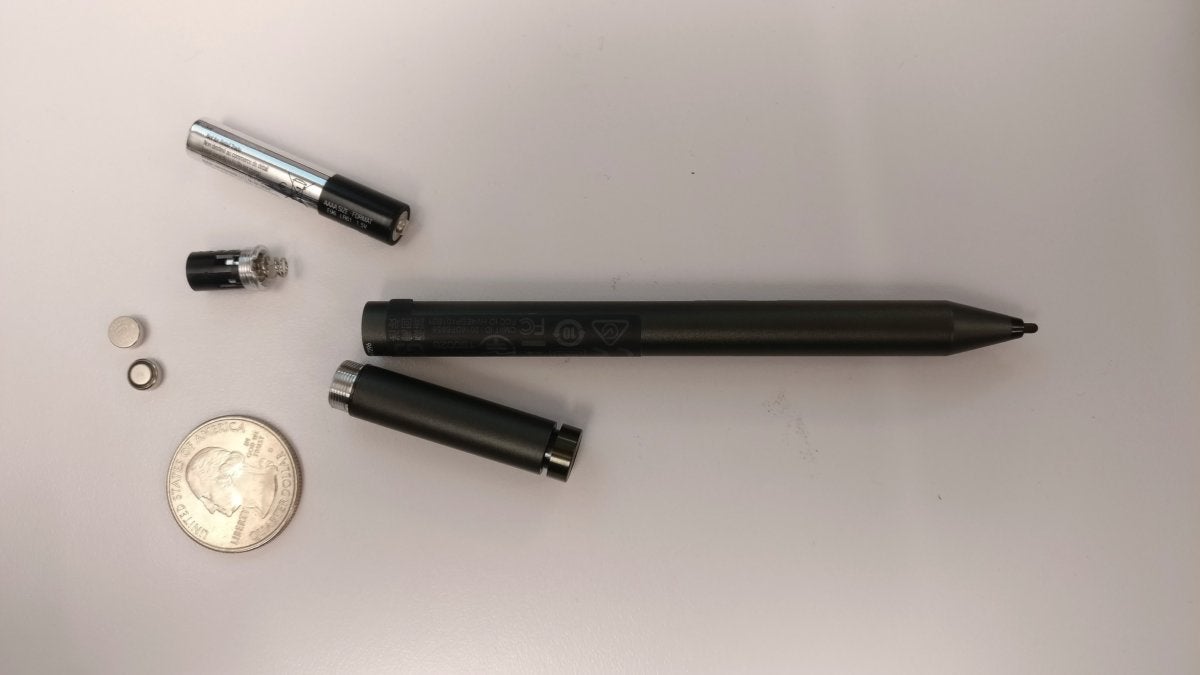 Though the Active Pen lacks the eraser-nubbin function of the Surface Pens, two configurable barrel buttons allow you to trigger Cortana, launch OneNote or other apps, or erase.
There's one additional catch: Lenovo's solution for the pesky problem of pen management is a plastic pen holster that plugs into the USB-A port. It's a dumb decision that sacrifices productivity for aesthetics, and you risk snapping off or accidentally detaching the holster inside your backpack or carry-on.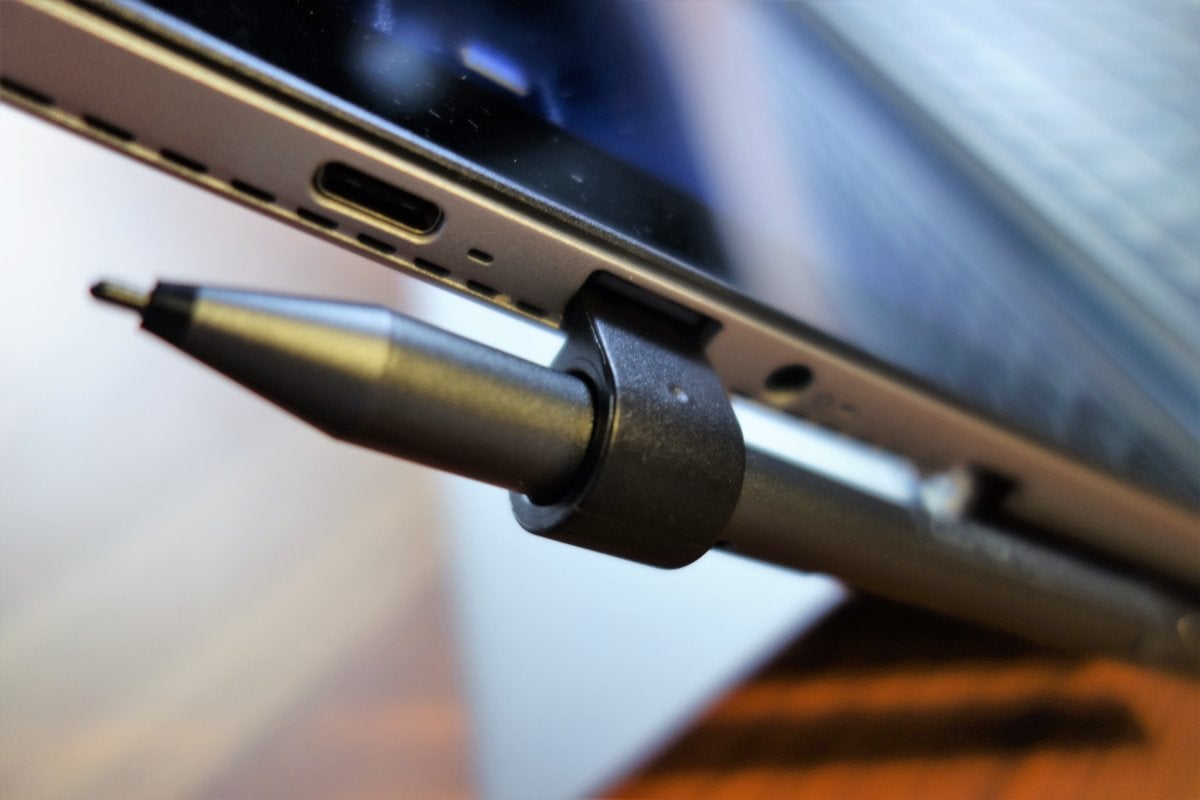 Extra software
Lenovo generally excluded bloatware from the Miix 520. The company bundles a trial of McAfee LiveSafe, the Microsoft Office apps (which require a subscription to Office 365 to activate) and Minecraft, plus the ubiquitous Candy Crush Soda Saga and March of Empires: War of Lords.
Somewhat oddly, Lenovo bundled both its own Lenovo Settings app as well as the new Lenovo Vantage, a smartly designed utility to do everything from manage updates to explore several offers. When opened, though, Lenovo Settings simply informs the user that the Settings app and Vantage have merged, and Settings can be uninstalled. Maybe you could go the extra mile next time, Lenovo?
Vantage and the related Lenovo App Explorer also serve as front doors of sorts to additional, optional apps like Lenovo Le-Note, a OneNote-like inking app that allows you jot a note on the screen, even when the tablet is locked.
Lenovo Miix 520 performance: Marred by poor battery life
Lenovo's Miix 520 is one of the first crop of tablets to use Intel's 8th-generation Core chips, and specifically its most recent Kaby Lake-R parts that promise up to 40 percent more performance compared with prior-generation parts. The benefit is borne out in most of our tests below. Battery life matters in a tablet too, though, and in this regard, the Miix 520 misses the mark.
The tests below show how the Miix 520 compares favorably to the Microsoft Surface Laptop, a full-fledged laptop, and other tablets we've preferred, such as the Samsung Galaxy Book. Lenovo's tablet will plow through any office task with ease, and the 8GB of memory Lenovo offers is sufficient for Web browsing with 20 or so tabs. Rest assured that your tablet will play back Netflix or other video at full frame rates, as well.
PCMark 8's Work 2.0 test measures how the tablet will handle tasks like spreadsheets and word processing. As you can see, the Miix 520 handles it with ease.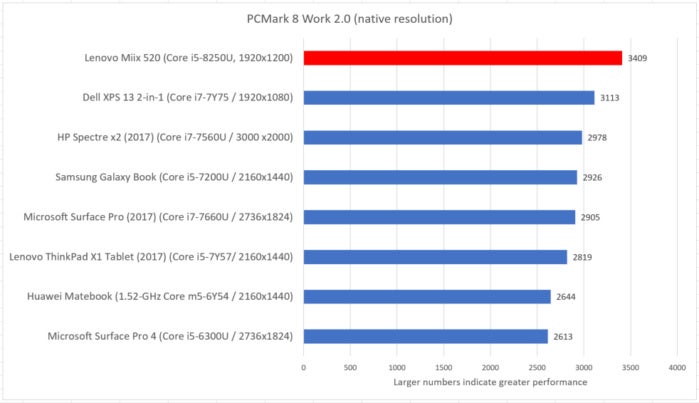 Both the Home and Creative aspects of the PCMark test suite are more relevant to the Miix 520's intended use. Though both tests share some of the same elements, the Home test tends to emphasize light gaming and photo manipulation, while Creative pushes forward into video editing. All of these tasks are relevant to home users, and the Miix 520's success here indicates that it's a solid choice.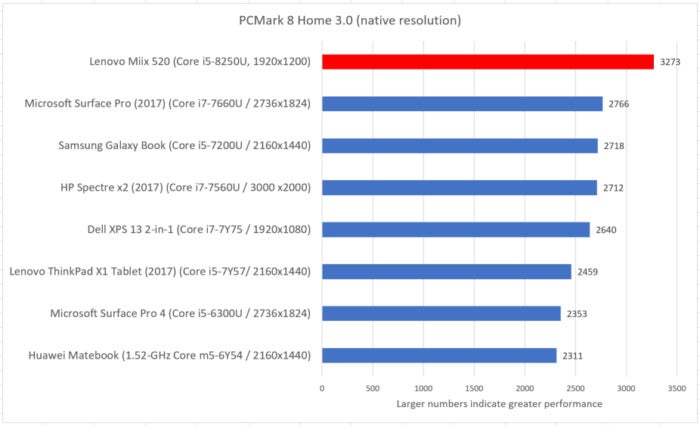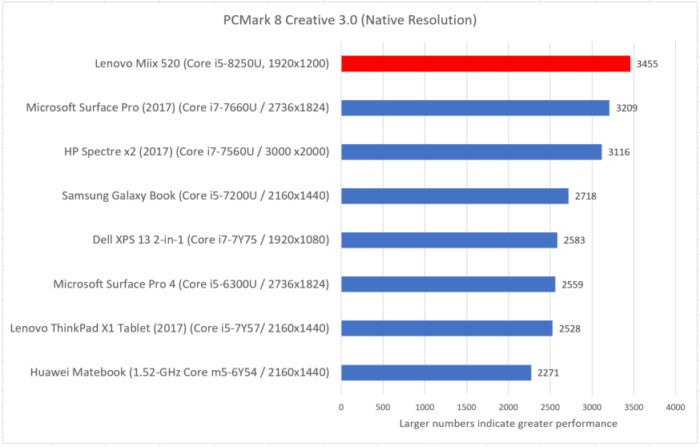 Maxon's Cinebench benchmark, which renders a complex 2D scene, measures how well a device's CPU performs from both a single-core and multicore perspective. The most important measurement in this case is the latter: How well does the four-core Core i5-8250U perform? Excellently, as it turns out.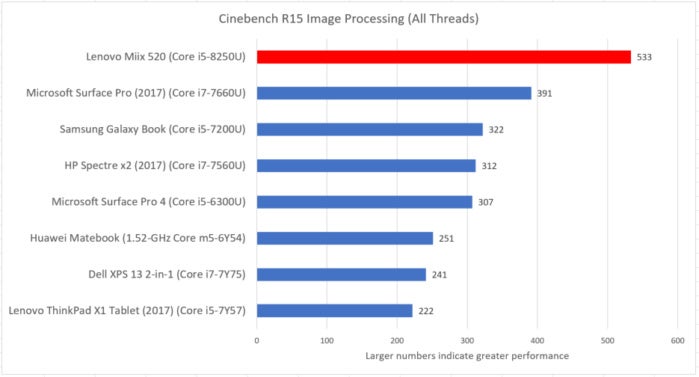 We also use the Handbrake open-source video conversion app to transcode a top-tier Hollywood movie into a lower-resolution video format suitable for an Android tablet. In this case, Handbrake serves as a stress test, putting the CPU under load for a prolonged period. An unexpectedly slow result could indicate CPU throttling under load. The Miix 520's fast result suggests it didn't take that step.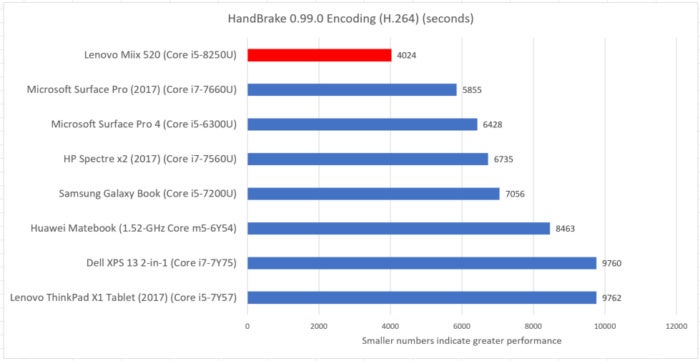 Our last benchmark examines the tablet's 3D performance using 3DMark's Sky Diver benchmark, which provides a solid base of comparison for other laptops and tablets. No tablet that we know of uses a discrete graphics chip; instead, manufacturers pick and choose among integrated chips. While the Miix 520 can't match the performance of the substantially more expensive Surface Pro (2017), it fares quite well thanks to its integrated Intel 620 3D graphics core.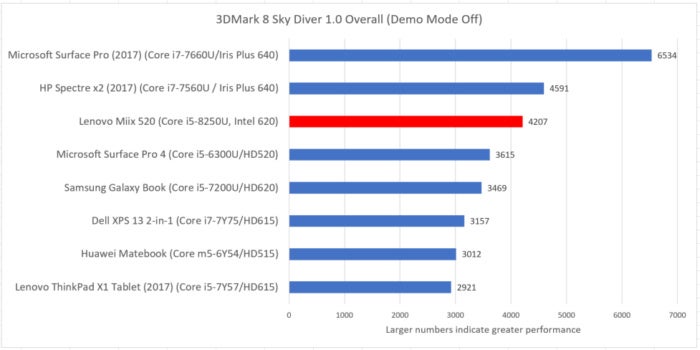 Finally, we arrive at the Miix 520's soft underbelly: battery life. We gauge it based on a rundown test where we set the display brightness to 250 nits and connect earbuds to the audio port, with volume set to a midrange level. With the battery fully charged, we unplug it and loop a 4K video until the device gives out, and record the time.
While Lenovo projects up to 7.5 hours of life from the 38Whr supply, we got only 5.5 hours in our video rundown test. The higher resolution of the display likely played a role. Optimists will recognize that a 5.5-hour battery life might just see a traveler through a cross-country flight. Still, this is an abysmal time compared to similar Windows tablets, and an area where Lenovo must improve.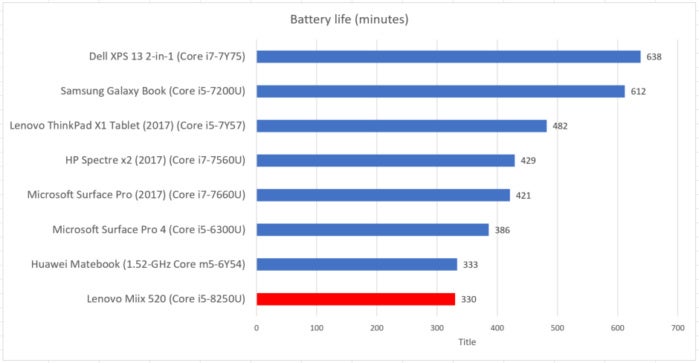 Conclusion: one of the best Windows tablets
The name "Lenovo," to me, still implies thin black slabs of productivity. And while it's true that the Miix 520 never aspires to be flashy, it's an unobtrusive Windows tablet that sparkles with the occasional flash of luxury.
More practical considerations recommend the Miix 520, though: a rich, er, mix of features at an accommodating price. If you're going to be out and about for several hours or on a plane to Taiwan, though, consider an alternative that will remain powered up for the duration of the flight—either the Samsung Galaxy Book, or our other top contender, the pricier HP Spectre x2. And we may still see future, as-yet-unreleased tablets get it all right.
Battery life aside, I was surprised at how much I liked the Miix 520. It delivers enormous bang for the buck, and clearly should rank among the top choices for your next Windows tablet.
Best Prices Today: IdeaPad Miix 520