So you think you have a bad-ass home network? Let's see how it stacks up against Netgear's new gamer-oriented Nighthawk Pro Gaming XR500 router and Nighthawk SX10 10G/Multi-Gig LAN Switch.
The latest model in Netgear's Nighthawk lineup, the XR500, is a dual-band AC2600 model supporting MU-MIMO, four spatial streams per frequency band, and beam forming. It's powered by a dual-core 1.7GHz processor, 256MB of flash memory and 512MB of RAM. There's a four-port gigabit switch onboard for making wired connections, and two USB 3.0 ports that can be used to share USB storage over the network. So far, that could describe most any high-end router these days, right?
What makes the XR500 sound so exciting is the software that runs on it. Netgear partnered with Netduma (which has been working on its own gaming router since late 2014) to reduce game-killing lag, improve quality of service (QoS) to prioritize gaming traffic, and to help gamers see what's happening on their networks. Netgear loved what it saw in the software, but thought it could do the hardware a whole lot better. This, of course, is all in an effort take on the Linksys WR32X that Linksys developed in conjunction with its software partner, Killer Networking.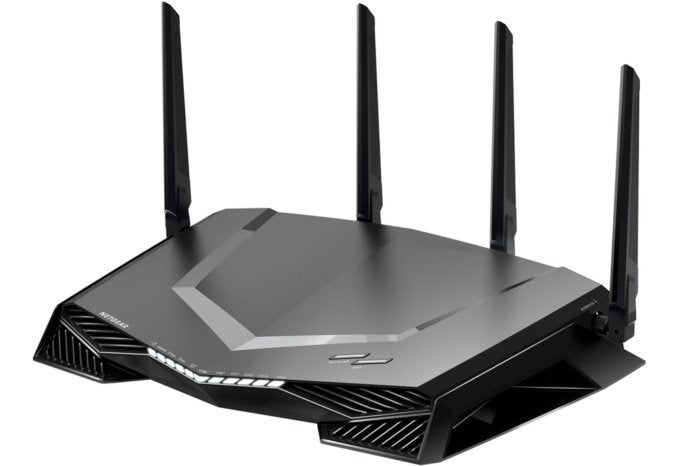 Elements of the software—labeled DumaOS in the screenshots I saw—include a gaming dashboard that displays real-time bandwidth utilization for each device connected to the network, reports ping delays, and reports other parameters. You can use a geo filter to geographically limit the gaming servers you connect to, and then create white and black lists so you don't end up on servers that don't provide a good gaming experience. A network monitor will identify network clients that are hogging bandwidth as well as applications running on client PCs that might be causing lag.
Netgear Nighthawk Pro Gaming SX10 Switch
No matter how fast your wireless network might be, it will never deliver the throughput you can gain from a wired connection. Most routers provide at least one gigabit port for wired connections, and many have a four-port gigabit switch. When you need more ports than that, you need to invest in a switch. And any gamer who throws LAN parties will want to hear about Netgear's gamer-oriented model. Being a managed switch, the SX10 is close to being enterprise-class hardware—just don't try to mount it in a conventional equipment rack.
The SX10 is outfitted with eight 1Gbps (GbE) LAN ports, plus two multi-speed uplinks that can operate as 100Mbps or 1-, 2.5-, 5-, or 10GbE ports. And if that doesn't deliver enough throughput for your needs, you can aggregate either the GbE or the multi-speed ports to achieve more throughput. Aggregating the two multi-link ports would deliver a staggering 20Gbps. If you're thinking the speed and the management features will demand a noisy cooling fan, you needn't worry: Netgear encloses the SX10 in aluminum so that it can be cooled passively—there is no fan.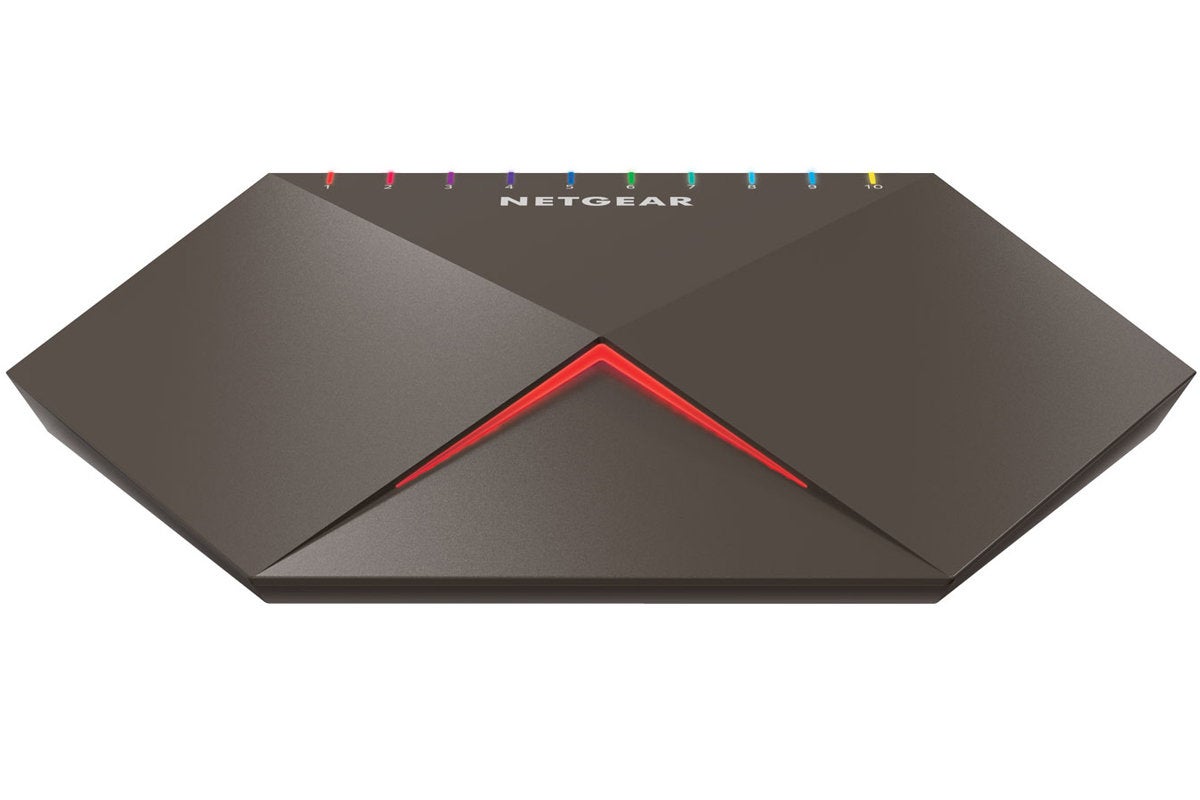 Netgear offers a similar gaming dashboard for the SX10 that displays real-time bandwidth consumption per port, giving you the ability to identify traffic bottlenecks and set rate limits for each client on the network. You can also block devices that are consuming more than their fair share of bandwidth.
The Nighthawk Pro Gaming Router XR500 and the Netgear Nighthawk Pro Gaming SX10 Switch are both available now, with MSRPs of $300 each.