D-Link today announced two home networking devices based on the IEEE 802.11ax standard at CES Monday: the AX6000 and the AX1100 Ultra Wi-Fi routers. And here you thought 802.11ac was the latest and greatest.
The AX6000 is a dual-band router that D-Link says will deliver up to 6,000Mbps of bandwidth—hence the name AX6000. The AX11000, meanwhile, is a tri-band device that promises 11,000Mbps. But those massive numbers are purely theoretical and unlikely to ever be seen in the real world.
Not fully baked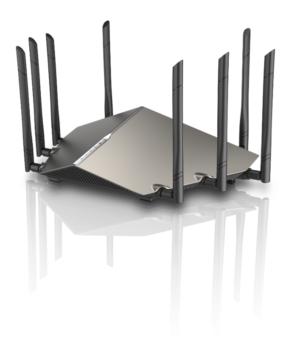 Before we go any further with the fancy features of these new 802.11ax routers let's rewind back to 802.11ac for a second. While you'll soon be hearing a lot about 802.11ax, 802.11ac Wi-Fi is still the latest and greatest wireless networking standard.
That's because 802.11ax isn't fully baked yet. We've spoken to several vendors here at CES and the consensus is it's not quite ready for prime time. Currently the Wi-Fi Alliance's website lists 802.11ax as being in early development. The Wi-Fi Alliance's vice president of marketing also told CNET a few days ago that 802.11ax chips aren't expected to roll out until later in 2018.
In fact, it wouldn't be surprising if the final 802.11ax specification was pushed into 2019. New Wi-Fi standards tend to be spaced years apart as ratification and interoperability testing takes time. 802.11ac was finalized in 2013, for example, and before that 802.11n was published in 2009.
As far as D-Link's routers are concerned, while they are depending on a wireless standard that isn't finished yet there is enough technical information to design a router that adheres to 802.11ax in its current state. Presumably, D-Link expects to send these routers firmware updates once 802.11ax is finalized to cover any gaps these newer routers might have.
D-Link is also further hedging its bets since the AX6000 and AX11000 aren't expected to roll out until the second half of 2018—likely after those AX chips are available. Pricing was not announced.
So what's so great about 802.11ax? If you have a lot of devices at home—and you probably do—then this new wireless standard is something to get excited about. While 802.11ax does introduce a boost in speeds, as all new wireless standards do, the real appeal is its ability to more efficiently handle large amounts of traffic.
The upcoming standard expands on the current state of 4×4 MU-MIMO (multi-user, multiple input and multiple ouput) to 8×8 MU-MIMO on both the 2.4GHz and 5GHz bands. That means that an AX router will be able to supply eight data streams both up and down for your home network. The end result being a more efficient network that can better handle traffic from the PC playing Player Unknown's Battlegrounds in the den, while the Apple TV sucks down 4K Netflix in the living room, and the teenagers upstairs are swapping Snapchat pics and videos on their phones.
To that end, D-Link's AX6000 and AX11000 come packing eight high-performance antennas, although at launch the routers are only supporting 4×4 MU-MIMO. The boxes also have one 2.5Gbps WAN port, and four Gigabit LAN ports, DLNA support, and a USB 3.0 port if you want to hook up some networked storage. D-Link says it will also roll out a new mobile app for an easier Wi-Fi network setup process.