One of the biggest security holes in most people's home network is their router. It's a mission critical device, but so often it doesn't get patched and offers only minimal security against any serious malware. D-Link is joining the trend to help make the home network more secure with the D-Link AC2600 Wi-Fi Router Powered by McAfee (DIR-2680). As its name suggests it's an 802.11ac Wi-Fi router with McAfee security built-in.
D-Link isn't the first company to offer serious security at the edge of your home network. Symantec has its Norton Core router, and Bitdefender offers the second iteration of its "Smart Home Cybersecurity Hub," Bitdefender Box.
D-Link's DIR 2680 is a dual-band router with MU-MIMO support (it's not clear which flavor), Intel's Home Wi-Fi Chipset WAV500 series, and an Intel AnyWAN GRX350 SoC. There are three LAN ports and one WAN port. The chipset runs the wireless traffic so the AnyWAN SoC can focus on the software and security functions, according to D-Link.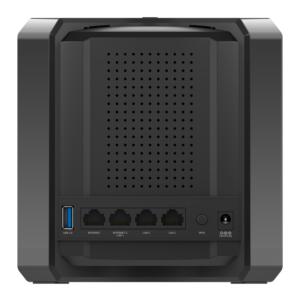 Security is handled by McAfee's Secure Home Platform, the security company's embedded platform that protects your home's devices at the network level. That protection extends to everything from smartphones and PCs to connected thermostats and light bulbs.
McAfee's Secure Home Platform does a variety of things. It monitors your network for malicious activity, which is important given the nascent state of smart home devices and their tendency for atrocious security vulnerabilities. McAfee's software also monitors the network activity of individual devices for threats such as visits to known malicious sites.
The Secure Home Platform notifies you when a device on your network lacks onboard antivirus protection. That would likely get annoying for power users since you could end up with constant alerts to install McAfee on your PCs and mobile devices, but for the average user it's probably a good choice.
McAfee's Secure Home Platform also comes with parental control features to restrict activities by device including types of websites visited and times of day for network access. The parental controls also come with the usual spyware features that are so common these days allowing parents to monitor their kids' online activities.
D-Link says the DIR-2680 will roll out in the second half of 2018. Pricing was not announced.