2017 might have been a standout year for PC enthusiasts, but these early months of 2018 are nothing short of a nightmare for PC gamers. Graphics card prices are downright ludicrous, fueled by the craze for cryptocurrency coins.
That's nothing new. Miners have been inflating graphics card prices since the middle of the year. But the damage was limited to the middle of the market for most of 2017. Currently, virtually every gaming-class graphics card is affected, though prices have relaxed somewhat after Bitcoin's plummet. The theoretically $200 3GB GeForce GTX 1060 currently goes for $340 to $500—when you can find it in stock, that is. The Radeon RX 570, RX 580, and 6GB GTX 1060—graphics cards with suggested retail prices of $200 to $250—are selling for $400-plus on Newegg. And if you thought the GTX 1080 Ti's $700 price tag was steep, prepare to clutch your chest: Nvidia's gaming flagship can't be found for less than $1,040 on Newegg today.
It's bleak. Real bleak. And the prices for used graphics cards are just as depressing.
So what's a poor PC gamer to do? Maybe your existing graphics card died, or maybe you're building your first gaming rig. If you need to get your game on during this graphics card hellscape, here's our advice.
Editor's note: This article was updated March 5, 2018, to update pricing information and include sections about AMD's Ryzen APUs and Nvidia's GeForce Now cloud gaming service. It originally published on January 17.
Wait it out
If you've got a working gaming PC already, just sit pat. Don't bother looking for new video cards right now even if your existing rig is starting to feel a bit long in the tooth. Dial down the graphics settings and resolution of your games, or consider overclocking your graphics card for some extra performance while you wait out this nightmare.
Buy an entry-level graphics card
If you absolutely, positively need a new graphics card right now, you could pick up a cheap short-term solution rather than paying through the nose (and other orifices) for most graphics cards. Then you can sell it and replace it when hardware prices return to normal.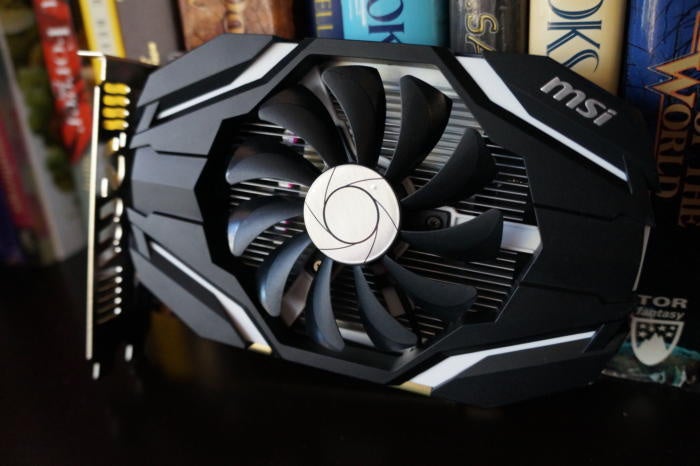 We'd suggest a Radeon RX 560 or GeForce GTX 1050 for most people looking for a stopgap solution. Don't get me wrong: At $160 for the cheapest available RX 560, or $150 for the most affordable GTX 1050s, you're still paying far more than suggested pricing for these $100 cards. But they deliver enough firepower to match console gaming performance (read: 30 to 60 frames per second at 1080p with Medium graphics settings) and won't completely break the bank. The Radeon RX 550 and Nvidia GT 1030 are even cheaper for a temporary fix, starting around $110 and $115 respectively, but they're best suited for e-sports games, or Medium-quality 720p gaming in triple-A titles.
Use your CPU's integrated graphics
If your CPU happens to be an AMD APU—which merges CPU and GPU on a single chip—you might be able to get by on that rather than investing in a stop-gap graphics card. Intel's integrated graphics could get the basic job done in e-sports games at low resolutions, detail settings, and frame rates, but not much else beyond retro-styled indie games.
If you have a PC with one of AMD's older A-series APUs (chips that start with A8 or A10, for instance) you can do much more. They're acceptable for e-sports games like League of Legends, Rocket League, and Counter-Strike: Global Offensive, but you'll need to turn the resolution down to 720p and graphics settings to Low for a chance to play newer AAA games at reasonable frame rates. It'll largely get the basic job done, though.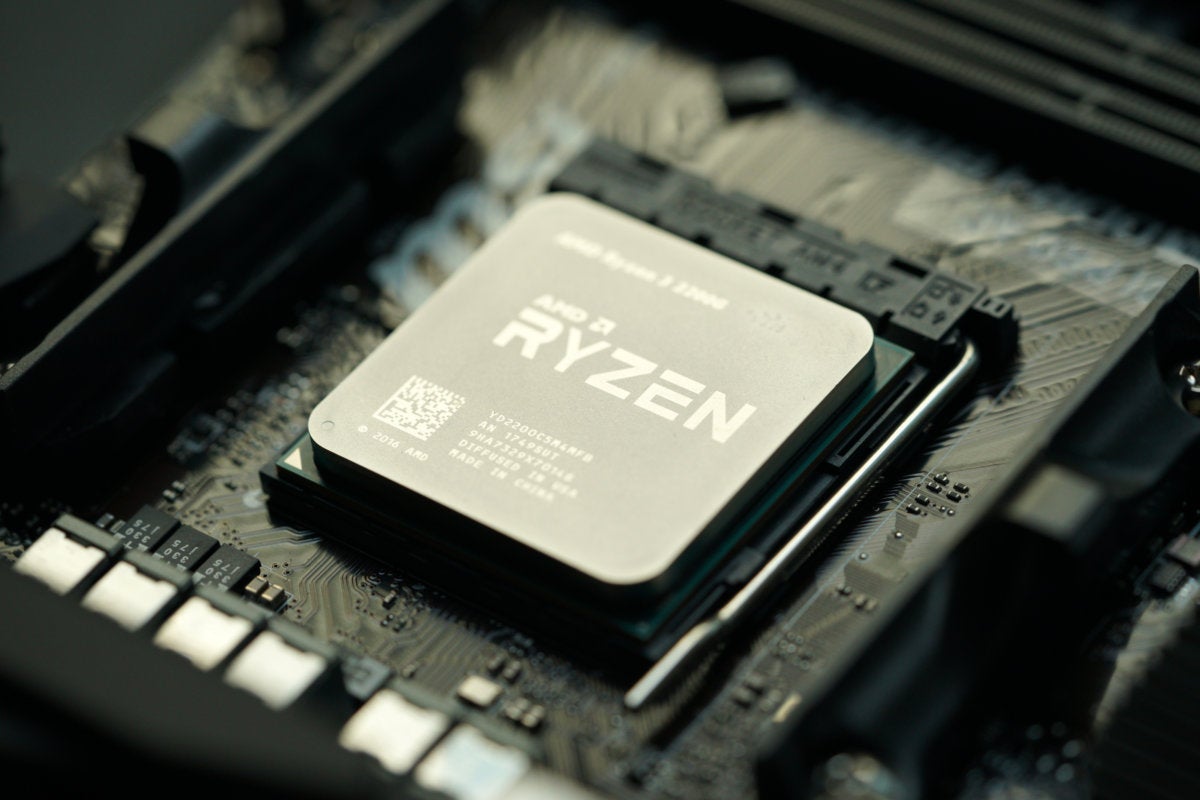 AMD recently released the vastly more potent Ryzen 3 2200G ($100 on Amazon) and Ryzen 5 2400G ($169 on Amazon) though. The new chips combine AMD's capable Ryzen CPU cores with modern Radeon Vega graphics cores, and they're powerful enough to essentially render all sub-$100 graphics card obsolete, as you can see in our Ryzen APU review.
Performance varies from game to game, but by tinkering with graphics settings and shifting from 1080p to 720p resolution as needed, you'll be able to get even modern triple-A games running between a console-like 30 frames per second and the 60fps golden standard. Lightweight games can run even faster. Performance is tied to how fast your memory is, so spend a little extra to get at least 3000MHz DDR4 RAM if possible.
Mentioned in this article
AMD Ryzen 3 2200G
Price When Reviewed:
$99.00
If you're using a modest older system, buying a Ryzen APU might make a lot of sense. Pairing the Ryzen 3 2200G with an affordable B350 motherboard like the ASRock AB350M-HDV ($65 on Amazon) would cost in the same ballpark as a GTX 1050 graphics card. The GeForce card is faster than the Ryzen APU, but you'll be upgrading the heart of your PC to a quad-core chip that supports modern features like NVMe SSDs and USB 3.1, and AMD's chip can hold you over until graphics card prices regain their sanity.
Pairing AMD's Radeon GPUs with a FreeSync-compatible display to kill tearing and stuttering could ease the sting of a downgrade if you're coming from more potent hardware. FreeSync displays can be found at affordable prices. For example, the Acer KG221Q FreeSync display costs just $123 on Amazon right now. It's not fancy, but like these low-cost GPUs, it'll get the job done.
Stream PC games from the cloud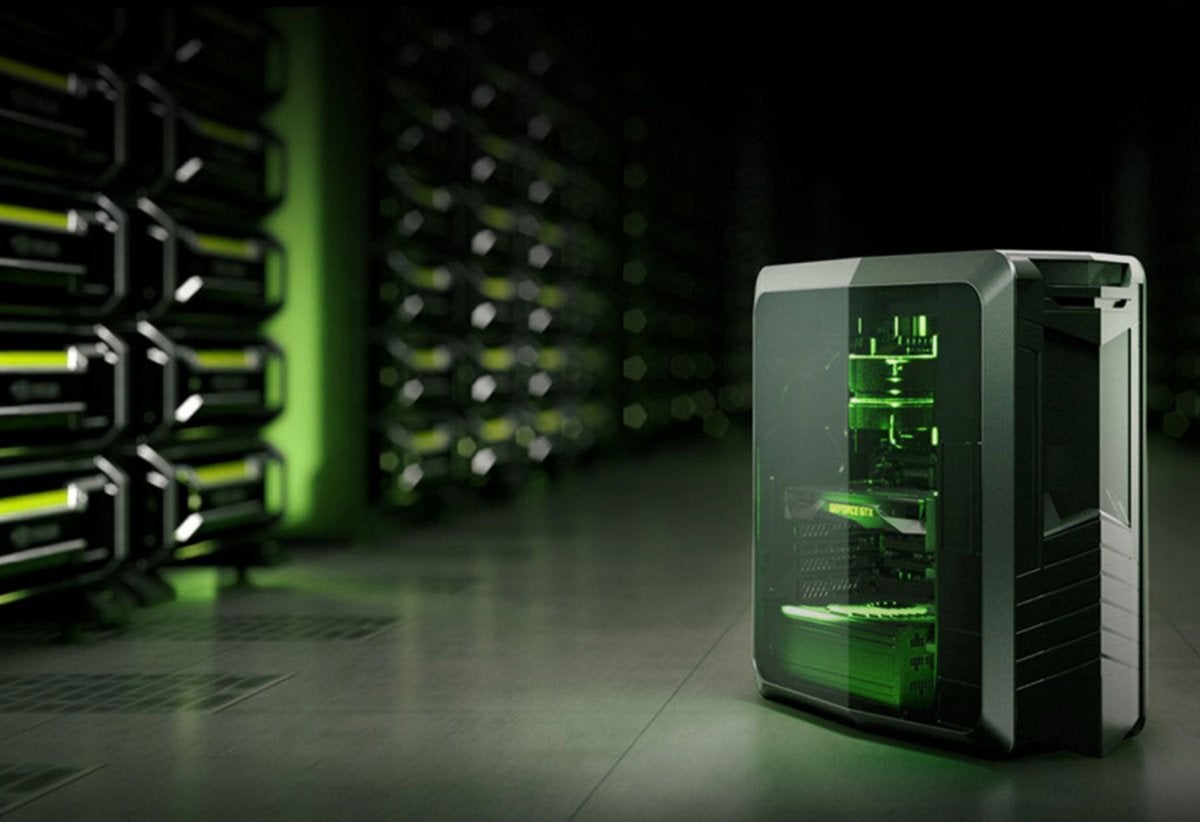 Streaming games from the cloud gets a bad rap, and for good reason: With most services, you spend just as much time battling lag and bugs as you do battling enemies in-game. Not with Nvidia's GeForce Now service though, which is currently being beta tested on PCs and Macs.
GeForce Now is the first cloud gaming service that truly feels like you're playing on a high-end gaming PC, assuming your home network is up to snuff. You're basically renting a virtual PC on Nvidia's speedy servers, where you can install and play your Steam, Uplay, and Battle.net games, as well as League of Legends and Fortnite. The games can then be streamed to most modern PCs and Macs—even ones without graphics cards.
Better yet, GeForce Now is free-as-in-beer free for the duration of the beta period. You'll need to sign up for the service's waitlist and keep your fingers crossed that you'll be granted access, but if you are, this is a superb way to keep gaming until graphics card prices settle down. Read PCWorld's GeForce Now hands-on for everything you need to know about Nvidia's cloud gaming service, from system and network requirements to performance impressions.
Buy an Xbox One or PlayStation 4
Suggesting that PC gamers buy a console? Blasphemy, I know—it hurts my heart to suggest it. But when graphics cards that are supposed to be selling for $170 are going for over $500, picking up an Xbox One S with PlayerUnknown's Battlegrounds for $300 on Amazon or a PlayStation 4 with the latest Call of Duty for $300 at Gamestop feels like a downright bargain. If my graphics card died today, I'd pick up a console to hold me over rather than buy a throwaway $130 GPU.
You won't have access to your backlog of PC games if you switch to a console, and you'll lose the PC's many other benefits as well—including buttery-smooth 60-fps gaming. But the current generation of consoles have a solid library of games available, and if you decide on an Xbox One, you'll also be able to play some Xbox 360 and original Xbox games, as well as be able to bring your "Xbox Play Anywhere" games over to your Windows 10 PCs.
Mentioned in this article
Xbox One X
Price When Reviewed:
$499
Need more oomph? The powerful new Xbox One X ($499 on Amazon) meets or beats the firepower of most modern gaming PCs for less than you'd spend on a graphics card that's supposed to be $200. With support for 4K resolution at 60-fps speeds, Microsoft's machine closes the gap between PCs and consoles to a startling degree. In fact, the Xbox One X almost lured one of our contributors away from PC gaming over the holidays.
The major drawback? Console games cost considerably more, for considerably longer, than their PC counterparts. You won't be able to play your console games on your PC either, aside from Xbox Play Anywhere titles.
Buy a prebuilt PC or gaming laptop
This advice stands no matter whether you need a whole new gaming rig, or simply want a new graphics cards.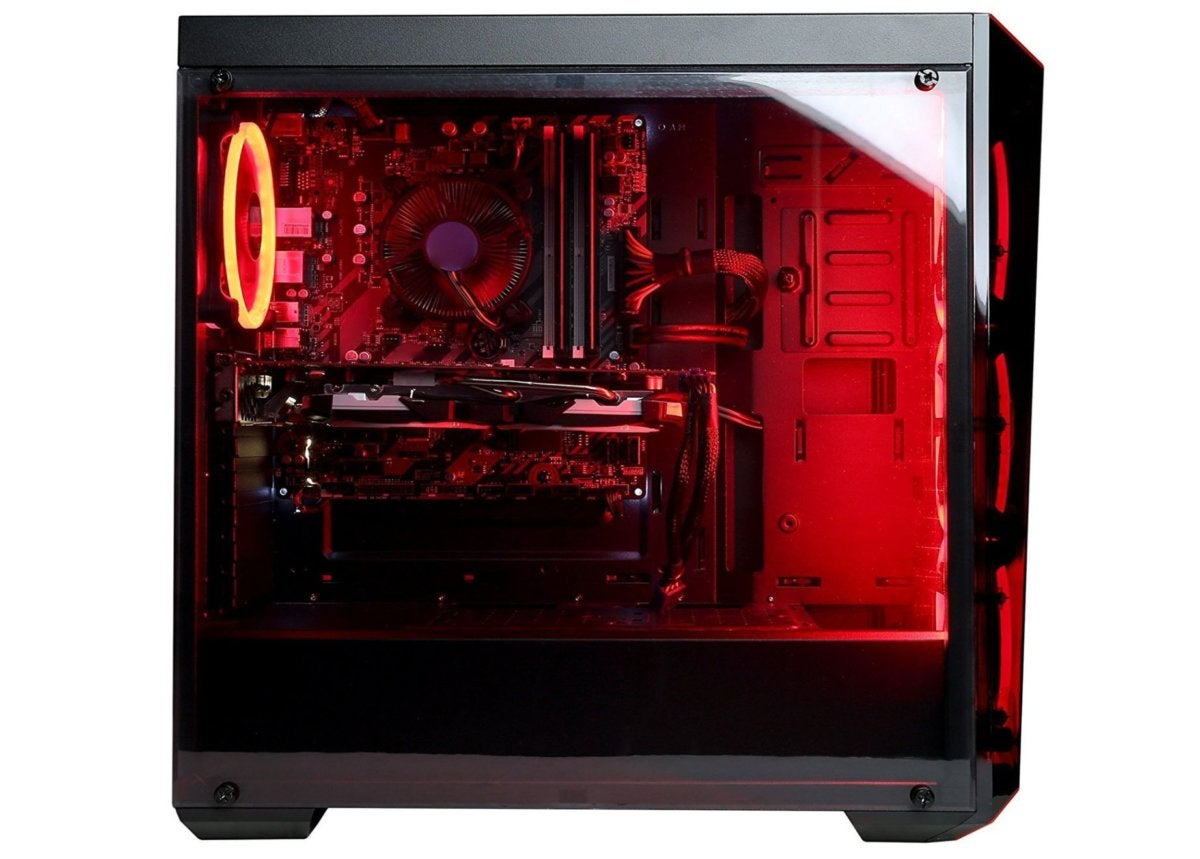 The insane prices of graphics cards and memory have made building PCs unfeasible right now. But companies that build PCs—like Dell, HP, and boutique builder Falcon Northwest—are less subject to the wild pricing variations of the DIY market, and offer prebuilt rigs cheaper than anything you could slap together yourself. For example, the entry-level Dell Inspiron 5680 costs $750 for a Core i3-8300, 8GB of DDR4 memory, a 1TB hard drive, and a 3GB GeForce GTX 1060. The ($200 MRSP) 3GB GTX 1060 is going for up to $400 in standalone form, remember.
Cheaper than DIY
CyberPowerPC Gamer Xtreme GXIVR8020A4
Price When Reviewed:
$719.99
Likewise, the CyberPowerPC Gamer Xtreme GXIVR8020A4 packs a Core i5 processor and a 4GB Radeon RX 580 for $780 on Amazon. Surprise: It's currently backordered—that graphics card by itself will set you back $500 to $750 on Newegg right now. The CyberPowerPC Gamer Xtreme GXiVR8040A4OPT pairs the same graphics card with a beefy Intel Core i7-7700K for $983 on Amazon.
You can't build those rigs at those prices on your own anymore. Hell, the state of today's graphics card market makes some gaming laptops an enticing value proposition—words I never thought I'd utter. If you're interested in more can't-be-beat options, we've assembled a guide to the best prebuilt gaming PC deals, with 1080p, 1440p, and 4K gaming rigs all accounted for.
Buying a whole prebuilt PC can also make sense if you're only looking for a new graphics card. Sure, you're laying out more cash up front, but if you shop smart you can grab a prebuilt gaming PC, rip out the graphics card for yourself, and sell the rest of a rig to make up the difference. You might even make a profit if everything works out right (though you shouldn't count on it).
Pro tip: If you plan on doing this, don't buy a PC with an AMD processor unless you have an old graphics card to swap into it. AMD Ryzen processors lack onboard graphics, previously discussed APUs aside, so they can't send an image to a monitor without the help of a graphics card. Intel chips have onboard graphics, so those PCs are usable even without a graphics card.
Suck it up and pay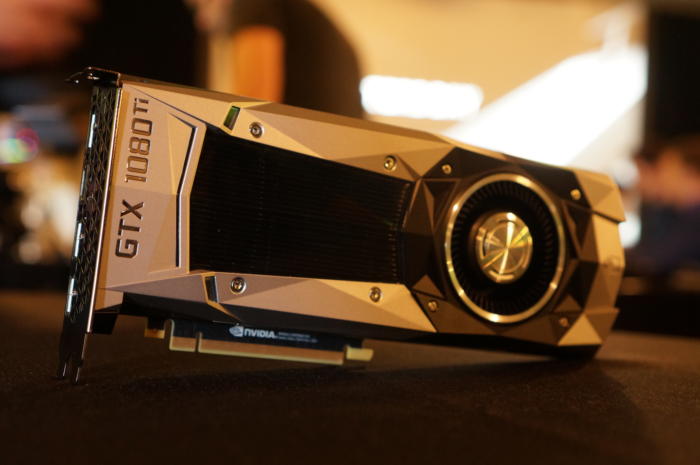 Finally, you could just pay the ludicrous bounty and get the graphics card you desire. You'll spend about twice what it's worth, and those prices could come crashing down at any minute, but hey—you'll be able to game right now without sacrificing visual quality or reselling other hardware, you beautiful rich bastard. Maybe start coin mining in your spare time?
Mentioned in this article
Xbox One S 1TB Console – PLAYERUNKNOWN'S BATTLEGROUNDS Bundle
Price When Reviewed:
$299.99
Really, though, most people should just sign up for GeForce Now, or buy an Xbox or an entry-level graphics card even if you can afford the markup. Paying a 2X price premium on nearly two-year-old graphics cards doesn't make a lick of sense if all you're doing with it is gaming. Fingers crossed these dark days end sooner rather than later.