At a Glance
Expert's Rating
Pros
Very fast
Ideal interface for beginners
Cons
Browsing activity is recorded though not tied to you
Power users can't do any serious customization
Our Verdict
HotSpot Shield offers fast speeds, a beautiful and simple desktop app for windows, and 25 country locations. But it's privacy policy means your activities are recorded—though not tied to you. Still, this is not what privacy-conscious users will be looking for.
Price When Reviewed
$12.99 per month
Best Prices Today: HotSpot Shield Premium
HotSpot Shield in brief:
P2P allowed: Yes
Business location: United States
Number of servers: 2,000+
Number of country locations: 25
Cost: $71.88 per year
Update: This review was updated on February 2, 2018 to add mention of AnchorFree's transparency report.
Before people got serious about VPN encryption post-Snowden, a top choice for encrypting your Wi-Fi connection was AnchorFree's HotSpot Shield. It was free, easy to set up, and only required that you look at some ads injected into your browsing.
That service is still around, but today we're looking at HotSpot Shield Premium. AnchorFree's paid service that removes the ads and offers faster speeds.
What struck me the minute I turned on HotSpot Shield was how simple and attractive the design is. It eschews most design ideas we've seen for other VPNs so far. There are no interactive maps, mobile-style single-panel interfaces, or elaborate settings.
Note: This review is part of our

best VPNs

roundup. Go there for details about competing products and how we tested them.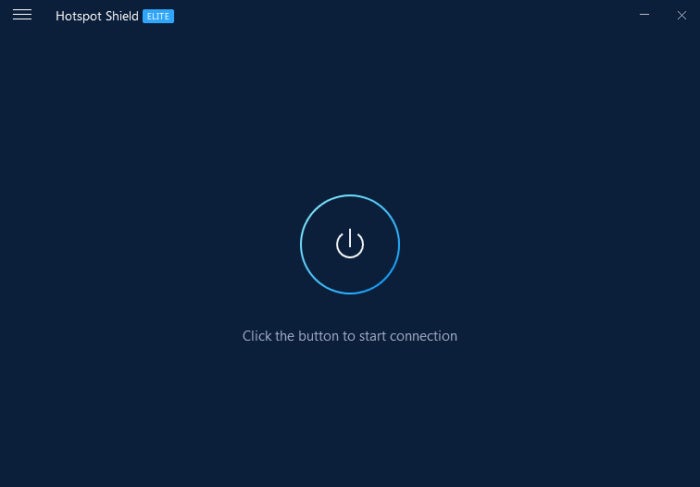 When HotSpot Shield first opens it offers a large power button in the center of the window and nothing else. Hit the power button, and HotSpot Shield connects to the United States by default, or your most recent connection choice.
The interface then changes to a timer at the top to show you how long you've been connected. That timer takes up the entire upper half of the window. It's a lot of excess space, but it works.
The lower half is for the more detailed information, including data that's gone up and down from your PC, your current VPN IP address, and a small, cleanly designed map showing which country you're connecting from. It's all very simple, clear to understand, and uncluttered.
To switch locations click the drop down menu in the lower right square, and select from one of HotSpot Shield's 25 country locations.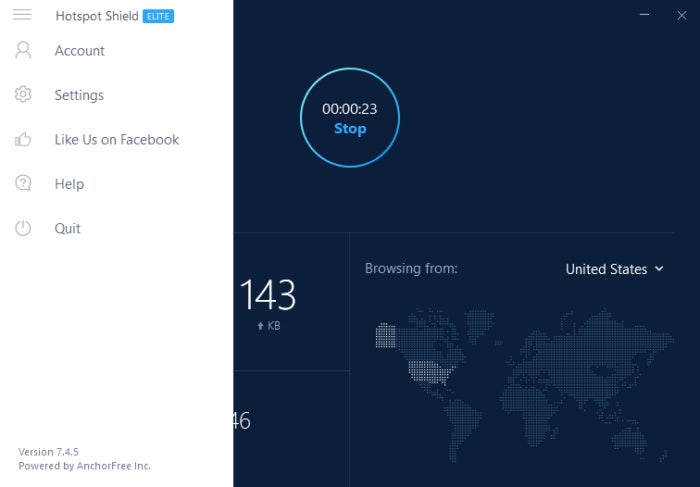 To reach HotSpot Shield's settings, click the "hamburger" menu icon in the upper-left corner, and select Settings from the menu. There's not a lot to see here. By default, HotSpot Shield is set to run when Windows starts, and it's also set to prevent IP address leaks—an important thing for VPN apps.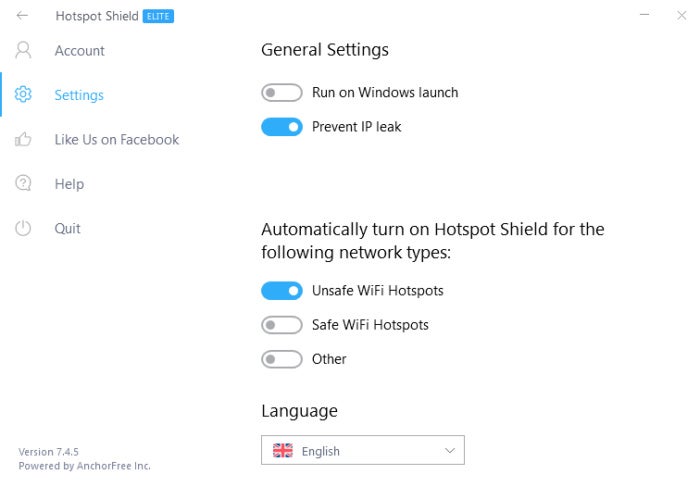 Under that are various options to tell HotSpot Shield when it should automatically connect to the VPN server. By default, HotSpot Shield will connect when it detects an unsafe Wi-Fi hotspot such as a password-free open Wi-Fi network. You can also choose to connect when on supposed safe Wi-Fi networks, and an "Other" setting, which probably covers any other possible internet connection. Below that is a language setting if you'd rather the app was in French or Korean, and that's it for the app's settings.
AnchorFree says that behind the scenes HotSpot Shield can intercept malware you may encounter online, as well as protect against known phishing sites and spam. It also has "patented ways" to make your VPN connection look like normal browsing, so it blends in with other online traffic. This VPN also works with Netflix, though in my experience it was a little inconsistent.
HotSpot Shield is available for Windows, MacOS, Android, and iOS, and there are proxy extensions for Chrome and Firefox.
Performance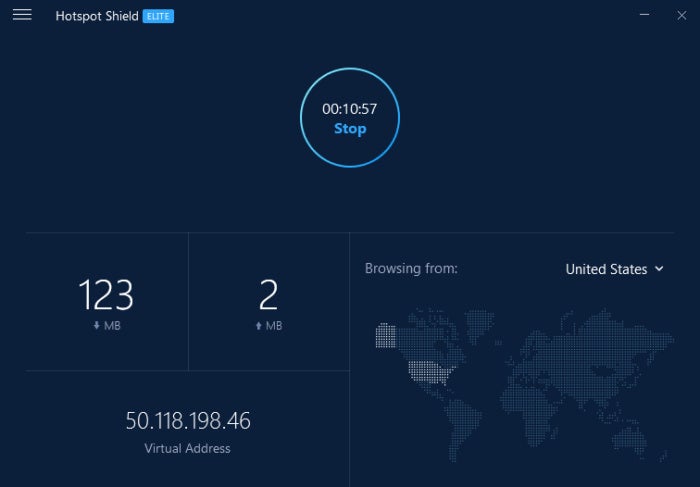 HotSpot Shield is fast. I tested it several times to make sure I wasn't experiencing a fluke. The company says the service is fast because of its proprietary Hydra Protocol, which is based on TLS and OpenSSL. AnchorFree says this protocol doubles download speeds of large files and increases ping times.
As of January 2018, HotSpot Shield is by far the fastest VPN I've tested. It scored nearly 64 percent of the base speed for download speeds, which is faster than the previous speed champ Mullvad by nearly 12 percentage points.
All of the connections were fast including the typically slower connections such as Australia and Japan.
That speed got me wondering how HotSpot Shield was scoring so high, and it may have to do with what's going on behind the scenes.
The first time I connected to HotSpot Shield's U.S. servers, for example, I got an American IP but Google thought I was in the UK—thus it redirected my browser to Google.co.uk—and Netflix thought I was in Germany. HotSpot Shield did give me a few DNS servers in Germany that day, which likely contributed to Netflix's confusion.
Given this odd combination I tried running some ping and traceroute tests, but most of them timed out. The day Netflix thought I was in Germany, I did manage to get one successful traceroute from a supposed connection in California to Vienna, Austria. The elapsed time was 13.612 milliseconds, which is impossible and strongly suggests that the server I was using was serving an American IP from central Europe. I asked AnchorFree about this and the company said it does use virtual server locations, where the physical machine may be in one location but looks like it's in another.
As always, take these speed tests with a grain of salt—as you should with any VPN speed test—because your experience may vary.
Privacy, anonymity, and trust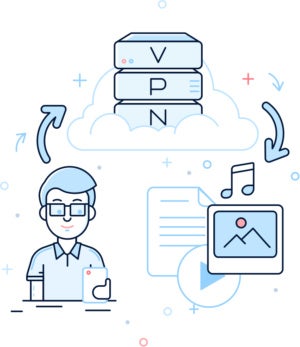 AnchorFree's U.S. headquarters are located at 1800 Seaport Blvd., Redwood City, CA 94063. Its CEO is David Gorodyanksy and the CTO is Eugene Malobrodsky—they are also the company's co-founders.
When you first sign up for the service, it asks for an email address and a password, which is pretty standard for mainstream VPN services. For payments, it only takes standard options of credit cards and PayPal. There is no ability for anonymous or semi-anonymous payment forms like Bitcoin or cash.
Even if you could pay anonymously with HotSpot Shield you probably wouldn't want to once you looked at the service's privacy policy—there's a lot in there not to like if you're privacy conscious. AnchorFree says it doesn't store your IP address long term.
But it does "collect anonymous aggregate data about which websites you visit and which apps you use." AnchorFree says it does this for analytics and troubleshooting, and this information is never connected to any of your identifying information such as an email address, home IP address, username, and so on. But that doesn't negate the fact that your browsing data is still collected by AnchorFree. That might not bother some users, but those who are very privacy conscious should look elsewhere.
That said the company published its first transparency report in November 2017. The report states that AnchorFree does not and "cannot provide information to governments about what websites our users visit when using our services….To date, AnchorFree has never provided the identity or other personal information regarding our users to the government."
The company also gathers device information like your hardware model, OS version, browser type, language, wireless network, and mobile network information. Again this information is never associated with you and is used for analytics and troubleshooting.
If you use the free, ad-supported version you may also leak personally identifying information to HotSpot Shield advertisers. That has nothing to do with HotSpot Shield Premium, but it's a good reminder of why you don't want to use an ad-supported service when trying to get online unnoticed.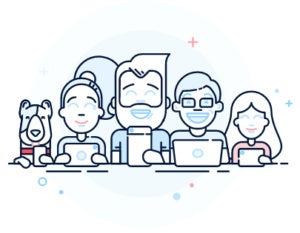 Based on HotSpot Shield's privacy policy it's safe to say this is not the service for high-level anonymity online. But if your concern is to encrypt your web browsing so you can surf safely from anywhere, HotSpot Shield does that. The company's privacy policies make it clear that you're browsing habits are tracked—albeit in aggregate form.
Conclusion
HotSpot Shield has impressive speeds, good pricing, and a good number of country locations—though not a particularly exhaustive list. The privacy policy is not ideal for those who want to conceal their browsing activity—anonymized or not—or which internet-capable apps they use. It's fine if you just want to secure your connection at the local café or airports, but as a service that's going to keep you somewhat anonymous there are stronger choices.
Editor's note: Because online services are often iterative, gaining new features and performance improvements over time, this review is subject to change in order to accurately reflect the current state of the service. Any changes to text or our final review verdict will be noted at the top of this article.
Best Prices Today: HotSpot Shield Premium