At a Glance
Expert's Rating
Pros
Exceptionally affordable for an NVMe SSD
Very fast reader
Cons
Very slow writer for NVMe
Low TBW rating compared to recent competition
Our Verdict
We were ready to love this NVMe SSD because of its superlow price, but while indeed it is near the price of SATA, so is the sustained write speed. That said, in everyday use, you will see that NVMe kick in the pants performance.
Best Prices Today: 760p NVMe SSD
Intel is marketing its 760p NVMe SSD and cohort as "NVMe speed for not much more than the cost of SATA," a slower and more affordable interface. That speed is exactly what you get the vast majority of the time. But on occasions when you copy more data than the drive's caching system can hold, you also get sustained write speed that's only a little faster than…SATA. Sorry, Intel brought it up.
The slowdown in sustained write speed, such as when you copy a Blu-ray movie rip or large game to the drive, won't often affect you. Even when it does, the 760p's write rate is hardly slow, and it still features the stellar read access times and queued I/O that makes NVMe so scintillating. But there's a competitor that's almost as affordable and doesn't slow down quite as much—Plextor's new M9Pe. We'll be comparing the two in the performance section.
Note: This review is part of our best SSDs roundup. Go there for details about competing products and how we tested them.
Design, specs, and pricing
The 512GB 760p we review here is a 2280 (22mm across, 80mm long) M.2/PCIe drive that ships without a fancy heat sink or logo, though there's more lettering than shown in the censored image shown below. the 760p uses Silicon Motion's SM2262 controller and Intel's own 3D 64-layered, TLC (3-bit) NAND.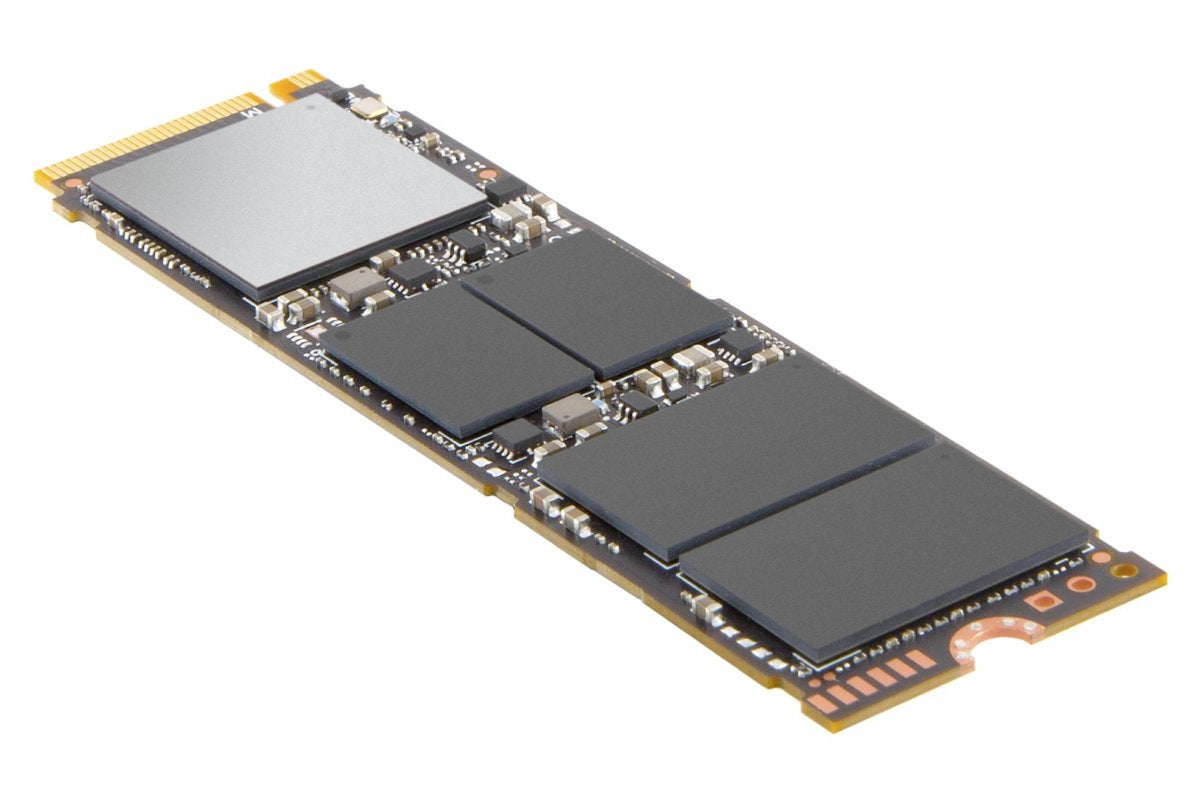 Intel calls out the fact that it uses floating gate (FG) NAND technology, while the competition such as Samsung with its TCAT uses replacement gate (RG). FG, says Intel, allows for greater cell density and more efficiency all around. NAND and its various implementations is an extremely complex subject, and you can find other opinions on the relative merits. We'll leave it at that.
The company also calls out the 760p's low power consumption of 50 milliwatts (mW) while operational. When we see this spec quoted by other companies, it's almost always significantly higher. For example, OCZ's RD400 claims 6 full watts operational, though its idle figure of 6mW is lower than the 760p's 25mW. Depending on your usage, and the accuracy of those numbers, the 760p could either save you, or cost you battery life.
The 760p carries a 5-year warranty and is rated for 72TBW (TeraBytes Written—the amount of data you can write to the drive) per 128GB of capacity, which is about par for the course. Though 1TB and 2TB versions of the 760p should be available later in the year, for now you'll have to make do with the $199 512GB version we tested, a $109 256GB version, and unusually in this day and age, a 128GB version for only $74.
Performance
The 512GB 760p turned in an excellent, almost chart-topping read performance in the artificial benchmarks, though it was more mundane in our copy tests. But the write performance was very disappointing. After running out of cache, the 760p's write speed in our real-world copy tests dropped almost to SATA levels—about 575MBps. Intel's reviewer's guide mentioned NVMe power at a SATA price. It didn't mention SATA-like sustained writes.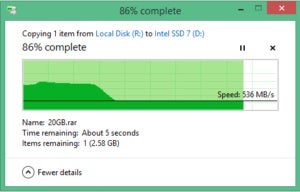 That said, sustained writes of the size we perform, 20GB, are relatively rare operations. The 760p's performance delivers that overall kick in the pants you expect day to day, however, it's by far the slowest-writing NVMe drive with large amounts of data we've ever tested.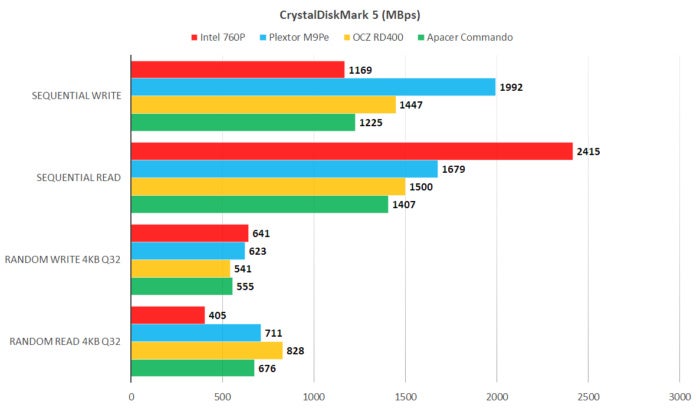 CrystalDiskMark is generally a better indication of what you'll see in the real world, though quite often overly optimistic. In this case, while we ran the 32GB test, the results seem to gloss over how sustained writes suffer outside of the cache.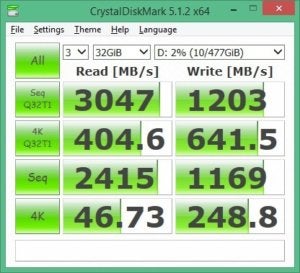 The 20GB copies you'll see below give some indication of the slowdown with long writes. Note that in my recent talks with other vendors offering more affordable NVMe drives, such as Plextor and Toshiba, the same type of drop-off is common, if not as noticeable.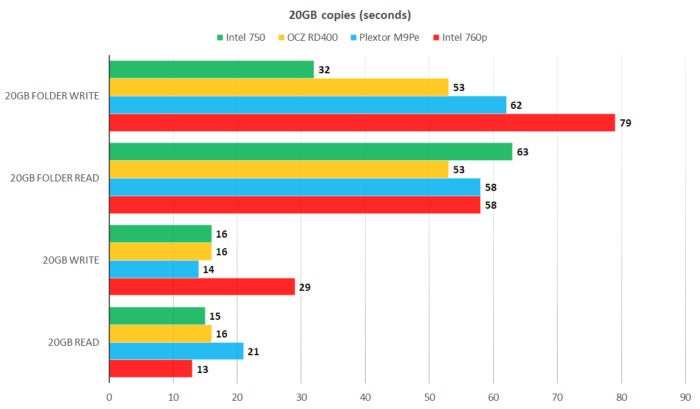 The AS SSD 1.9 test, which turns off caching, showed the bad numbers we've come to expect from drives that obey the Forced Unit Access command as they should. FUA turns off both Windows and the drive's caching when you want zero chance that data might get stuck in transit during an unexpected power-off. The numbers below shouldn't be taken as an indication of real-world performance. However, they can reveal the strengths and weaknesses of the underlying technology.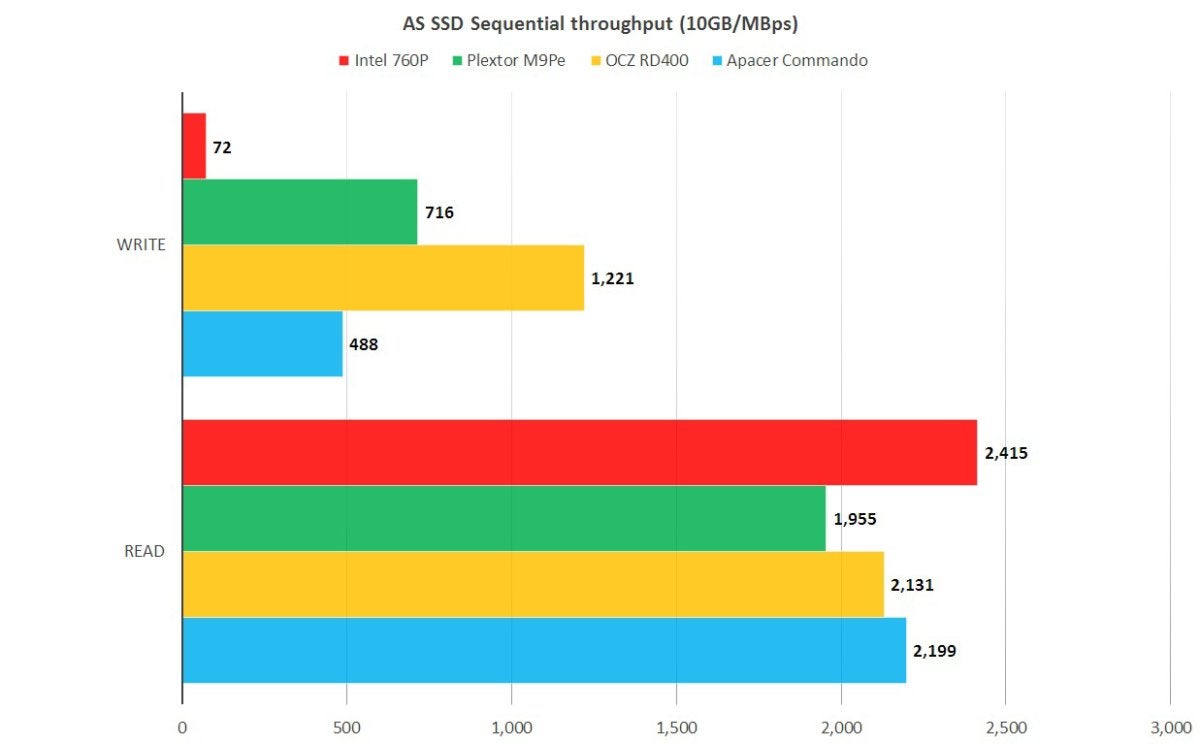 Caveat: Intel provided us with only the 512GB drive. The company lists the 256GB model as writing about 300MBps slower at best speeds, but the 128GB model is rated for a mere half the read speed and about 40 percent of the write speed of the 512GB model. As tempting as the 128GB drive is, it doesn't appear you'll get the full NVMe experience from it.
How we test: Our SSD trials include running both AS SSD 1.9's 1GB and 10GB tests, and follow-up runs with the 32GB CrystalDiskMark test. To see how the drive performs when it runs out of cache and to observe real-life behavior, we also copy a single compressed 20GB file and 20GB mix of files and folders to and from the drive using Windows Explorer, timing the results by hand. We run each test at least twice, rebooting in between.
Conclusion
Intel's 760p SSD is slightly flawed, but in a way that will affect most users relatively rarely. That flaw is a sustained write rate that's still 100MBps better than any SATA drive's, so it's only a flaw compared to other NVMe drives.
Put another way, you'll be more than happy with the 512GB 760p 95 percent of the time, and a little disappointed the other 5 percent. But as tempting as 128GB for $74 sounds, we recommend 256GB or more for the best experience. We also recommend that you check out Plextor's M9Pe.
Best Prices Today: 760p NVMe SSD