At a Glance
Expert's Rating
Pros
Overclocked desktop hardware with best-in-class performance
Highly configurable
Superb audiovisuals
Satisfying keyboard and touchpad
Luxurious out-of-box experience
Cons
Big and heavy
Very loud fans under load
Short battery life
Our Verdict
The performance of the Origin EON17-X's overclocked, desktop-class hardware embarrasses other gaming laptops, but it's heavy and loud. We're in awe.
Best Prices Today: EON17-X
Spoiler alert: We've never tested a gaming laptop as all-around powerful as the Origin PC EON17-X.
This big, badass notebook pushes the pedal to the metal with the most potent hardware available, and then Origin PC cranks things to 11 by overclocking both the full-fat GeForce GTX 1080 and the Core i7-8700K processor. Yes, this laptop rocks a desktop processor, and not just any desktop processor—it's the fastest one currently available. With 6 cores and 12 threads, the EON17-X demolishes CPU benchmarks. It blazes through triple-A games. Hell, it might be able to literally crush its slim, trim Nvidia Max-Q competition.
Origin's audacious gaming laptop doesn't just embrace the "desktop replacement" classification, it relishes in it. It's a monster in every sense of the word. Let's dig in.
Note: This review is part of our roundup of the best gaming laptops. Go there for details about competing products and how we tested them.
Origin PC EON17-X specs, features, and price
The EON17-X can be heavily customized on Origin PC's website. The baseline configuration costs $1,935 and includes a quad-core Intel Core i3-8100, a GeForce GTX 1060 paired with a 120Hz, 1920×1080 G-Sync display, 8GB of memory, and a 500GB Seagate FireCuda hybrid hard drive.
But you can tweak and upgrade virtually every aspect of the system. (Cue Burger King's "Have it your way" jingle.) Want a fancier Wi-Fi card, a fully custom paint job on the lid, and storage drives galore? Or a 4K screen paired with a video capture card for gorgeous Twitch streams? Go for it. Origin also offers quality-of-life upgrades such as factory overclocks, professional screen calibration, and upgraded thermal paste options.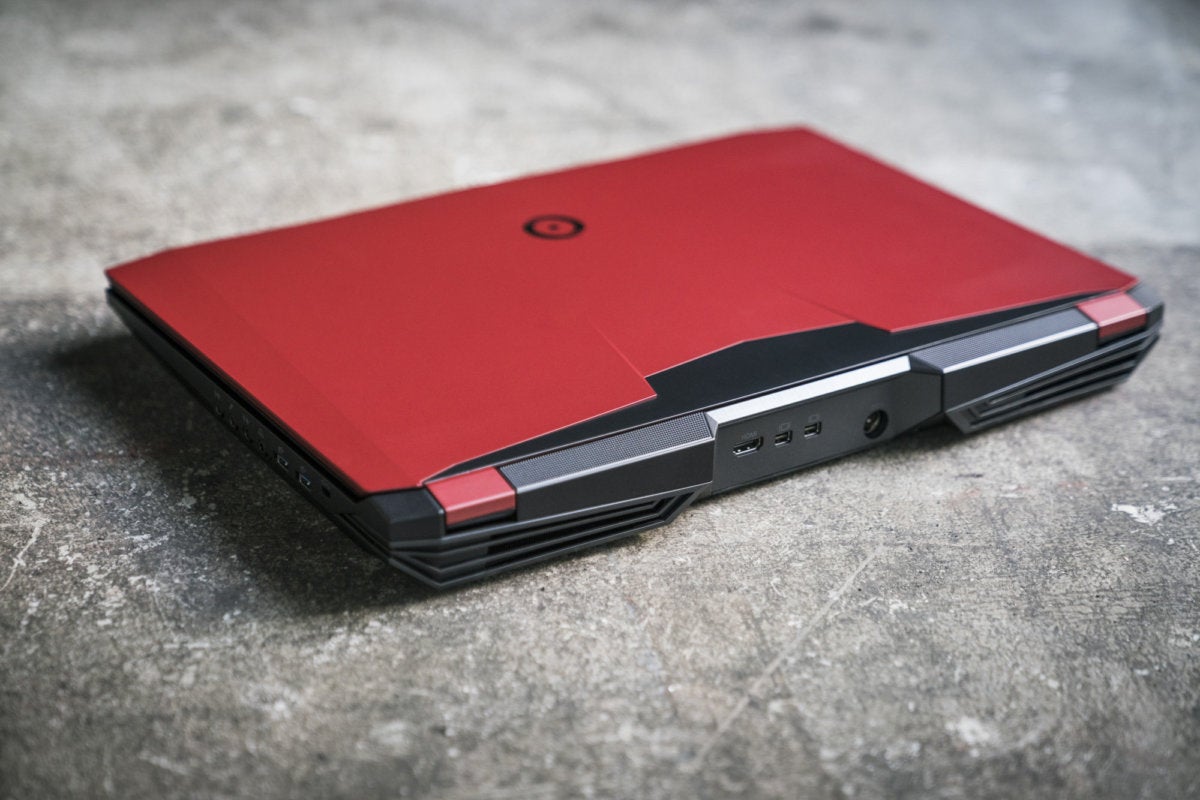 But you'll need to spend more to turn this desktop replacement into a desktop killer. The high-end configuration Origin PC sent us for review will set you back a cool $3,712. Here are the details:
CPU: 6-core Intel Core i7 with Origin's Professional Processor Overclocking
GPU: Nvidia GeForce GTX 1080 with Origin's Professional Graphics Card Overclocking
Display: 17.3-inch 2560×1440 IPS 120Hz G-Sync matte display with Origin's screen calibration option and 45-day "No dead pixel" guarantee
Memory: 16GB G.Skill Ripjaws 3,000MHz
Storage: 512GB Samsung 960 Pro NVMe SSD, 2TB Seagate FireCuda hybrid drive
Audio: Integrated High-Definition Audio powered by Sound Blaster Xfi MB5 w/ external 7.1 support
Networking: Killer E2400 LAN, Killer Wireless AC 1535 Dual Band (with Bluetooth)
Ports: HDMI, 2x Mini-DisplayPort, ethernet, Thunderbolt 3, USB 3.1 Type-C, 4x USB 3.1, SD card reader, lock slot, microphone jack, headphone jack, audio in/out
Webcam: 1080p
Dimensions: 16.4 x 11.6 x 1.6 inches
Weight: 8.6 pounds
Price: $3,712 as configured, $1,935 baseline
Every part of this rig is potent, but the CPU is the brightest star of the show. The vast majority of high-end gaming laptops ship with Intel's Core i7-7700HQ, a quad-core, 8-thread mobile chip that can turbo up to 3.8GHz clock speeds. The EON17-X ups the ante with a full-blown desktop Core i7-8700K processor, Intel's current mainstream flagship. The chip packs 6 cores and a whopping 12 threads, with clock speeds ranging from 3.7GHz to 4.7GHz—and then Origin applied an overclock on top of that. This system absolutely demolishes our CPU benchmark suite, as you'll see later.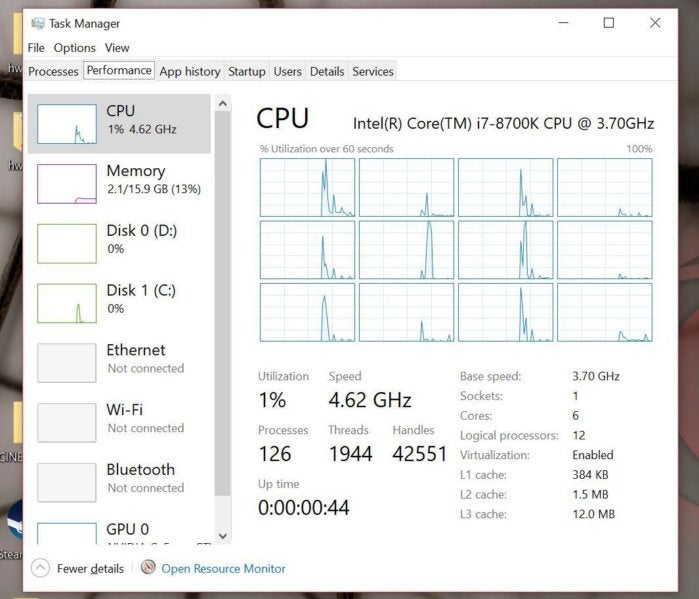 The EON17-X chews through modern games, too. The overclocked, desktop-class GeForce GTX 1080 inside delivers more than enough power to drive the 120Hz, 2560x1440p matte display at high frame rates. That vibrant screen is bolstered by Nvidia's buttery-smooth G-Sync technology, which eliminates stuttering and tearing by synchronizing the refresh rate of the display and GPU.
Stellar audio—all too rare in laptops—accompany those sumptuous visuals. Origin PC's notebook includes a dedicated subwoofer on its undercarriage. Paired with Creative's customizable Sound Blaster Connect 2 software, the EON17-X had no problem filling my office with big, booming sound. Games, music, and videos all came through crisp, clear, and warm. You'll still probably want to snag a nice gaming headset though, because the superb sonics can be drowned out by the laptop's roaring fans during intense gameplay sessions, but it's not required.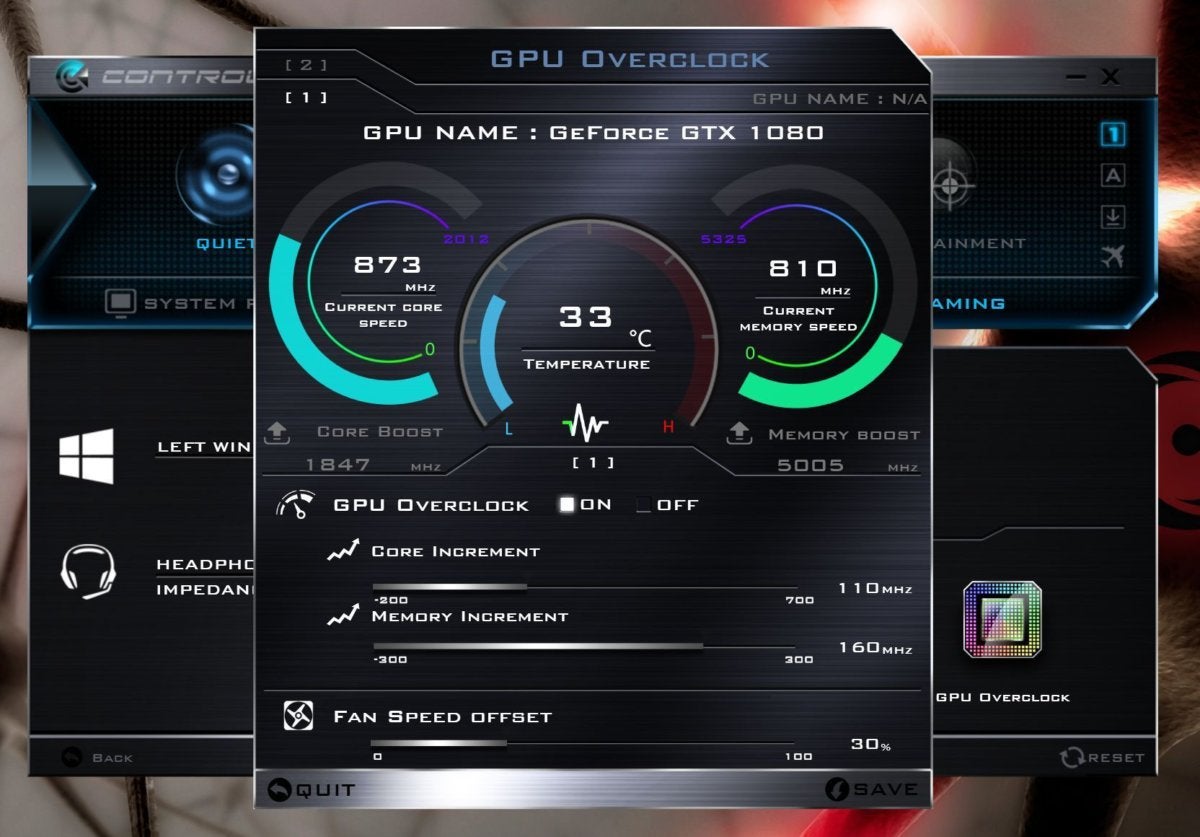 Origin loaded our review unit with 16GB of G.Skill RAM clocked at 3,000MHz. Configurations on the Origin website top out at 2,800MHz, however, and you can push the capacity all the way up to 64GB. What we're testing is more than enough for high-end gaming and standard desktop tasks though.
Mentioned in this article
Samsung 960 Pro 512GB NVMe SSD
Price When Reviewed:
$543.81
Our configuration includes a 512GB Samsung 960 Pro NVMe SSD as a boot drive paired with a 2TB Seagate FireCuda hybrid drive. The 960 Pro is one of the fastest SSDs we've ever tested, and the EON17-X benefits from blisteringly fast start-up and application load times. Your media and games launch lickity-split even if you offload them to the FireCuda, as the hybrid storage solution is basically a roomy hard drive mashed together with a small amount of SSD-like flash storage for faster load times on your most-used files.
Origin EON17-X laptop design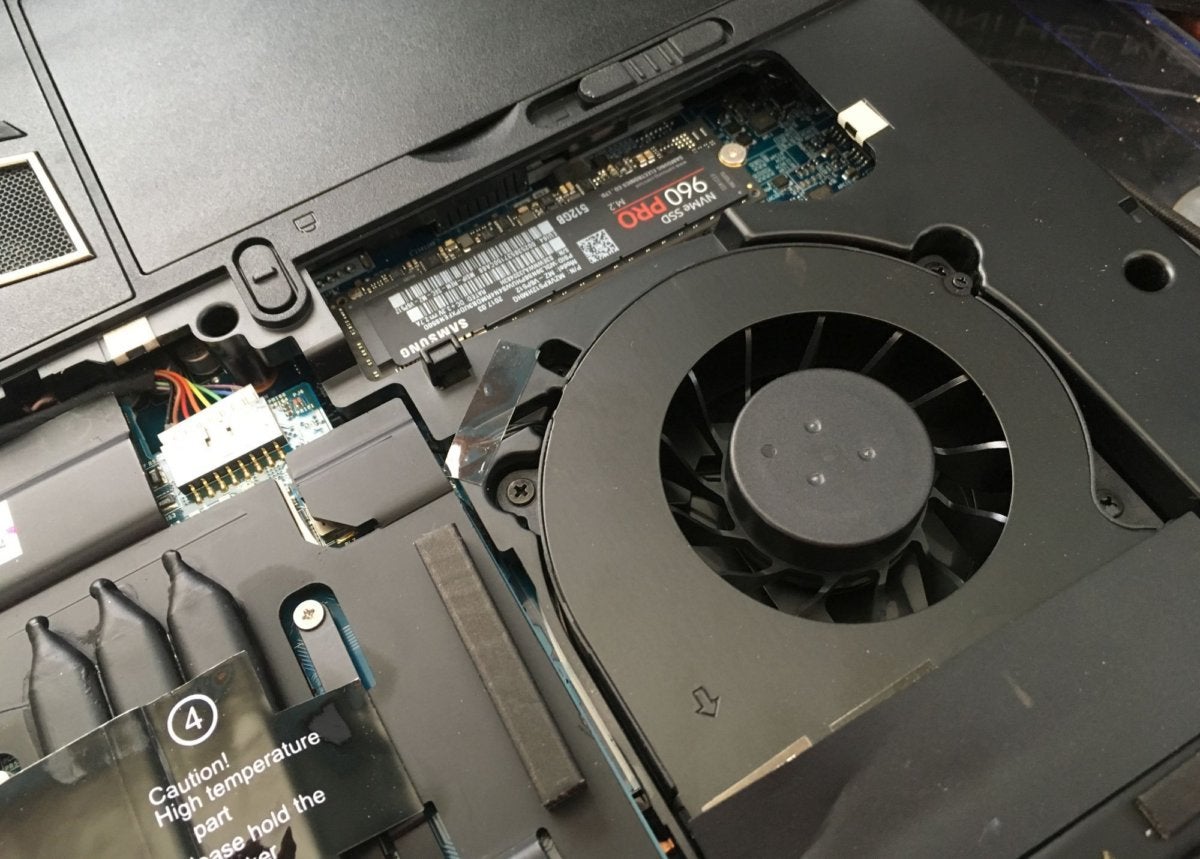 Packing such powerful hardware into a laptop and then overclocking it isn't for the faint of heart, though—or more accurately, the weak of arms. The Origin EON17-X is huge, at 1.6 inches thick and 8.6 pounds, to accommodate the parts and the ample cooling required to tame them.
Removing five tiny screws from the larger, heavily ventilated panel on the bottom of the laptop grants access to the cooling, NVMe SSD, and RAM. Taking two more screws out of a smaller secondary panel reveals the hard drive, and the replaceable battery pops out after sliding a couple of latches. Props to Origin for designing such a replacement-friendly laptop.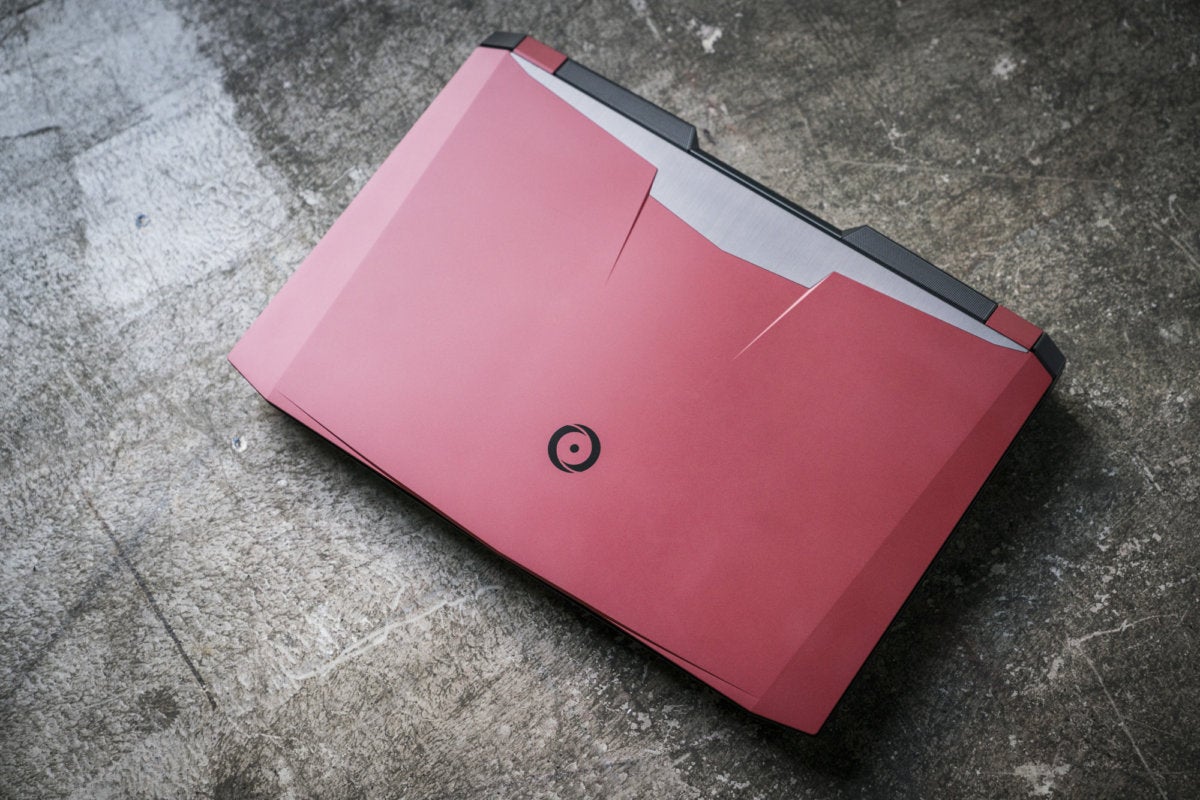 Many (too many) gaming laptops come clad in black, with red accents. Our review unit upends that tradition with a sleek red lid, punctuated by Origin's black circular "eye of the hurricane" logo and a small brushed aluminum section at its base. It's damned attractive. The keyboard deck and bottom of the notebook are plain black plastic though. It looks nice enough, but an option to upgrade to more premium materials would be welcome, especially if you're already spending nearly $4,000 on a configuration like this one. Large speaker grilles built into the base, just underneath the lid, blast out the booming audio mentioned earlier.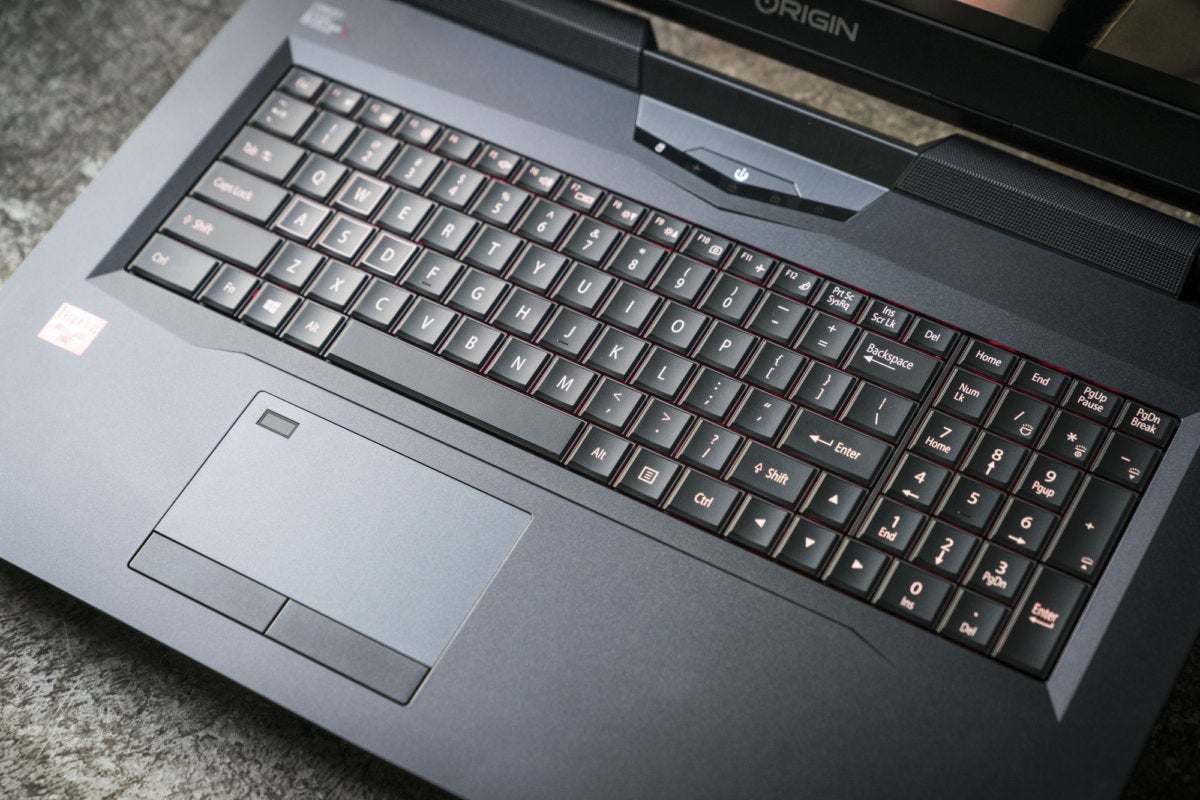 As with Origin's smaller EVO15-S Max-Q laptop, the inputs are solid and functional, yet unexceptional. The keyboard's keys are somewhat mushy, but feel nice and comfortable overall, with somewhat weak customizable RGB backlighting split into four zones. Per-key backlighting would be nice, and considering the laptop's thickness I'd love if Origin offered a mechanical keyboard similar to the Acer Predator Triton 700's, but those are minor wishlish items. I worked and played on these keys with no complaints. The touchpad proves similarly stalwart and straightforward, with a fingerprint reader built into its upper-left corner.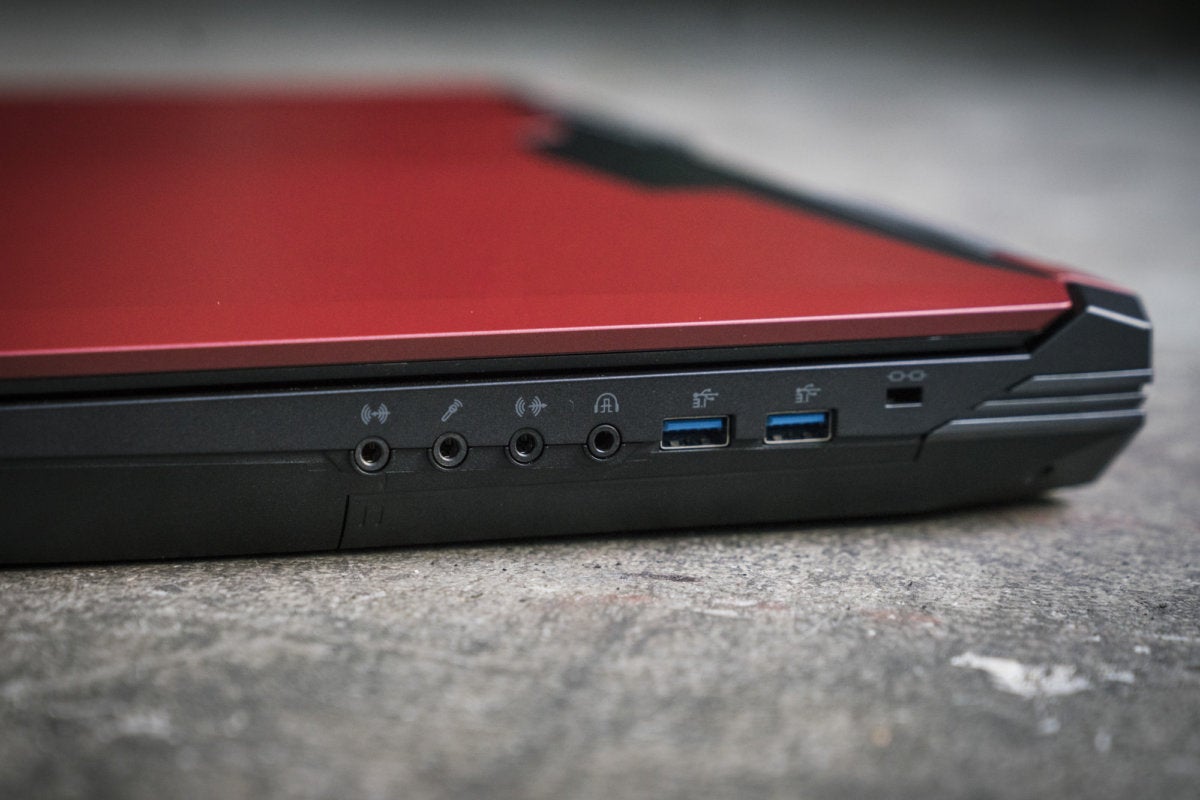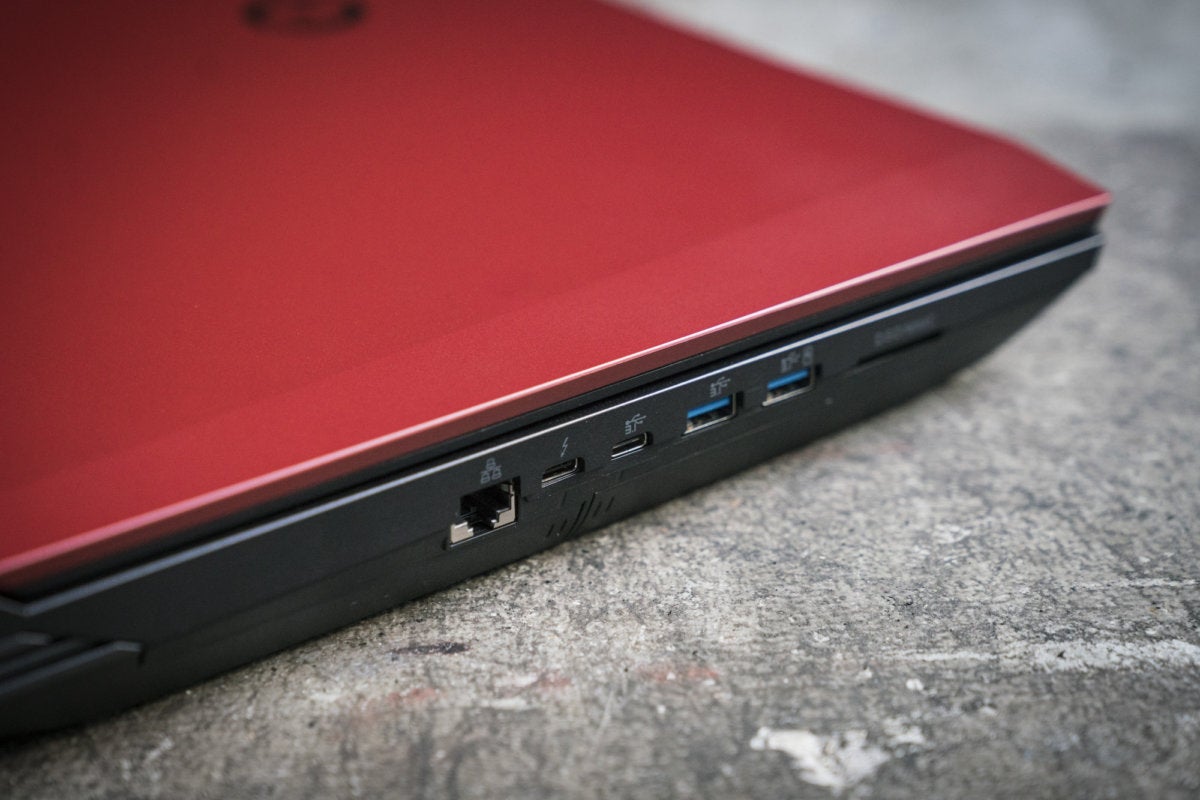 This beast's ample port selection lives up to the "desktop replacement" name. You'll find four speedy USB 3.1 Type-A ports, a USB 3.1 Gen 2 (10Gbps) Type-C port, Thunderbolt 3, ethernet, SD card and lock slots, HDMI, a pair of Mini-DisplayPorts, and audio jacks galore. The video ports and power connector sit on the rear, though, and can be awkward to reach without picking up and shifting around the laptop.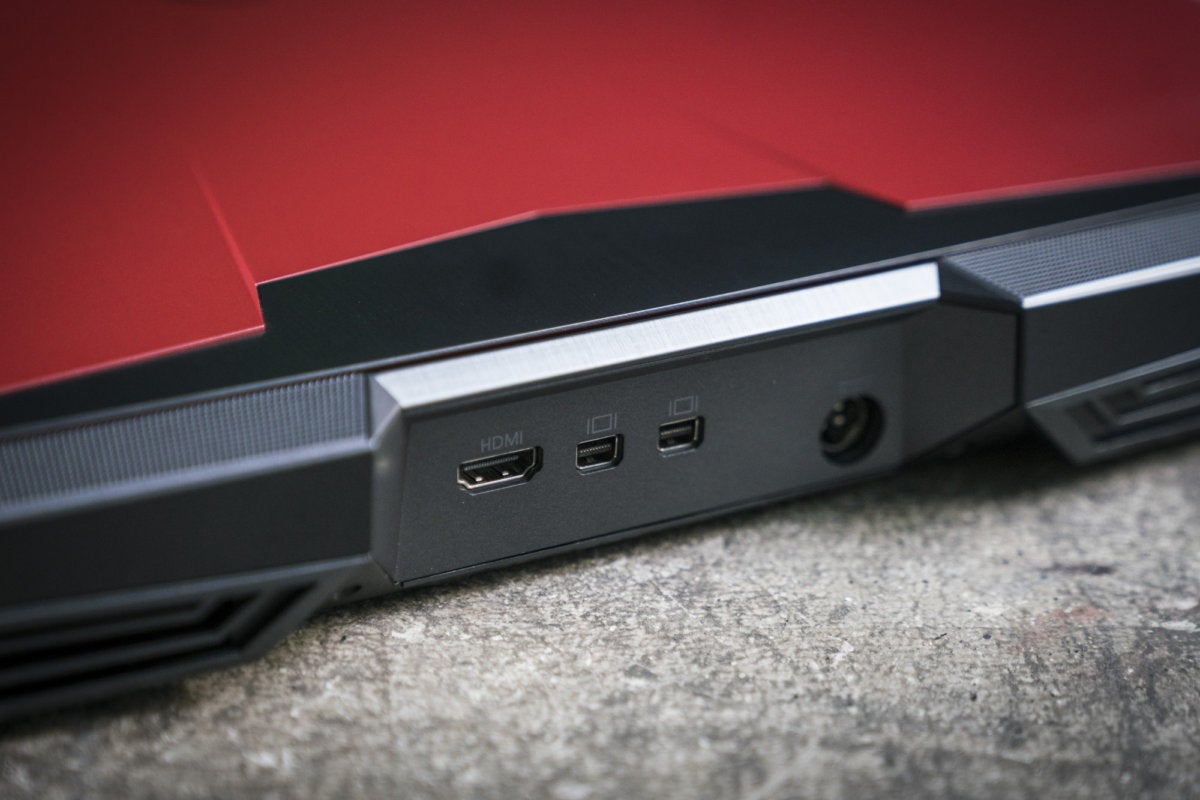 Finally, Origin PC delivers a truly stellar out-of-box experience befitting a laptop of this stature. The box is loaded with Origin PC swag, the Windows install is blissfully free of unwanted bloatware, and Origin gives you free lifetime email and 24/7 phone assistance for the EON17-X, as well as free lifetime labor if you want to swap out any components in the future. You won't get a personal touch like this from the big-box companies. For more benefits details, check out the "the boutique PC builder difference" section of PCWorld's recent Origin EVO15-S review.
Next page: Performance and bottom line
Origin EON17-X benchmark performance
We told you in the intro that we've never tested a laptop as powerful as the Origin PC EON17-X. Now it's time to show you.
We'll be comparing it against several neighboring systems in our tests, including the most potent Alienware 17 configuration with a GTX 1080 and an overclockable, quad-core Core i7-7820HK ($2,500 on Dell.com), the slim yet powerful Asus ROG Zephyrus ($2,700 on Amazon) with a Core i7-7700HQ and GTX 1080 Max-Q, and the Acer Predator 21 X ($9,000 on Amazon)—one of the most insane laptops ever built, with a curved display, the same overclockable Core i7-7820HK as the Alienware laptop, and two full-fat GTX 1080 GPUs.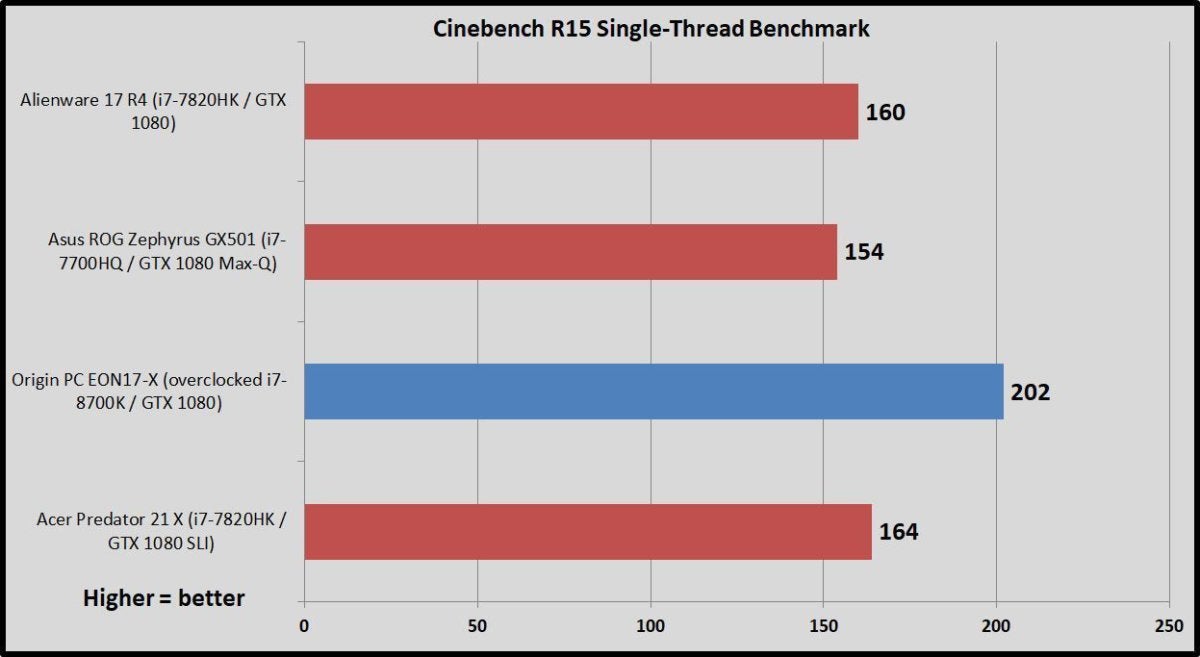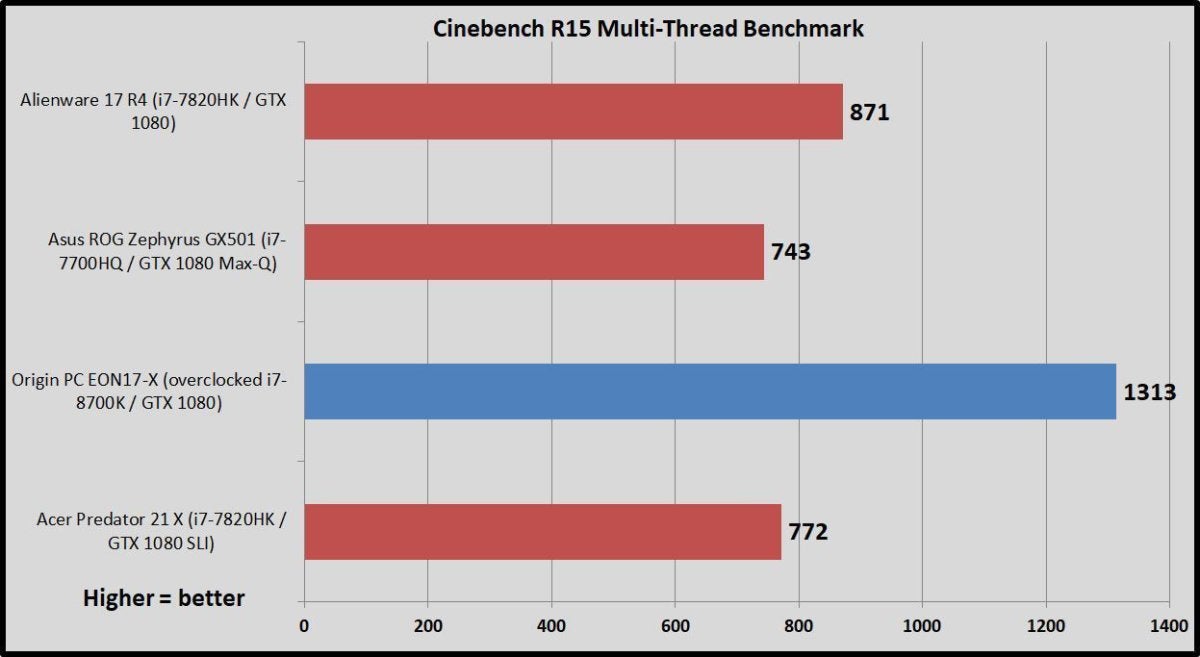 Maxon's Cinebench R15 measures raw CPU performance, and the more threads you can throw at it, the happier it is. With an overclocked, 6-core, 12-thread Core i7-8700K desktop processor, the Origin EON17-X blasts past the quad-core competition. Hell, you can't even really call it competition. But the performance comes at the price of convenience, as the EON17-X's high-pitched fans ramp up to very load volumes under load, and especially when all the CPU cores are being stressed. This beastly performance requires a constant roar from the hardware.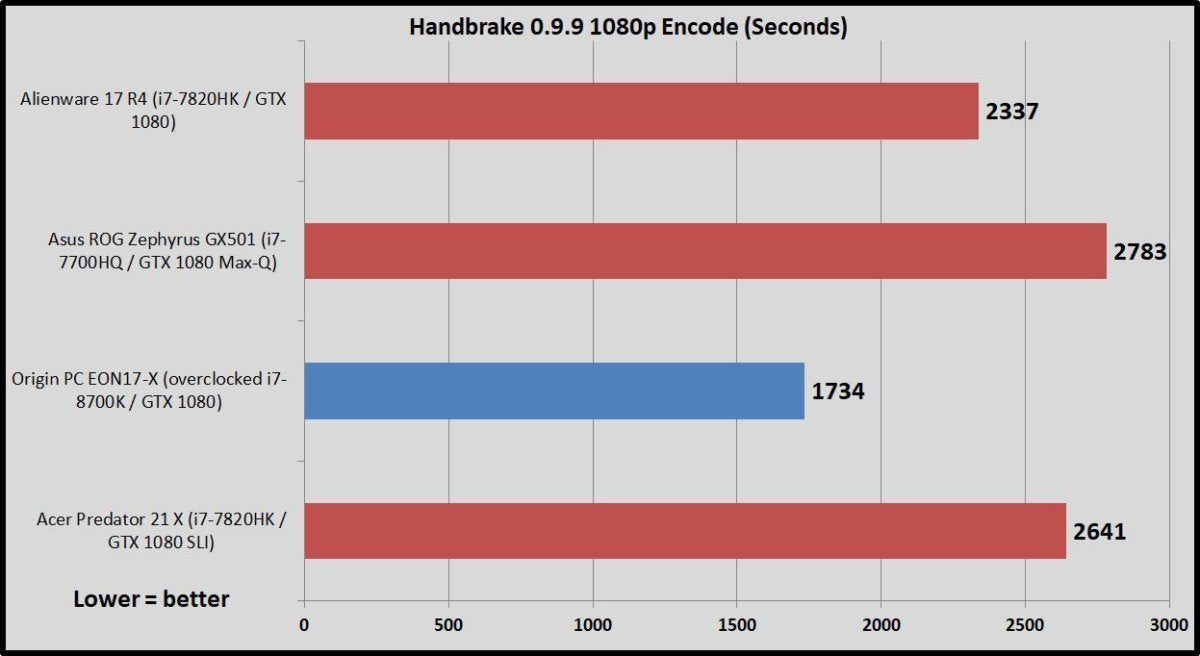 The Cinebench test has a short run time, but the file we encode in our CPU-intensive HandBrake test (which uses an older version of the software) takes around 45 minutes on a quad-core processor. Origin's desktop masquerading as a laptop achieves the same task in less than a half-hour. Hot damn.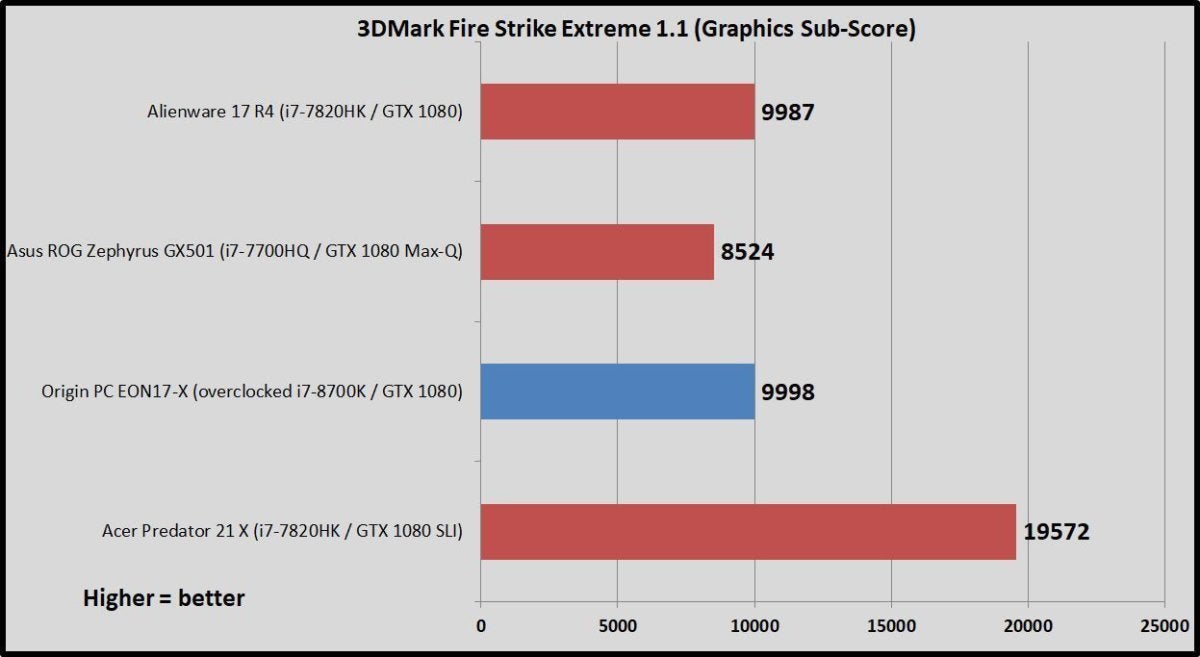 Gaming laptops lean heavily on graphics capabilities, too. We test their visual chops using the Graphics sub-score in 3DMark's Fire Strike Extreme synthetic benchmark, which focuses on pure GPU performance.
The EON17-X's GPU overclock and beefy cooling helps it deliver higher scores than any other single-GPU system we've seen, though the Acer Predator 21 X's pair of GTX 1080s pushes much, much further in this pure synthetic graphics test. We tend to shy away from recommending multi-GPU (SLI) configurations, however, because many modern games lack SLI support, essentially making your second graphics card the equivalent of a pricey paperweight.
But let's get to the games! Even though the Origin EON17-X has a 1440p display, we benchmark all gaming laptops at 1080p resolution to normalize results across the field.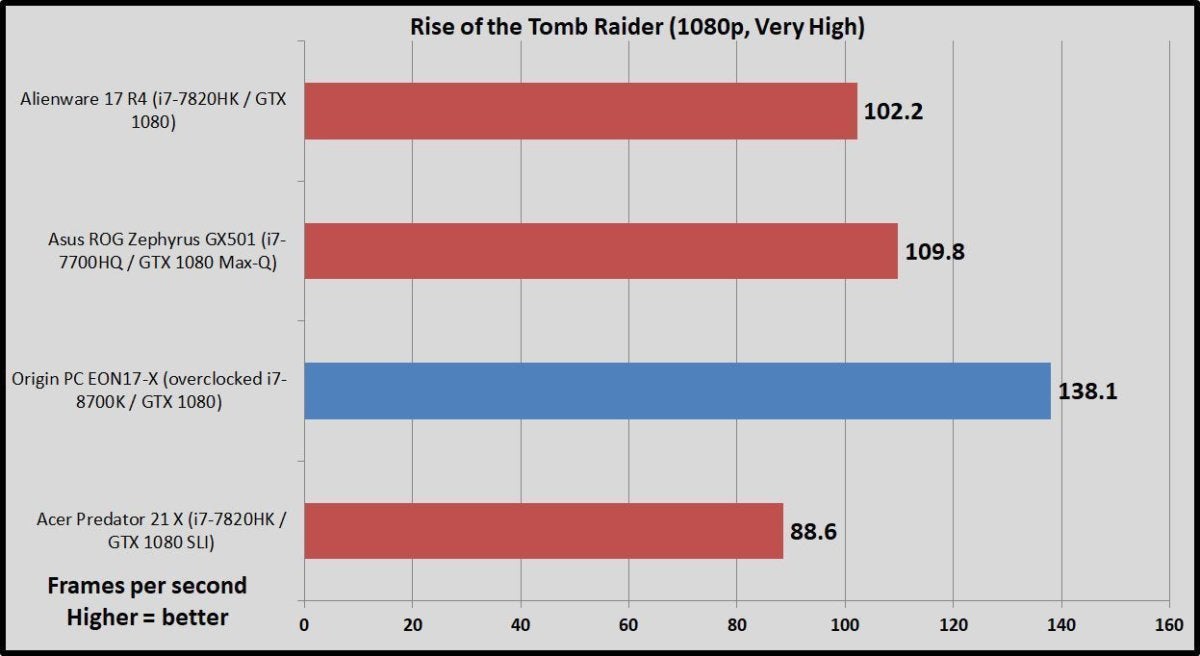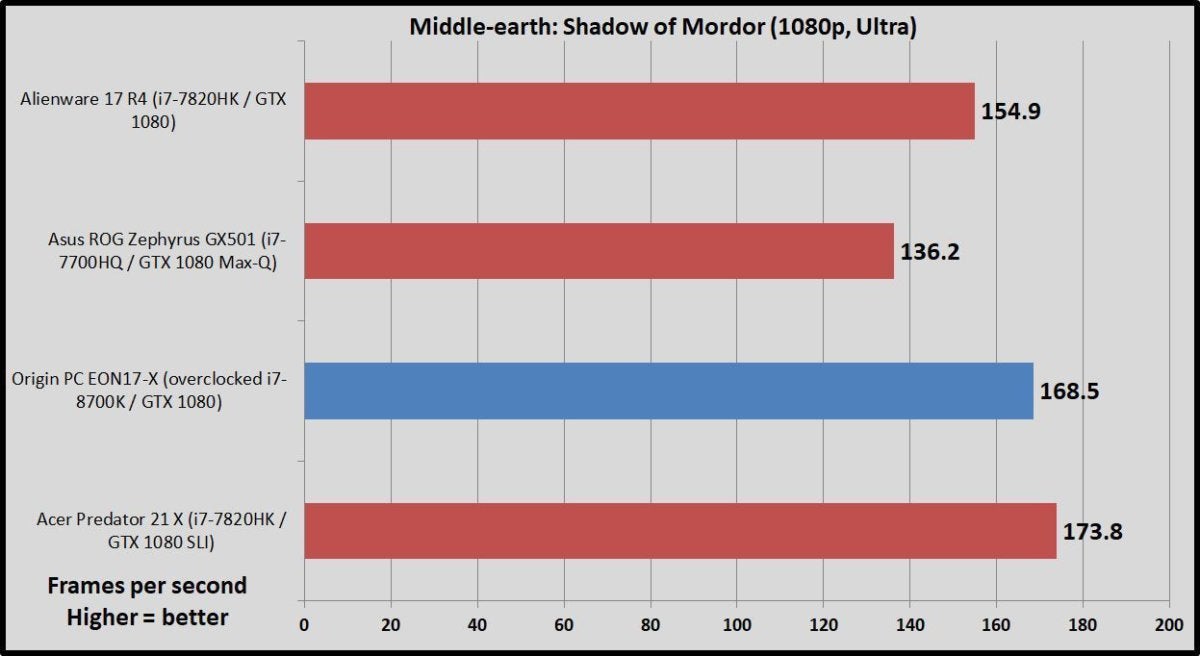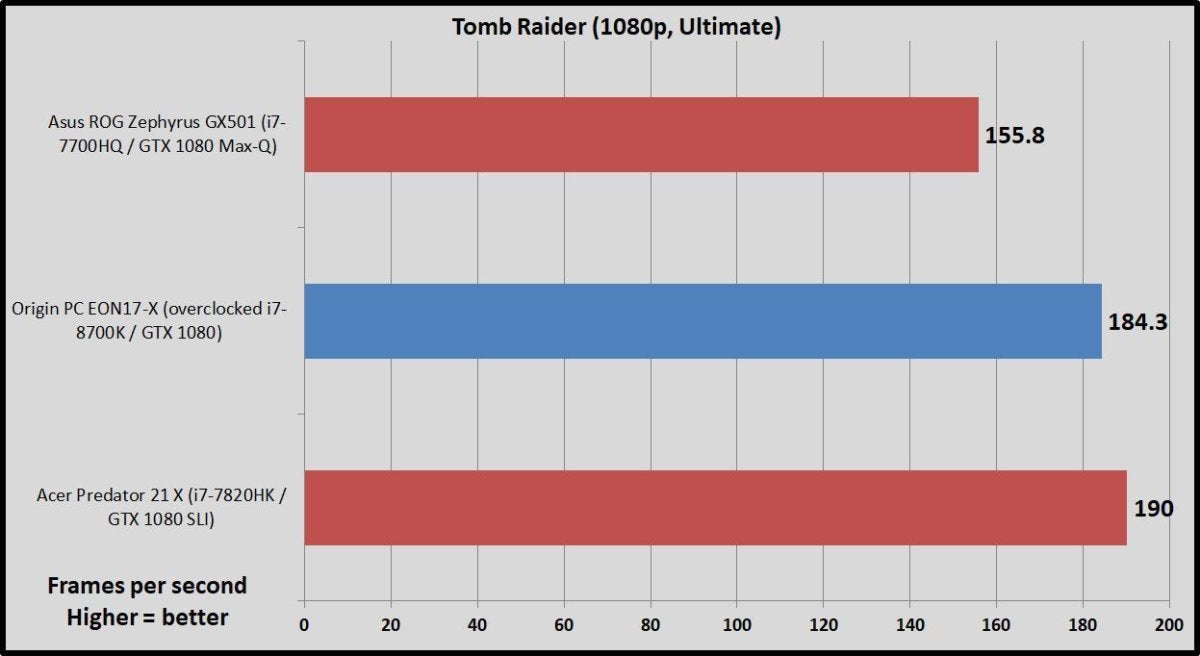 The EON17-X blows away the Asus and Alienware systems in raw average frame rate, easily surpassing its display's 120Hz limit in all three tested games. This rig is a monster.
Technically, the Predator 21 X and its dual GTX 1080s outpace Origin's PC, but if you pay attention to the Acer laptop's results, it starts to become clear why we prefer single-GPU systems. That pair of GPUs is only a few frames faster than the EON17-X's overclocked single card in Tomb Raider and Shadow of Mordor, while the Predator brings up the rear of the pack in Rise of the Tomb Raider. That's because the SLI settings are busted in the game; when you disable one of the Predator's GPUs, its average frame rate in that game leaps all the way to 115.46 fps. Overall, the EON17-X is the clear shining star in these gaming benchmarks.
Mentioned in this article
Destiny 2
Price When Reviewed:
$59.99
I also ran the Rise of the Tomb Raider benchmark continuously for an hour and didn't witness any performance degradation—unsurprising, given the laptop's heft and extremely active cooling solution. (Some gaming laptops, such as the Micro Center PowerSpec 1710, heavily throttle hardware performance under prolonged loads to help keep temperatures in check.) I additionally played some long Destiny 2 sessions on the machine and saw consistent, very high frame rates, even at the display's full 1440p resolution.
Important note: Nvidia's current 390.77 graphics drivers added a bug that disables the EON17-X's overclock. Origin PC is working to fix the issue. The benchmarks above used older drivers with a working overclock. I retested the Tomb Raider games using 390.77. Rise of the Tomb Raider only lost a few frames of performance, but Tomb Raider dropped from 184fps to 170fps. Fire Strike actually gained performance after a system update. The EON17-X's ample cooling still puts its graphics performance ahead of the pack even with the overclock disabled, and the issue doesn't affect our final review score. If you buy the laptop, avoid Nvidia's 390.77 drivers for now.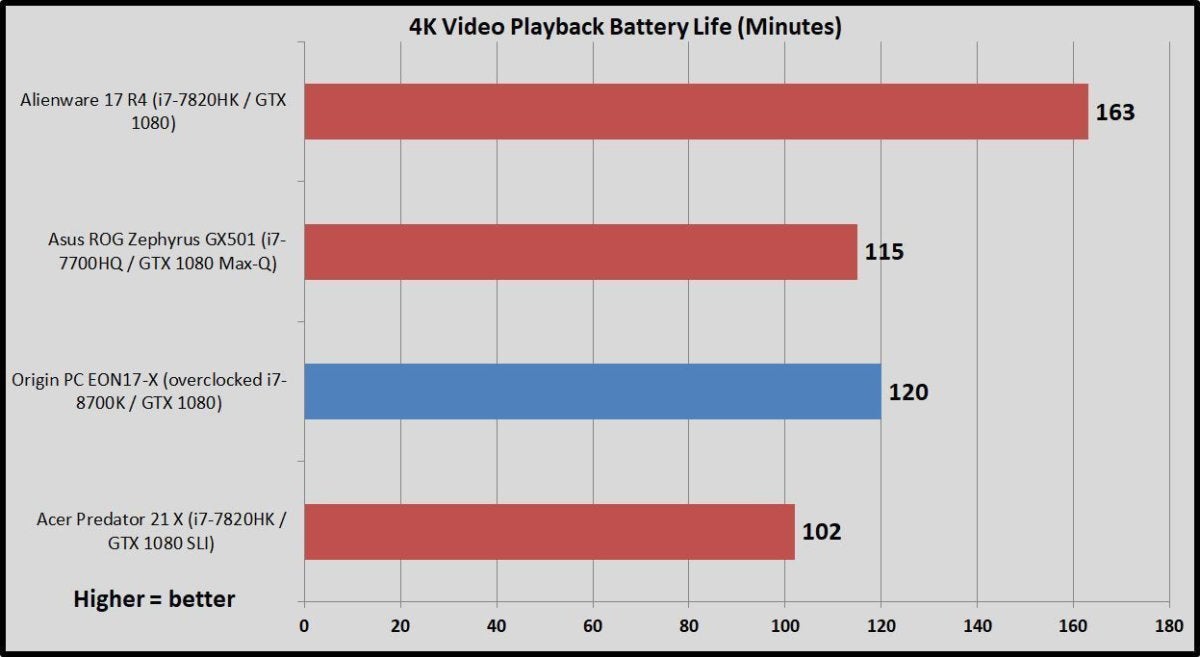 We test endurance by looping a 4K video with display brightness set to between 250 and 260 nits until the laptop dies.
Battery life is awful across the board, as you'd expect in notebooks carrying such powerful components. Nvidia's G-Sync technology also imposes an endurance hit because it requires the Nvidia GPU to be active at all times, and each of the gaming laptops being compared here include G-Sync displays. Anyways, the EON17-X is a laptop with overclocked, desktop-class hardware. You shouldn't plan on staying away from your charger for long.
Should you buy the Origin EON17-X?
The Origin PC EON17-X may be fearsomely potent, but it isn't for everyone. If the heft doesn't bother you but you don't need quite this monstrous level of firepower, the Alienware 17 is worth considering. And if you don't mind giving up even more performance to shave several pounds off the carry weight of your laptop, the Asus ROG Zephyrus and its GTX 1080 Max-Q GPU might prove enticing. Both will save you about $1,000 versus Origin's notebook and deliver great gaming performance.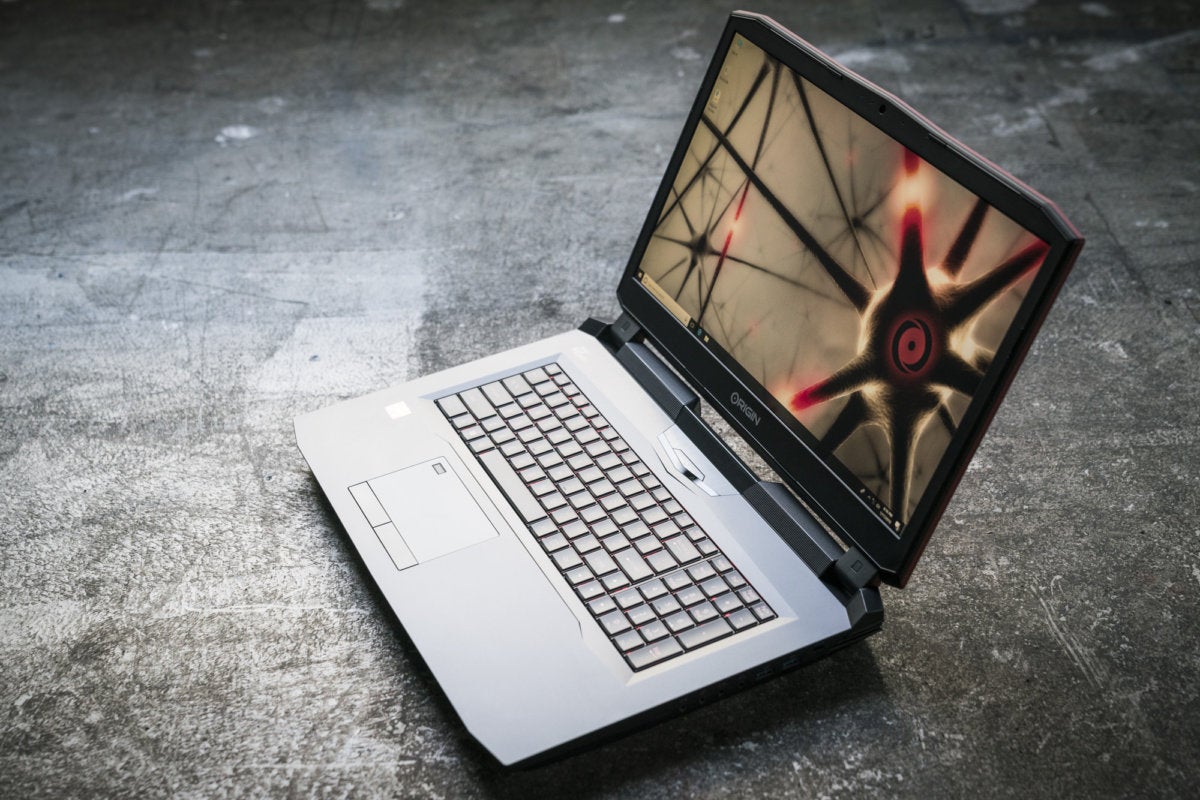 But neither of those truly compare to the EON17-X. This big, loud, no-holds-barred system delivers a much different value proposition than most gaming laptops do. If you're doing heavy-duty work that can take advantage of the desktop Core i7-8700K's abundant threads and high clock rate, no other laptop we've tested is even in the same ballpark as Origin's beast. If you want a best-in-class gaming experience that pushes frame rates as high as possible in a self-contained, portable (enough) form factor, the EON17-X can't be beat. Jump on this notebook if you're looking for a true high-end desktop replacement rather than a powerful laptop that lets you game on the road.
Bottom line: The Origin EON17-X fills a very particular niche very well indeed, and we stand in awe of its brute force. You pay for its power, but Origin PC's sublime out-of-box experience helps the laptop feel even more luxurious. Just don't forget your charger and gaming headset at home. Performance this ferocious requires some tradeoffs.
Best Prices Today: EON17-X