Imagine sitting down at a conference table and realizing you have the URL for a shared document, but your boss isn't willing to copy down the random gobbledygook of the Web address from your screen. A new feature in Windows 10's April 2018 Update, called Near Share, allows you to beam that file across the table in a flash.
Near Share, first introduced as part of Windows 10's Insider Build 17035, is an ad-hoc replacement for the "sneakernet" of trading USB keys. (If you've used an iPhone, think of Near Share as Microsoft's answer to Apple's AirDrop.)
Unfortunately, my tests found that it a general lack of speed makes it a poor choice for everything but webpage URLs and tiny files. (It does occasionally transfer files at Wi-Fi speeds, but it's not consistent.) For those simple transactions, though, it's pretty convenient. Here's how to use Near Share within Windows 10.
How to set up Near Share
To enable Near Share, both PCs will either need to be part of the Insider program, or just be up-to-date with Windows when the April 2018 Update drops.
Near Share, also known as "Nearby sharing," is off by default within Windows. To turn it on, you'll need to open the Settings menu, specifically Settings > Home > System > Shared experiences. Toggle on the Nearby sharing button. (The Share across devices setting, below it, enables the "Pick up where you left off" experiences that are built into the related Timeline features and Cortana.)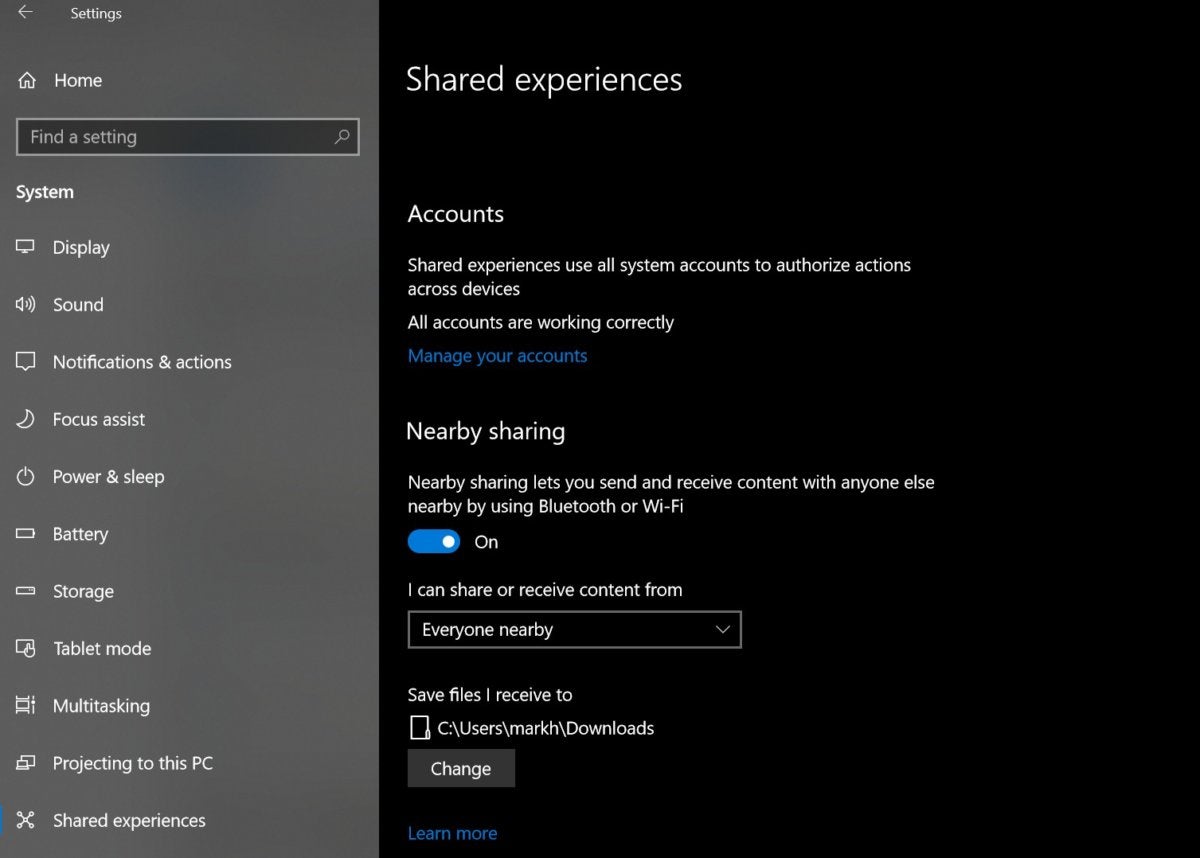 As you'll see, the permissions associated with the feature are fairly self-explanatory. You can either allow any nearby device to send you files (with your permission, of course) or limit them to your own, signed-in PCs. You'll also have the ability to specify in which folder the received files are stored.
Before you start using Near Share, though, there's one tip to consider, if you haven't already: renaming your PCs. Windows assigns a quasi-random device name to each PC, so that a Surface device might actually be named DESKTOP-SKLJ56B or something like that. Normally, that obscure reference doesn't mean a thing when using your PC on a day-to-day basis. But when you're transferring files, you'll need to pick which PC to send them to, so a recognizable name is a good idea.
Here's how to rename your PC within Windows: from Settings > System > About, you'll see a list of device specifications, with a Rename this PC button at the bottom. You don't have to choose anything too fancy, like you might for a password. Just make sure that the name doesn't use any spaces. After renaming your PC, you'll be asked to reboot.
How to use Near Share
Using Near Share is just about as easy as setting it up, though there are some quirks. Here's a fundamental one: Near Share uses both Bluetooth and Wi-Fi, using Bluetooth to establish and maintain the connection, and Wi-Fi to help transfer files across a common network. Both have to remain on and active during the transfer.
Two apps are especially suited for sharing information via Near Share: the Microsoft Edge browser, and Windows Explorer. In each, you'll see a Share option. Within Edge, that Share button is in the upper right and looks like an arrow coming out of a box: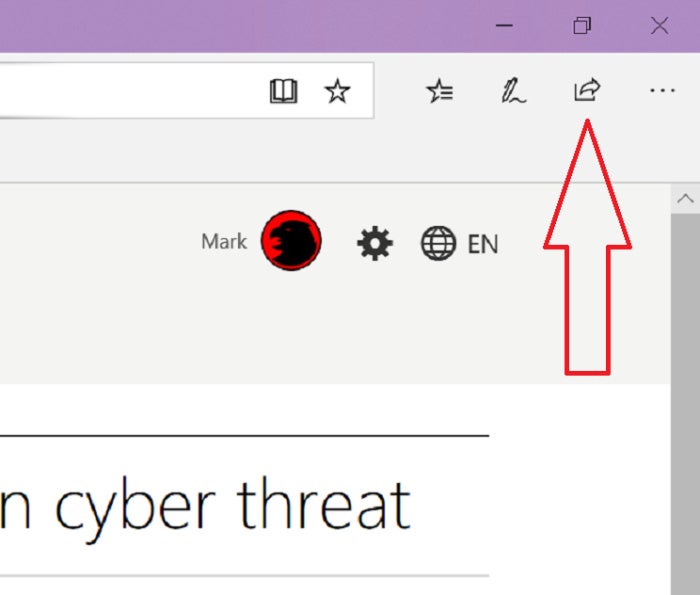 Within Windows Explorer, it's one of a number of options you'll see when you right-click on a particular file.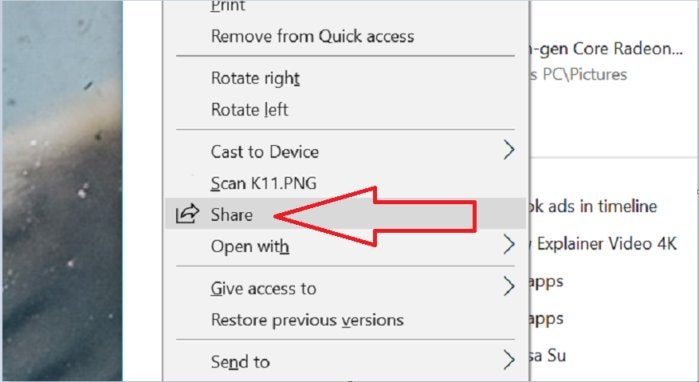 Note that within some apps, such as the version of OneNote built into Windows 10, the built-in Share button refers to collaborative editing. In other words, it's something of a misnomer: You won't really be beaming the file to another PC, you'll simply have access to it with whatever privileges the author assigned.
In either Windows Explorer or Edge, clicking the Share button opens the Share window, with the usual options to make the file available via Mail, Skype, OneDrive, or other installable apps like Facebook. Then there's a new tier of options that pops up with Near Share: a list of nearby devices that you can beam the file to.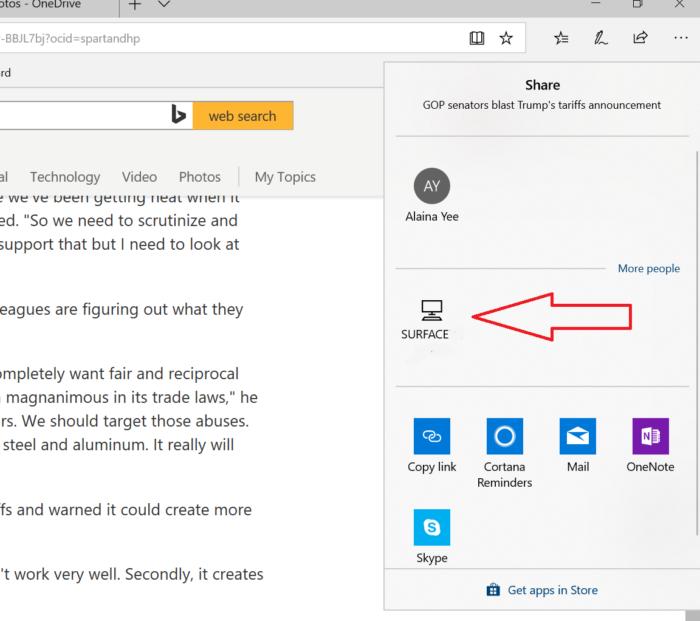 Selecting the other PC sends a request to share the file to the other device, which appears as a notification. When the other PC agrees to receive the file, the sharing process begins. Remember that the shared folder will appear in the Downloads folder, unless otherwise specified within the Settings menu.
How Near Share performs
It's hard to believe that Wi-Fi plays any role at all in Near Share, as it's often simply so dang slow. Using my home office as a testbed, I found that Near Share works best for small files, where emailing them, copying them to a USB stick or uploading them to the cloud is more trouble than it's worth.
I configured Near Share using two PCs—a Surface Pro 4 and a Surface Laptop—each sitting within a few feet of one another within my office. (Microsoft has characterized Near Share as a point-to-point connection, rather than a broadcast to multiple PCs.) Using a video file of 47MB as a test, I beamed it from one PC to the other, agonizingly slowly: an average of 4 minutes 55 seconds, having dropped the connection on the third test. I also connected the Laptop to a wired Surface Dock, without noticing any significant difference in times.
Was it my network? To check, I tried uploading the same file to OneDrive, pausing my timer, then restarting it as the same file downloaded out of the cloud to the other PC. That took just 1 minute 36 seconds, just over three times faster than transferring it via Near Share.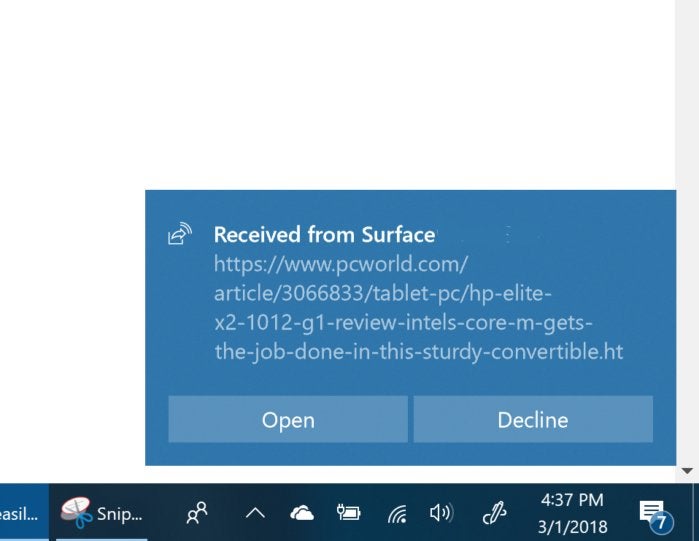 According to Computerworld's Near Share explainer, the feature uses Wi-Fi to transmit all but the smallest files. I didn't experience that, at least when I tested in March. Near Share seemed to beam basically everything via Bluetooth, whose throughput tops out at about 3Mbps. That's simply not acceptable for large files, and a USB stick was a far more practical option. In late April, though, I connected the two again, and even threw an Asus NovaGo into the mix. I actually did see file transfers of about 30 Mbits/s using Wi-Fi, but under weird conditions: from the NovaGo to the Surface Laptop, but not the Surface Pro 4. A firewall issue? Network hardware? Whatever the reason, sharing at full speed isn't as simple as it could be.
What Near Share is good for, however, is quickly sharing URLs and small files. Windows helpfully asks you whether you'd like to save or save and open a file with Near Share. And that means that beaming a URL from one PC to another, and automatically opening it within Edge, becomes one of the more practical uses for Near Share.
Is that enough? Apps like Word or Dropbox often design for such an eventuality, auto-generating quick links to open shared content and sometimes even opening an associated email app to send them on their way. That hamstrings Near Share's utility.
What Near Share needs
Near Share arrives literally years after Apple launched AirDrop, its own sharing mechanism for MacOS and iOS. It could stand to improve–say if it were able to cut and paste between PCs, as Logitech's Flow software or Microsoft's own Mouse without Borders app can. Near Share could also benefit from some sort of broadcast capability, to send a link or a file to more than one PC at a time. Microsoft has indicated plans for a "cloud clipboard" are in the works, but it won't be available in time for this Windows 10 April 2018 Update release. Instead, users will have to wait for the Redstone 5 release or later of Windows 10, due this fall.
Near Share's problem is also that more and more users maintain a persistent chat connection, such as Slack or Teams, as a persistent backchannel where links can be dropped into a shared chat room. For sharing images or some small files, Near Share is more convenient than fishing out a USB stick. At full speed, it's great. But right now Microsoft could still stand to smooth out the kinks.