At a Glance
Expert's Rating
Pros
Beautiful vintage design
LED-backlit keys
Satisfying clickiness and travel
Extra keycaps for Mac users
Cons
No programmable keys
Loud switches may bother your neighbors
Our Verdict
With its vintage design and clicky, deeply satisfying typing feel, the Azio Retro Classic is an enticing—if pricey—treat for dedicated PC or Mac typists.
Best Prices Today: Retro Classic BT Elwood
The Azio Retro Classic isn't the cheapest vintage-style mechanical keyboard we've seen, but it's certainly one of the most striking. From its deep, clicky keystrokes and wood or leather paneling to its LED-backlit keys and rechargeable battery, the Bluetooth-enabled Retro Classic (available for $220 from Azio at the time of this writing) will delight serious typists with old souls and money to burn. Be sure to check our full roster of wireless keyboard reviews for other good mobile and desktop options.
If the Retro Classic is a bit too exotic for you, no worries: Our wireless keyboard roundup offers plenty of other options at a wide price range.
Besides its steep price tag, our only real gripe about the Retro Classic is its lack of programmable keys. Here are its other main features.
Basic features

Supports Windows and Mac
Bluetooth and USB connectivity
Rechargeable, with an advertised one to two months between charges
Custom buckling swing mechanical switches
Design
Mentioned in this article
Azio Retro Classic Bluetooth Artisan – Luxury Vintage Backlit Mechanical Keyboard, Black/Copper (MK-RETRO-L-BT-03-US)
Price When Reviewed:
$219.99
With its zinc alloy frame and walnut wood surface, the $220 Elwood model of the Azio Retro Classic exudes a steampunk vibe, right down to the LED-backlit keys and the metal "Retro Classic" plaque that's bolted onto the main panel, just above the directional keys.
One version isn't enough for this design-driven device, of course. A trio of alternate Retro Classic models—the Onyx, Posh, and Artisan—boast copper and chrome frames, and replace the wood surface with either black or white leather.
I liked the Retro Classic's exposed screws and old-school indicator lights for number lock, caps lock, scroll lock, and Windows key lock. The keyboard tips the scales at a whopping 3.5 pounds, making for a reassuringly sturdy feel.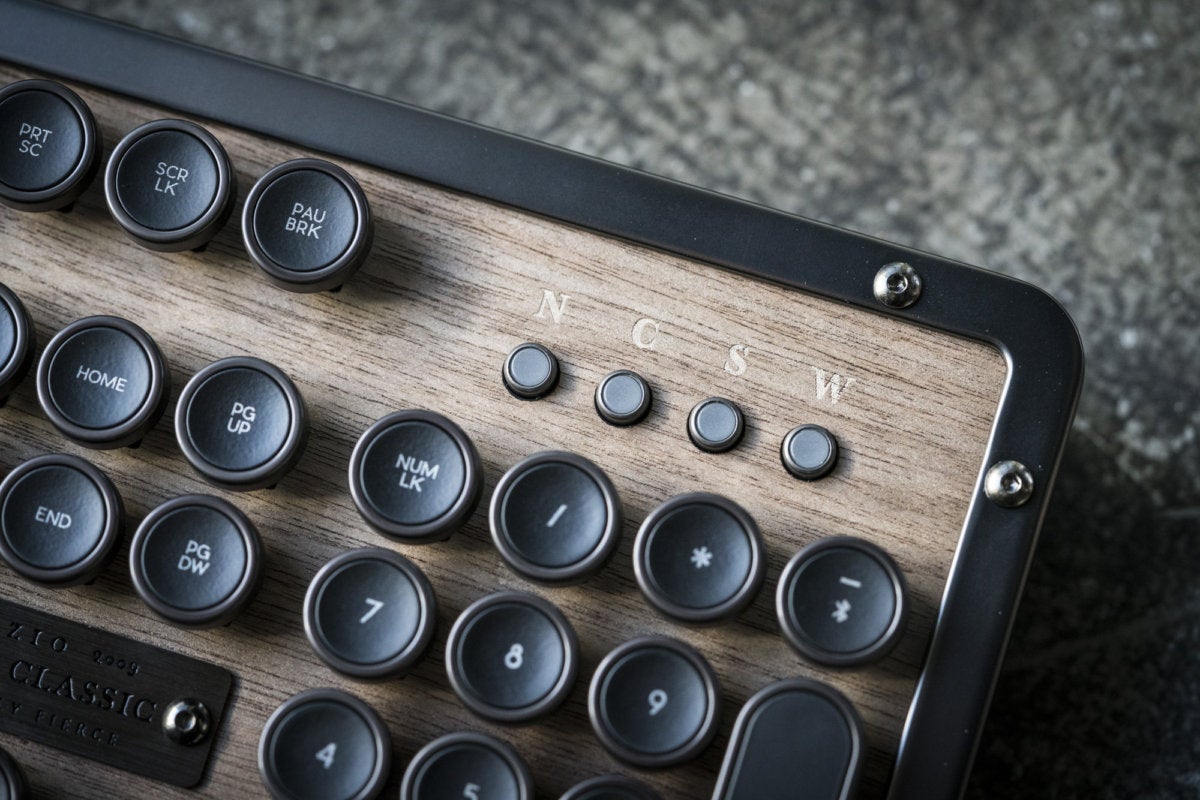 Connectivity & platform support
Supporting both Windows and Mac systems, the Retro Classic connects via Bluetooth or a USB-C port that charges the keyboard's 6,000mAh battery. Azio promises about a month or so of battery life between charges, although you can extend that to as much as a year by dimming the key backlighting or disabling it altogether (which you can do by tapping the Function key plus either the up or down arrows).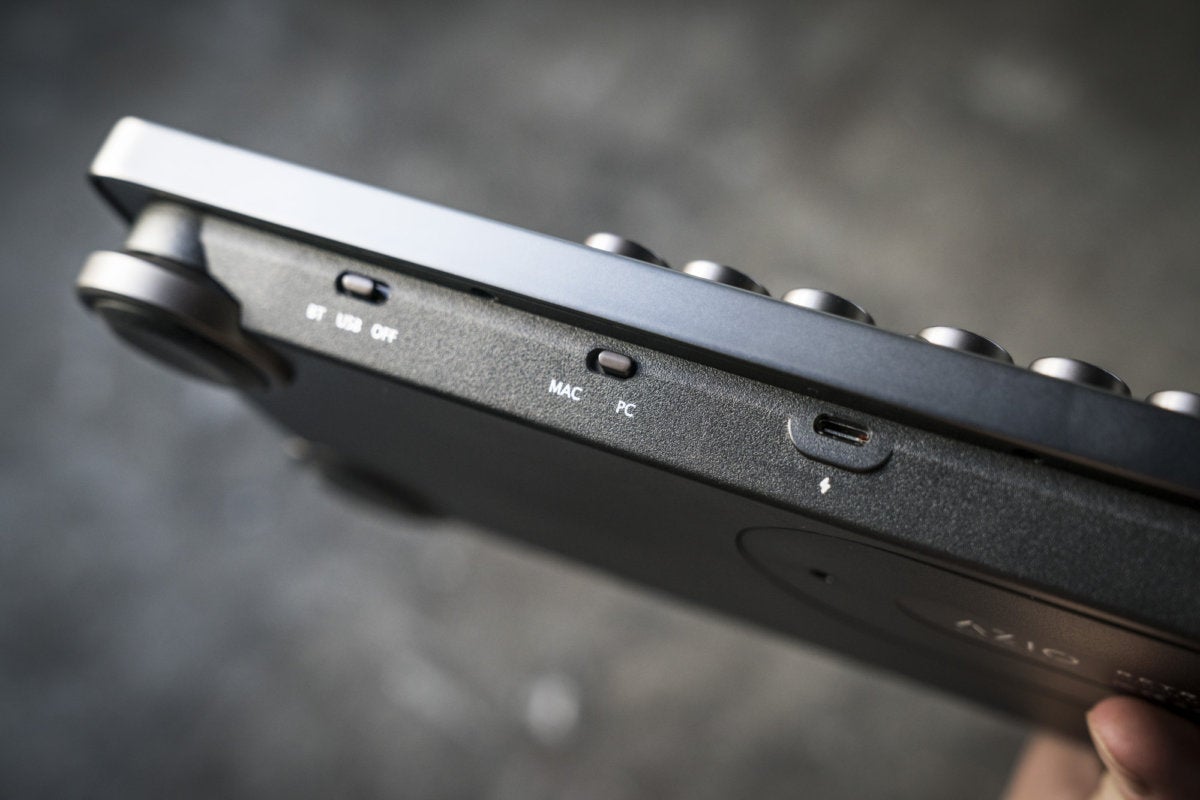 A control on the back of the keyboard switches between PC and Mac modes, and you can replace Windows-specific keycaps (ranging from File Explorer and Mail to Num Lock and Menu) with about a dozen Mac-centric versions (including Exposé, Launchpad, Command and Eject). While the Mac keycaps are a nice touch, the Retro Classic lacks any programmable keys.
I had no trouble pairing the keyboard to my Mac and PC desktops, but don't expect any newfangled features like the ability to connect to two Bluetooth devices at once.
When connected via Bluetooth, the Retro Classic goes into standby mode after about five minutes of inactivity, dimming its LED backlighting in the process. Tapping a key reconnects the keyboard without any undue delay.
Typing feel
A mechanical keyboard aficionado might guess that the clicky, highly tactile switches on the Retro Classic are of the Cherry MX Blue variety, a type of switch favored more by click-happy typists than by fast-twitch gamers. The truth, however, is more complicated. Because Azio wanted the the backlighting for each key to sit in the middle of the switch mechanism (so the glow would "shine through evenly," said an Azio rep), the company looked to the switch gurus at Kaihl for a custom-made solution.
The result is sure to be catnip for die-hard typists: clicky, loud, and deeply satisfying, with the buckling swing switches actuating about halfway through each stroke before springing back up. The space bar in particular produces a wonderful "thunk" when you tap it with the edge of your thumb. Yes, your neighbors may hate you while you're typing on the Retro Classic, but hey, if they don't like the sound of touch-typing bliss, they can move.
Conclusion
With its vintage design and clicky, deeply satisfying typing feel, the Azio Retro Classic is an enticing—if pricey—treat for dedicated PC or Mac typists. That said, we're bummed by the lack of programmable keys, while nearby workmates might not appreciate the keyboard's loud clicks as much as you do.
Best Prices Today: Retro Classic BT Elwood