If you're asking yourself, "should I buy a Ryzen APU?" for a new budget gaming PC, the short answer is yes, probably.
That's because for building a ground-up, entry-level gaming machine, the Ryzen APU is the best game in town, and possibly the only game for DIY builders, in the face of wallet-busting GPU prices.
But for everyone? Well, no. There is no one-size fits all answer, so read on to learn who should buy the Ryzen APU—and who shouldn't.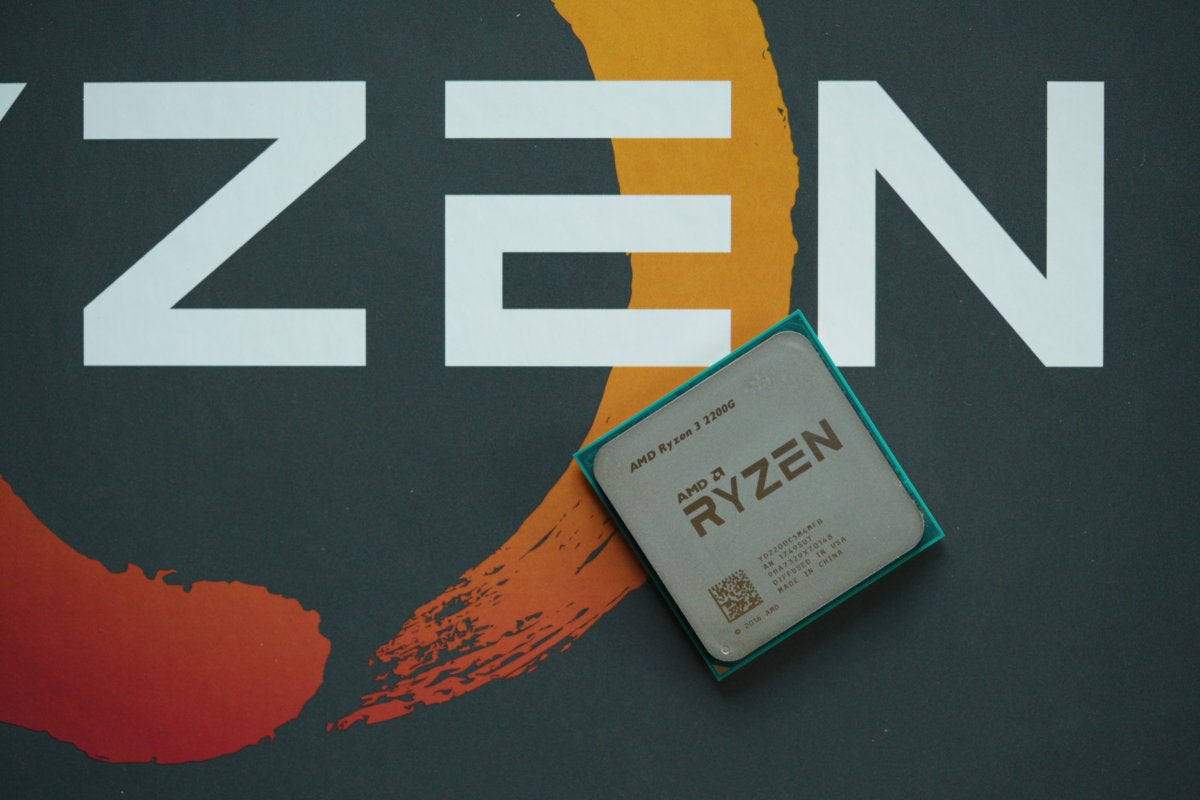 Why the Ryzen APU matters for PC gamers
You can read our full review of the $99 Ryzen 3 2400G and the $169 Ryzen 5 2400G but the summary is this: AMD's new APUs have essentially enough CPU and GPU power to enable satisfying gaming at 720p to 1080p. Both APUs combine quad-core Zen x86 cores with up to 11 Vega graphics cores, and the Ryzen 5 2400G also has SMT. The integrated graphics basically offers from double to triple the gaming performance of Intel's HD 630 graphics, which is inside everything from an $85 Pentium to a $380 Core i7.
The money math is simple and attractive: It's taking the CPU performance of a $105 Ryzen 3 1200 and nearly the graphics performance of a $110 Radeon RX 550 and rolling it into a single $99 Ryzen 3 2200G.

Five reasons to buy a Ryzen APU
1. Starting your gaming PC from scratch or near-scratch
The Ryzen APU makes the most sense if you're building a new or mostly-new computer. For someone graduating from a game console to PC gaming or replacing base components, you just can't beat the roughly $158 it costs for an APU and motherboard.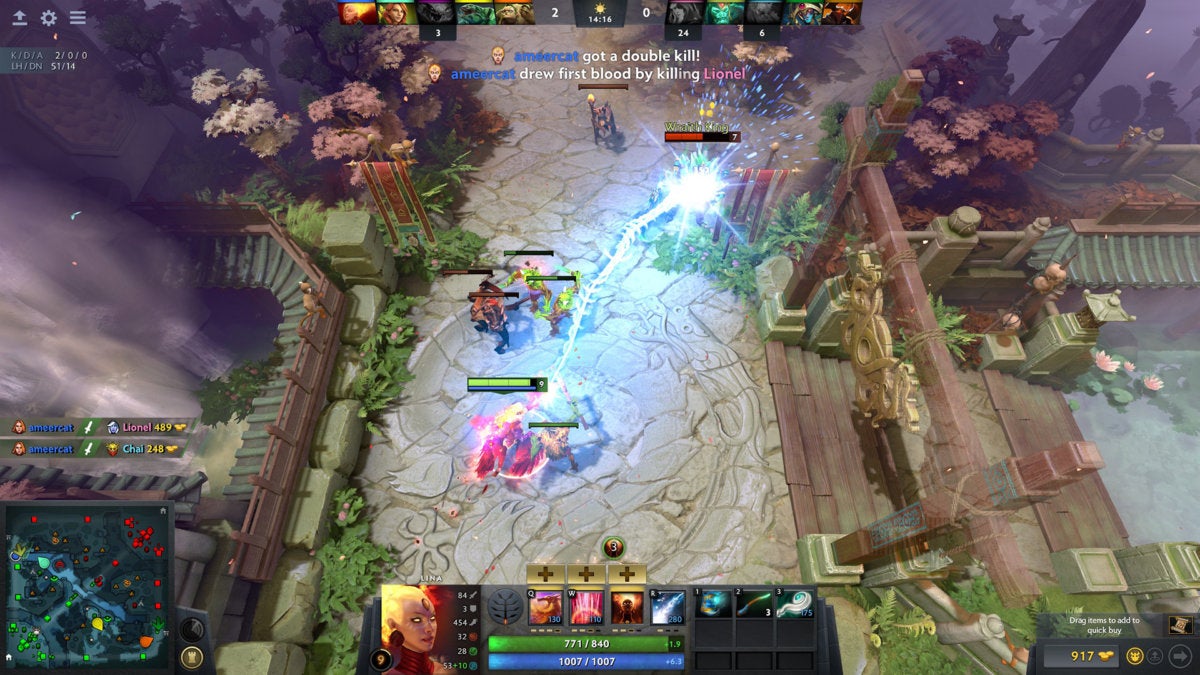 2.You just want a taste of PC gaming glory
PC gaming is glorious, and for many gamers, once they go PC, they can never go back. But it's not for everyone, so if you just want to see what it's like on the other side and experience the rapture of a Steam Sale, a Ryzen APU gets you there in the cheapest way possible today. Even if you decided to go back to your controller and game console, you'd still have a decent box for editing documents, photos or video, and browsing the web.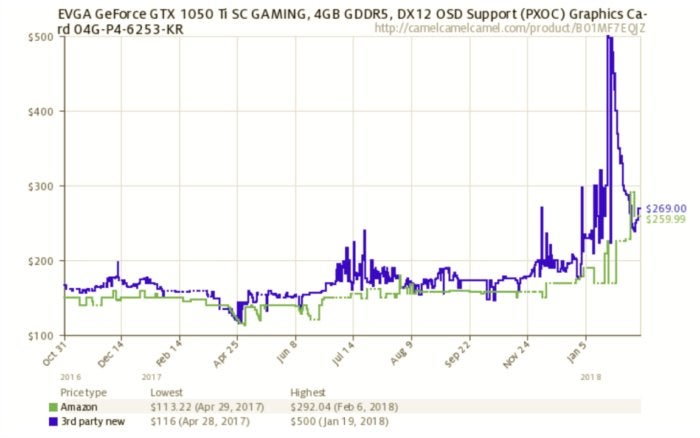 3. You want to wait out the GPU Crisis of 2018
There couldn't possibly be a worse time to build a gaming PC than right now. A GPU that cost $250 just two months ago is now going for $600. And that $600 Radeon Vega 64? Expect to pony up $1,400 for it—if you can even find one.
While most of the pain is concentrated among GPUs above $300, the high prices have trickled down to lower-end cards. For example, while Camelcamelcamel.com had a low price of $116 for a GeForce GTX 1050 Ti card last year, the same card spiked to $294. As of this writing, it's $260 to $270.
Unless you like the idea of paying almost 2.5X for a relatively elderly GPU, you might build on a Ryzen APU and wait for the GPU storm to end before buying a higher-end card.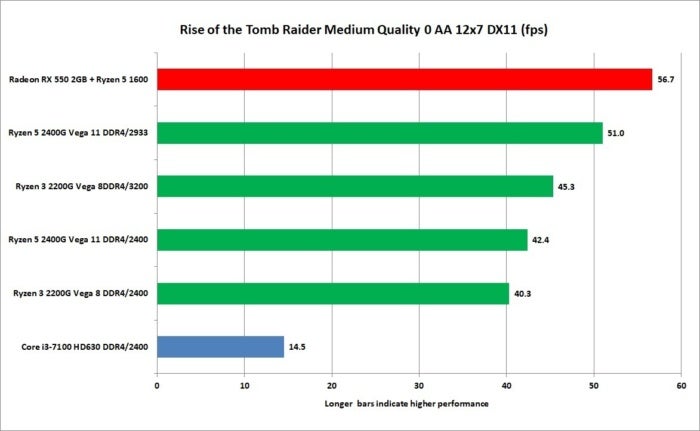 4. It's almost as good a low-end card
Some skeptics think the new Ryzen APU is irrelevant because, well, the performance of the $99 Ryzen 3 2200G is slower than it is for a $110 Radeon RX 550 card. The pricier $169 Ryzen 5 2400G barely pulls even.
It's true that the $110 RX550 is generally faster than both APUs, but does that performance difference really make it worth $110? We don't think so. It's hard to beat a price of $0. The budget GPUs aren't so much faster than an APU to warrant their price today.
For example, we priced the cost of a Ryzen 3 2200G build. Including $99 for the OS, it came in at $505. If we opted for a build around a Ryzen 3 1200 for $105 with a Radeon RX 550, you'd have to shell out $621 for just slightly faster performance. Even a build with the Ryzen 5 2400G, which offers near-equal graphics performance to the Radeon RX 550 (and four more virtual CPU cores compared to the Ryzen 3 2200G), comes in at only at $575 for the build (including $99 for Windows 10). We'd rather put that money into a larger SSD, more RAM, or a mattress, to sock it away for the day when much faster GPUs come back to Earth.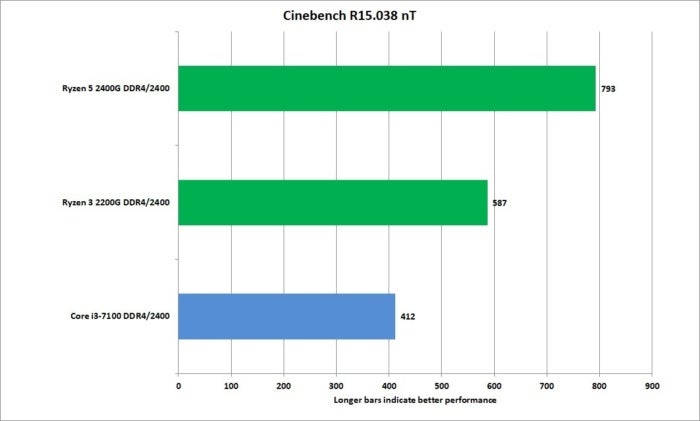 5. It's actually a great CPU, too
The Ryzen APUs may offer impressive graphics power, but their Zen cores matter, too. The older A-series of APUs were pretty underwhelming in traditional CPU tasks. These new Ryzen chips very much hold their own against Intel's best CPUs.
Five reasons not to buy a Ryzen APU
While the Ryzen APU is great chip, some users should not buy it. Here's why.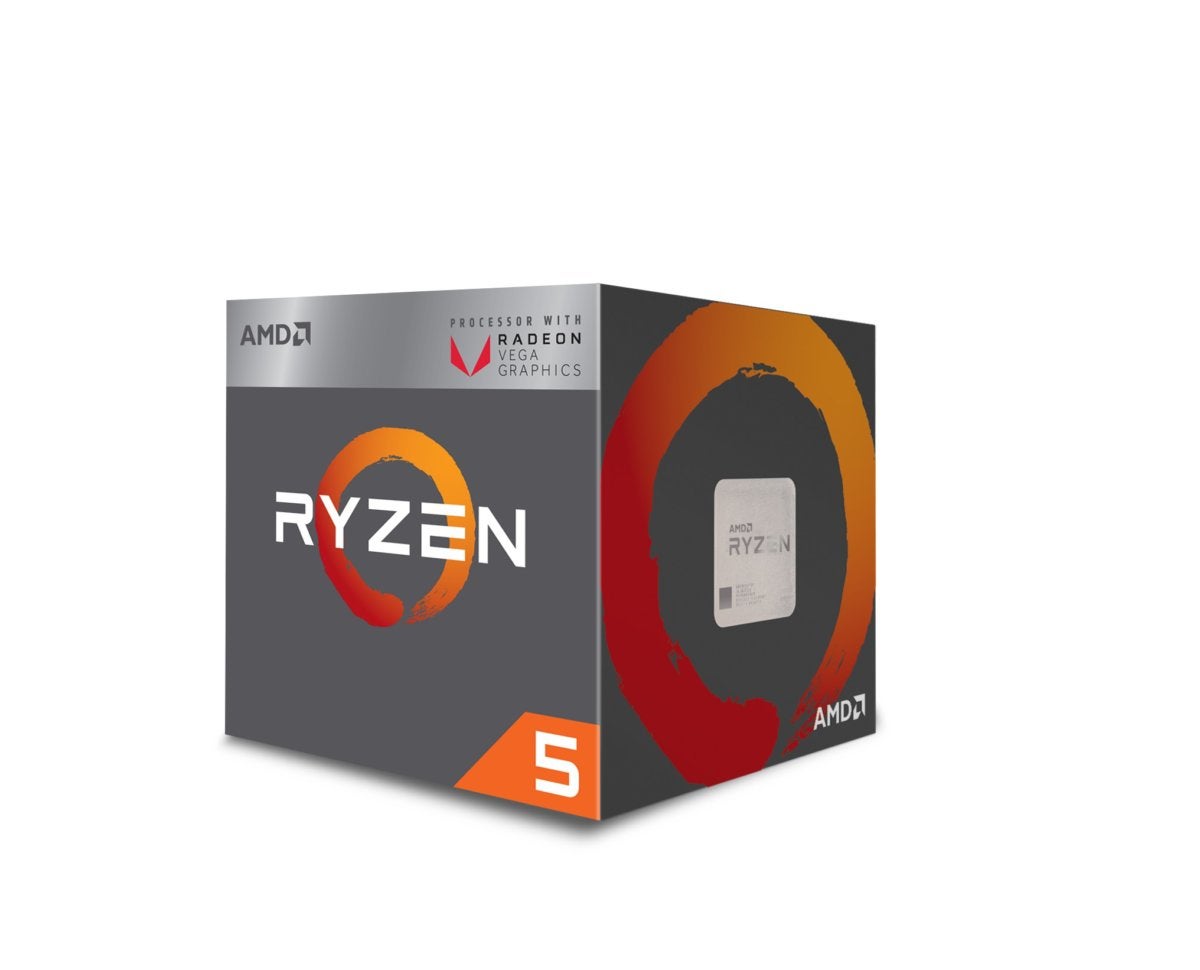 5. It's only a quad-core.
There's no denying that the Ryzen APU is a good deal, but if you're the kind of person who really needs more cores for video editing and encoding, or 3D rendering, there are better choices out there. For example, if your chip of choice is the Ryzen 5 2400G, a quad-core chip with SMT for a total of eight threads of power, you're only $20 from a Ryzen 5 1600, which gives you 6 cores with SMT for 12 threads. You'll have to buy a GPU too, but it's probably worth it if you're doing that kind of work. In fact, Intel's 6-core Core i5-8400 is just $17 away (although it lacks Hyper-Threading) For tasks that lean heavily on core and thread count, it's worth the extra $17 or $20 for the six-core CPUs.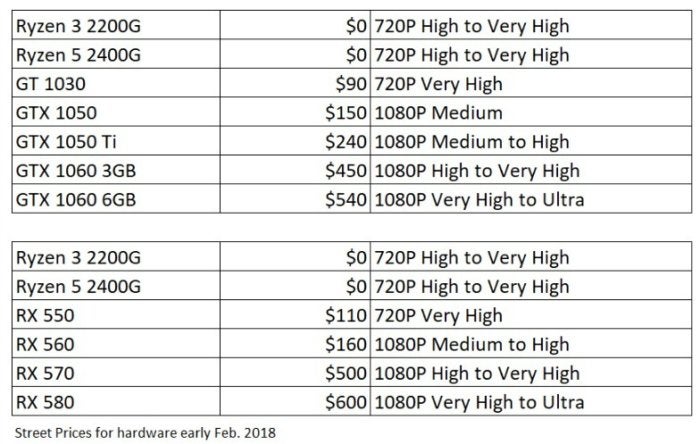 4. You want 1080p gaming
The new Ryzen APUs are fine chips—if you have reasonable expectations. In our book, that means 720p gaming on most newer titles. While it'll run a lot of games, especially less demanding games, at 1080p just fine, its comfort zone really is at the lower resolution.
If your idea of a gaming PC is nothing less than pushing 50-plus fps at 1080p resolution on medium to high, you'll likely be disappointed by a Ryzen APU. Even paired with the fastest DDR4, it'll struggle on newer titles at that resolution. Instead, target a GeForce GTX 1050 or Radeon RX 560, at a minimum, for your build, and prepare to shell out some scratch.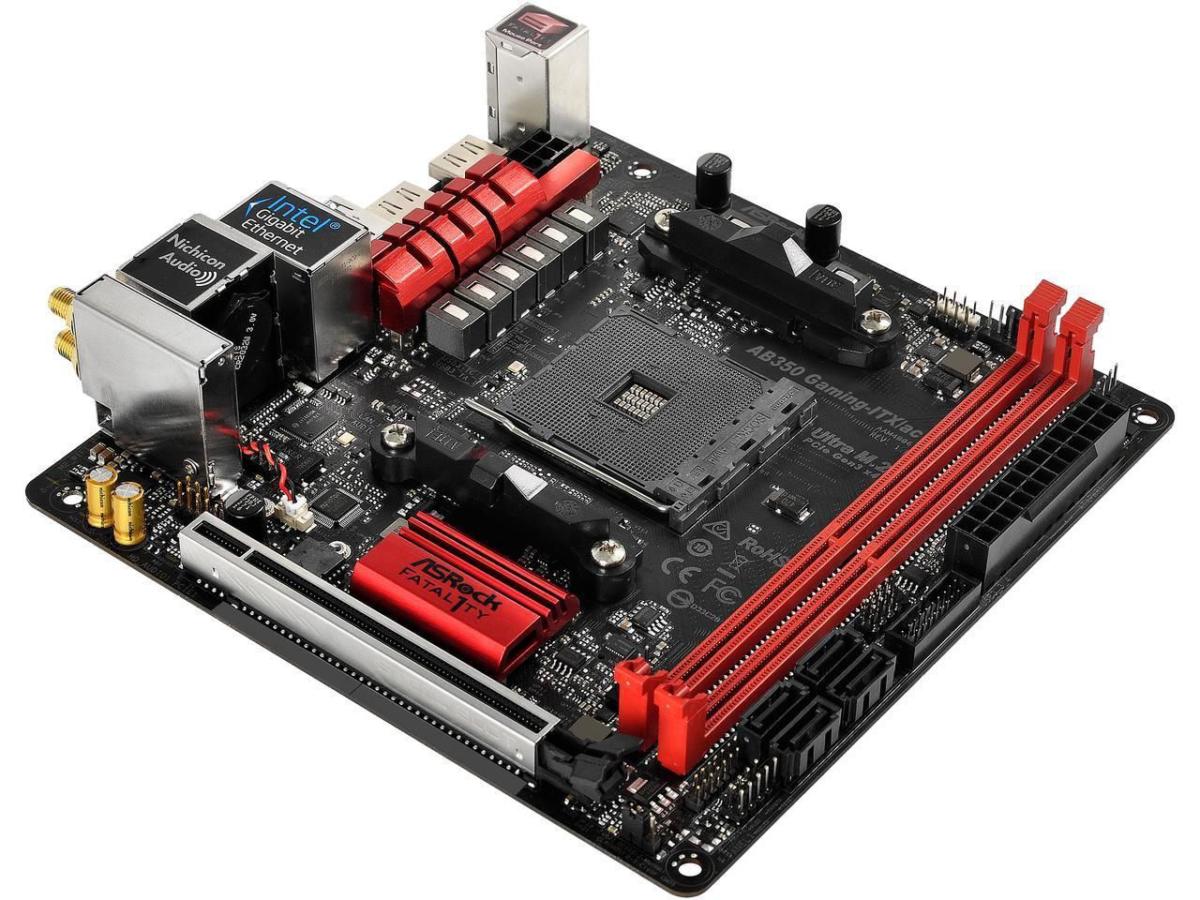 3. It "only" has x8 PCIe lanes
One cost-saving decision made with the Ryzen APUs was to cut the PCIe lane support in half compared to Ryzen CPUs. For example, plug a graphics card into a motherboard with a Ryzen 3 1200, and it will run at x16 Gen 3 speeds, or a theoretical 32GBps. Swap that CPU out with a Ryzen 3 2200G, and the PCIe bandwidth drops to x8 Gen 3, or 16GBps.
That sounds bad, but the average gamer will likely never see any impact from the PCIe reduction, because few gaming loads actually use that bandwidth. A lot of people don't like the idea of "losing" bandwidth, though. So, if you're the kind of person who likes to remove the 130-mph speed governor on your car just "because"—then yes, it might just irk you enough to want to get a full x16 chip instead.
2. You don't have an old CPU to upgrade the BIOS to use the new APU
Another reason to bypass a Ryzen APU is because many motherboards on shelves will need an updated UEFI/BIOS to run it. Yes, that means if you buy a $70 motherboard to run your $99 APU, the only way you can use it first (assuming it's not updated) is to update it with an older CPU.
This step may be a deal-breaker for many. Readers have told us MicroCenter stores will update the BIOS for you for 20 bucks, but not all of us live near one of its stores.
For those who can't get to a MicroCenter, or convince a friend to take apart his or her PC to borrow that Ryzen for 10 minutes there's one last option: AMD will loan older chips so you can complete the update. You'll need to go to the AMD Warranty RMA page, fill in some information, then select the "Boot kit Required" option. To do this, you'll need a valid AMD chip with the part and serial number.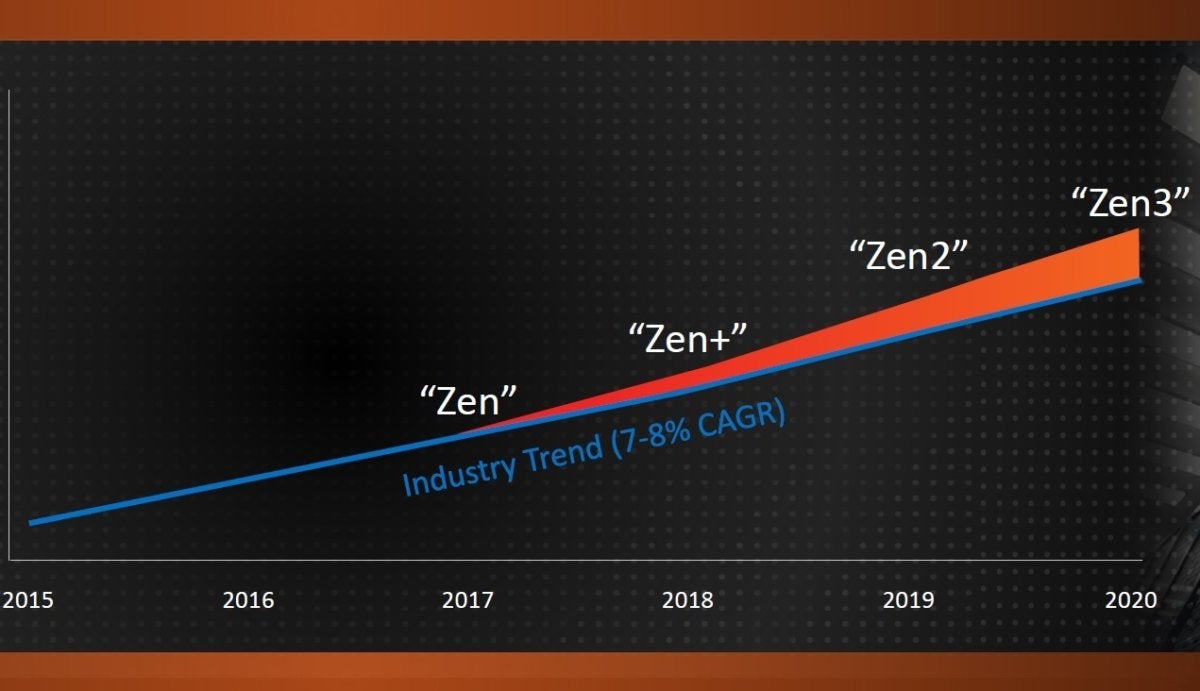 1. You want to wait for Zen+
The last reason you might want to skip AMD's new APU is the most valid one: The sequel to the Zen cores used in all Ryzen CPUs is due as soon as April. Called Zen+, it's expected to offer clock speed improvements, better overclocking headroom, and perhaps fixes of all the things AMD couldn't get into the original Zen launch.
While that doesn't mean AMD will immediately replace the newly released APU, if you're the kind of person that always needs to have the latest thing, then yeah, what's another few months right?