At a Glance
Expert's Rating
Pros
All-day battery life
Slim and super-light
Solid array of ports, including Thunderbolt 3
DTS Headphones:X support
Cons
Middling performance among quad-core 8th-gen notebooks
Numeric keypad cramps neighboring keys
Lofty price tag
Our Verdict
The 15-inch LG Gram isn't the fastest 8th-generation quad-core laptop we've tested, but it's certainly one of the lightest, and its stellar battery life makes up for its modest performance shortfalls.
Packing a quad-core 8th-generation Intel processor and a robust battery into an impressively thin and light shell, the peppy but pricey LG Gram cranks all day without weighing you down. While we love the Gram's lithe design and exceptional battery life, laptop shoppers looking for sheer speed may be disappointed by the system's relatively casual pace. We also had some quibbles with the Gram's cramped keyboard.
Price and specifications
We tested the top-of-the-line model of the LG Gram, which costs a cool $2,000 and boasts a 15.6-inch touch display, a quad-core 8th-generation Intel Core i7-8550U processor, 16GB of DDR4 RAM, and a pair of 512GB solid-state drives. If you'd rather not spend two grand on a laptop, there are three cheaper versions of the Gram to consider, including (at the bottom end) a much more affordable $1,250 model with a Core i5 processor, a single 256GB SSD and 8GB of RAM.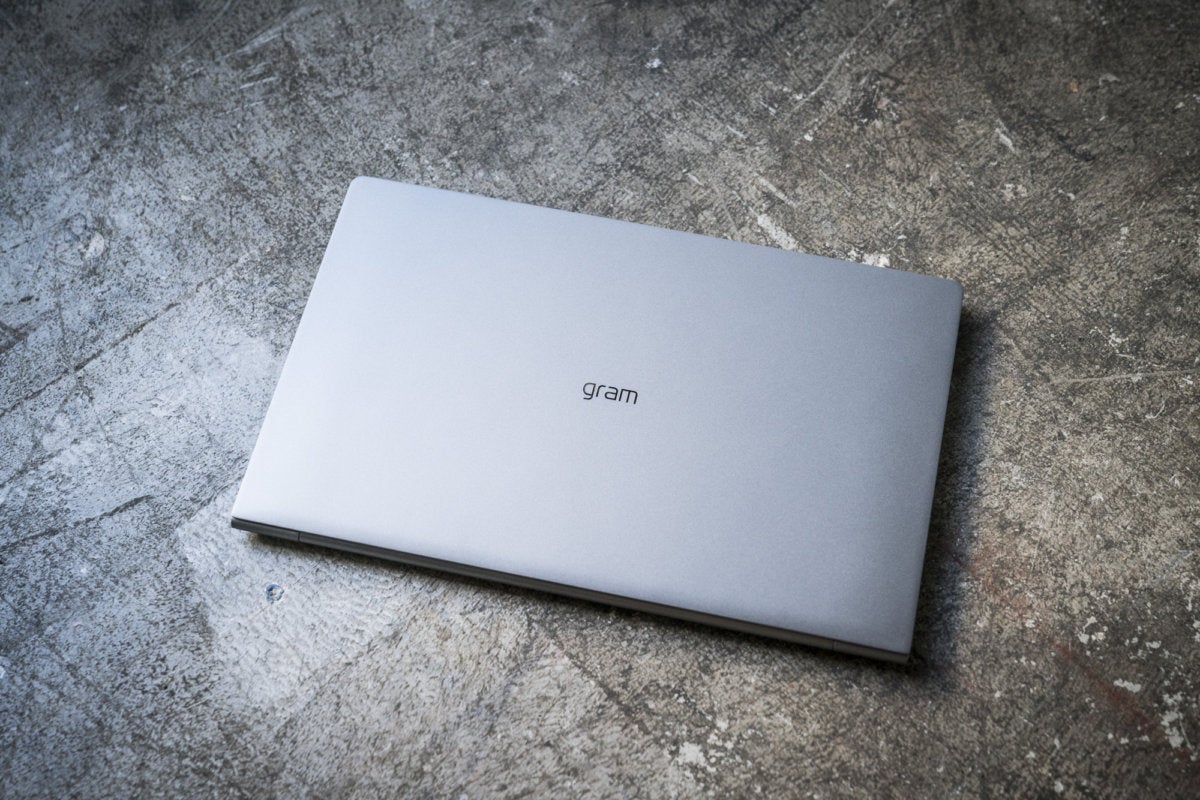 The first thing you'll notice about the aptly-named LG Gram is its weight, or lack thereof. Weighing in at about 2.4 pounds, the Gram feels impossibly light, like one of those fake laptops you'll find in furniture showrooms.
At 0.7 inches, the Gram's metal alloy shell (which, according to LG, boasts military-grade resistance to shock, vibration and even spraying salt water) is a bit thicker than such ultralight competitors as the Dell XPS 13 and the HP Spectre x360, but it's still just as light or a tad lighter than those two systems—and remember, the LG Gram has a 15-inch display, versus the 13-inch screens on the Dell and HP.
Of course, there's also the LG Gram's 12-ounce AC adapter to consider. Toss that in, and the LG Gram's total packing weight swells to a little over three pounds. Then again, the Gram's battery life is so good (as you'll see), day-trippers can probably afford to leave the power cord at home.
Display
The LG Gram's 15.6-inch display is a bit of a mixed bag. While the FHD (1920×1080) touchscreen looks sharp and relatively vivid, it's a tad dim, with a maximum brightness of only 265 nits (or candelas). That figure lands a little above our minimum standard of 250 nits for comfortable indoor reading, but it's well below the 300-nit readings we've seen on competing laptops. Generally speaking, brighter is better, particularly if you're trying to get work done outdoors or near a bright window.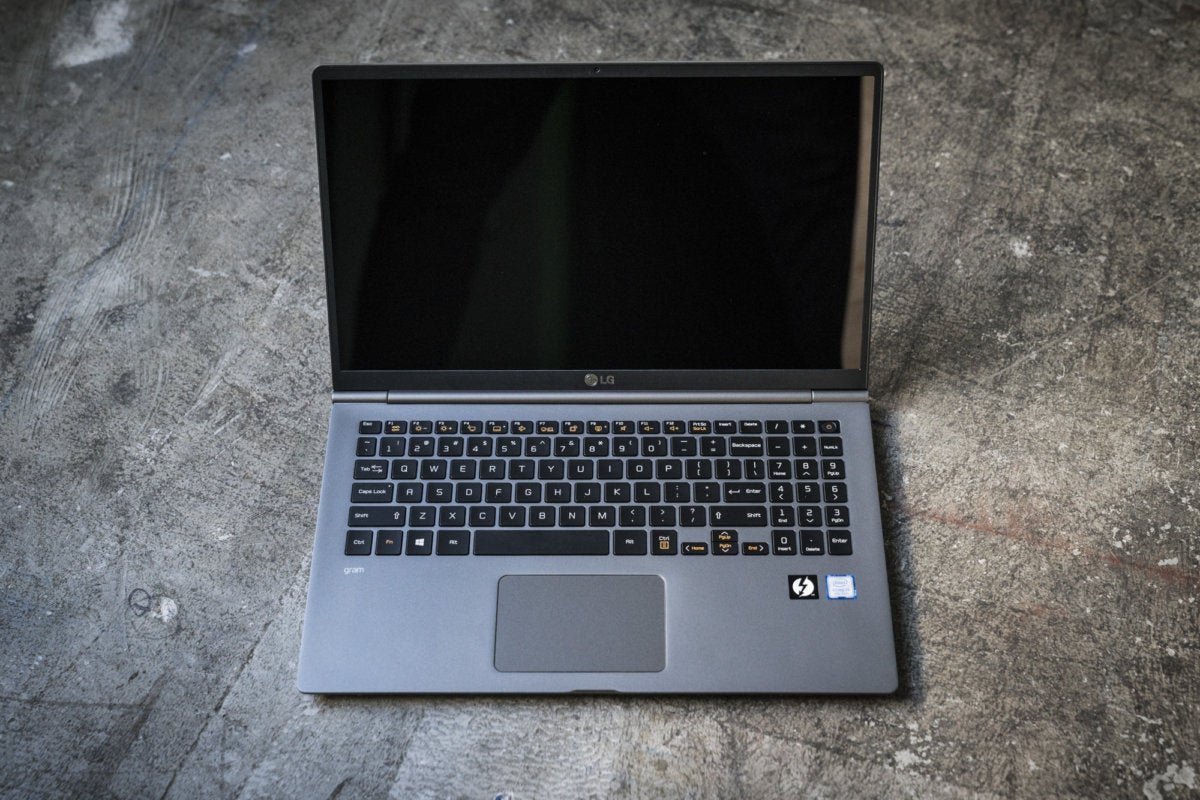 That said, the viewing angles on the Gram's IPS panel are quite impressive. Even when I scooted over far to the side, I could barely detect any screen fading. Those solid viewing angles held up from the top and bottom, too.
The LG Gram's touchscreen did a good job of registering my taps and swipes, but keep your Active Pens stowed, as the screen lacks pen support.
Keyboard, speakers, webcam & extras
The LG Gram doesn't skimp in the keyboard department, offering up a full numeric keypad along with a fingerprint reader embedded in the power key, which sits in the top-right corner of the keyboard.
While a dedicated numeric keypad is always a nice touch in a laptop, the numeric keys themselves are a little narrower than the main number and letter keys. Annoyingly, my fingertips kept missing the smallish Backspace and Enter keys, hitting the numeric keys instead. I'm sure one would get used to the key layout over time, but my initial touch typing experience with the Gram was a frustrating one.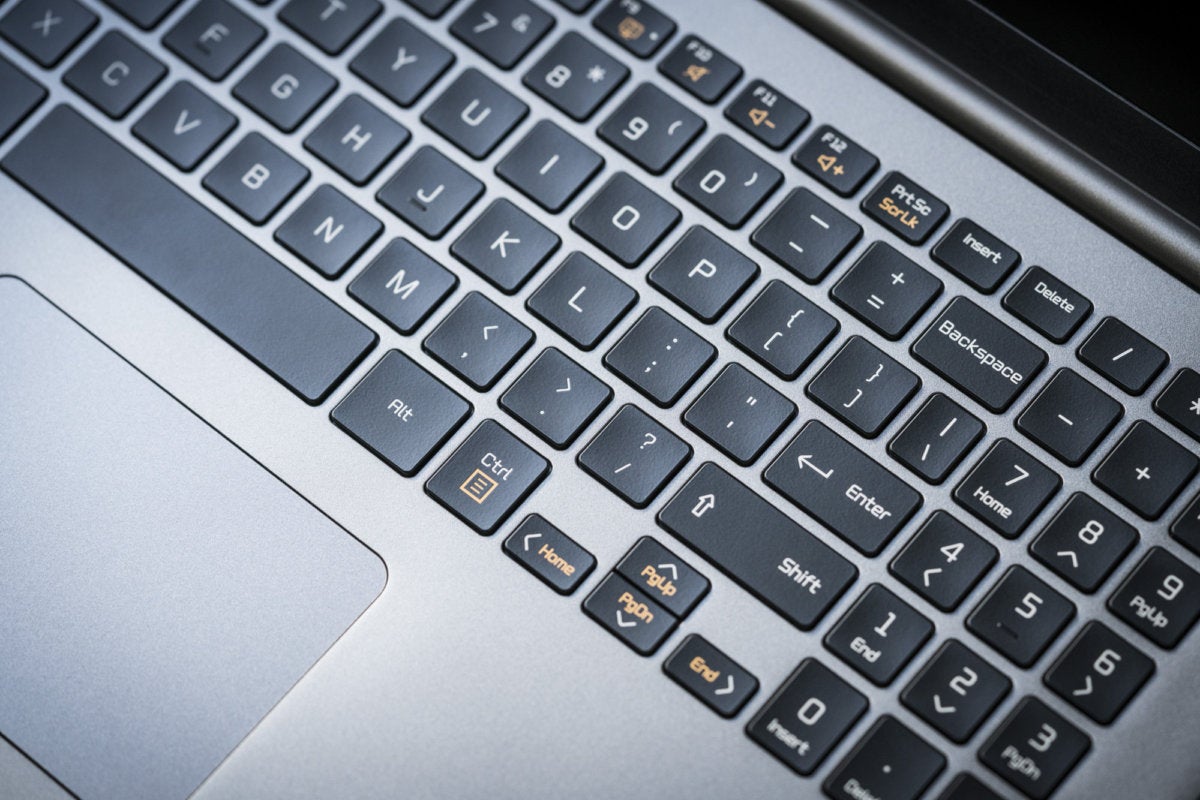 Among the more interesting hotkeys on the LG Gram include ones that toggle airplane mode and the touchpad, along with an easy-on-the-eyes "reader" mode (basically LG's version of the Night Light feature in Windows), and a keyboard backlighting hotkey that cycles between three modes (high, low, and off). Last but not least, a settings hotkey launches LG's "Control Center" settings panel.
The LG's mid-size touchpad gets the job done with a minimum of fuss—and indeed, I didn't give the touchpad a second thought throughout my testing. That's a good thing.
The Gram's built-in stereo speakers sound unsurprisingly tinny and bass-less. That said, you can slip on a pair of cans and enable the laptop's support for DTS Headphone:X, a surround-sound format that lets you pick from one of three sound profiles (wide, in-front and traditional) and media types (entertainment, games, and sports). For me, the effect was subtle, adding a slight amount of depth and roominess to the virtual soundscape in my headphones. Nice, but I didn't particularly miss the DTS mode when I toggled it off.
The LG Gram's 720p webcam, embedded in the top bezel of the display, cranked out relatively smooth and sharp images. Colors were a bit washed-out and the video looked a little grainy, but for the most part, Skype chatters should be pleased with what they see.
Ports
The LG Gram boasts a relatively generous selection of ports, starting with full HDMI, USB 3.0 Type A, and a single Thunderbolt 3 port (a four-lane implementation for transfer speeds up to 40Gbps, plus USB Power Delivery 3.0) on the left side. Also on the left side: a dedicated barrel-style charging port.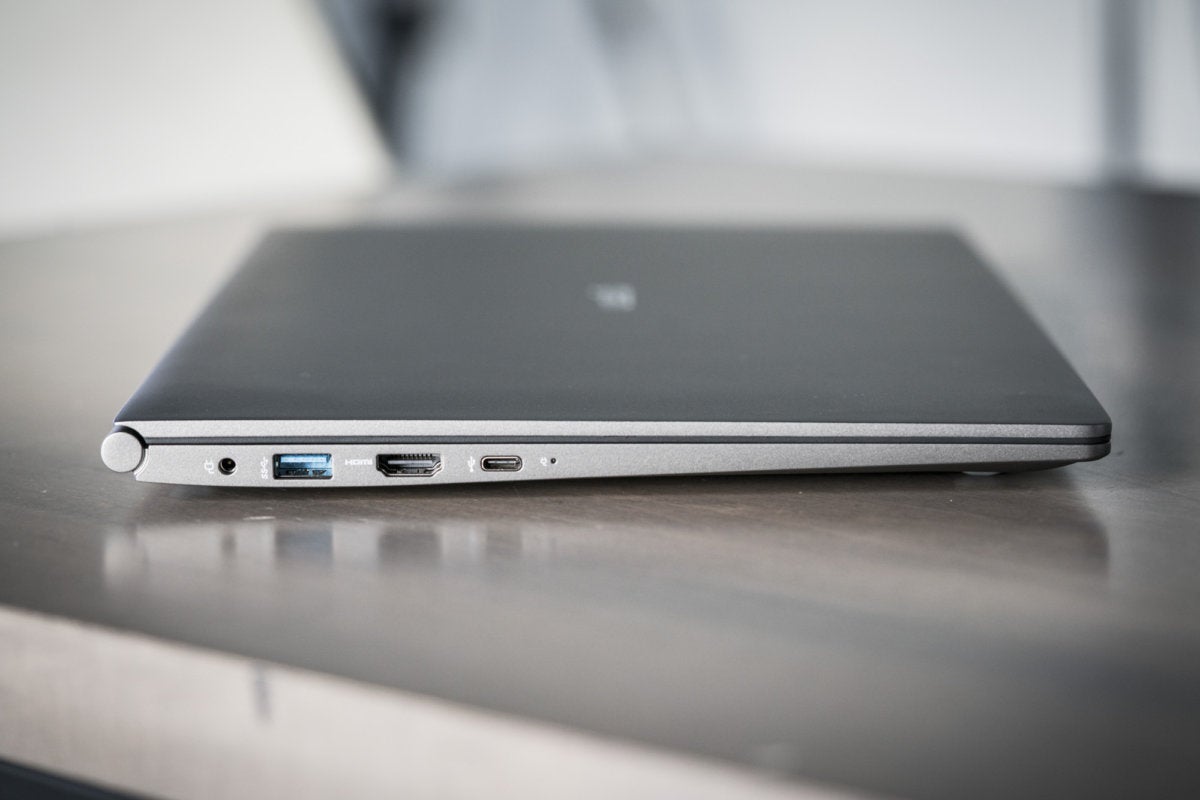 On the right, you get two more USB 3.0 ports, a Micro SD card reader and a headphone jack.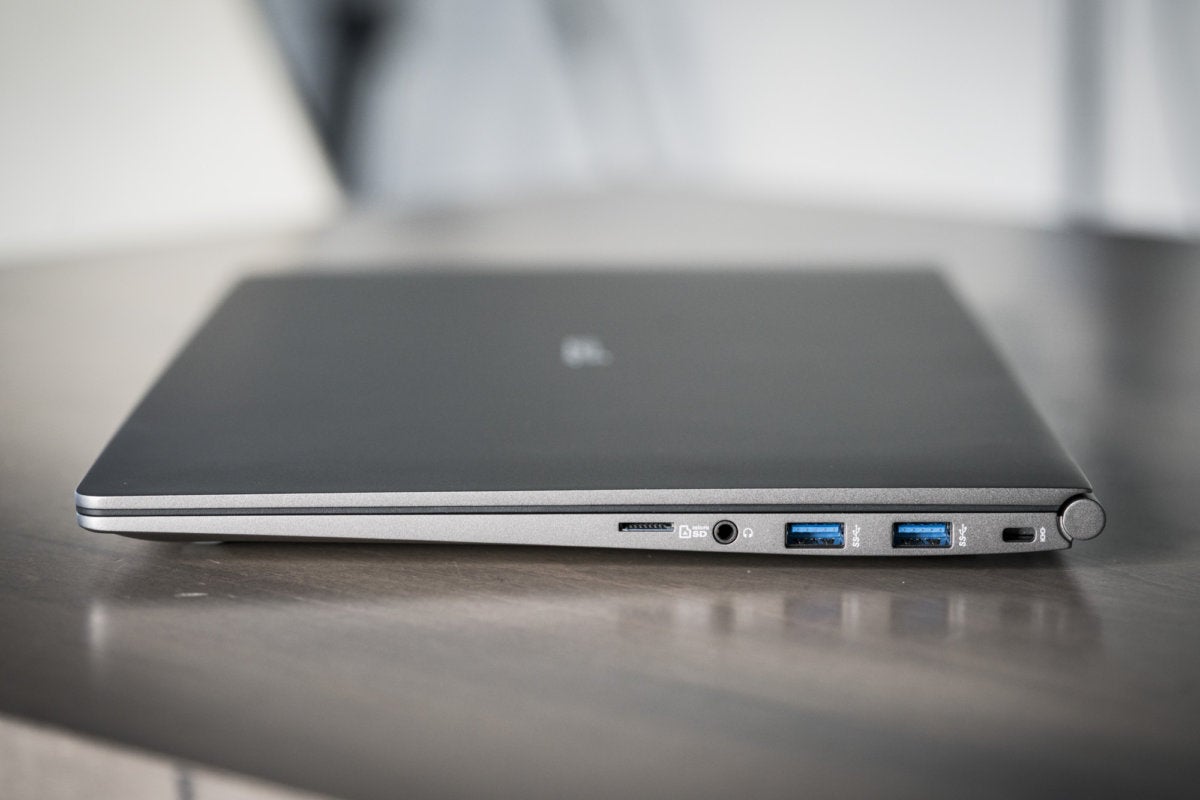 All in all, not bad, although we wouldn't have minded a second Thunderbolt 3 port, particularly given the Gram's lofty price tag.
General performance
A quad-core CPU in a razor-thin 15-inch laptop? You bet, thanks to Intel's 8th-generation Kaby Lake Refresh processors. The LG Gram is among the latest notebooks to cram this powerful but heat-conscious chip into a thin shell. While the Gram's i7-8550U processor hasn't been cranked up to the max, the system manages to turn in a relatively peppy performance.
PCMark 8 Work 2.0 Conventional
First, we checked out the LG Gram's performance with everyday tasks using PCMark 8 Work Conventional, a benchmark that simulates such daily PC duties as web browsing, video conferencing and tinkering with spreadsheets. Generally speaking, any score above 2,000 makes for smooth and supple Office performance.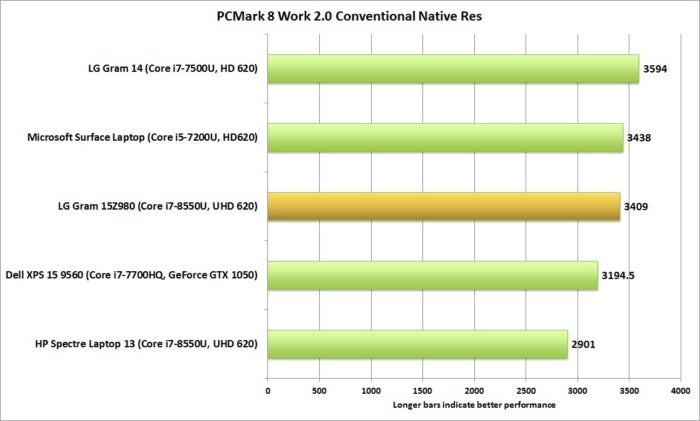 Unsurprisingly, the quad-core LG Gram floated over the bar with ease, but so did a pair of dual-core competitors, such as the older 14-inch LG Gram and the Microsoft Surface Laptop. That brings us to our standard disclaimer when it comes to paying top dollar for a quad-core notebook: Unless you're planning on encoding video or performing other CPU-intensive tasks, a cheaper dual-core system will do the trick just as well.
HandBrake
Moving on to a tougher challenge for quad-core laptops, the HandBrake test gives us a better idea of how a given system handles a crushing CPU load, such as (in this case) encoding large video files.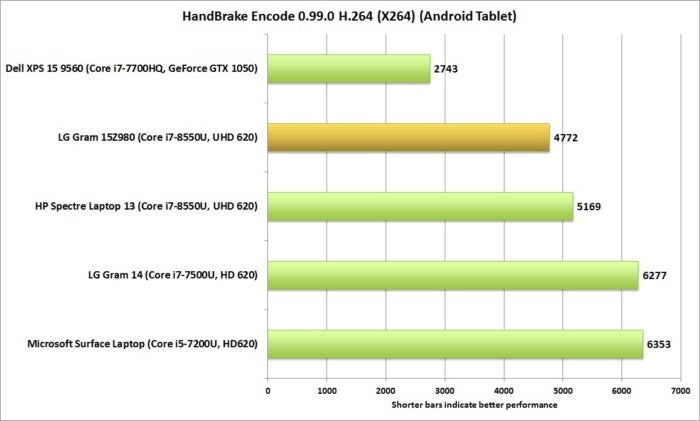 While the LG Gram doesn't break any HandBrake records, it runs right alongside its quad-core competitors, edging out the 8th-generation HP Spectre Laptop 13 but coming in a distant second to the i7-7700HQ-packing Dell XPS 15 9560, a similar-sized but far heavier laptop with a high-performance 7th-gen CPU.
One thing I noted during the HandBrake test was that unlike other laptops I've seen, the LG Gram doesn't rev up its fans or spike its CPU clockspeed at the beginning of the encoding process. That could mean LG took a "slow-but-steady-wins-the-race" approach with the Gram, a reasonable trade-off given the Gram's thin and lightweight design.
Cinebench R15
Another torture test for laptop processors, our next benchmark turns up the heat (literally) on the CPU as it renders a 3D image.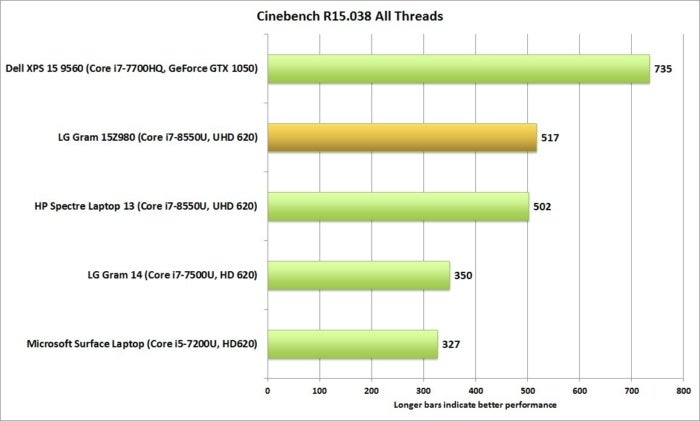 As with its HandBrake results, the LG Gram turned in a solid but not astounding Cinebench performance. It easily dusted dual-core systems and kept pace with the quad-core HP Spectre Laptop 13, but fell well behind Dell's quad-core XPS 15 powerhouse.
Again, the Gram's CPU never broke a sweat during the Cinebench test, opting for a steady pace rather than a full-on sprint. While I did notice the LG Gram's processor fans gently purring during the test, the sound was far short of the roar I've heard on other systems.
3DMark Sky Diver 1.0 Overall
With its integrated Intel UHD Graphics 620 graphics core, the LG Gram shouldn't be expected to deliver anything more than middling graphics performance.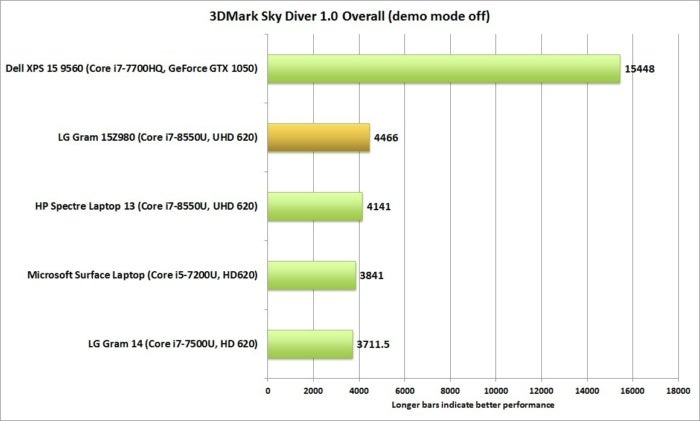 Indeed, its 3DMark Sky Diver test results show the quad-core notebook loitering with its fellow integrated-GPU systems. Unsurprisingly, the Dell XPS 15 9560 with its discrete GeForce GTX 1050 graphics chip leaves everyone else in the dust.
Battery life
While it's been content to hang in the middle of the pack in our other benchmarks, the LG Gram surges ahead in our battery drain test.
We test battery life in notebooks by looping a 4K video with screen brightness at about 250 nits (which means, for the Gram, cranking up the brightness all the way) and the volume set at the halfway mark, with earbuds attached.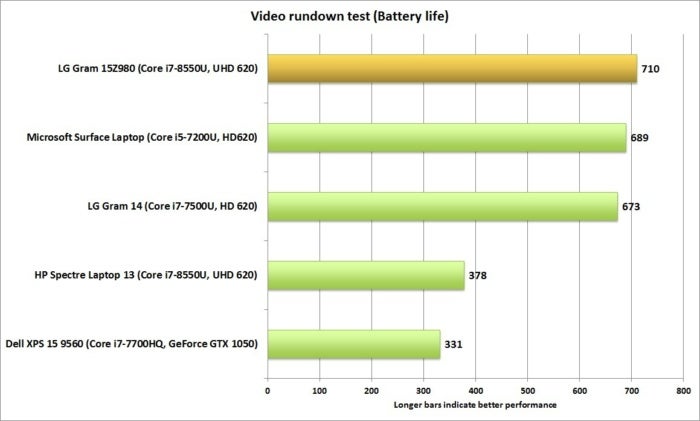 With its score of 710 minutes, or just short of 12 hours, the LG Gram and its roomy 72Whr battery noses ahead of such energy-efficient dual-core systems as the Microsoft Surface Laptop and the LG Gram 14, while thoroughly outlasting the turbo-charged but power-hungry Dell XPS 15, which barely lasted 5.5 hours in our battery life test.
Conclusion
The 15-inch LG Gram isn't the fastest 8th-generation quad-core laptop we've tested, but it's certainly one of the lightest, and its stellar battery life makes up for its modest performance shortfalls. The Gram's cramped keyboard takes getting used to, however, and budget-conscious laptop shoppers may balk at the $2,000 price tag.