At a Glance
Expert's Rating
Pros
Sturdy construction
Easy setup
Very inexpensive
Cons
No appreciable sound quality improvement over built-in PC speakers
Our Verdict
AmazonBasics AC Powered Computer Speakers will bring more power to your PC or mobile device, but their lack of bass and flat sound reproduction are big drawbacks. Recommended for only the most budget-conscious buyers.
Best Prices Today: AmazonBasics AC Powered Computer Speakers
AmazonBasics AC Powered Computer Speakers (currently $20 on Amazon) are a rare example of truth in advertising. This is a rudimentary set of electrically powered stereo speakers that will amplify your PC's audio, though not necessarily bring the best out of it. Read our full roundup of budget speakers for options that offer better bang for buck.
Note: This review is part of our roundup of budget computer speakers. Go there for details on competing products and our buying advice.
It's surprising how sturdily constructed these are for only two sawbucks. Each 2.6-by-3.4-by-5-inch speaker enclosure is made with durable black plastic and weighs about 2 pounds. The respective drivers are covered with a metal grille on the front panel—not mesh, as you'd expect at this price.
You control power and volume with a knob on one channel. An LED power indicator sits above it, and a headphone jack for private listening is beneath.
The speakers are hardwired together by a single cable. Setup is as simple as plugging the power cord into an outlet and the 3.5 input into the headphone jack of your PC or mobile device. Both of these wires are attached to one of the speakers.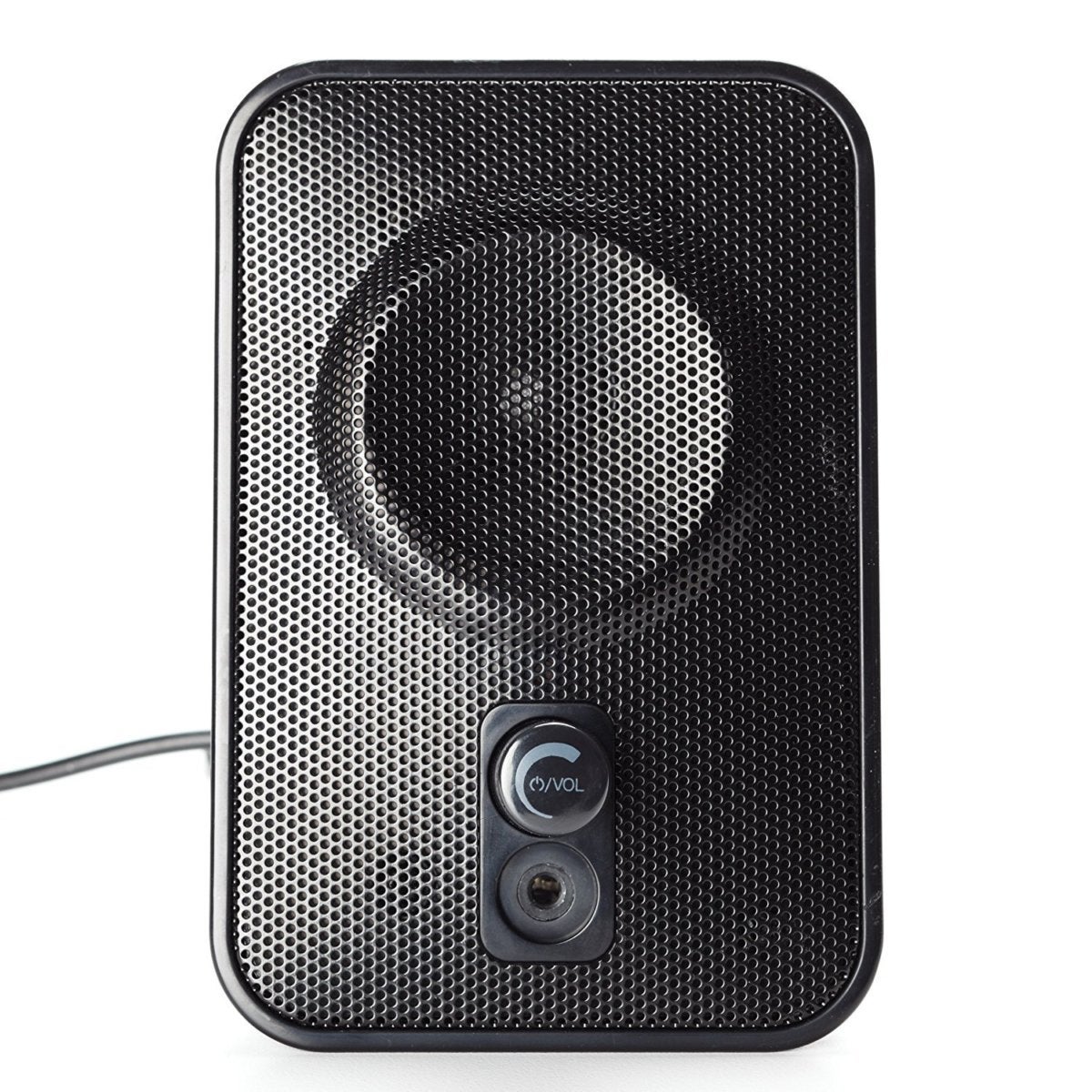 The speakers have a combined output of 5 watts (2.5 per speaker). Sitting on a desktop, they're angled slightly upward toward your head when you're seated at your computer to target your ears. They have plenty of volume—I found just past the halfway point to be the sweet spot for me, though I could crank it to full volume without any detectable distortion.
The sound quality was more disappointing. The speakers tended to flatten whatever dynamics a recording had no matter what I listened to. The absence of a woofer also meant that although a song's bass was clear it had virtually no oomph. I found the sound quality could be modestly improved using equalization software, but generally speaking every track I played through these sounded just as lackluster as it did coming out of my PC speakers, only louder.
Bottom line
AmazonBasics AC Powered Computer Speakers have gotten plenty of high marks from Amazon reviewers, though most of them seem to prize the low cost and simplicity of the system over the sound quality. If those are your priorities, then these speakers probably won't let you down, particularly if you're looking increase the volume output of your mobile device. However, you can get all that plus rich, immersive audio with some of the other budget computer speakers we've tested.
Best Prices Today: AmazonBasics AC Powered Computer Speakers