The promise of cloud gaming holds clear appeal. High-end gaming on any Internet-connected PC, even crappy old laptops that couldn't dream of running games normally? Yes please!
But the reality has been much more disappointing. Forebears like OnLive and Gaikai are remembered more for their bugginess and lag than genuine gaming goodness. The small horde of cloud gaming services popping up over the last couple of years likewise struggle with reliability issues.
Nvidia's GeForce Now game streaming could be the real deal.
The GeForce Now beta finally landed on PCs in late January, and it's the first cloud gaming service I've used that doesn't require major compromises on a regular basis. Hell, it actively takes a lot of the headaches out of maintaining a gaming rig. If your network can handle it—and even my humble 25Mbps Comcast home Internet connection could—and you can wrap your brain around some weird interface quirks, you'll be pulling off headshots and executing other precision moves in-game in no time.
And better yet, you'll be doing it at no cost whatsoever for the duration of the beta period. In an era of hyper-inflated graphics card prices, the GeForce Now beta may be just the lifeline gamers have been waiting for. Let's dig into Nvidia's cloud gaming service.
GeForce Now system requirements
Before you can dive in, you'll need to get in. There's a wait list for the service while it's in closed beta. Nvidia hasn't said when GeForce Now will fully launch. Register and wait for a spot to open.
GeForce Now works even on modest CPUs
AMD Ryzen 3 2200G
Price When Reviewed:
$99.00
Because GeForce Now behaves similarly to Netflix—the games are run on Nvidia servers and streamed to your PC—the system requirements are minimal. You'll need a Core i3 processor clocked at 3.1GHz or higher (or a comparable AMD chip), 4GB of system memory, and graphics that can run DirectX 9. Many chips released over the past decade check those boxes. The GeForce Now executable is only 54.6MB in size, though the final product consumes a hair over 2GB in total on my system. A Mac client is also available.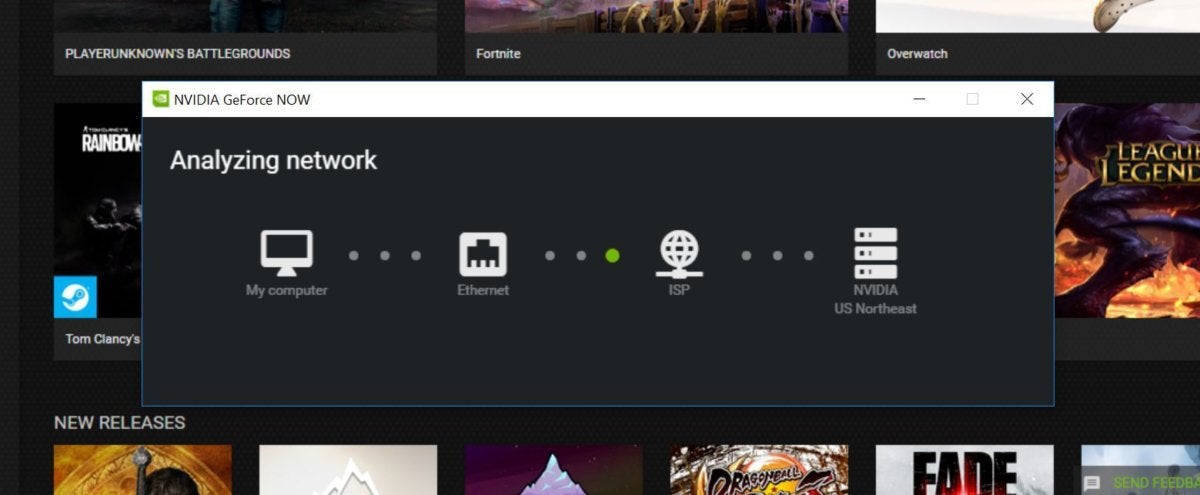 Your network will probably be the biggest hurdle. GeForce Now requires a 25Mbps connection, and recommends 50Mbps or higher. Nvidia says you'll need to use hardwired ethernet or a 5GHz Wi-Fi connection as well—a typical 2.4GHz connection won't cut it. GeForce Now tests your connection strength and won't let you run games if your network isn't up to snuff.
The tester also measures your latency to Nvidia's servers, and what percentage of frames are lost in transit, though the frame loss measurement acted weird in my testing. It said that almost 80 percent of frames were lost on a PC wired directly into my Comcast modem/router combo, even though dropped frames has never been an issue for me. Fortunately, it still allowed me to use GeForce Now, and games ran smoothly through the service.
[ Further reading: The best wireless routers: Reviews and buying advice ]
Mentioned in this article
Microsoft Xbox 360 Wireless Controller
Price When Reviewed:
$37.85
Most gaming mice and gaming keyboards work out of the box with GeForce Now. I tried a couple of different headsets (one digital, one analog) and a pair of speakers on my desktop; all functioned as expected. Microphones worked like a charm, too. Controller support is a bit more limited, with only the Sony DualShock 4, Microsoft's Xbox 360 controller (not Xbox One), and Logitech's Gamepad F310/F510/F710 supported. It didn't bother me much, because the Xbox 360 controller is still the greatest gamepad ever made.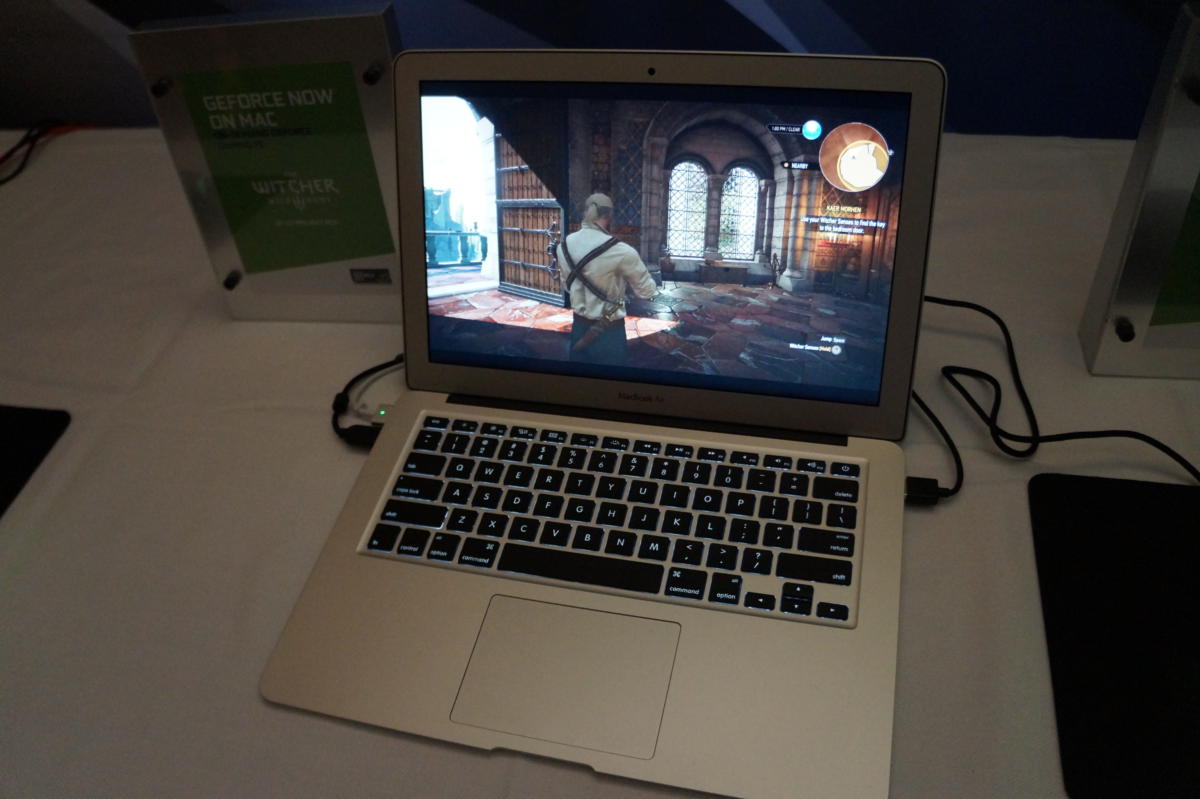 GeForce Now supported games
Here's where things get a little thorny. The first mental roadblock you'll need to navigate around is the name itself.
GeForce Now has been available for years on Nvidia's sublime Shield hardware. GeForce Now for PCs and Macs sports the same name, but it's a different beast entirely. PCWorld's GeForce Now vs. GeForce Now break-down gets into the nitty-gritty details but basically, GeForce Now for Shield is like Netflix for games. You pay $8 per month and can stream a selection of games as much as you want.
GeForce Now for PCs and Macs instead grants you access to a virtual gaming PC on Nvidia servers, where you can install and run games you already own from Steam, Uplay, and Blizzard's Battle.net. Fortnite and League of Legends can also be played. (Support for Origin and GOG games was mentioned in the original GeForce Now announcement, but they haven't appeared in the client yet.) The PC service doesn't let you play any games you haven't already obtained though supported storefronts, but storage is unlimited via GeForce Now. Install all the games you want.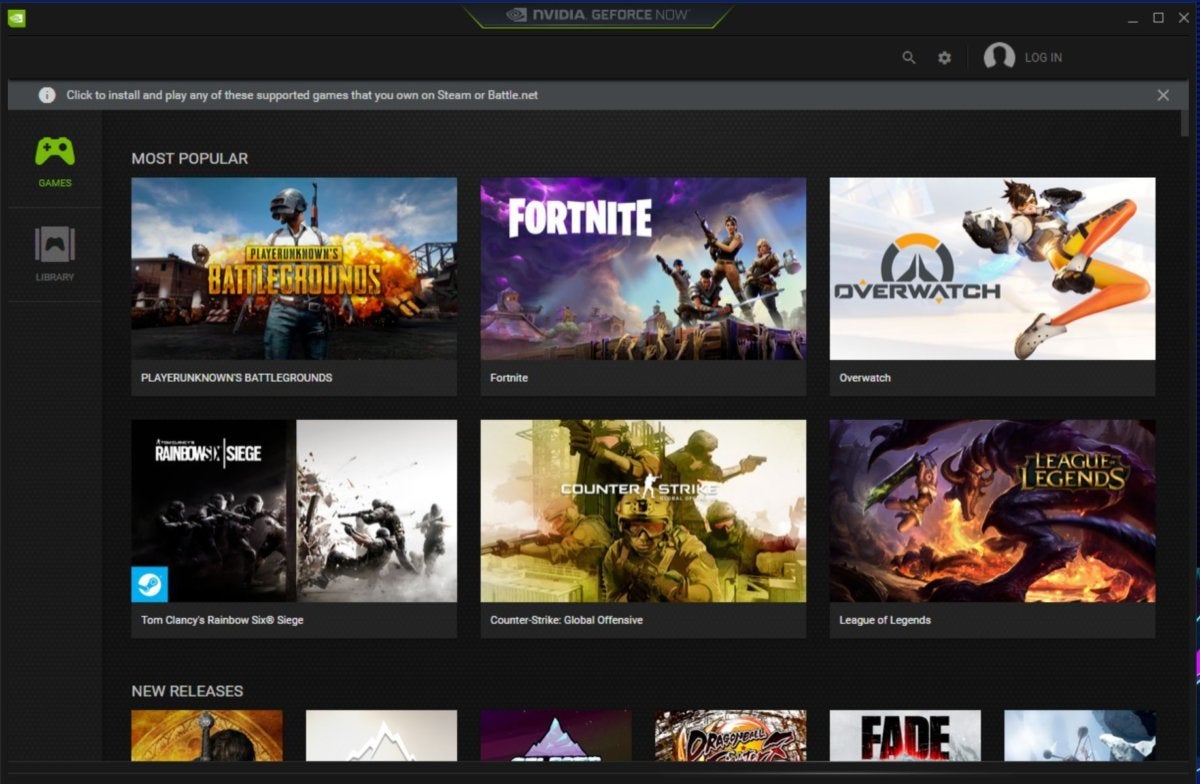 After installing GeForce Now and logging into (or creating) your Nvidia account, you're dumped into a clean but disorienting interface. The GeForce Now homescreen features a gigantic, scrolling list of games, separated by genre and other classifications. It also includes games you don't own. Selecting a game boots you into its storefront, where you're able to install it (or given the option to purchase the game) after logging into your account for that platform. It was much easier for me to find my games by using the search interface in the toolbar.
Using the search feature reveals another quirk: A lot of games are missing from the GeForce Now library, even though the service can run any game from Steam. That's because only about 150 games are officially supported, including most of the heavy hitters you'd expect like Dota 2, Call of Duty, Counter-Strike Global Offensive, Witcher 3, PlayerUnknown's Battlegrounds, Skyrim, and more. Only supported games appear in searches or the GeForce Now homescreen.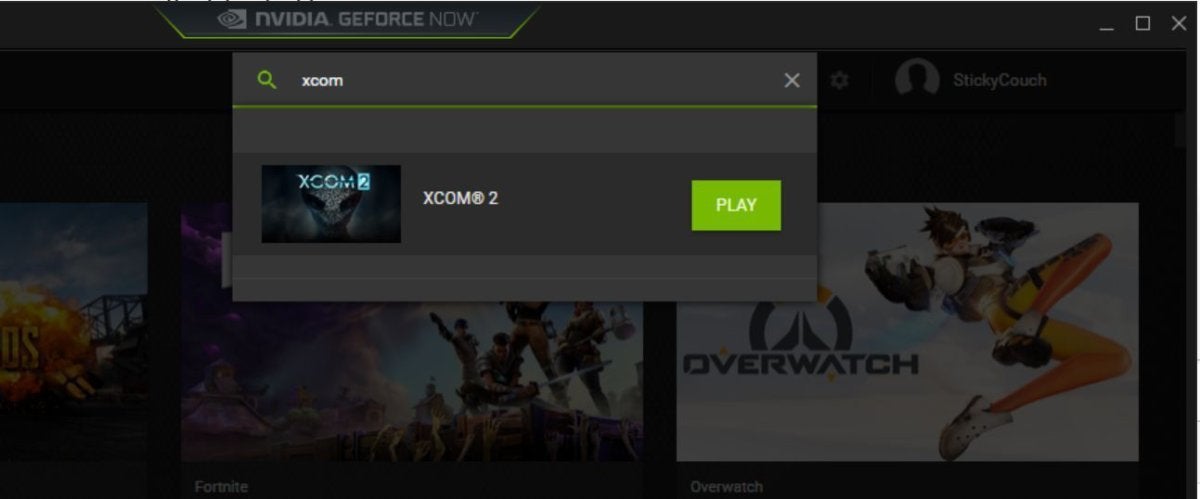 "These are games that we've tested and include support for quick install, persistent saves (game save data will persist from session to session), cloud saves (if the individual game supports it), and quick launches following the initial game session," Nvidia's Jordan Dodge tells me.
After you install a supported game in GeForce Now, it'll permanently appear in your Library tab, making it much faster to find it in the future. The homescreen interface would be vastly more helpful if it included the ability to sort through all supported games in alphabetical order, especially since you already need to own them to play them.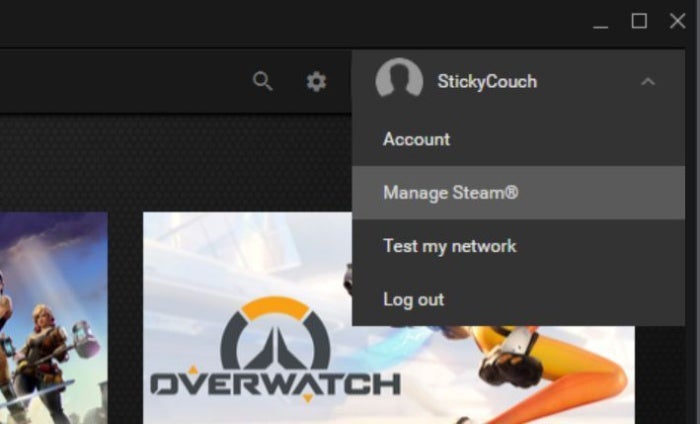 But you can coax non-supported Steam games into working too, though GeForce Now doesn't make it obvious. If you want to install non-supported Steam games, simply click the arrow to the right of your user name in GeForce Now's upper-right corner, then click the Manage Steam option. The Steam interface appears, and you can use it to navigate to your library and manually install the game of your choice.
"Most [unsupported games] should just work," Dodge says. "However, the game may take a while to install, your progress will not be saved, there will be no optimal playable settings, and you will need to reinstall the game the next time you run Steam."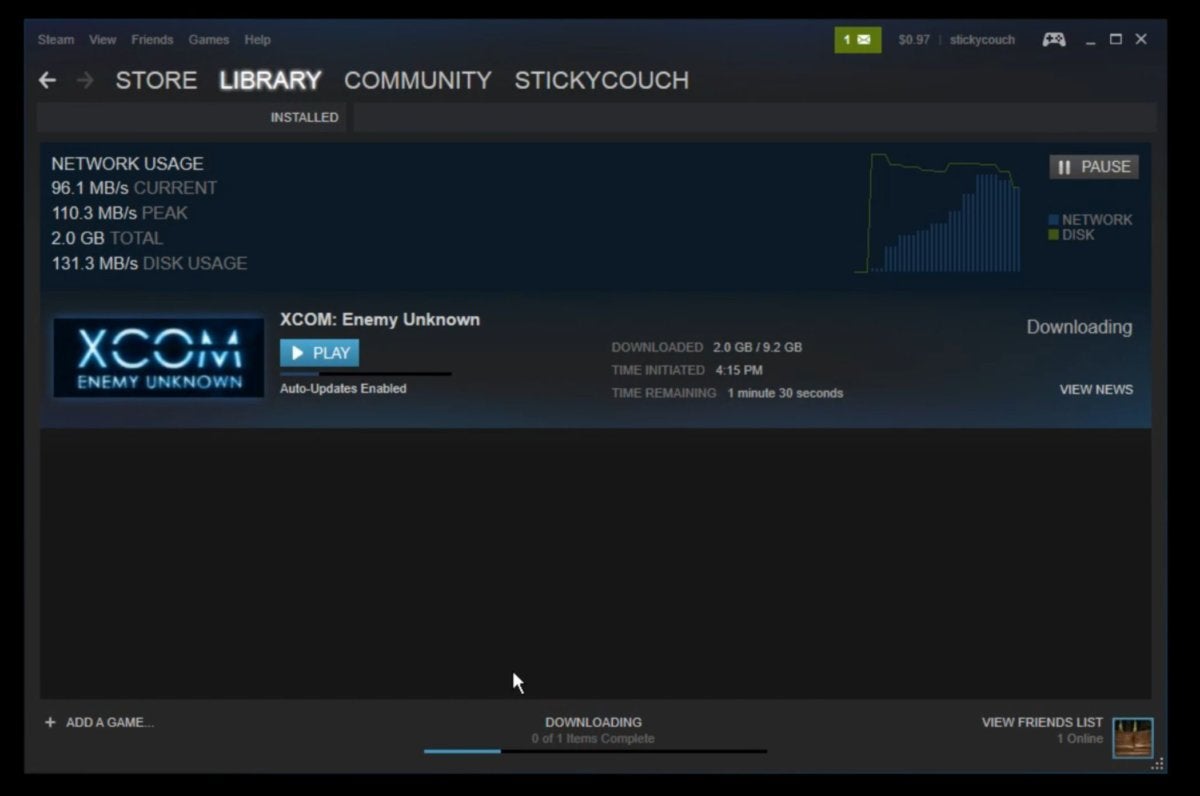 That's all true, but if your game of choice supports Steam Cloud saves, it doesn't matter that Nvidia doesn't save your progress through GeForce Now. The initial install on supported games is astonishingly fast, taking mere seconds. Nvidia's connection blasts through unsupported games at a blistering rate too, though, as you can see in the image above. Downloading XCOM: Enemy Unknown's 9.2GB only took a couple of minutes. You'll need to repeat the process whenever you want to play an unsupported game, though, and unsupported games never appear in your GeForce Now library for quick access.
The lackluster main interface and the way Nvidia hides non-supported Steam games are my biggest gripes with GeForce Now, but those are the sort of things that can be fixed quickly. I have no complaints about the core GeForce Now experience—actually playing games.
Next page: GeForce Now performance, price, and bottom line
GeForce Now performance
Nvidia did it. Cloud gaming's promise has finally become reality. GeForce Now feels just as good as playing on a dedicated gaming machine, at least in the early days of the beta, and on my setup.
I don't even have a face-melting connection, which made me keen to test the service. My basic Comcast home Internet plan promises at least 25Mbps download speeds, barely skirting by GeForce Now's minimum requirement, and doesn't deliver much more than that. Because of that I tested the service while plugged into my router via ethernet the entire time.
And it ran like a champ despite GeForce Now network scans that (incorrectly) claimed I was dropping frames left and right.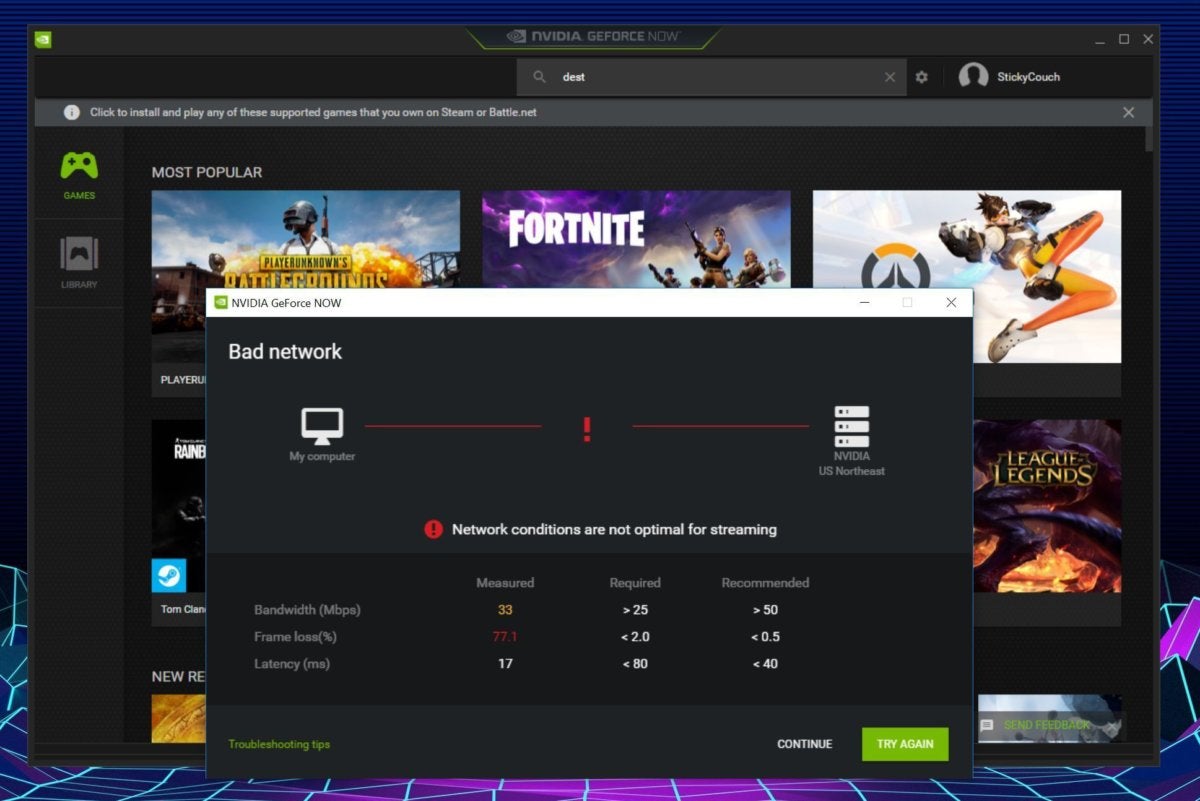 Supported games installed and were ready to play in mere seconds. Once I booted into games they looked beautiful, powered by GeForce Now's GTX 1080-equivalent graphics. (In-game settings reveal the real hardware as a Tesla P40 with 24.5GB of VRAM.) GeForce Now automatically uses Nvidia's Optimal Playable Settings for some of its games, but the service doesn't hide or lock any in-game visual settings.
Even with the eye candy cranked in modern triple-A games, frame rates stayed nice and high, never dipping below 60 frames per second in the titles I tested, and often going much higher. GeForce Now defaults to 1920×1080 resolution but lets you crank that up to 2560×1600 if you have a monitor that can handle it. The virtual PC's potent graphics hardware can keep the pedal to the metal at those resolutions.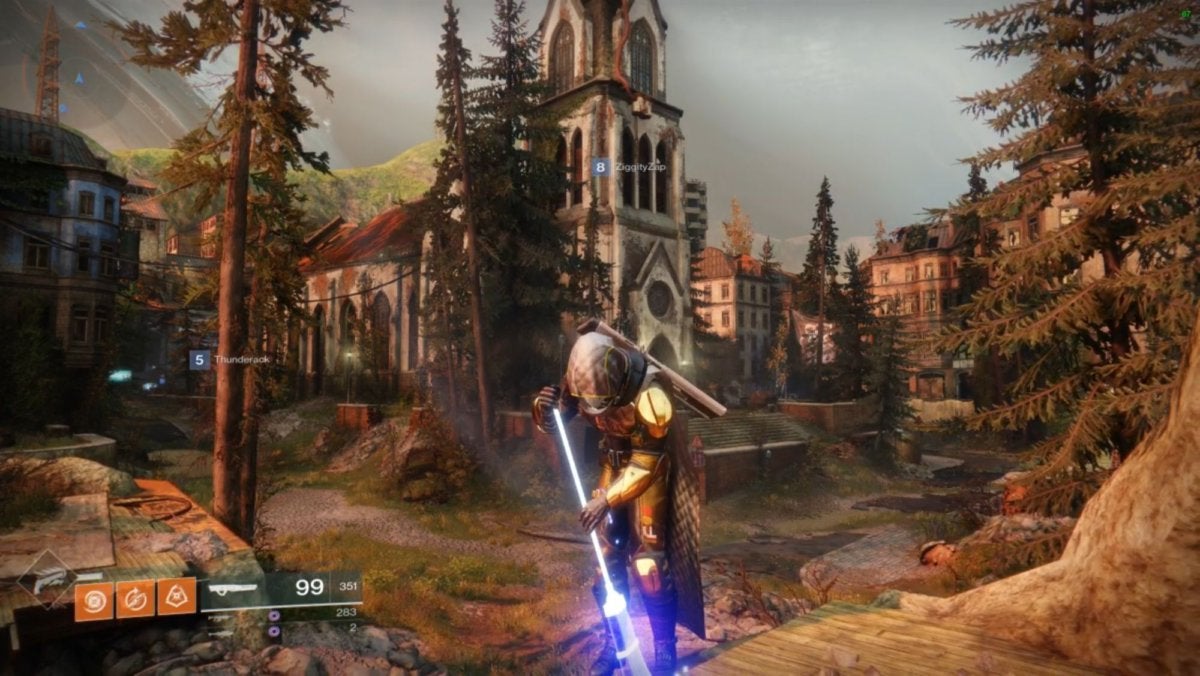 Gaming feels great, too. With every other cloud gaming service I've tested, you always felt like you were battling the technical infrastructure—lag, stuttering, pixelated images, et cetera—just as much as your enemies. Not with GeForce Now.
Playing several games at several different times felt utterly smooth. The service does add a very small bit of latency to your inputs but never enough to affect your gameplay if you're not an ultra-competitive MLG Pro. I only noticed it when using a mouse and keyboard in fast-action games like the Doom reboot, and mostly when I was actively trying to detect lag in my role as a reviewer. (Trying to play Doom forced me away from the rival LiquidSky beta last summer.) My brain and reactions adjusted quickly. Lag was largely imperceptible when pulling off headshots with a controller in Destiny 2, even during busier weekend hours.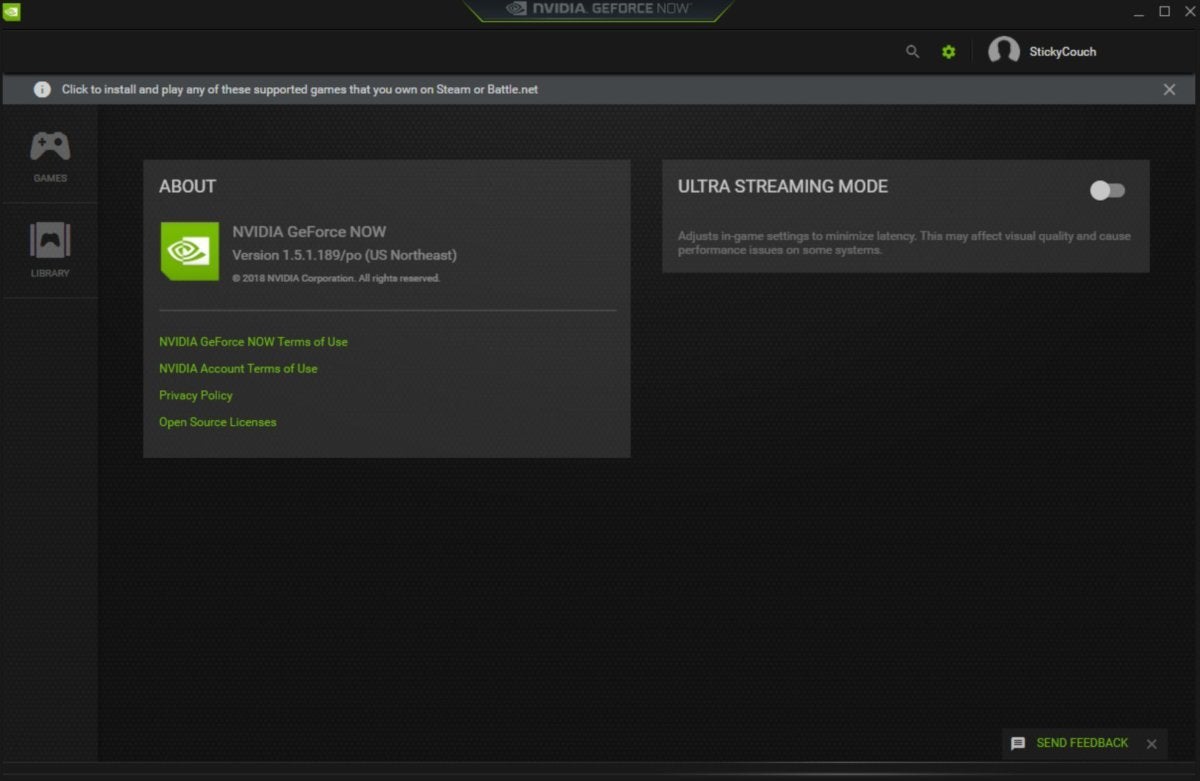 If you encounter latency issues, hop into the GeForce Now app's settings and activate Ultra-Streaming Mode. "Adjusts in-game settings to minimize latency," the description reads. "This may affect visual quality and cause performance issues on some systems." I never had to use it, so I can't speak to its efficiency.
Some small quirks remind you that you're using a cloud gaming service from time to time. Once, later in the afternoon, I received a message that "Lots of people are using GeForce Now right now, you'll be connected as soon as possible." The game still launched in less than 30 seconds. Another time—just once—the game became heavily pixelated and lagged for a few seconds in the middle of a hot and heavy Destiny 2 public event. Those are the only minor issues I encountered in several hours of gameplay. Your mileage may vary depending on your network conditions and distance to Nvidia's servers.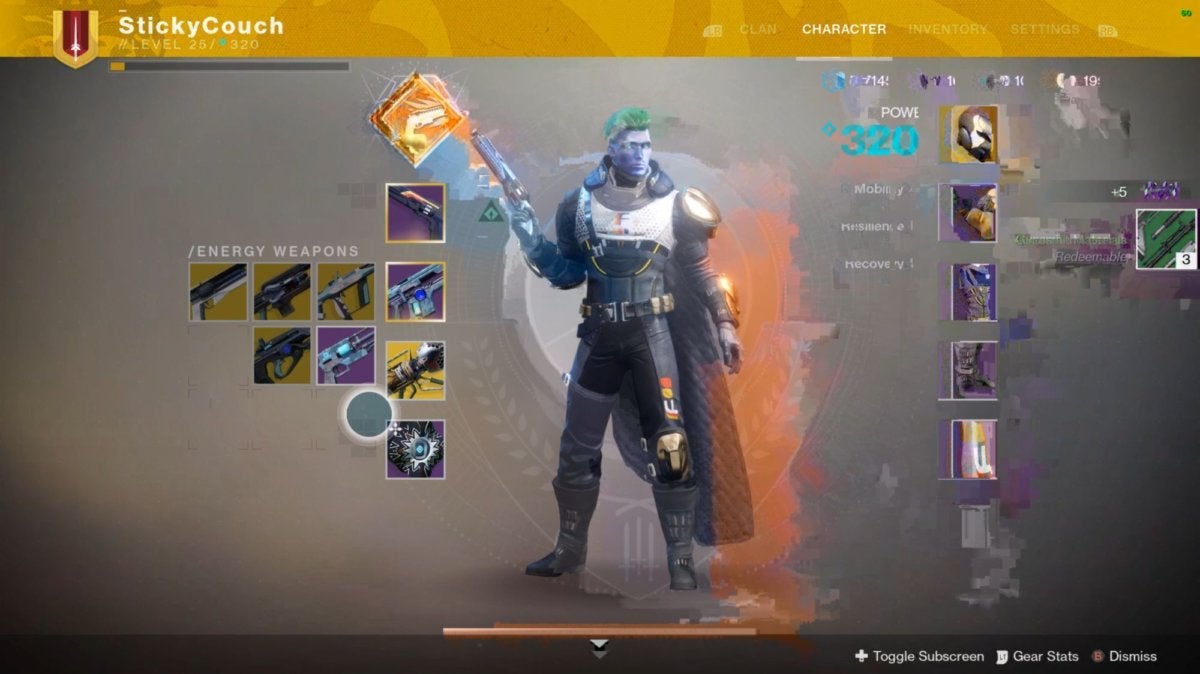 If you pay close attention to the visuals you'll sometimes notice minor compromises introduced by the service. A lot of the time graphics appear flawless. But image quality can occasionally be slightly softer than what you'd see on a comparable local gaming rig, and fine details slightly less fine—there's sometimes a vague sense of graininess. Stark, straight lines sometimes can show some jaggies even with anti-aliasing settings cranked, particularly in text.
You have to look hard for most of these issues, though, and the fact that I normally play these games on similarly high-powered gaming rigs means I'm probably more prone to noticing them. If you have a lower-powered gaming machine (or no gaming machine) you probably wouldn't even notice them—the softness doesn't affect gameplay whatsoever. You'd just be awed at how good everything looks overall.
GeForce Now also takes the administrative hassle out of PC gaming, keeping your games and graphics drivers up to date. Nvidia's GeForce Experience software is active when you're gaming, too.
[ Further reading: How ShadowPlay Highlights and Nvidia Ansel make GeForce Experience more fun ]
GeForce Now price and bottom line
GeForce Now knocks it out of the park. It's the first cloud gaming service that feels like playing on a local rig. It can turn crappy laptops into high-end gaming systems. Bravo, Nvidia. This is a stunning technical achievement.
Some interface quirks aside, the biggest questions revolve around the service's future, and doesn't affect beta users. GeForce Now for PCs and Macs will remain free for the extent of its beta period. How much it costs when the service opens to everyone is the big question.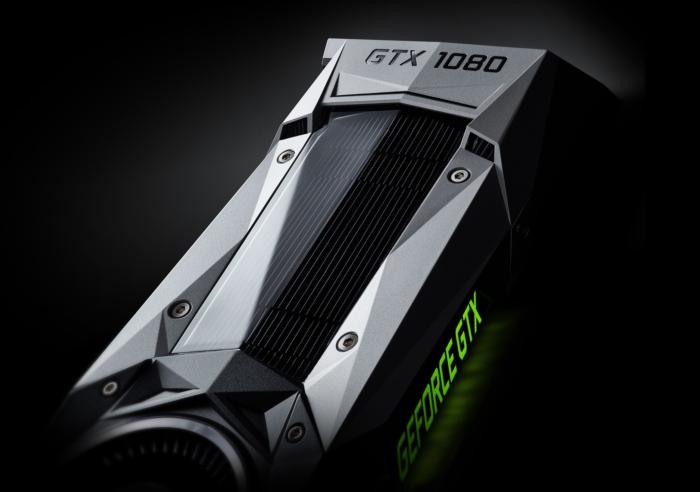 At GeForce Now's original CES 2017 reveal, Nvidia said the service will cost $25 for either 20 hours of gameplay on a virtual PC with the power of a GTX 1060, or 10 hours of the GTX 1080-level oomph provided during this beta. That's a steep entry cost, especially since you need to BYO games. But the GTX 1060 option isn't present in the beta, and Nvidia hasn't muttered a peep about pricing—or a firm launch date—since GeForce Now (belatedly) landed on PCs this January. Nvidia might be rethinking that sky-high cost. The cloud gaming space has exploded in the past couple of years, with rival companies like LiquidSky, Shadow, and Parsec moving in on the action, sometimes at significantly lower prices.
And significantly lower quality.
The best home Wi-Fi system
Netgear Orbi Home WiFi System (RBK50)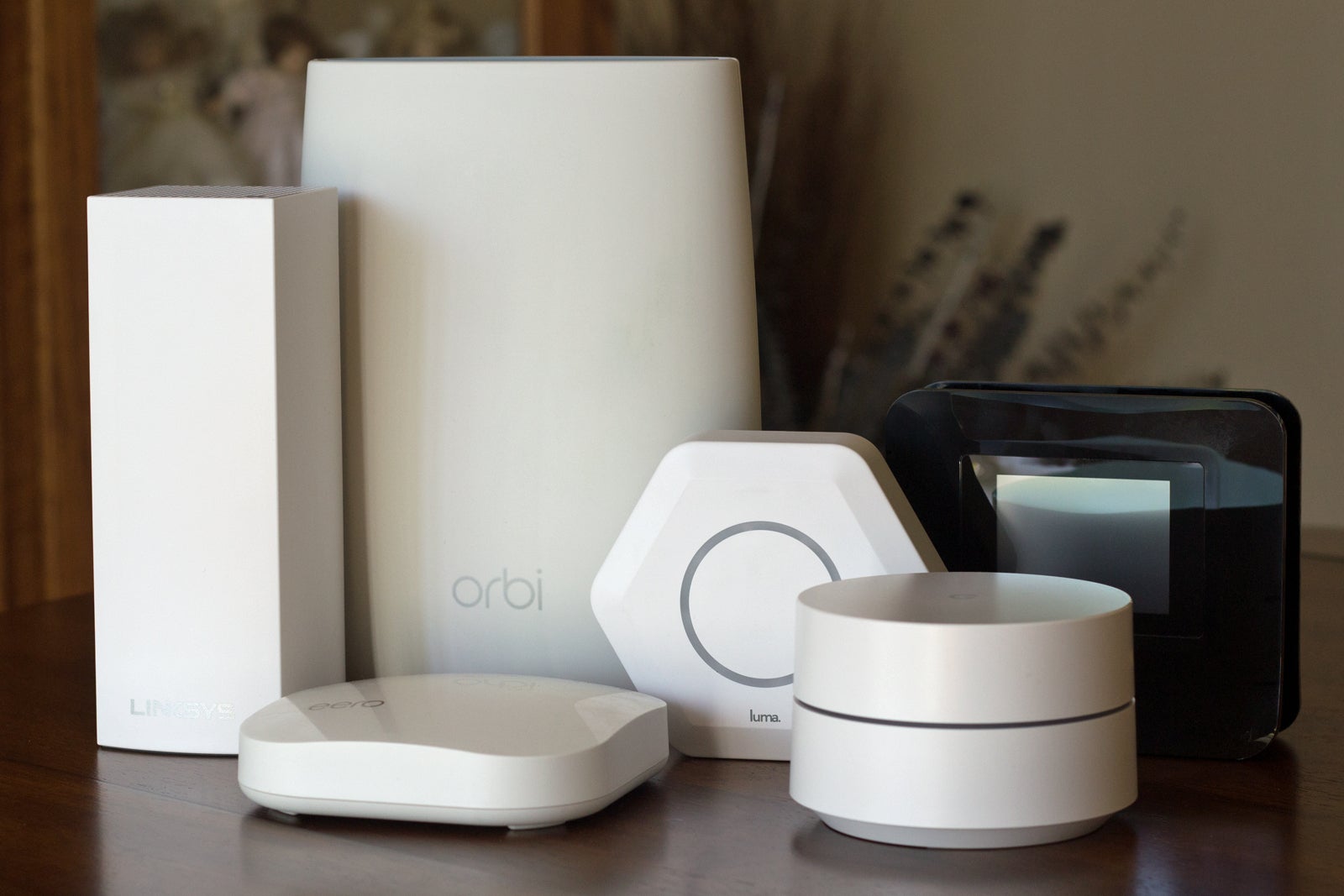 Price When Reviewed:
$399.99
I've never played on a cloud gaming service that looks and feels as superb as GeForce Now, full stop. It's just as satisfying as playing on my gaming rig. Will it stay as smooth as more people pile in, and can Nvidia streamline GeForce Now's unhelpful interface? Those answers remain to be seen—but that's what beta periods are for.
With graphics card prices being so ludicrous and Nvidia's service running so smoothly, GeForce Now is worth your attention if your Internet connection's up to snuff. Hell, it's worth your time if you're running anything less than a GTX 1080 right now. Trying the service costs nothing for the foreseeable future, remember. Sign up for the wait list and cross your fingers. GeForce Now kicks all sorts of ass.