LG is starting to think different about phone releases. If you were hoping for a new LG flagship phone at Mobile World Congress, you got your wish. Well, sort of. Instead of the G7, LG has launched the V30S ThinQ, which freshens the V30 with smarts, not specs.
The V30S has the same display, chip, battery, and camera as the V30, but bumps the RAM to 6GB and the storage to 128GB. It also comes in two new colors, Platinum Gray and Moroccan Blue. But those minor changes do not a new model make. To justify the name, LG has given the V30 some new smarts thanks to an infusion of AI.
Why this matters: While current V30 owners might be a little miffed that they're not getting in on the action, if you've been on the fence about buying one, let this be the thing that pushes you over.
The V30 is already a great phone, and the new AI features only enhance one of its best features: the camera. It remains to be seen whether an algorithm can make that much of a difference between the V30 and V30S, but assuming the new phone doesn't cost much more than the original, it's definitely the model to wait for if you were planning to buy one.
Smarter all around
While last year's premium G6 and V30 phones are still waiting for their Oreo upgrades, LG is shipping the V30S with the latest version of Android out of the box. But the upgraded UI isn't all that's new about the V30S: LG has pumped it full of AI as well.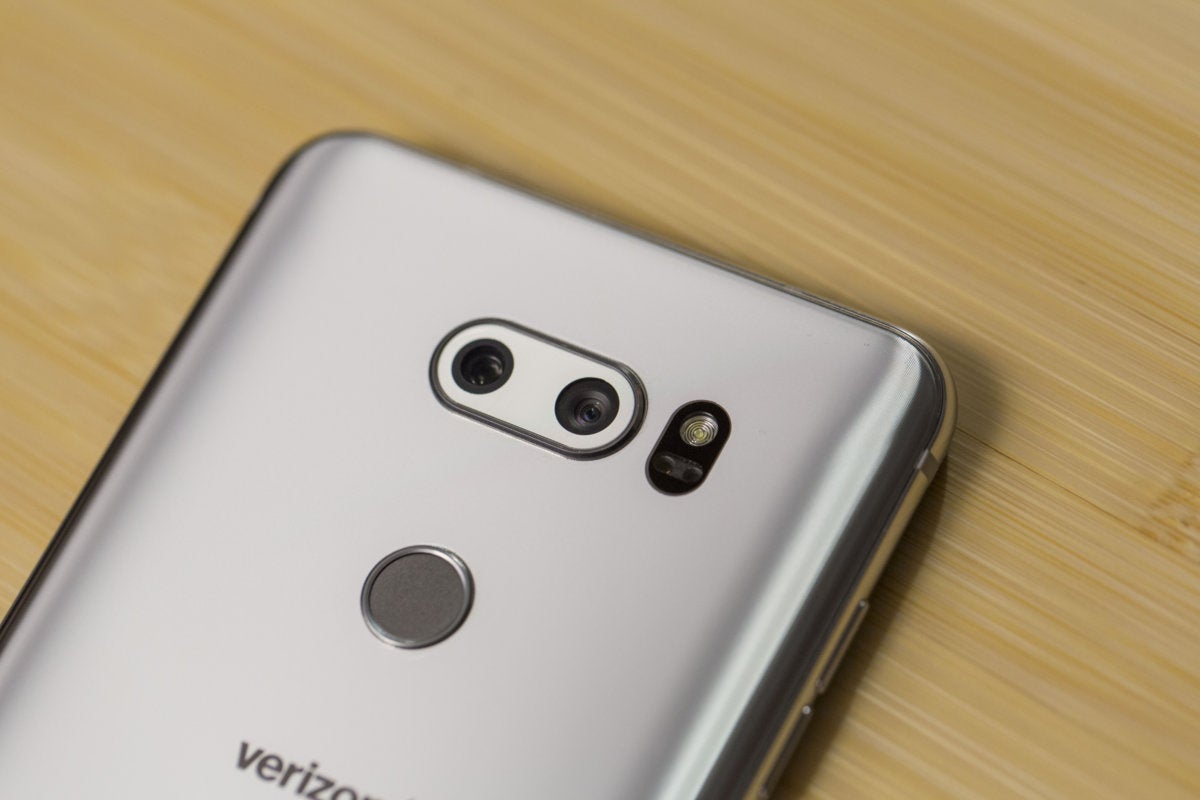 It starts with the camera, which was already one of the V30's best features. When you launch it, you'll now see LG's AI Cam at work, as it analyzes the scene and identifies what's in the frame. Once it figures out what you're looking at (via small labels placed all over the viewfinder), it will recommend the appropriate shooting mode based on color, lighting, and saturation levels.
For example, if you're shooting a plate of pasta for your Instagram feed, Vision AI will supposedly select Food mode, or if you're pointing at a building, City mode will presumably be more appropriate. The most useful option of all seems to be Bright mode, which uses the algorithm to double the brightness in low-light images without upping the noise.
And the V30S's tricks go beyond picture-taking as well. Also inside the camera app is a feature called Q-Lens that can automatically scan QR codes and offer shopping results based on the pictures you take. Google does something similar with Google Lens, which works with the camera and Assistant to interact with the world around your phone. Speaking of which, Google Assistant is also taking a bigger role on the V30S, with deeper integration into settings and new camera controls.
Phone-specific AI smarts isn't new, but unlike phones like Huawei's Mate 10 Pro, which includes a dedicated Neural Processing Unit to work its magic, the V30 relies solely on software. To whit, it has turned to EyeEm's Vision tech for the V30S's smarts. EyeEm's AI runs locally on the V30S and uses more than 1,000 image categories to make its analysis.
It's unclear how much the V30S will cost or whether will launch in the U.S., but LG says it will start shipping internationally next month.
Note: When you purchase something after clicking links in our articles, we may earn a small commission. Read our affiliate link policy for more details.