At a Glance
Expert's Rating
Pros
Backs up to local media and online services
Backs up from one online service to another
Cons
Language and concepts are needlessly arcane
Lacks the imaging and recovery features of the $120 version
Our Verdict
Though the concepts and language aren't newbie friendly, CloudBerry Backup is a multi-tool par excellence. It interfaces with nearly all the online storage services, while providing local file and image backup as well as first-class disaster recovery with boot media. It's the most comprehensive backup solution out there. Take a look.
Best Prices Today: CloudBerry Backup Desktop
CloudBerry Backup Desktop
CloudBerry Backup is uniquely versatile backup program that covers just about any mixed storage scenario. Have some data on OneDrive that you want to back up to Google Drive? CloudBerry can do that. Want to back up the data from your Documents folder to BackBlaze and your home NAS box? Easy-peasy. From your PC to an external hard drive as well as Google drive? No big deal. CloudBerry's scope is truly dizzying.
Alas, the language, concepts, and sheer number of options can be dizzying for non-IT types, and you'll need to spend at least $120 to acquire disaster recovery features. The good news? There's a free version that takes care of the cloud and local backup basics.
This review is part of our ongoing roundup of the best Windows backup software. Go there for information on competing products and how we rated them.
Features
As you might guess from the name, CloudBerry Backup's best trick is interfacing between online backup and storage services. It will connect a plethora of them with read/write access, and as I mentioned, copy data from one to the other. As I write this, I'm backing up my phone data stored on OneDrive to Google Drive.
The list of supported services is impressive. Just some of the biggies are Amazon S3 and Glacier, Microsoft One Drive and Azure, Google Drive, BackBlaze, etc. But there are a whole lot more, as shown in the screen capture below.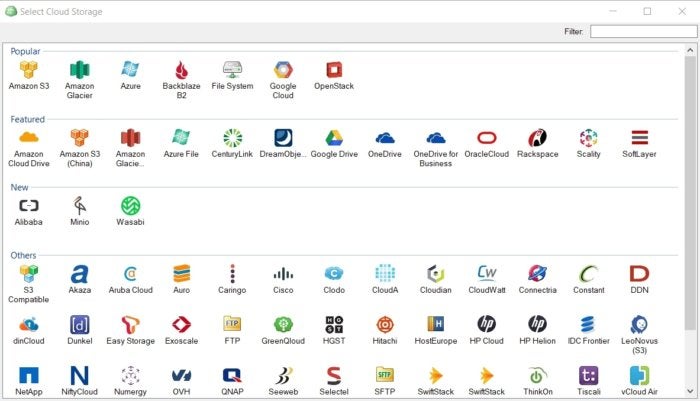 As so many services are included, I was a perplexed to find the popular Dropbox missing from the list. CloudBerry said it was looking into it. Apple's iCloud is not supported, because the folks in Cupertino don't allow third parties to access the service in that fashion.
Not just about online
While the one-job ("plan," in CloudBerry-speak), service-to-service backup is CloudBerry's raison d'etre, it can also back up from your local computer to an online storage service, and from your PC to local destinations such as USB hard drives, NAS boxes, and other PCs on your network. It even supports FTP, which means you can set up your own remote backups. The pricier versions also support imaging (backing up entire drives or partitions) and restoring to different hardware.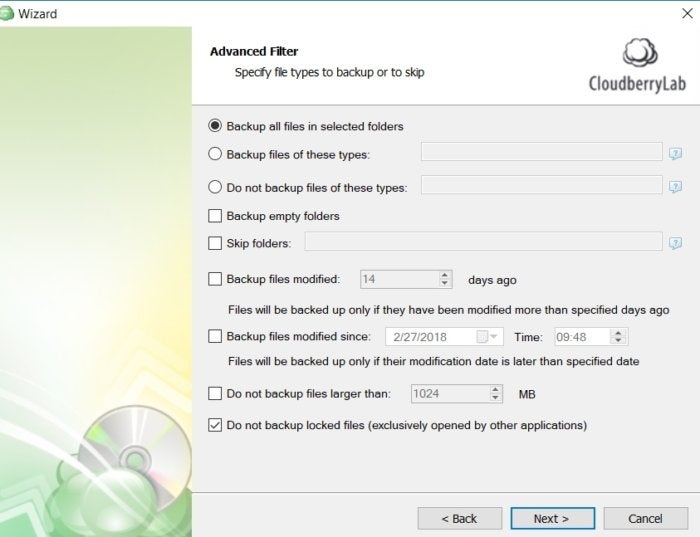 CloudBerry Backup is also supreme configurable, as you can see from the dialog shown above. There's scheduling, retention settings, inclusion/exclusion filtering of files, file versioning (or not), and a whole lot more. For experienced users, it's great. For the user who just wants to click a button and have their stuff well and truly backed up, not so much. To be fair, if you simply ignore all the options and click-through, you should be fine.
Note that CloudBerry Backup does not sync/mirror as such; however, there is an option to delete files from the destination that have been deleted from the source, which is similar. Even better, you can define how long before the delete occurs, as a safety net. Yup, like I just said, options are a good thing!
Design and performance
CloudBerry Backup is easy on the eye, if not particularly modern, and the interface is intuitively laid out. It's easy if you know what you're doing and are familiar with the backup universe. However, as with so many Windows backup programs, it's not newbie-friendly.
Concepts such as "bare metal" (restoring to a different PC with different hardware) and "file system storage account" (for backing up to local drives) can be tough sledding for the less-experienced. To be fair, it's obvious from the company website that the program is largely aimed at the IT market, and the free version is a bit of an afterthought. Hence the geekiness.
To its credit, CloudBerry, unlike many backup programs that offer only one destination for your backup, allows you two: one online and one local. That said, unlimited destinations for each data set would be better to cut down on confusion and the number of plans you must create.
CloudBerry performed flawlessly in all my testing, which included online to online, PC to online, PC to USB, PC to NAS backups. The only bug I spotted was an endless loop when using the "Adding CloudBerry Remote Assistant" option while creating bootable media. It kept downloading the assistant, then not creating the disk. Said disk, once created, booted fine, and my small restore went off without a hitch.
Versions and price
CloudBerry Backup is available for Windows, macOS, and Linux, both clients and servers. The free version is limited to managing 200GB of data, and there's only forum support from your peers, while the $30 desktop version offers company support and can handle up to 5TB of data. To get imaging or disaster recovery features, you'll need to plop down at least $120 for server edition (Windows or Linux). Note that I did not test the SQL or Exchange backup facilities in the more expensive versions. You can find a full version comparison at the very bottom of the CloudBerry Backup product page.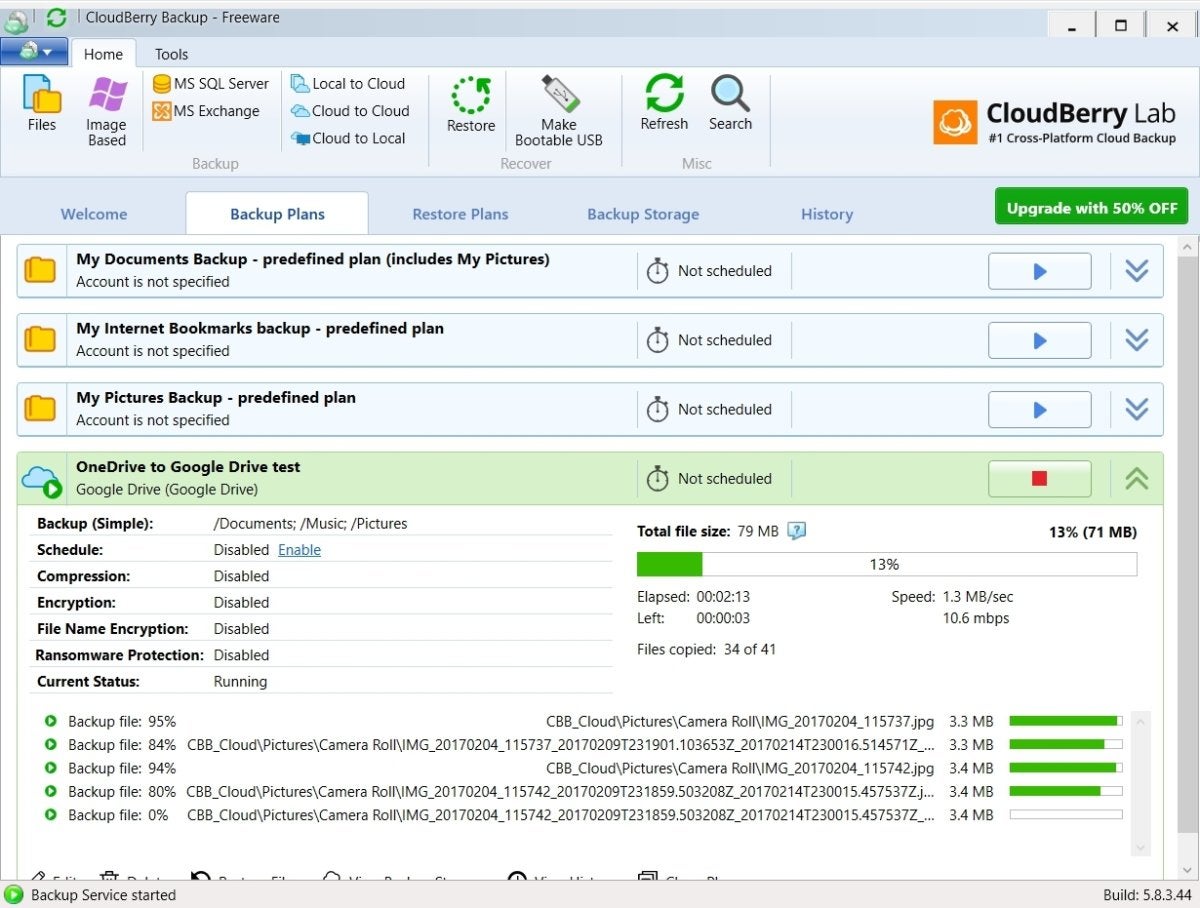 End users: Stick with the free version
CloudBerry Backup in its full glory is impressive in its scope. Advanced users should check out the free or desktop version, and anyone doing IT should check out the desktop and server versions. But it's a handful for the average user, who might be better off with something easier such as Aomei's MultCloud for syncing their online services. And if you're simply looking to back up your computer's data, check out our guides to the best Windows backup software and the best online backup services.
Best Prices Today: CloudBerry Backup Desktop
CloudBerry Backup Desktop