The Papers Please movie finished up its paperwork and nabbed a release date, Overwatch had puppies play Capture the Flag, Warcraft III is hosting a tournament, you'll soon (probably) be able to buy Geralt's bathtub figurine, and Final Fantasy XV is doing a Half-Life crossover.
Yes, it's certainly been a weird week in video game news. Let's recap February 19 to 23.
Humble Classics
As far as bang-for-your-buck goes, the new Humble Classics Return Bundle (that's a mouthful) might be the best the company's ever featured. It's full of those isometric CRPGs that suck up dozens and dozens of hours of your time, plus a few strategy and adventure games to boot.
The "Pay What You Want" tier nabs you Shadowrun Returns, the excellent follow-up Shadowrun: Dragonfall, plus Broken Sword 5 and Tesla Effect. More than the average gets you Shadowrun: Hong Kong, Age of Wonders III, Xenonauts, and our 2014 Game of the Year Wasteland 2. Pay more than $15 and Humble throws in last year's Torment: Tides of Numenera and Dreamfall Chapters too.
That's probably 250 hours of entertainment for $15—and they're all PC-friendly titles, too. Pretty incredible deal.
Tickets, Please
It's been about a year since we heard Lucas Pope's Papers, Please would be adapted into a short film. Then in October we got a proper trailer (below). Now, a release date: February 24, a.k.a. tomorrow. The film will be live on YouTube first, with Steam to follow shortly after. Glory to Arstotzka.
Nightmares
Yume Nikki is an RPG Maker game from 2004, an indie game before we'd really conceptualized the term "indie game," a surreal and unsettling work of lo-fi art that can be played for free on Steam right now. But if that seems like too big an ask, this week marks the release of Yume Nikki Dream Diary, a fully-3D sequel. No idea if it's any good, but the launch trailer is certainly…something.
Enigma
I'm not very good at cryptography, and I'll probably never finish Cypher. I wanted to highlight its release this week though, because it seems like an excellent primer on cryptography, has a beautiful museum-like look, and comes from Matthew Brown, the developer of the excellent puzzle games HexCells, CrossCells, and so on. I've spent about two hours with it so far and barely made headway, but it's still been a great time.
Ready to rumble
Mentioned in this article
Overwatch
Price When Reviewed:
$39.99
Overwatch's Year of the Dog event is in full swing, and this week Blizzard got in the true spirit of the season with a "Puppy Rumble"—a real life capture-the-flag face-off between teams of dogs. It's similar to the annual Puppy Bowl during the Super Bowl halftime, but…well, Overwatch themed. All the dogs are cute, all the dogs involved were quickly adopted, and you can watch the entire event below. Come on, you know you want to.
Warcraft 3.5
"Capture the Flag plus Puppies" is actually the least-weird Blizzard tournament news this week, though. Surprise: Blizzard is hosting a Warcraft III Invitational on February 27 and 28, more than 15 years after the game's initial release. There are also a bunch of changes being tested right now, including widescreen support, 24-player custom games, balance changes, and more.
Scuttlebutt points to a potential Warcraft III remaster, similar to what StarCraft received last summer, but either way it's weird to have Warcraft III back in the news.
Put down the ducky
Witcher 3 fans rejoice: You can finally have your own naked Geralt statue. Probably.
Some of you might remember that CD Projekt shipped a "Bathing Geralt" figurine to PC Gamer last year, in reference to PC Gamer using the same bathing Geralt screenshot for every Witcher 3 article. Cute one-off, right? Wrong, apparently. Looks like Dark Horse might do a full production run of the figure in question, even showing it off to Polygon at last week's New York Toy Fair. That is, if CD Projekt approves it—apparently that's the sticking point at the moment, with Polygon saying "CD Projekt Red is a little on the fence about releasing this work of art."
Damn.
Half-Life 15
Gordon Freeman is back, though probably not at all in the way people expected. No, this isn't Half-Life 3 news. Instead, it's… Final Fantasy?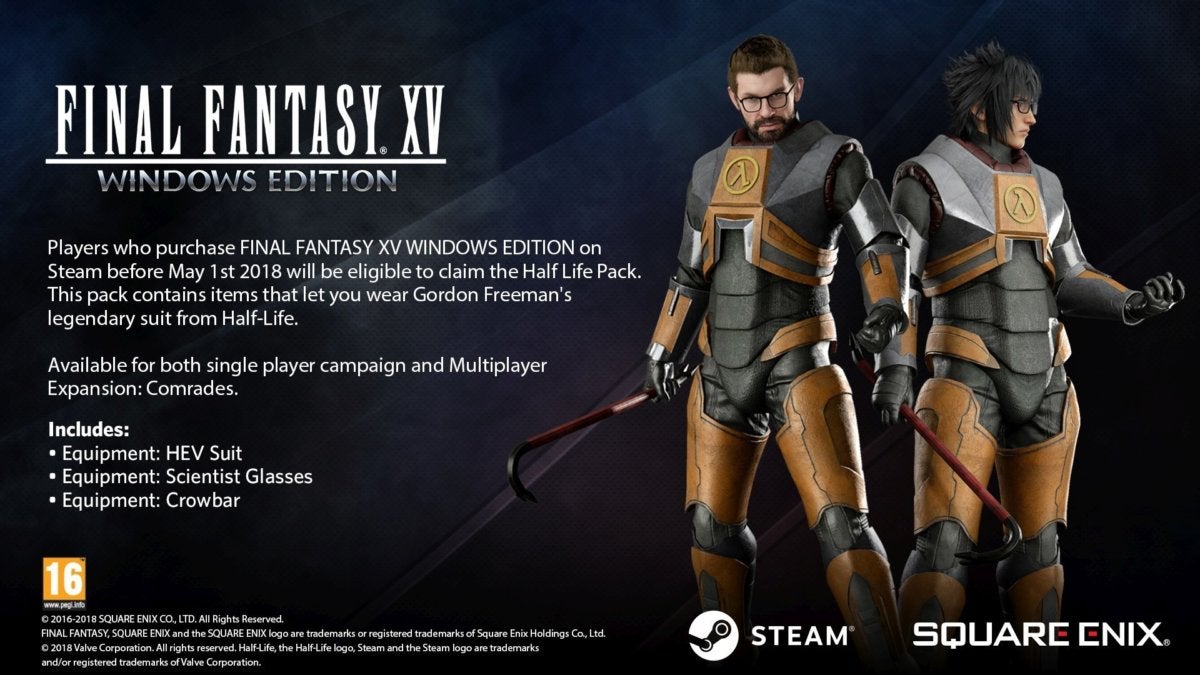 Yup. Final Fantasy XV arrives on PC in March, and this week Square Enix announced a partnership with Valve. Anyone who buys the game through Steam before May 1 can claim the "Half-Life Pack," which transforms Final Fantasy XV's Noctis into a Gordon Freeman lookalike, plus puts the iconic crowbar into the game. As far as crossovers go, yeah, this is one of the strangest.