I've been covering Windows backup software for over 20 years, and it simply astounds me that Microsoft and third-party vendors have yet to offer their billions of users a dead-simple, dead-obvious way to back up and restore. Something like, say Apple's Time Machine.
Both the macOS (nee OS X) and Windows are more-than-worthy operating systems, but there is absolutely no debate when it comes to simple and effective backup for the masses: Time Machine rules, Windows drools. And because of that, there's a lot of important data at risk.
Certainty versus doubt
Truth be known, my main PC is an 27-inch iMac, though I boot to Windows using Boot Camp the majority of the time. I use Windows 10 for business and everyday chores, and macOS and Logic Pro X for my musical pursuits. That right there pretty much encapsulates the split in the market—I just happen to straddle both worlds.
The best overall online backup service
iDrive Online Cloud Backup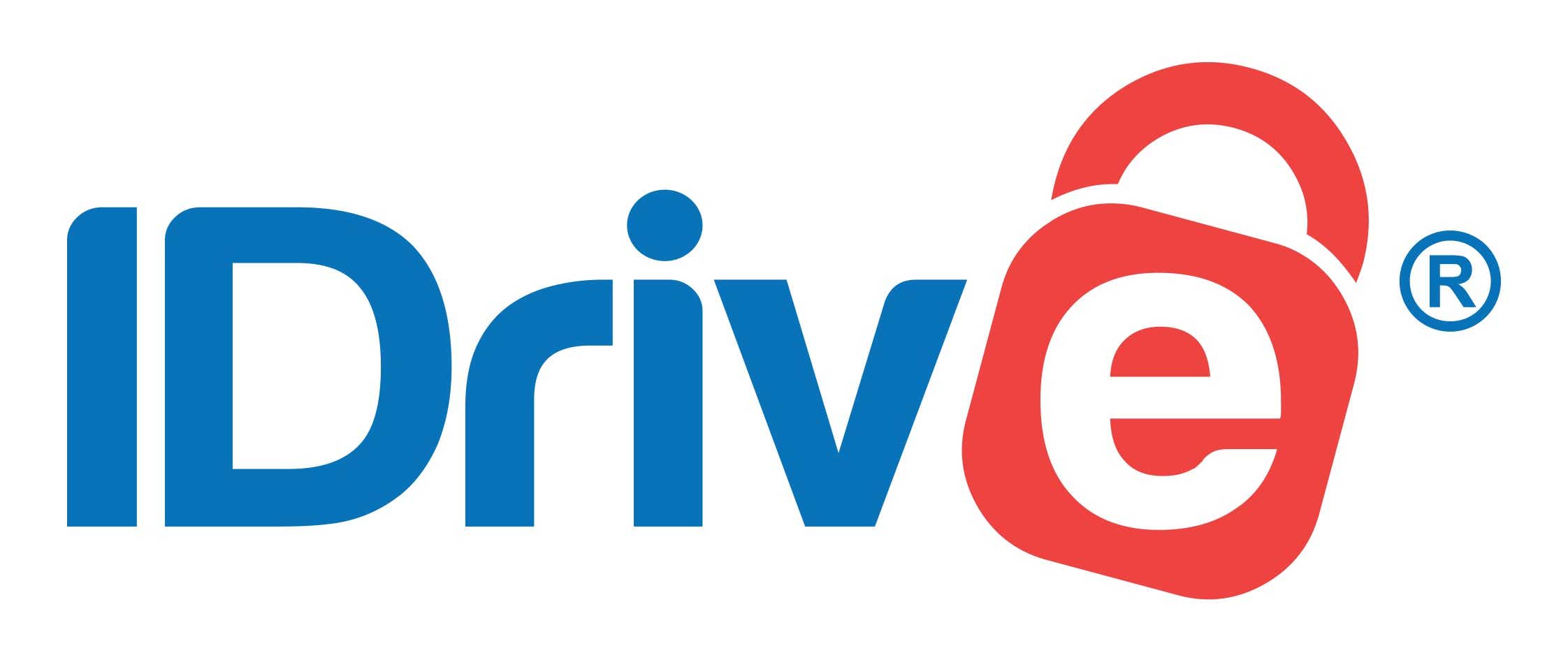 Price When Reviewed:
$79.50
The odd thing is that while I feel completely secure that my macOS install is safe, I never feel quite the same about the Windows partition. Why? Because Time Machine's simplicity and back-up-everything (except the Boot Camp partition, darn it!) approach requires no decisions on my part. Meanwhile, the numerous steps, complex options, and IT-centric approach of Windows backup software leave nagging doubt as to whether I did everything correctly.
Nagging doubt stinks. Especially after my decades of end-user IT support, witnessing just about everything that can possibly go wrong with a backup—including users backing up the wrong stuff.
Dead simple versus not so much
Setting up a Time Machine backup takes three simple steps: attaching an external drive, pointing Time Machine at it, and turning on the service.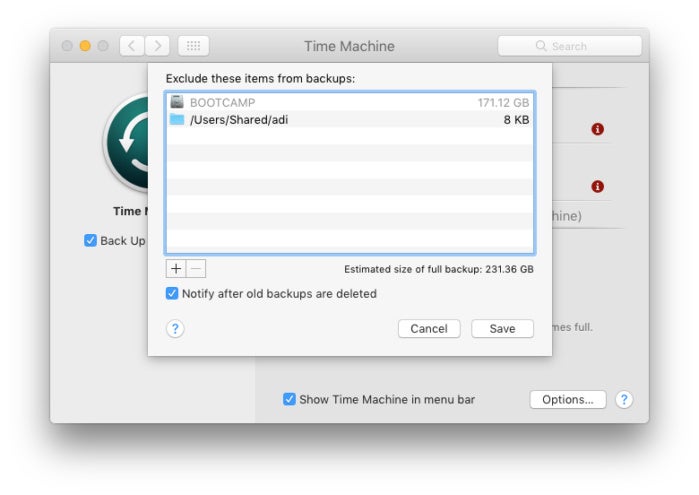 On the other hand, with Windows you have to search out the boring and ambiguously named File History. Is it a history, or a backup? How many users never find out?
To Microsoft's credit, File History works a lot like Time Machine by backing up to an external drive and keeping revisions of your data, but it backs up data only from certain locations. If you want the ability to restore your entire system in one simple step, you need to use the fetchingly named, Backup and Restore (Windows 7), which historically only been reliable restoring to the same PC and hard drive it backed up. This became apparent when I started switching users from hard drives to SSD a few years back.
Then there are Restore Points and Recovery Disks. While all these Windows backup facilities can be used effectively in combination, they aren't obvious or particularly easy. The mere fact that there are different utilities in different places is in and of itself an obstacle for users.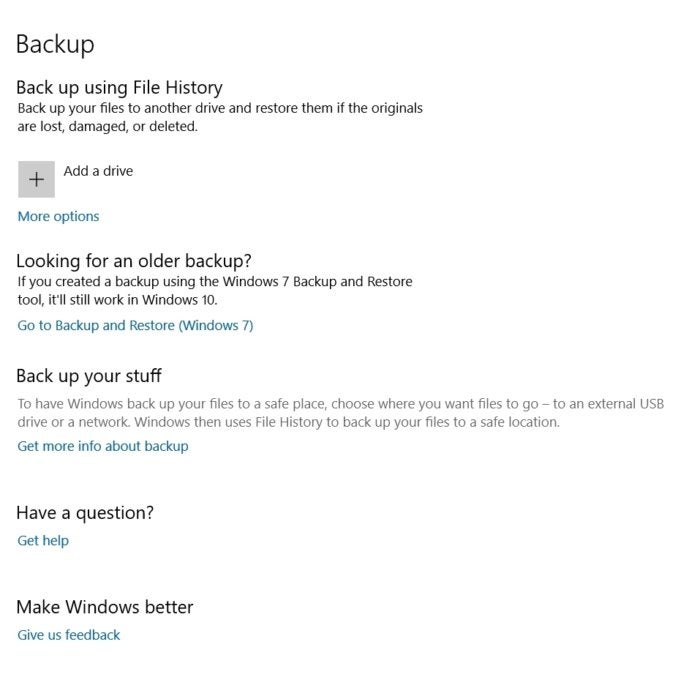 Then there's third-party software, some of which is supremely capable. I've had the same usability discussion with vendors over, and over, and over—they think their programs are easy to use, and I beg to differ. I have hundreds of emails from confused users over the years to prove my point.
My first argument is shown below: the restore screen from Time Machine. Simplicity itself, showing a timeline and the items that were changed.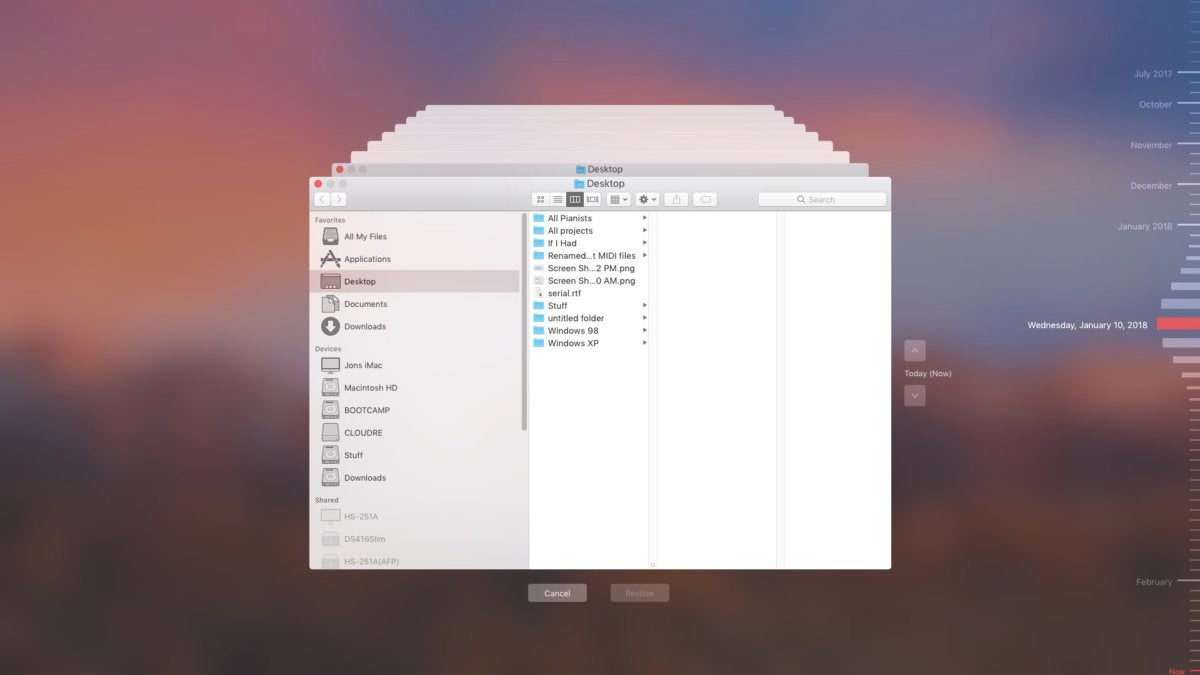 Now for the second half of the argument. Observe the screen caps from the highly capable Genie Timeline and Macrium Reflect below, and tell me if they offer anything approaching the simplicity of Time Machine.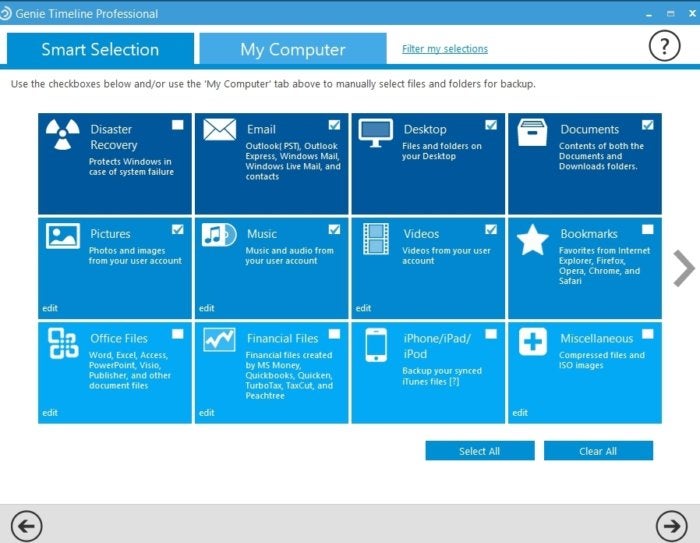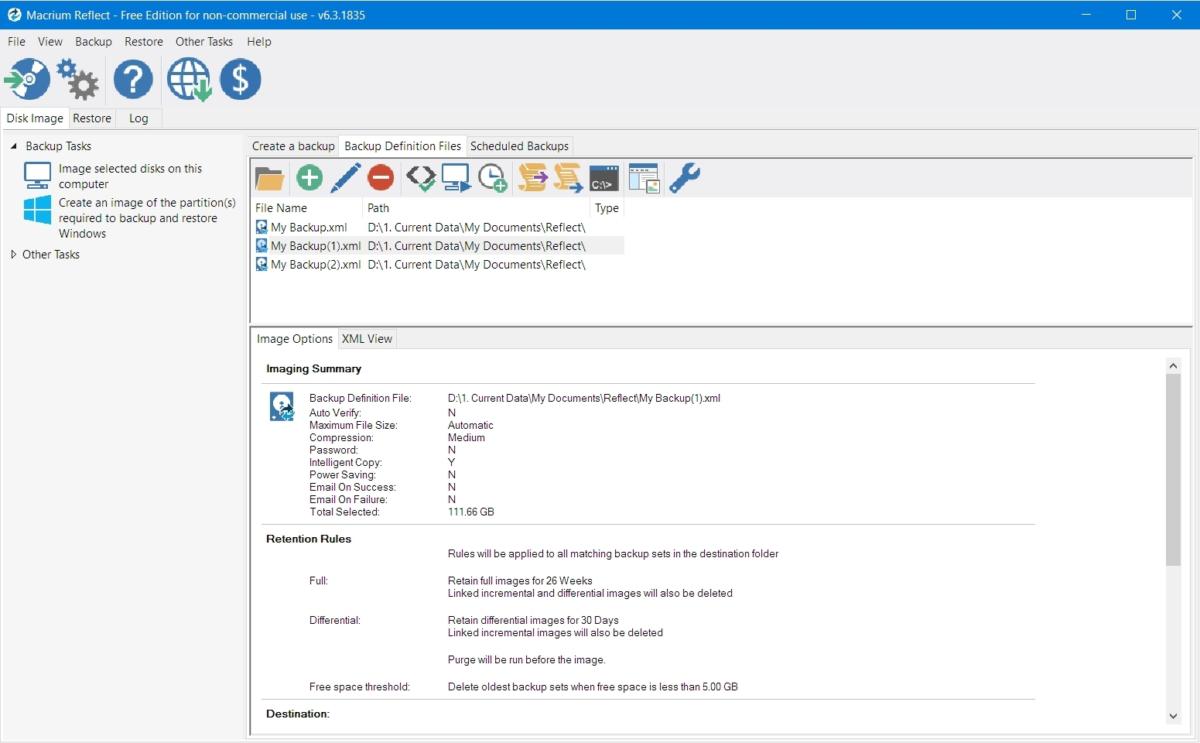 Okay, I cheated a bit with my choice of screens by showing data selection, but the restore screens really aren't any better. Don't get me wrong—Genie Timeline and Macrium Relfect are powerful programs. They back up every bit as well as Time Machine does, but they are neither easy to learn nor easy to use for those who haven't boned up on backup concepts.
Simple concepts versus IT jargon
Time Machine simply asks you where to back up, then does it. There's no discussion of bare metal restores (restoring to a different machine), differential (back up everything since the initial backup), incremental (back up everything since the last backup), sectors, raw, accounts, filters, permissions, etc. that you find in Windows software. You do have to log on to network destinations, but Time Machine simply asks you to do that when you select the network location.
I'm not knocking options. For a fully-trained IT person or advanced users, they facilitate customization and optimization of the backup process. This can save a lot of time and money. That's good. My point is that showering less-knowledgeable users with these options will often induce "failure to launch (a backup)" syndrome. I've seen it.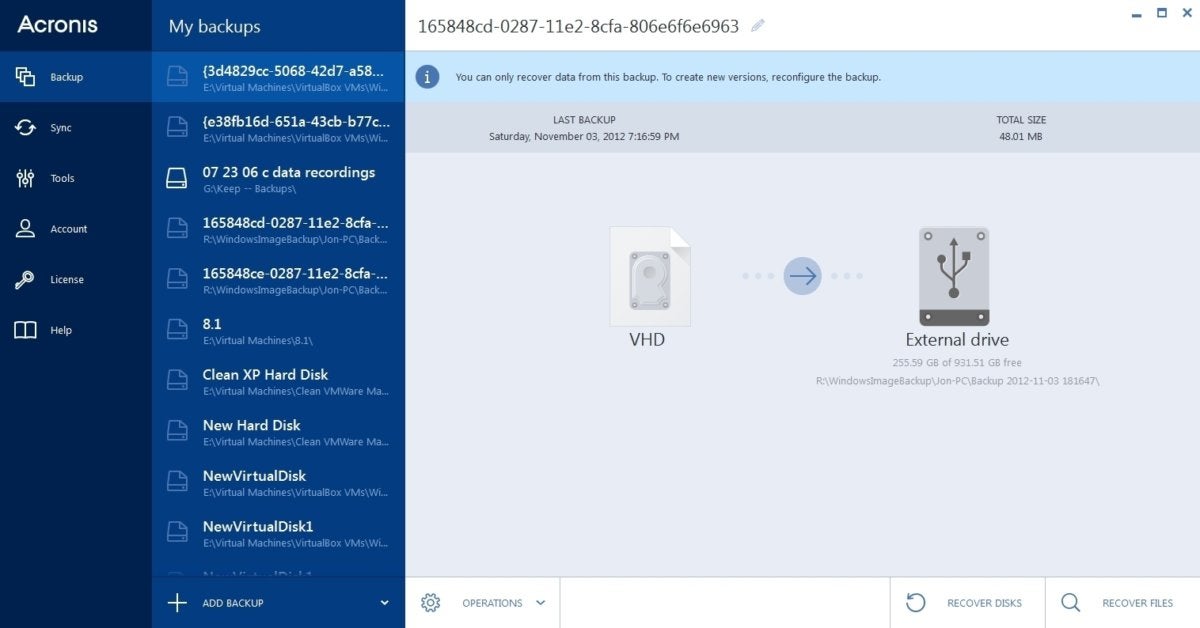 Despite its seeming simplicity, Time Machine allows you easily to restore single files, recover your entire system, or clone your entire system to another Mac. You can do so from local storage or across a network. What does the user have to do to get the ball rolling? Open Time Machine from the menu bar and browse the backup, or hold the Command-R key combo when booting the Mac and choose the Time Machine option.
One backup, many destinations
Time Machine is also the only backup program that I'm aware of that "gets" the end-user backup model. The average end user has one set of data that they want, or should want, to back up to multiple locations. Time Machine allows you to back up your single data set to as many drives or network locations as you wish.
Windows software, on the other hand, is stuck in the IT-centric model where you back up multiple users or PCs to one location, then IT backs that to other locations for redundancy. Most users I know don't have an IT department. The best you'll get from a Windows program in a backup job is two destinations: one local and one online. That might be enough, but if you want to back up to more locations than that, you have to create another job, then another, etc.
Apple's ecosystem makes it easier
Apple does have several advantages in keeping Time Machine simple. First off, each Macs has its own self-contained boot facility that provides the basics of the OS and various utilities, including Time Machine. Secondly, the company doesn't have to support the vast variety of hardware found on PCs that Windows software does. That limits the number of drivers that might need to be injected when restoring to a different Mac.
Additionally, nearly every NAS and network storage vendor has added the code that enables their boxes as Time Machine backup destinations. So in addition to local disks (USB, FireWire, etc.) you can back up to any NAS box anywhere.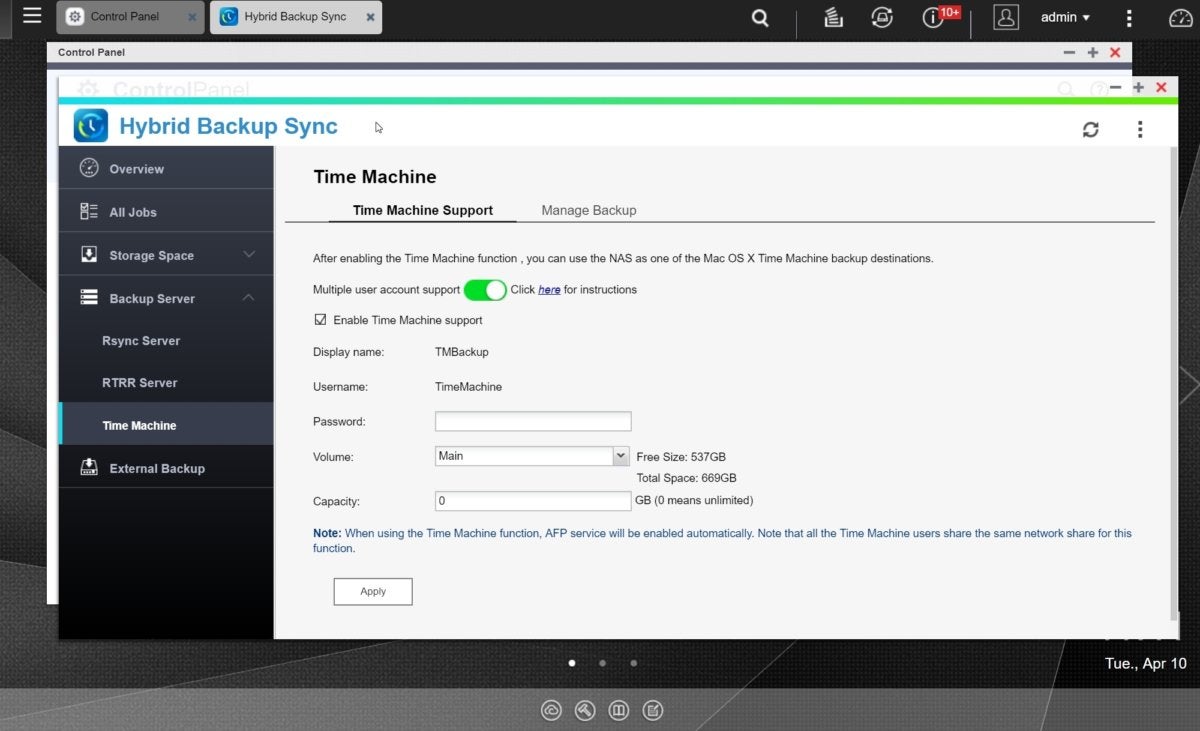 Where Time Machine falls short
Time Machine is not perfect by any means. It's occasionally had issues, though all seem solved at this point, with the exception that it doesn't support backing up to drives formatted with the latest APFS file system. Go figure.
There's also no support for online services. With faster broadband and services that offer unlimited storage such as Backblaze, it's about time Apple implemented on online component. It would also be really nice if Time Machine backed up the Boot Camp partition. Sigh.
[ Further reading: Best Windows backup software and best online backup software ]
I've seen articles complain about Time Machine. One even said it utterly fails users needs because it doesn't have a lot of advanced features. Say what? Admittedly, drive cloning and the like would be nice. But there's other software for that, such as SuperDuper, which we've used at PCWorld forever. Even while complaining, the article still grudgingly admitted that Time Machine makes backup so simple that users will actually do it!
Somebody please!
As I just intimated so loudly above, by far the most common issue with backup is the failure to back up in the first place. The genius of Apple's Time Machine is recognizing that and providing a solution that's so simple, even a complete dunderhead with computers can handle it.
The best Windows backup software
True Image 2017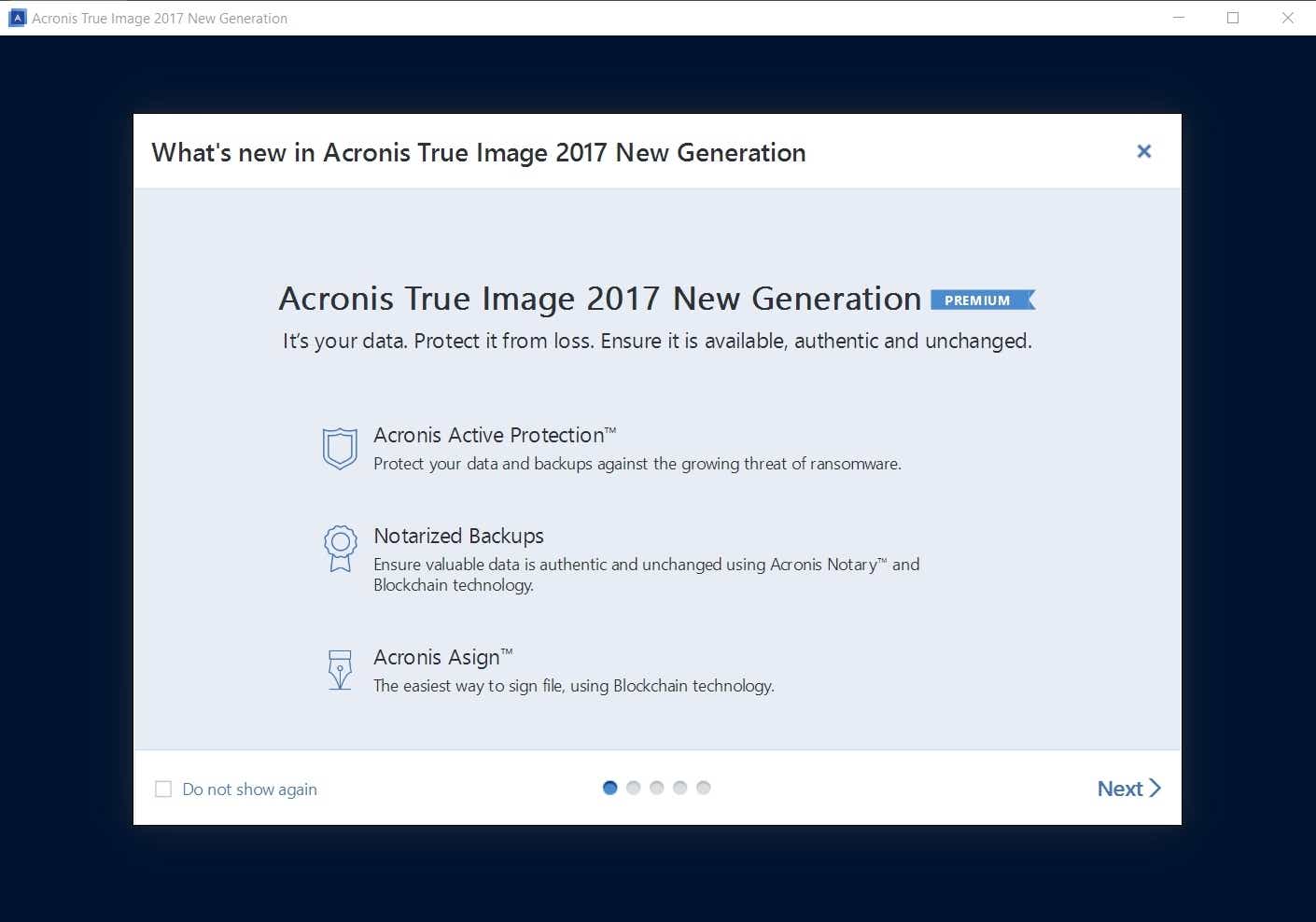 A rep for a major backup software company told me that the reason you haven't seen a Time Machine clone for Windows is that it's really hard to do. That may be, but as far as I can tell, that company's program is just as capable as Time Machine, and in some ways more so. The company is simply trapped in an IT mindset that's warped the idea of what's easy for the average user.
In the end, all Microsoft and third-party vendors need to do is take the software they have and change their approach and interface. On your mark. Get set. Go!