At a Glance
Expert's Rating
Pros
All-day battery life and an excellent 3360-variant sensor
Qi charging is a neat gimmick
Comfortable design, reminiscent of Logitech's G502
Cons
Software is over-complicated and obtuse
Thumb rocker means you can't hit Mouse 4 and Mouse 5 at the same time
Heavy
Our Verdict
Corsair's debut wireless mouse, the Dark Core SE, is one of the company's strongest designs in years, but myriad technical quirks, a poorly-placed thumb button, and over-complicated software hold it back.
Best Prices Today: Corsair Dark Core SE
Mentioned in this article
MM1000
Price When Reviewed:
$79.99
And like Powerplay, the MM1000 requires a brand-new mouse to take advantage of its unique charging capabilities. Enter the Corsair Dark Core SE—Corsair's first ever wireless mouse—with the hookups for Qi charging. You can also use the Dark Core separate from the MM1000 ($80 on Amazon) though, using a third-party Qi charging pad.
So how does it stack up? Let's check it out.
This review is part of our roundup of best gaming mice. Go there for details on competing products and how we tested them.
'Inspired by'
The Dark Core's design speaks to me. I can't say for sure whether Corsair lifted some inspiration from Logitech's G502—my favorite mouse for years now—but the similarities are apparent and were enough to get me excited. There's the elongated and tapered shape, the steep drop-off on the rear right edge, the chunky thumb rest on the left.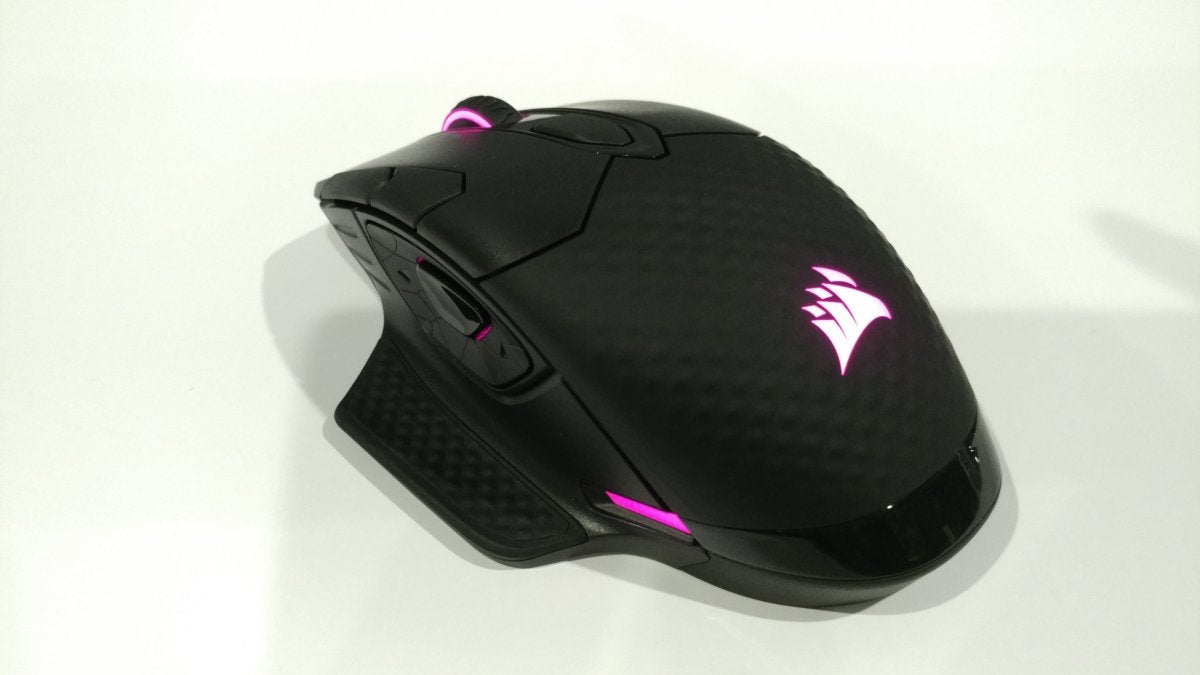 And if that weren't enough, the Dark Core even has two small buttons arrayed near the top of the standard left-click—another G502 feature. If Corsair set out to make a G502 clone, it at least nailed the basics. If that wasn't the intent…well, we should probably give Vanilla Ice the benefit of the doubt too. Just to be safe.
In any case, the Dark Core won't quite supplant my love of the G502, but I do like it. It's comfortable, and the combination of soft-touch and normal plastic zones is both eye-catching and satisfying. I even like the weird bump texture on the rear half of the mouse. As primarily a claw-grip user, the bumps seem to give me a bit more purchase when moving quickly.
It's much-needed purchase too, because the Dark Core is heavy. The Dark Core weighs in at 128 grams. That's not too far off from the G502, which weighs around 120 grams, but then again I do enjoy a heavy mouse. And while the Dark Core's weight isn't surprising for a wireless device, it does suffer in comparison to Logitech's wireless G703 and G903, which weigh 107 and 110 grams, respectively (much closer to the 100 gram sweet spot). I don't know what witchcraft Logitech used to get its wireless mice so lightweight in recent years, but Corsair evidently hasn't stumbled upon the same methods yet.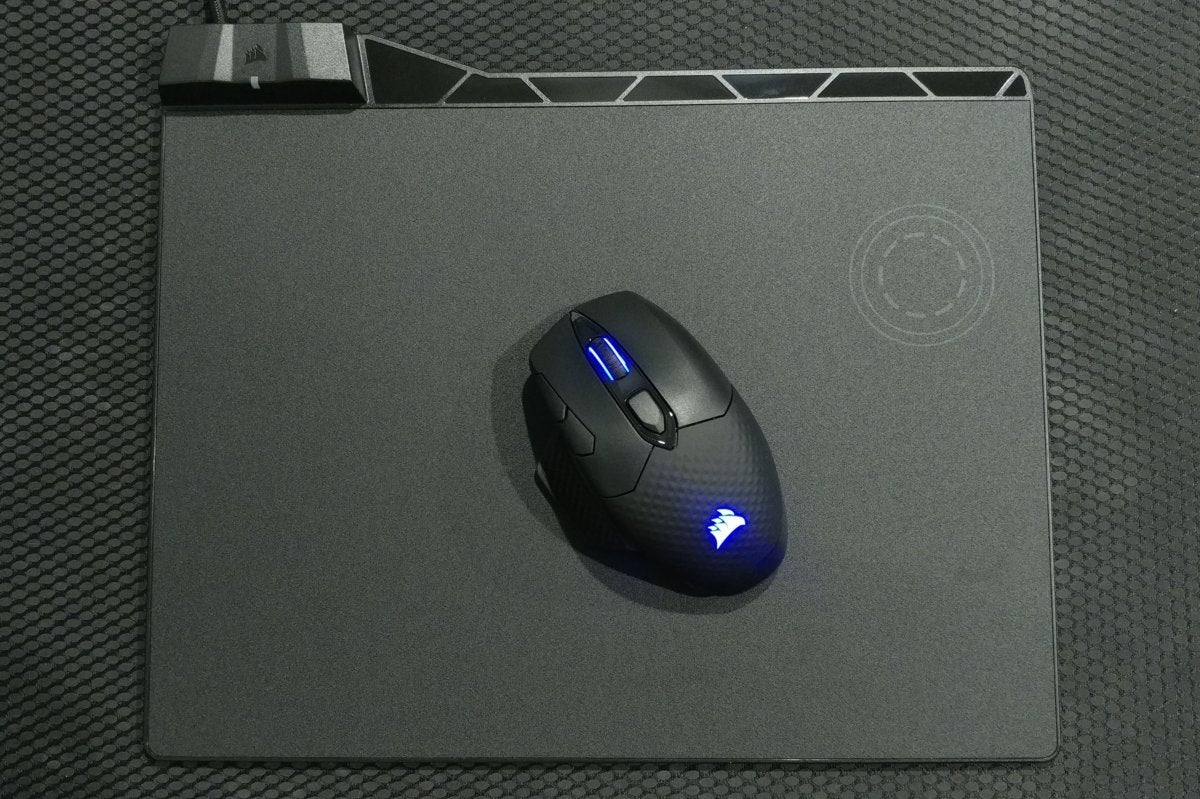 Weight aside, the Dark Core is a strong design—one of the strongest Corsair's had in a while, I think. I especially love what Corsair's done with the lighting. It's not as overtly flashy as last year's Glaive, but the standard logo and mouse-wheel zones are adorned with two small accent lights on the side, an array of DPI indicators near the front, and a circular ribbon on the thumb.
Speaking of the thumb zone, it's the Dark Core's other unique feature. I'm always interested in a new take on the standard two-button thumb region, and in recent years we've seen a lot of experiments in that department, like the SteelSeries Rival 500 and Razer Basilisk.
Corsair's variation isn't quite as strange as those two, but does manage to cram another button into the mix. Basically, Corsair made one button for your thumb—the sniper button—and then surrounded it by two others. Or, if you prefer, Corsair took the standard two-button setup and put a third button in the middle.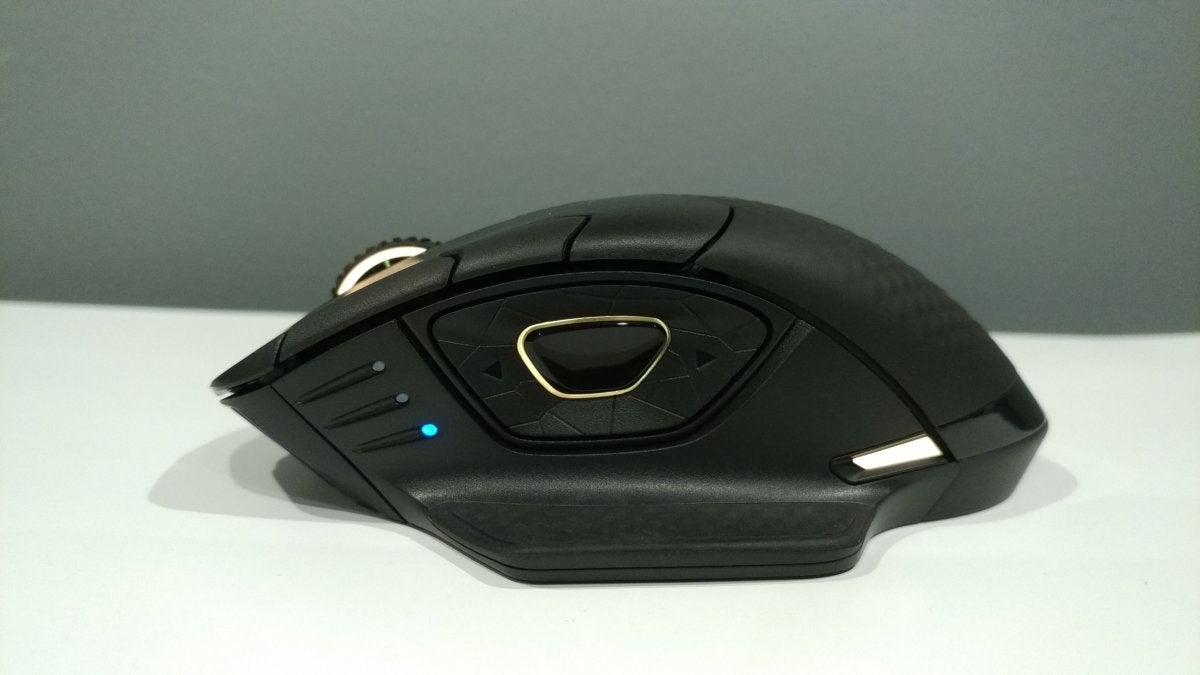 It's not entirely successful. For one, it makes it impossible to hit both the front and back buttons at the same time, because they're on a rocker. Worse still, it's actually hard to hit the front-most thumb button at all. It's just way too far forward for your average palm grip, and even when claw gripping I find I have to stretch to hit it reliably.
Hopefully the next model will pull that zone back towards the rear of the mouse, because otherwise I think it's a strong concept. I typically don't use "Sniper" buttons much, but the Dark Core's prominent placement makes it more feasible. Better yet, it's basically a third thumb button if you do a little remapping.
CUE the frustration
With that, let's get into some of the Dark Core's flaws. One major one, really: software. Yes, once again Corsair's "Let's do everything at once" approach means "It's hard to do anything at all" as the end user. Here, take a look: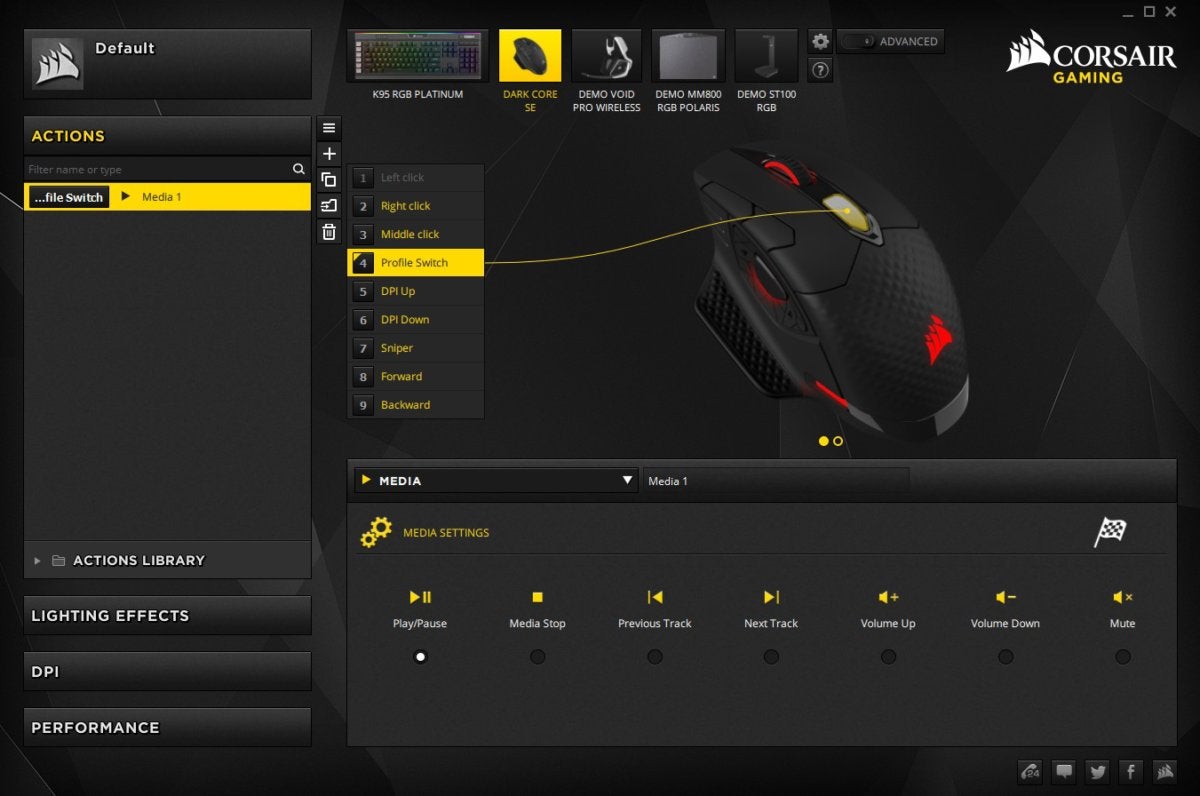 If this screen makes you think, "This all looks self-explanatory," I agree—it does look that way. There are hidden pitfalls everywhere, though.
Let's lay out the steps to remap a key. First, that Actions section is blank, so you have to create a new Action—whatever that means. Then you have to click on the button you want it to apply to, then choose the subcategory of Actions you want in the bottom section. Here I've remapped one of the Dark Core's buttons to Play/Pause, so that's what you're seeing. If, for instance, you wanted to map one mouse button to another though, you'd have to go to Remap Key, then click a submenu to bring up Mouse Button instead of the default Typing Key, and then choose which mouse button you wanted from there.
It gets more confusing. Corsair's software lets you map mouse buttons that don't even exist on the Dark Core—so you can, for instance, map Tilt Left to a button even though the Dark Core doesn't have a tilt wheel. Why? I don't know.
Then the worst part is just saving your damn button assignment. Whatever you choose, you then have to click the button in question from the list, then (I think) double-click the action, and then…hope that it works? I don't know. After weeks with the Dark Core, I still don't quite know how to change button mapping or colors reliably. Sometimes it works, sometimes it doesn't, and sometimes it works for a few hours only for Corsair's software to renege, wipe all my settings from the mouse (but not the software itself), and force me to redo the process again.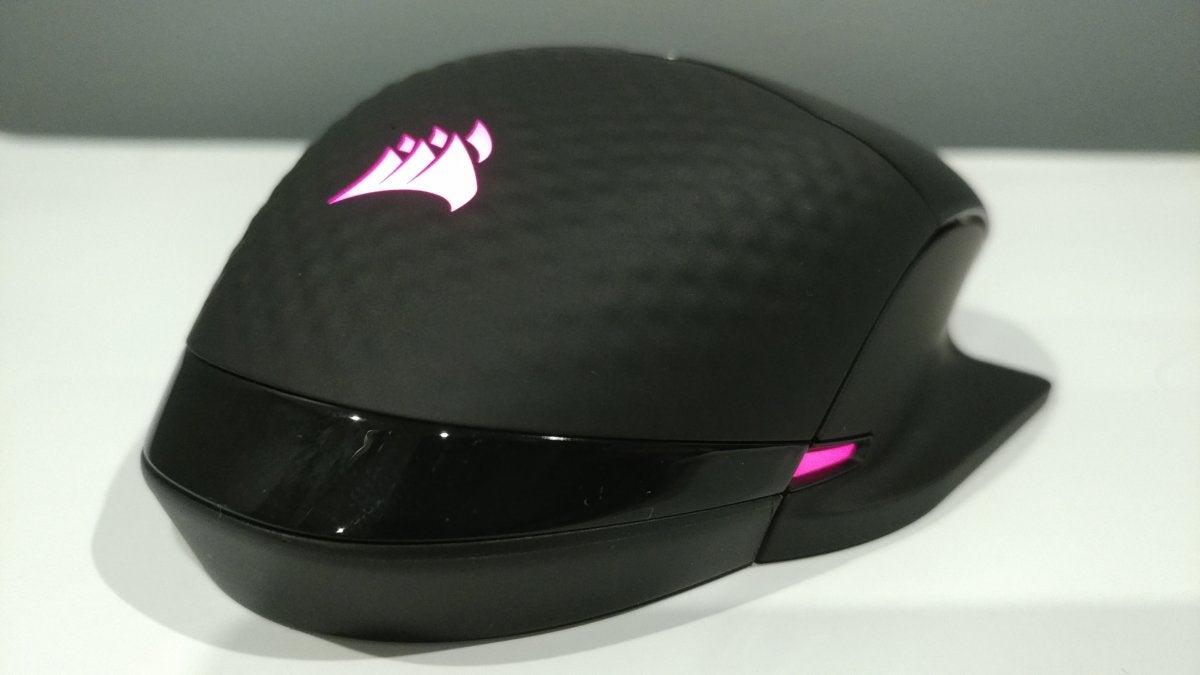 Speaking of which: There are a lot of Amazon/Newegg reviews that cite connection issues. I can't speak to that myself—I haven't had any disconnects or latency in my time with the Dark Core. The mouse is a bit slow to wake up in the morning, but it's still only a few-seconds delay at most and I haven't had any issues once it's paired. Then again, the receiver is plugged into the MM1000, less than a foot away, so not much chance for interference. And I have had these weird software glitches, where it lost my settings. That's more annoying than anything else, but it does make complaints about even worse problems credible.
These small quirks are a shame because otherwise the Dark Core seems like an excellent mouse. It sports a PWM3367 sensor, the Corsair-specific 3360 variant. I'm happy with pretty much any 336X model, and performance on the Dark Core has been as smooth as I expected.
And the Qi charging is neat, albeit niche, as our review of the MM1000 shows. Qi is an open standard though, so you should be able to buy any Qi platter off Amazon for $15-$30 and attain the same exact effect—wireless charging, without wires. It's slow wireless charging, probably only suited for overnight breaks, but the Dark Core's battery lasts up to 24 hours so you should be fine, and it's a cool option if you don't want to shell out $200 for Logitech's more extensive Powerplay system. Here, the cost of entry is as low as the Dark Core mouse and a third-party charger.
Bottom line
It's clear this is Corsair's first wireless mouse. You just don't see these sorts of performance issues from companies that have had years to perfect their wireless setups. Corsair's playing catch-up and it shows.
One firmware update's already been released though, and hopefully any remaining problems are sorted out soon (I'm planning to check back in periodically), because as it stands the Dark Core has the potential to be a winner. It's comfortable, it's attractive, it's fairly inexpensive (for a wireless mouse) at $80 for the baseline model or $90 for the version with Qi charging, and when it does work, performance is just as good as any other flagship. If everything worked perfectly and CUE were sorted out, this is a four-star mouse easily, or maybe higher.
Wait a few months though, just to be safe.
Best Prices Today: Corsair Dark Core SE