Adobe is preparing to "decommission" its Adobe Flash Player software and turn off its download links to current and older versions of the software on Sept. 23, according to a warning on a Web page for large organizations.
Adobe, however, said that the warning was just a part of a process of "updating and rearranging some of our adobe.com pages," according to a company spokeswoman. "The warning message shown in your article was done by the Flash team as a courtesy for people who may have bookmarked the soon-to-be outdated URL," a company spokeswoman said in an update.
The page in question governs those who are licensed to distribute Flash Player to multi-user organizations, presumably including schools and corporations, according to the terms of the Adobe Flash Player Distribution License Agreement.
A large warning at the top of the page states that "This page and the download links will be decommissioned on Sep 29, 2016." Adobe also recommends that personal users who wish to download the Flash Player do so via a separate page, which does not mention any deadlines or other warnings.
"As we stated back in November 2015, Adobe supports Open Web standards and believes HTML5 is the web platform of the future," Adobe said. "We work closely with Mozilla, Google, Microsoft, Facebook and others to facilitate the adoption of these open standards. This is an industry-wide evolution and Adobe is heavily invested in it. Nothing has changed with the Flash Player though and the download links will absolutely still be available to all customers."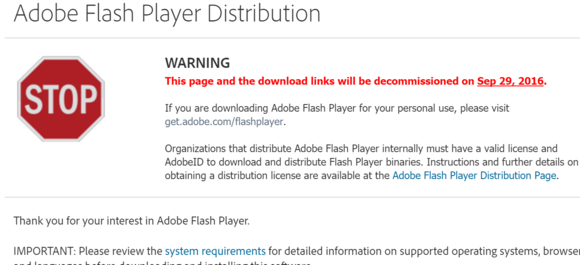 Why this matters: Adobe Flash remains one of the more notorious security risks for enterprises and other users, and Adobe seems to be perpetually issuing updates and patches to fix vulnerabilities. In 2015, Facebook security chief Alex Stamos tweeted (and then later deleted) a call for Adobe to set an end-of-life date for Flash. The late Apple chief executive Steve Jobs, of course, also famously blocked Flash from iPods, iPads, and iPhones.
Flash can't be long for this world, anyway
Meanwhile, browser makers are readying their own assaults: Google has said that it will "de-emphasize" Flash to the point where it's almost never used except when absolutely necessary, Firefox has begun auto-blocking Flash, and Apple's Safari refuses to acknowledge that it even has Flash installed elsewhere on the system. Though Flash ships as part of Microsoft Edge (as well as Google Chrome), a new feature in the Windows 10 Anniversary Update auto-blocks Flash content as a security measure.
With such universal condemnation, it wouldn't be surprising if Adobe finally killed off Flash. Executives don't even mention the product these days in analyst calls, and Flash Builder is just one of 28 separate applications that make up Adobe's Creative Cloud subscription bundle. Would anyone shed a tear if Flash disappeared? Maybe. But chances are it wouldn't be you.
This story was updated at 3:31 PM to note that Adobe said it was in the process of rearranging its Web pages. Download links to Adobe Flash will be maintained. We've noted this in the story and headline.