Wi-Fi is everywhere these days. So much so that Google is playing around with a cell phone service that relies mostly on Wi-Fi. Nevertheless, there are times when Wi-Fi is just not an option. If your life is anything like mine, that will be the moment when you absolutely must get your laptop online to make adjustments to a document, or reply to a lengthy email.
Sure, you could tough it out and do this work on your phone, but that small screen can be a big hassle for major work. That's why knowing how to turn your smartphone into a Wi-Fi hotspot for your laptop is so useful.
Here's how to do it on Android, iOS, and Windows 10 Mobile.
TIP: Keep in mind that many U.S. carriers have specific plan requirements before you can officially use your phone as a Wi-Fi hotspot. In fact, some carriers may automatically switch you to a plan that includes this feature if you use your phone as a hotspot.
Android (based on Android 6, Marshmallow)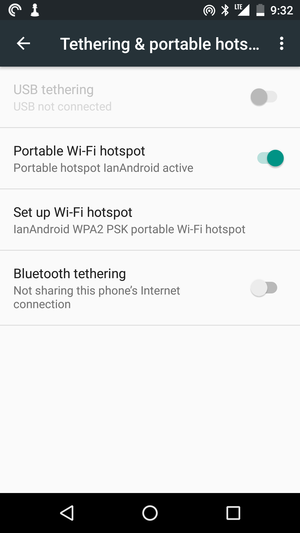 On Android, open the Settings app, and under Wireless & networks tap More.
On the next screen, tap Tethering & portable hotspot and then tap Set up Wi-Fi hotspot. A small pop-up window will appear with the name of your Wi-Fi hotspot, the password, and the Wi-Fi band your phone is using. All of these options can be changed from this window.
Most people can ignore the band options, but you should definitely rename your Wi-Fi hotspot and change the password. Just like your regular router, it's always a good idea to change the default name.
To reveal your phone's hotspot password tap the Show password checkbox, and then change the password to something of your choosing.
Once you've got everything set up the way you like it, tap Save to close the pop-up window.
Now, it's time to activate the portable Wi-Fi hotspot. Once again go to Settings > Wireless & networks > More > Tethering & portable hotspot. Now tap the slider labeled Portable Wi-Fi hotspot to the on position (it will turn green).
TIP: Android users may have to turn to a third-party app to create a Wi-Fi hotspot as some carrier-sold phones have the functionality removed.
iOS (based on iOS 9)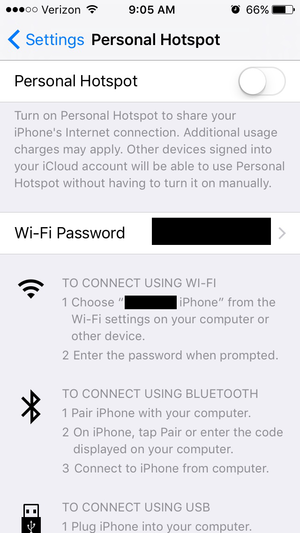 On your iPhone, open the Settings app and then tap Personal Hotspot.
On the next screen tap the slider labeled Personal Hotspot to activate the feature.
Just below the slider button you will also see the password for your smartphone's hotspot. Tap the password box and you will be able to change it to anything you like. Once you have changed the password tap Done.
The iPhone automatically uses the device name as the hotspot name. So if you named your phone "Bob's iPhone" that's what your hotspot will be called.
Windows 10 Mobile
Open the Settings app in Windows 10 Mobile, and select Network & Wireless. Next, select Mobile hotspot and then turn the top slider under Mobile hotspot from Off to On.
Below that you'll see an option to share your internet connection over Wi-Fi or Bluetooth. Wi-Fi is selected by default and is more desirable for our purposes here.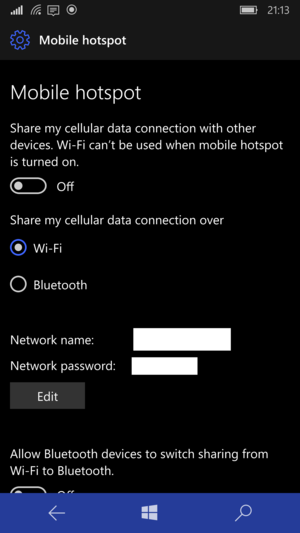 Then under that you'll see two items: Network name and Network password. These are your phone's hotspot name and password. To change them tap Edit, and in the next screen you can rename your hotspot and change the password.
Back to your PC
Now that you've got your phone up and running, it's time to switch your laptop over to the new Wi-Fi hotspot. These instructions are specifically for Windows 10, but other versions of Windows will behave similarly.
Really, there's no difference between connecting a PC to your phone's Wi-Fi hotspot or a regular router.
In the taskbar, click on the Wi-Fi symbol on the far right. Then from the list of various Wi-Fi access points choose the name of the hotspot for your phone, and then enter the password. If all goes well you should connect quite easily.
Using your phone as a Wi-Fi hotspot can be slow at times, but for basic web browsing or email it will work just fine. Keep in mind that serving as a hotspot can be a drain on your phone's battery so have your charger handy, or plug your phone into a USB port on your laptop that supports charging.