After a short absence, Messaging Everywhere is back, and—just as Microsoft promised—it's built into the Skype Preview for Windows 10 and Windows 10 Mobile.
Microsoft doesn't call Skype's new feature "Messaging Everywhere" of course, but it's essentially the same thing: the ability to use an app on your Windows 10 PC to send and view text messages via your Windows 10 Mobile device. The feature's called SMS relay, and it includes the ability to send and view SMS and MMS messages.
The updated version of the Skype Universal App preview that contains SMS relay is now available for Windows Insiders. Microsoft says the feature will hit mainstream Windows 10 and Windows 10 Mobile users in the "next few months."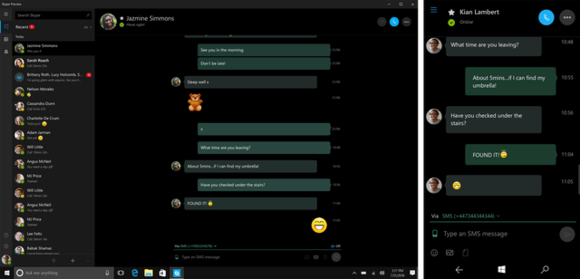 Microsoft doesn't specify which Windows Insider rings are getting the update, but it appears to for the fast ring only—specifically build 14926. If you're an Insider you'll need the updated Skype Preview app on both your PC and your mobile device.
Open Skype Preview on your PC, and in the Settings menu activate "Enable Skype on this devices to sync my SMS messages." Then on your mobile device, open the Skype Preview app, go to settings once again, and select "Make Skype your default messaging app."
The story behind the story: It will be interesting to see what Microsoft has planned for Skype as an SMS platform. Once it works the bugs out on Windows it would make sense to see this feature land on Android as well. That would allow Skype to morph into a more centralized, cross-platform messaging platform with SMS and Skype messages. It's unlikely Microsoft would be able to extend SMS relay to iOS due to Apple's limitations on the platform.