At a Glance
Expert's Rating
Pros
Insane performance
Superb keyboard and touchpad
Gorgeous 4K panel
Cons
Runs hot and loud
Price tag matches its performance
Our Verdict
Packed with desktop parts, the Origin EON17-X is a beast in the benchmarks. That makes for some hardworking, and very audible, fans.
Best Prices Today: EON17-X
A time will come when we stop referring to machines like the Origin EON17-X as "notebooks." Instead, we'll just call them what they are: ultra-compact desktops with built-in displays.
Sure, you can pick up these laptops and take them with you, assuming you have a dolly or a gym membership. But aside from the form factor, systems like the EON17-X are desktop-class from top to bottom: Companies making high-end gaming PCs were already stuffing their notebooks with desktop CPUs, and now that Nvidia's Pascal "mobile" parts are essentially the same as their desktop counterparts, there's nothing particularly notebook-y about these machines anymore. Heck, they're not even a "desktop replacement" for most people, but more like a desktop upgrade.
That's especially true of the EON17-X. The model we received, which Origin sells for $3,572, packs all the latest and greatest parts inside its 17-inch body.
Maybe we should call these 'Deskbooks'
The EON17-X's no-holds-barred approach is nothing new for Origin. Last year, the EON15-X we reviewed sported a socketed Devil's Canyon Core i7-4790K CPU, and this year's EON17-SLX had both a desktop-class CPU and GPU.
This particular 9-pound behemoth (12-pounds with its massive power brick) keeps the trend going with a desktop Intel Core i7-6700K Skylake CPU—an unlocked part capable of exceeding its 4.2GHz boost clock. You also get Nvidia's brand-new Pascal-based GeForce GTX 1080. The beauty of graphics cards based on the Pascal architecture is that mobile parts use the same chip as the desktop versions—and while the GTX 1060 and GTX 1070 mobile GPUs differ slightly from their desktop counterparts, the GTX 1080 mobile part has the exact same specs as its big brother. That includes its 1,733MHz boost clock and 2,560 CUDA cores. So on the CPU and GPU front, you won't find any significant differences between this machine and an overclocked mid-tower desktop.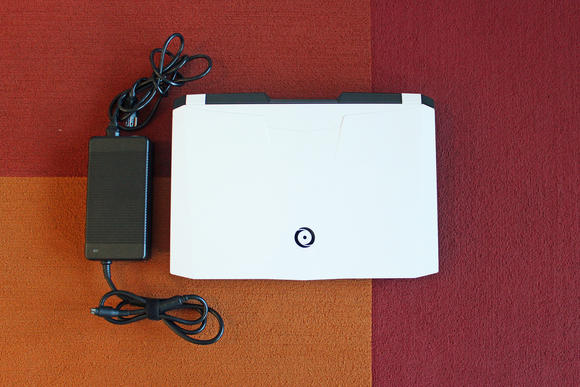 On the storage front, that pattern holds. This puppy rocks two 256GB Samsung 950 Pro M.2 PCIe-NVMe SSDs in RAID 0 via Intel's RST software. As a combined pair, they're good for 476GB of speedy storage for the OS and programs: We got almost 3GBps (yes, capital B) during sequential reads, and about 1.8GBps during sequential writes. Of course, no power user can currently survive on an SSD alone, so Origin also included a 1TB 5,400rpm hard drive in this build. You also get 16GB of DDR4 memory that cruises along at 2,666MHz.
Running at a glorious 3840×2160 resolution and measuring 17.3-inches, the display is beautiful and huge. It's also a G-Sync panel with a refresh rate of 60Hz, and comes with a matte coating (which we much prefer over a glossy screen). If you're hoping to save some cash by opting for a 1080p configuration, you're out of luck—you have to go 4K or go home. At least, if you want an Nvidia 10-series GPU. Older models with a 1080p screen exist, but only with 9-series Maxwell GPUs. We're cool with this arrangement, though, since the GTX 1080 is complete overkill for 1080p, at least on a 60Hz panel. MSI's newest Titan notebook with a GTX 1080 sports a 1080p panel, but it runs at 120Hz, which is also a good paring for those craving ultimate frame rates.
As far as expansion ports go, this high-priced 17-inch monster-book comes fully loaded —of course. You get not just one but two USB 3.1 Type C, four USB 3.0 Type A, gigabit ethernet, two Mini DisplayPort, an SD card reader, a lock slot, and audio inputs and outputs. The EON17-X also supports dual-band 801.11ac Wi-Fi and Bluetooth 4.1.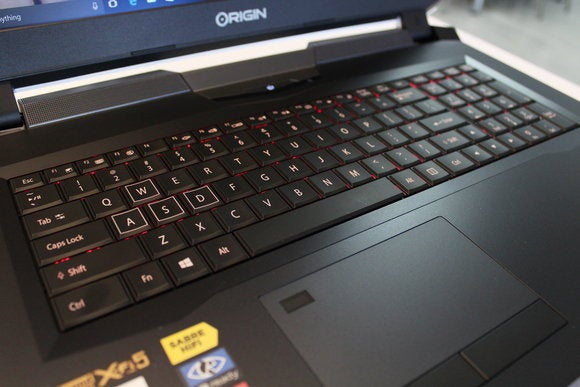 The audio also deserves mention—particularly since most laptop speakers aren't even worth talking about except to say how bad they are. The EON17-X actually sounds good, with plenty of volume to match the machine's overall size. It provides quite a bit of bass that you can actually feel, too. A Realtek audio chip controlled by Creative Labs Sound Blaster Xfi software is ruler of all this, and comes equipped with support for external 7.1 audio as well. You can fine-tune the audio to your liking with myriad options.
Finally, there are the keyboard and touchpad, which are the most comfortable and accurate that I've ever sampled on a notebook. On the keyboard, the keys lie flush with the surface (as opposed to an island, or Chiclet, design) and need just a small amount of travel to actuate. Their soft touch and positive feedback make it easy to type. A lot of laptop keyboards are mushy, but this one is tactile and firm.
The touchpad is also exceptional—so good that it reminded me of a MacBook trackpad. Its matte finish provides a little bit of traction for your fingertip as it glides over the surface, and I never accidentally double-clicked or mistakenly dragged a file. There's also a biometric scanner built into the corner for fingerprint-login duties.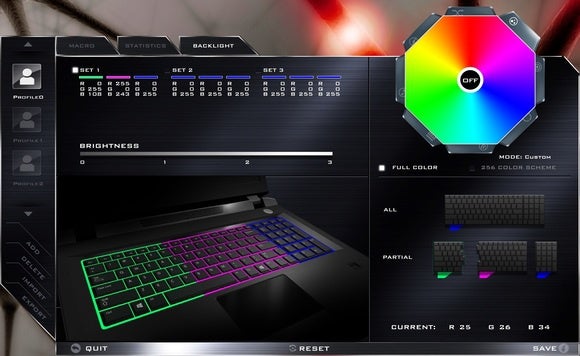 The keyboard also includes RGB lightning, though it's not per-key. Instead, you get three zones (left, right, and center) that you can tweak. The software that lets you customize the lighting is easy to use and lets you create profiles and macros as well.
Performance
Given this machine's specs, we expected it to be a killer, and we weren't disappointed. With its overclocked desktop CPU, desktop-class GPU, and two PCIe M.2 SSDs, it has everything a system needs to shatter benchmark records.
One thing to note: Because the EON17-X rocks a GTX 1080, it features Nvidia's GPU Boost 3.0. That allows the GPU to overclock itself based on its own guidelines of thermals and power. It'll overclock as high as it can before either running out of power or getting too hot, and if it approaches the limits of either, it'll just downclock a bit to keep things running smoothly. The official boost clock for this GPU is 1,733MHz, but in the real world, these GPUs can go much higher than that. We saw the EON17-X's GTX 1080 go as high as 1,923MHz—while the desktop GTX 1080 can usually go slightly beyond 2GHz, this GPU is wedged into a really tight spot with tiny fans, so its performance is impressive. Of course, it did run hot, getting up to 90 percent C. That's about 15 percent C higher than you'd typically see on a desktop part. However, it never crashed or acted weird, so it seems it's fine at these temps.
Update: Right at press time, we heard from Origin that CPU performance of the EON17-X might have been nerfed by a Windows update—one that oddly reduces the overclocking potential of the CPU. We've double-checked and the CPU's overclock does fall to 4GHz from its expected 4.5GHz. Once this issue is fixed, we expect performance to increase by about 10 percent.
3DMark Fire Strike Extreme
Though this synthetic test is plenty punishing, we'll probably have to start using the even more gnarly Ultra test for systems of the EON17-X's caliber. The GTX 1080 in the EON17-X fired off the highest single-GPU score we've ever seen, running 21 percent faster than the Asus G752VS and its GTX 1070. The difference gives us very clear data showing the performance delta between these two GPUs.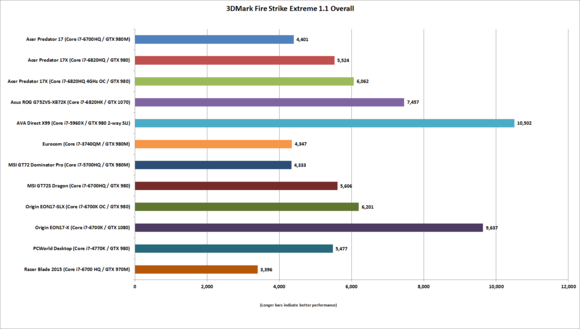 The only setup to exceed the EON17-X in this test was AVA Direct's X99 desktop system, which ran two GTX 980 GPUs in SLI. However, it was only 8 percent faster, giving us another interesting data point: The GTX 1080 for notebooks is almost as fast as two of the previous generation's desktop flagship GPUs combined. That's insane performance.
Tomb Raider
With the synthetic test out of the way, we moved to a real game to see what the GTX 1080 is capable of. Though this system has a 4K display, not all of the gaming notebooks we've tested previously had this luxury, so we ran our official test at 1080p for a more direct comparison.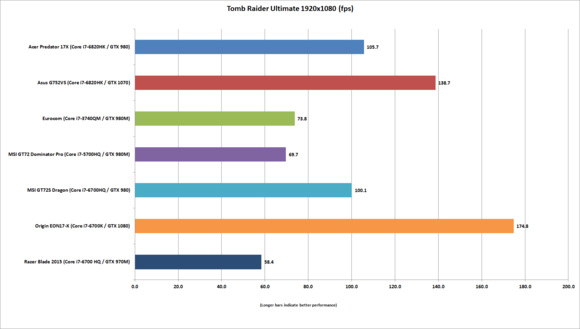 In the benchmark, which we ran on Ultimate settings, the GTX 1080 made a mockery of its competition by posting results of 174.8fps. That's 24 percent faster than the GTX 1070 Asus system, and an astonishing 55 percent faster than the Acer Predator 17X and its mobile version of the desktop GTX 980. Against the Acer Predator 17, which sported an actual mobile GTX 980M, the EON17-X's GTX 1080 was an incredible 120 percent faster.
We can't give all of the credit to the GTX 1080 though, since Tomb Raider's performance favors higher clock speeds—which the Origin has in spades, thanks to its overclocked Skylake CPU.
Middle-earth: Shadow of Mordor
Tomb Raider's getting a little long in the tooth, so we also ran Shadow of Mordor with its 4K texture pack installed.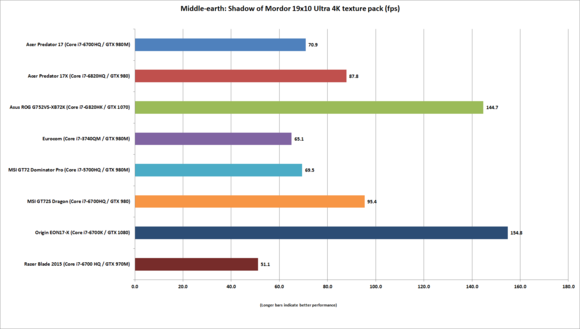 The EON17-X spanked the competition, of course, but not by as universally a wide margin as in the previous benchmarks. For example, compared to the Asus G752VS, there was just a 6 percent difference between its GTX 1070 and the EON17-X's GTX 1080. However, put up against the Acer Predator 17X Turbo and its desktop-class GTX 980, the Origin PC issued an old-fashioned beat-down in the form of a 60 percent lead. If we bring the Acer Predator 17's GTX 980M into the mix, the difference is a stunning 116 percent.
Handbrake
For CPU testing, we ran our Handbrake benchmark to see just how the EON17-X's desktop part handled itself in a tighter and thermally constrained chassis. Given that this laptop's processor comes overclocked (it hovered around 4.5GHz, mostly), we were expecting another easy win versus the competition.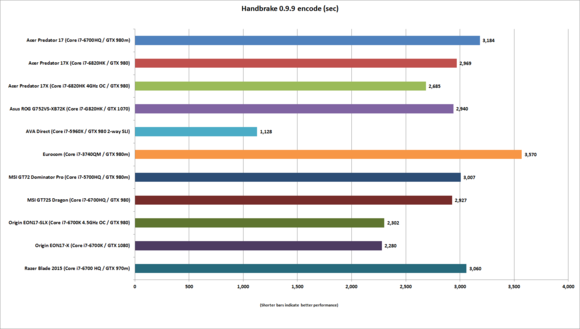 Not surprisingly, the EON17-X was among the fastest of the gaming laptops we've tested so far, taking just 38 minutes to encode our 30GB test file into an MP4 using Handbrake's Android Tablet preset. That was 29 percent faster than the Asus G752VS OC, which runs a Core i7-6820HK mobile processor at 4GHz—quite a step up.
Battery Life
Yeah, we know what you're thinking—who the heck would take a laptop this size off AC power, much less travel with it? Well, some people do, and most likely for simple things, like watching movies.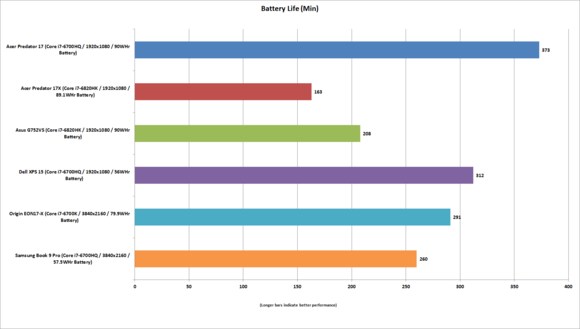 In our 4K video playback test, in which we run a 4K movie file on loop with the screen brightness set between 250 and 260 nits, the EON17-X ran for almost five hours (four hours, 51 minutes, to be exact). That's pretty good, but also not surprising. While these bigger systems suck down a lot of juice, their size also allows them to pack larger-than-normal batteries.
Conclusion
With the EON17-X, there's definitely a new "fastest single-GPU" deskbook on the streets. It's hard to conceive how a notebook could get any faster with today's parts, as this system pushes the thermal limits of laptop design. It's not that the temps themselves are concerning, since the system remained stable, but boy oh boy is the EON17-X loud. The CPU fan isn't too bad, but the GPU fan is high-pitched and audible from any distance.
Of course, this is a common drawback in gaming laptops, so it's certainly not a dealbreaker. (Even if it's so annoying that you'd have to wear headphones to drown out the sound.) While some laptops, like the Acer Predator, manage to be much quieter, they usually can't match a louder system in power. However, just as we were going to press we received a similarly configured MSI GT73VR Titan, which has the same GPU but a mobile Skylake Core i7-6820HK CPU clocked slightly lower than the EON17-X's at just 4GHz, and it was extremely quiet under full-load. In fact, it was so quiet we thought it might be running in its "Eco" power-saving mode. But nope, it was running full-blast. That's thanks to its mobile CPU, which is a 45W part compared to the 91W of the EON17-X's i7-6700K desktop part. That's more than double the wattage, and sure it's a bit faster, but the trade-off is a ton of extra (and unwanted) noise, so in our opinion the desktop CPU is a bit much thermally, and makes the system too loud.
Aside from running loud and hot, it's tough to say anything else bad about this uber-book. It boasts an excellent keyboard, trackpad, and audio; its display is 4K and glorious; it offers tons of super-fast storage; and it can smoke any notebook and most desktops. Yeah, if you're not used to gaming laptops their premium pricing, this rig will seem painfully expensive, but the EON17-X is extremely fine-tuned and pretty badass all-around. What more can you ask for in a gaming machine?
Best Prices Today: EON17-X