Microsoft appears to be taking a conservative, go-slow approach to rolling out Windows 10's Anniversary Update—enough so that less than half of all Windows 10 PCs have it more than six weeks after its official release.
Just 34.5 percent of all PCs are running Windows 10 version 1607, aka the Windows 10 Anniversary Update, according to AdDuplex, maker of a Windows 10 SDK for third-party app makers. The majority, 59.9 percent, are still running Windows 10 version 1511, also known as the Fall Update.
On August 2, Microsoft said the Anniversary Update would be rolled out "in phases," with newer machines receiving the update first. That presumably meant that Microsoft was providing the update to those PCs that would likely have the fewest issues updating. What's surprising is how slowly Microsoft is pushing out the AU to older PCs. But there are two likely culprits: Microsoft, and businesses, who want to ensure the update doesn't break their own apps.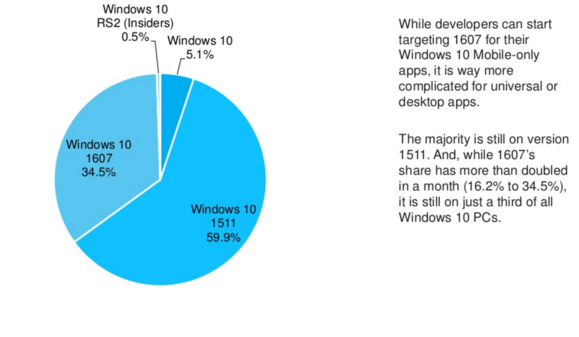 "It's hard to know exactly what is going on," Steve Kleynhans, an analyst for Gartner, said in an email. "Some of this is intentional throttling on Microsoft's part. I've got several machines that are still waiting for the AU. They are some of my older more 'troublesome' machines, so there is definitely some selection process going on. I think this is all part of the learning process for Microsoft."
Microsoft declined to comment on the AdDuplex data. "The Anniversary Update will continue to roll out over time," a company representative said in an email. "Given the scale of delivering updates to more than 350 million monthly active devices around the world, our rollout will be measured and deliberate to ensure we deliver a great customer experience."
Why this matters: The conservative approach may simply be an attempt to minimize problems that have already plagued users, such as an issue where PCs running the Windows 10 AU froze when their data was split between an SSD and a conventional hard drive. With Microsoft now giving you just 10 days to roll back to the previous build, some columnists warned enterprises to avoid it altogether. Still, platform fragmentation is already a concern for Microsoft, with its user base split between Windows XP, Windows 7, 8, and 10. A slow rollout divides its resources further.
Who's holding back? Businesses
In any case, businesses traditionally take a go-slow approach, which explains why a large chunk of enterprise PCs won't have received the Windows 10 AU yet. "My thought is that business implementations do take time—piloting, testing, application redevelopment, deployment," Forrester analyst J.P. Gownder said via email.
The Current Branch for Business, an enterprise upgrade policy Microsoft implemented in 2015, also deploys Windows 10 updates sometimes months after consumers receive them. Businesses on the CBB will receive the Anniversary Update most likely in December, Kleynhans added.
It's also likely that Microsoft's conservative approach is intended to change consumer attitudes and perceptions about Windows 10 and its upgrades: That instead of something to be avoided, they should be welcomed. That's not going to be easy.
"I think some [of it] is caution and some is a response to real issues (like the USB Kindle problem)," Kleynhans wrote. "I think Microsoft wants to be doubly cautious to understand how to ensure updates are a positive experience and not a negative disruption."
This story was updated at 3:58 PM with a comment from a Microsoft representative.