At a Glance
Expert's Rating
Pros
Excellent RGB lighting and easy software
Restrained, unassuming design
Very stiff, tactile media keys
Cons
Romer-G switches are still "just okay"
Weird placement of Caps/Scroll/Num Lock indicators
Our Verdict
Logitech's G810 is the most restrained keyboard we've seen out of Logitech in some time, though its Romer-G switches still leave something to be desired.
Best Prices Today: G810 Orion Spectrum
What a relief. After two game-y keyboards, the G910 and the 10-key-less G410, Logitech's finally gone back to an old design: a plain black rectangle. And it brought back Cherry switches, too.
It's almost too good to be true.
Note: This review is part of our best gaming keyboards roundup. Go there for details about competing products and how we tested them.
Monolithic
The G610 and G810 lines actually comprise a bunch of keyboards—some with Logitech's proprietary Romer-G switches, some with Cherry, some with RGB lighting, some with single-color. More on that later.
But regardless of what's inside, they all look the same on the outside—which is to say completely normal. No bright blue highlights, no lopsided and angular palm rest, not even macro keys. Both the G610 and G810 are wedge-shaped slabs of black plastic that are glossy on the sides and matte on top, with a volume roller and a scattering of media keys in the top right.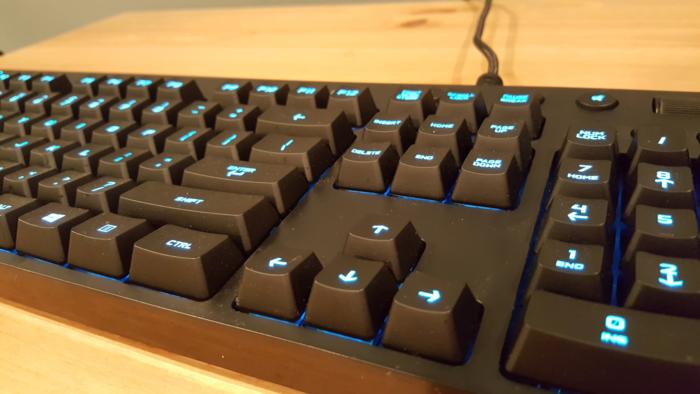 That's it. It's the most reserved gaming keyboard design I've seen from Logitech in years—certainly the first since it switched to the aforementioned Romer-G switches.
All the better, if you ask me. I'm admittedly biased towards keyboards that look at home in both office and home settings—I'm a fan of design restraint.
I don't think I'm alone, though. If you look at so-called "gaming peripherals" in the last decade, there's been a steady move away from the edgy, eye-catching designs of the mid-2000s towards something sleeker and subtler. With RGB LEDs crammed in everywhere, of course.
Amid that modern mechanical-keyboard market, one that increasingly channels a mix of Das Keyboard and Richard Sapper, the G910 and G410 stick out like bright-blue thumbs.
The G810 design falls back in line, distinguishing itself with the smaller features instead of plastic peacock feathers. The volume roller, for instance—long a mainstay on Logitech keyboards. I much prefer the fluidity of a dedicated volume roller over volume buttons or, worst of all, volume access hidden on the Function row.
The G810's media keys are also pleasantly clicky. There are seven, including a Game Mode button and one for backlight brightness, and each is a half-inch circle with a definite click as it's depressed—almost like mechanical bubble wrap. They're stiff and somewhat loud, but they feel good.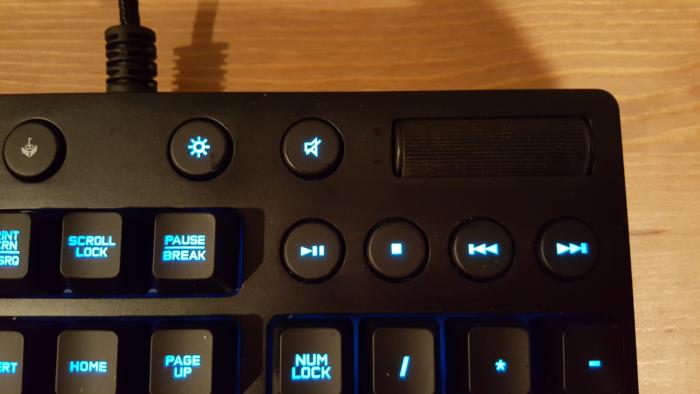 And that build quality extends to the board itself. Despite its unassuming size and plastic chassis, the G810 is heavy—as much or more than the metal-topped Razer BlackWidow X I had sitting nearby. That heft makes the G810 feel like a premium keyboard, helping offset the plastic case.
The only thing I don't like about the G810's design is the conspicuous placement of the Num Lock, Caps Lock, and Scroll Lock indicators. With the volume roller taking up the traditional top-right corner, the indicator lights are relegated almost dead center on the G810. And they're big, too. It's hardly the most annoying design flaw I've seen on a keyboard, but if you're someone who leaves Num Lock perpetually activated (like myself), the little light might eventually get on your nerves.
The lighting tax
Speaking of lights: Logitech's got them. But as I said earlier, what lighting you receive depends on a bunch of different factors.
Top-of-the-line, according to Logitech, is the $160 Orion Spectrum, a G810 equipped with RGB lighting and Romer-G keys. All those pretty rainbow effects? Those are only possible on the Orion Spectrum.
Lest we forget we're talking about two keyboards though, there's also the G610—either the Orion Red or the Orion Brown. Not the most beautiful names, perhaps, but they refer to switches inside. You can get the G610 with either Cherry MX Brown switches or Cherry MX Red.
What you can't do, however, is get the G610 with RGB lighting. If you opt for Cherry switches, you get single-color white backlighting across the entire board. You can use Logitech's software to then customize your setup—only light up WASD for instance—but only in white.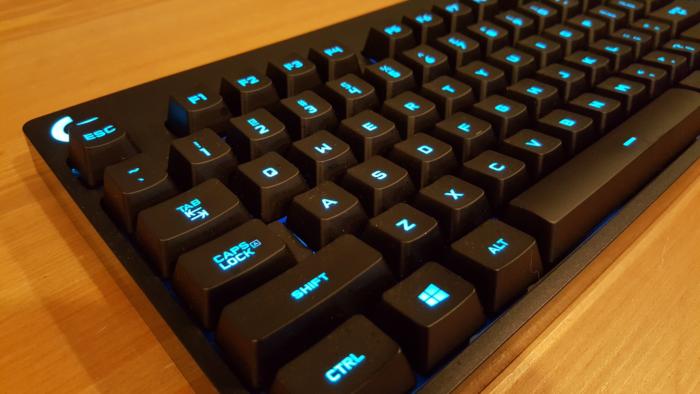 It's a bit of a shame, because Cherry has RGB-enabled switches nowadays—you can find them on Corsair's K70 and K90. But in the interest of keeping its own RGB lighting Romer-G exclusive, Logitech opted not to offer Cherry's RGB switches here.
If you like Romer-G switches? No worries! You can have it all: the sleek keyboard, Logitech's brilliant RGB lighting (it's still probably the best of the bunch as far as software ease-of-use), and the Romer-Gs.
Me? I'm not a big fan still. This is the third Romer-G keyboard I've used and even now, after cumulative months of typing on all three, I just can't really get accustomed to them. It feels like I'm typing on a slightly-chunkier membrane keyboard, with a high up-front resistance giving way to a soft and mushy core.
I don't dispute Logitech's claim that Romer-G is good for gaming—they're easy to press and double-press—but here at PCWorld, we still believe most people intend to use their new $100-plus keyboard for more than just gaming. And to that end, I just don't enjoy typing or browsing the web or what-have-you on Romer-Gs.
So for someone like me, that leaves the two G610 Cherry boards. And if you don't care about RGB lighting? Great, those G610s should serve you well. (It's a much easier recommendation at the pretty-much-permanent sale price of $90 to $100, though, than at its list price of $120. The latter's a bit steep for a single-color keyboard these days.)
Bottom line
Okay, I don't like Romer-G switches and I wish the G610 came with RGB backlighting and Cherry switches. Nothing here is perfect.
That being said, the design of the G610 and G810 makes for a damn nice keyboard. It's probably my favorite of Logitech's modern lineup, and certainly the only one I'd feel comfortable bringing into an office. Any Romer-G addicts looking for a work keyboard should look no further.
Hopefully, the G610 and G810 are a sign of a new design ethos at Logitech. Something classier, more reserved, more timeless, more in line with what people loved about Logitech and its peripherals for decades now.
Best Prices Today: G810 Orion Spectrum