Google's services from Gmail to Drive are packed with all kinds of surprising features. Most of us know the basics, such as sending an email, formatting a word-processing document, and editing a few cells on a spreadsheet. But sometimes even the biggest Google services fan needs a little help.

That's where a handy Chrome extension by Google called Training for Google Apps comes in. A result of Google's purchase of enterprising training company Synergyse in May, Training for Google Apps adds an interactive, step-by-step guide for each Google service. The extension will guide you in how to use all kinds of features from composing an email in Gmail to using Google Forms.
Training for Google Apps is fairly simple to use. First, download and install it from the Chrome Web Store (link above). Then just open up a Google service such as Gmail, Drive, or Google+. At the top-right of the screen you'll see a brightly colored circle with a question mark—the Training for Google Apps icon. Click that circle and you'll see a help catalog for whatever you're using at that moment.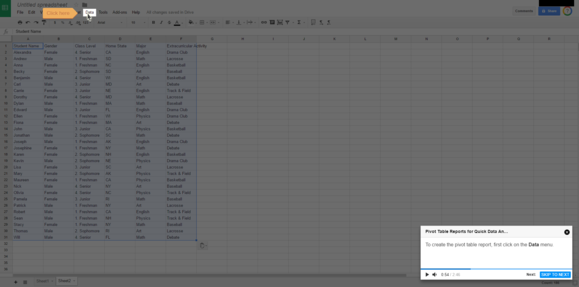 Let's say, for example, you open a new Google spreadsheet and want to know about pivot table reports. All you have to do is click on the circle, search for pivot table at the top, and select your result.
An audio file will start and guide you through an interactive tutorial to help you learn how to use the pivot table reports feature.
That's all there is to Training for Google Apps.