Chances are you began your career busing tables, working retail, or doing IT work, carefully planning out your shifts week by week. A new Microsoft app for Office 365, called StaffHub, seeks to make this chore easier and replace the break room calendar.
At first glance, StaffHub seems like just another shared calendar from Outlook or the like. There are a couple of key differences, though: Workers can swap shifts themselves or ask others to cover for them. StaffHub's also a messaging app, so, for instance, one cook can send another cook a message about an ingredient shipment that's scheduled to arrive. (Microsoft didn't say, but those employee-to-employee messages would presumably be monitored by an employer.) The other difference from your typical shared calendar, unfortunately, is the price: A company must be signed up with at least an Office 365 kiosk license to use it, which costs $4 per user, per month.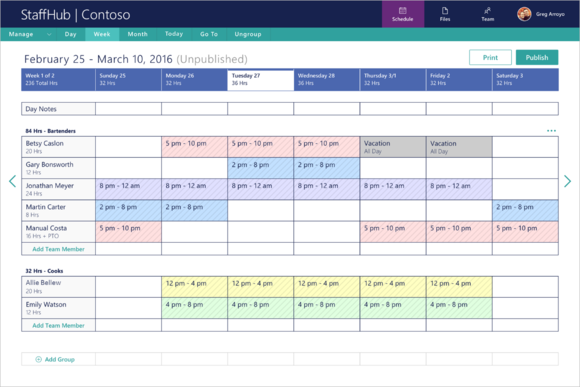 StaffHub's main interface allows workers to see when they'll work on a week-by-week schedule, and who they'll be working with. While those workers may not have access to internal company resources, the messaging portion allows management to push schedule updates, reminders, and other warnings, like, say, a visiting VIP. Workers will also be able to view training manuals and other literature.
Right now, StaffHub is in public preview, for Android, iOS, and the web; StaffHub doesn't have a UWP version at present. It requires more than just downloading the app, however, as the business will need to visit Microsoft's website, staffhub.ms, and request a license.
Microsoft debuted the new app at Microsoft Ignite, its cloud and productivity conference where it debuted new Office features, a Nissan partnership that treats cars like PCs, and new features to secure its Microsoft Edge browser.
Why this matters: While this seems geared towards small businesses, it's hard to belive your neighborhood bar has the financial resources to pay for the necessary licenses. Instead, this seems like a product Microsoft will be marketing to nationwide chains like Chili's, Best Buy, or Burger King, where each company employs thousands of hourly workers whose shifts vary on a weekly basis.