Among the robots, big screens and fast computers of Japan's Ceatec electronics show, a small prototype being shown off by Fujitsu is probably one of the lowest tech gadgets on the show floor, but it could be one of the most important.
The Ontenna is a small gadget intended to be worn in the hair that translates sound into vibrations. The technology is similar to the kinds of things children make with electronics kits: a microphone connected to an amplifier connected to a motor.
But in the hair-clip-style form factor, it can help deaf people understand more about the world around them, said Shinji Kanda, who works in Fujitsu's Robotics Advancement Office.
He started the project during his freshman year at Japan's Future University of Hakodate after a chance encounter with someone who was deaf. When he joined Fujitsu, the company gave him the resources to continue his research.
The device doesn't differentiate among sounds, so it is more useful in a quiet environment. Among the use cases suggested by Fujitsu: If someone is sitting in their home and the doorbell is rung, the device will vibrate to the doorbell ring. Or if someone is doing the vacuuming and the cord comes out of the wall socket, the sudden drop in noise will be immediately noticeable.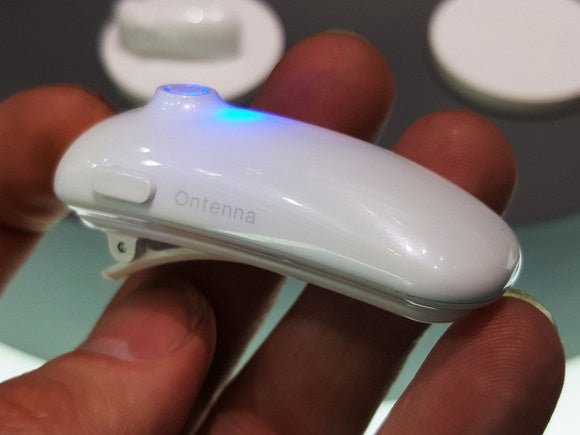 Fujitsu has come up with several versions of the Ontenna for testing. One has a gentle vibration, while another is more coarse. The former is better if it's pressing against the skin, while the latter is more suited when it's worn in the hair.
For people who don't want to wear it in their hair — or who don't have any hair — a prototype ear ring version was also developed.
Most recently, Kanda took his prototypes to a workshop meeting where he solicited ideas and feedback from deaf people and others interested in the technology. There's no word on when or if the Ontenna might become a commercial product, but the idea is interesting.