At a Glance
Expert's Rating
Pros
RealSense capabilities enable Windows Hello and other future-proof tech
Above-average chroma key, sans green-screen setup
Streamlined and sleek design
Cons
Image quality dwarfed by less expensive competitors
Poor for low-light use
RealSense not yet supported by OBS
Our Verdict
Razer's new Stargazer webcam makes up for its average video quality with a bevy of Intel RealSense capabilities.
It took a bit longer than I expected for Razer's Stargazer to arrive. After its surprise reveal at CES 2016, I thought a new era of webcam technology would be upon us by summer at the latest. Instead it took eight long months—a fact I'd complain about, except the Stargazer also dropped $50 in price between announcement and release. Not bad.
Unfortunately for Razer, however, the Stargazer's been met with a formidable foe. Logitech released its new C922 webcam at the same time, pitting tried-and-true against Razer's upstart (and its Intel RealSense tech). Can the Stargazer hold its own?
Design
If this were a beauty contest, the Stargazer would absolutely prevail. Its elongated shape is perhaps a necessary choice, given the fact that it houses three cameras, but it's beautiful as well as functional. Sitting low over your monitor, its sleek pipe-shaped chassis with its two end-cap microphones looks like it was designed to complement all the other gaming-centric peripherals in your arsenal, whereas the C922 looks like…well, a webcam.
This is not to say the Stargazer is perfect. It mounts on your monitor the same way as the C922—via a folding three-part L joint. The Stargazer is heavy though, so this mounting block is about twice as big as the C922's. Not a huge deal, since it sits behind your monitor, but it's a bit cumbersome to move and looks ridiculous mounted on a tripod.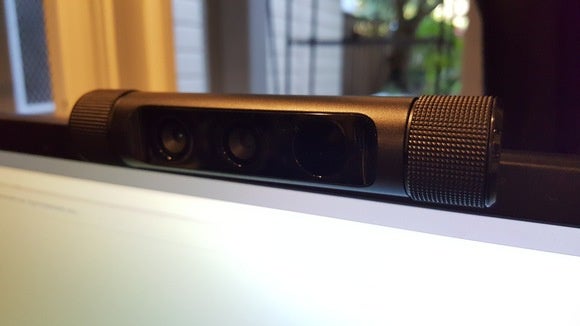 And while I love that the Stargazer's front-facing presence is minimal, with a tiny lip that would sit unobtrusively on even the smallest of monitor bezels, the chassis itself hangs out over the monitor. If you've got overhead lighting (as I do), you might find that the device casts a small shadow on your monitor. Just enough to irritate.
Aside from these quibbles, though, it's stunning—what you'd expect a webcam to look like in 2016, or maybe what you'd expect a webcam to look like if the field had come of age in the era of YouTube and Twitch instead of in dusty conference halls and corporate meeting rooms.
I'm also a fan of the Stargazer's fabric-sheathed USB cable. While bulkier and stiffer than the C922's, it also feels more durable—perfect if you plan to transport it anywhere.
RealSense
Performance matters more than looks though, and the Stargazer's importance lies mainly in the fact that it brings Intel's RealSense technology to the masses. Most RealSense cameras are still found in all-in-ones and laptops, and Intel's desktop models are marketed at developers. The Stargazer brings RealSense to the Twitch/YouTube crowd.
That enables a whole bevy of advanced RealSense technologies, if you're raring to use them—gesture control, 3D object scanning, some gaming applications (i.e., what developer Flying Mollusk did with Nevermind). Though as my colleague Mark Hachman noted last year, this is all dependent on developers taking advantage of RealSense—and still, here in 2016, the amount of software available is not hugely impressive.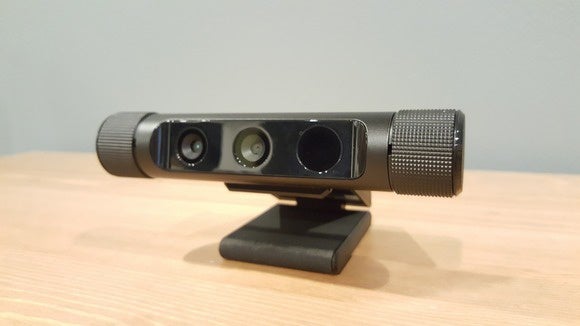 But the feature most likely to appeal to the masses (and the feature Razer is banking on) is automated background removal, or "Green Screen Without The Green Screen." Many mid- and high-level YouTubers/Twitch streamers rely on costly chroma key/green screen setups to isolate themselves from the room they're in, allowing their face to be seen without occupying important video real estate with their dirty laundry or a blank wall or whatever.
The key word is "costly," though. Green screen can take a stream to the next level, but it requires not only a significant investment in components (lights, the fabric, a stand) but also the space to set it up.
The Stargazer automates this process in the camera, without the need for an actual green screen—as does the C922. The difference between the two is that the Stargazer features RealSense's depth-perceiving camera, helping physically isolate the subject in space by recognizing its distance. The C922 removes backgrounds in software, relying on what Logitech calls "Intelligent Shape Recognition," powered by Personify.
RealSense works better. There's no doubt about it. I've been testing both the C922 and Stargazer for about a week now, with all sorts of lighting setups and across multiple programs. Without fail, Stargazer has a more accurate idea of where I am and what constitutes removable background filler, and it reacts faster to sudden changes (i.e., if I bring my hands into frame, it realizes it's a hand and allows it on-screen faster than the C922).
Take a look at these pictures, if you're curious: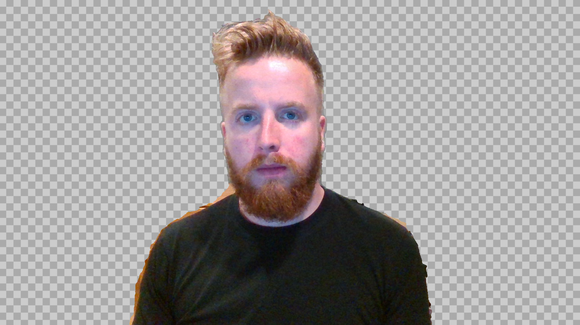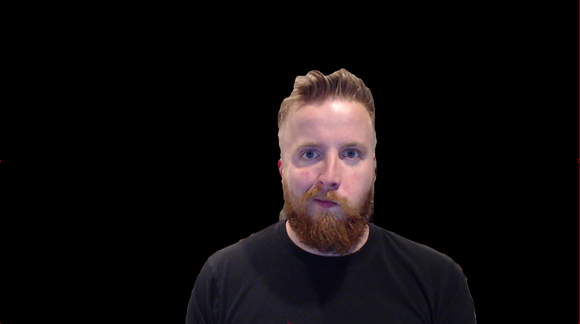 And now in profile: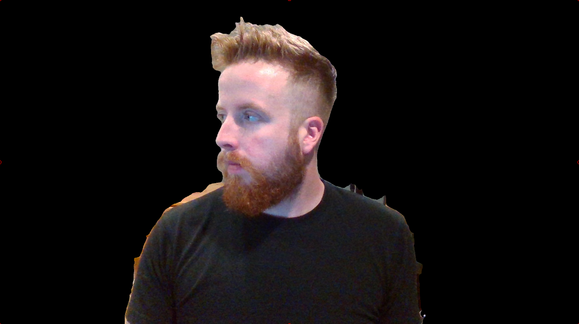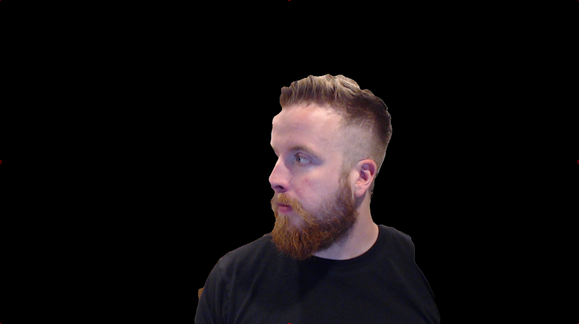 You should notice Stargazer has a much easier time with two key areas: 1) hair and 2) the edges of my face. The C922's background removal works better in a brightly-lit area, but it still has a tendency to shave off whatever side of my face is turned away from the camera, and give me a buzz cut while it's at it. The Stargazer doesn't.
Razer's offering also works at longer ranges, keeping me separated from the background even if I move four or five feet away from my monitor. The C922 simply gives up if I'm more than the standard two or three feet away, which is annoying if I'm (for instance) using a gamepad and sitting a bit further back.
Now, the issues. First off: You need Windows 10 to use Stargazer—or any of Intel's new RealSense cameras actually, but Stargazer is what we're focused on here. And with that, I'm sure some of you just said, "I'm out."
(UPDATE: It's also been pointed out to me that Razer recommends a sixth-generation Intel Core processor—potentially another roadblock towards adoption. I don't have a way of testing performance on previous-gen processors but it's worth keeping an eye on.)
Second is the fact that there's still no RealSense background-removal support in Open Broadcaster Software, or OBS. That's a huge issue, because OBS is the software of choice for most Twitch streamers, and a common tool for video capture as well. Stargazer's background removal works out-of-the-box with OBS competitor XSplit, but XSplit charges people for many features OBS provides free.
Razer attempts to compensate by touting its own software, Razer Cortex: Gamecaster—which essentially integrates Xsplit into Cortex—calling it "the easiest live-streaming software for gamers." Maybe so. But does it matter if nobody's using it? Upon receiving the Stargazer I immediately opened OBS to try it out, only to be confronted with a featureless green nothingness when I tried implementing background removal. A bit of Googling revealed this is a requested feature for OBS, and is on its way, but nobody's built it in yet. The current workaround is to pay $15 for TriDef SmartCam, then feed that into OBS. It works, but it's a hassle.
Will that change? Undoubtedly. Perhaps we'll (optimistically) see native RealSense support in OBS by the end of the year. But for the moment, the Stargazer's most prized feature is MIA for many, unless you're willing to set up a different streaming workflow.
Uneven support for RealSense compounds the Stargazer's other issue: Its image quality is simply not as good as the C922's. That's most noticeable in low-light scenarios, where the Stargazer presents a ghastly amount of flickering and artifacting.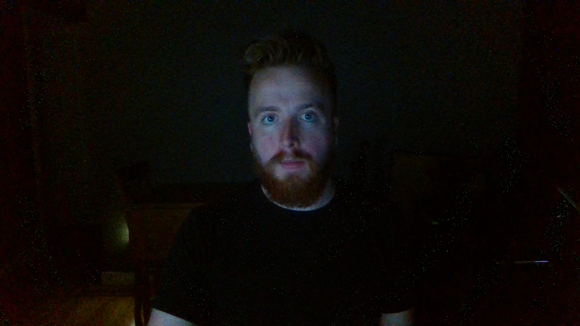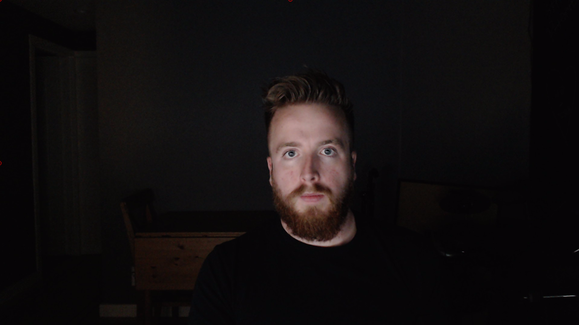 Even in optimal, bright-light scenarios, though, there's no disputing that the Stargazer's image is neither as crisp or attractive as the C922's, at 1080p/30fps or 720p/60fps. Notice the fuzzing on any solid-colored walls, the overall graininess of the Stargazer image: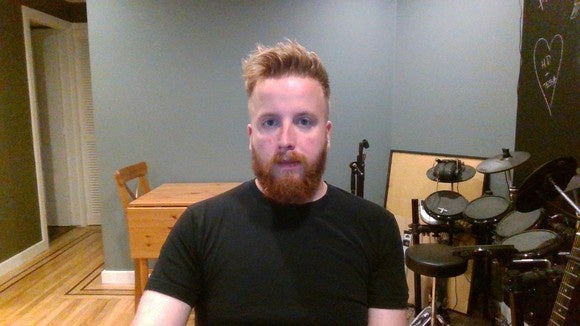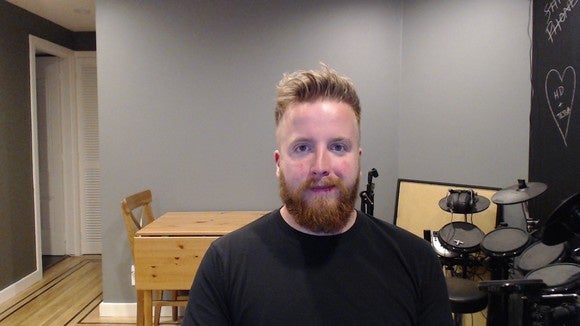 Is it a problem, if you're using the Stargazer primarily for inserting a 200×200 pixel cutout of yourself in the bottom-left corner of a Twitch stream? Maybe not. The Stargazer's tech is certainly more future-proof than the C922's, and if background removal is your sole aim, it's the better choice.
But for Skype/Hangouts or any other boring ol' webcam uses, The Stargazer falls short of its competitor—a competitor, I should add, that costs $50 less.
Bottom line
We'll revisit the Stargazer once OBS support is baked in, and see how RealSense is faring six months or so from now. Despite its future-proof tech, the Stargazer isn't looking like a knockout punch for Razer yet.
Razer—and Intel, for that matter—better hope developers get behind RealSense and make some cool stuff. Right now, as much as I prefer the Stargazer's background removal, too much of the platform's potential is thwarted by spotty software support. And with the C922 capturing a better overall image than the Stargazer, Razer's really banking on people needing RealSense and a good background-removal solution to justify its $150 price. That's a pretty specific niche.