Good news, privacy enthusiasts: WhatsApp isn't the only Meta-owned app that supports encrypted messages. Facebook Messenger also offers an encrypted messaging feature called Secret Conversations.
Secret Conversations allows Messenger users to send end-to-end encrypted messages to their Facebook friends. There are a couple of caveats, however. First, new devices you log into after starting a Secret Conversation won't see previous chat history.
You also have to explicitly start a Secret Conversation in Messenger. Encryption isn't the default mode, and encrypted messages are not integrated into the primary thread of your conversations with a given contact.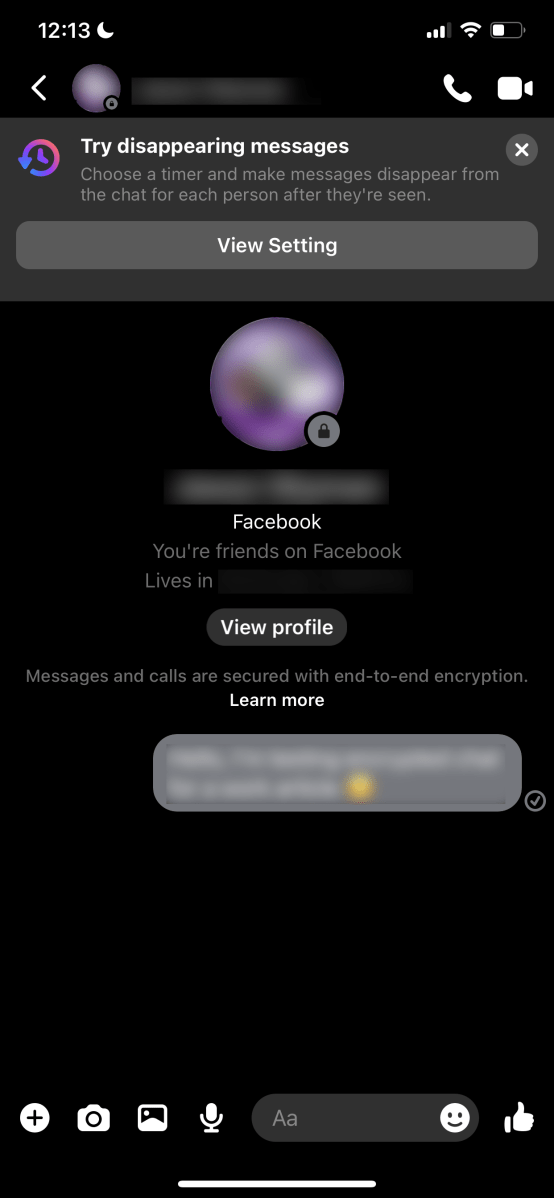 PCWorld
In other words, if Alice and Bob have been chatting for years on Messenger, they'll have to start a separate encrypted thread, and that encrypted thread will never integrate with their original, unencrypted thread.
That approach is very unlike what Facebook-owned WhatsApp is doing. The popular messaging platform automatically encrypts messages for all users if they have an encryption-compatible version of WhatsApp on their phone.
Now that we've got the preamble out of the way, here's how to use Secret Conversations. For our example, we're using Messenger for iOS but Messenger on Android works similarly.
How to use Secret Conversations
There are two ways to start an encrypted conversation in Messenger. The first is to create a new message as you usually do. In the upper right of the messaging screen, you'll see a lock icon next to a slider button. Click that and the screen theme changes color from black and purple chat bubbles to black and gray chat bubbles. Now you can go your merry encrypted way.
Sending an encrypted message requires the other person to have opted into the Secret Conversations feature (i.e., have Messenger installed on a compatible device). Once they do, they'll see your message. Otherwise, you'll see an red error notice.
The second way is to initiate an encrypted conversation from a pre-existing message thread. Tap the person's profile icon in the top left corner of the message thread, and on the next screen tap Go to secret conversation under More actions. The screen will turn to that black and gray theme, and you're good to go.
To view an open secret conversation thread just choose it from the list of open message threads on the main screen of the app.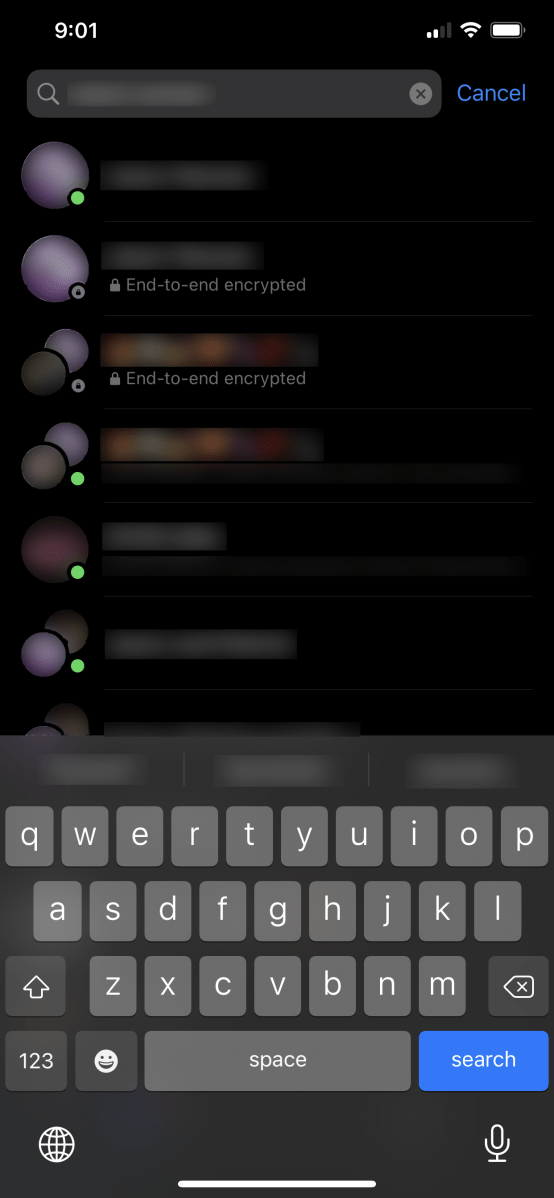 PCWorld
Secret Conversations work almost like regular Facebook messages but not quite. You can send text, emoji, stickers, pictures, gifs, and audio recordings; video and voice calling are also now possible. But payments and live location are not supported.
Secret Conversations also offers a Snapchat-style self-destruct setting that you can adjust on a per-conversation basis. Open a secret conversation and then tap the person's profile icon on the upper left of the screen, then choose Disappearing messages. Turning this setting on lets you set how long your messages remain visible on the other person's device once they're read. You can let them last from 5 seconds to one day, or turn off the self-destruct setting altogether.
That's about all there is to the new Secret Conversations feature. You can use it as the standard way you talk to people on Messenger—though that's a conscious choice you'll have to make every time you start a new message thread—or just use it for sensitive topics.
This post was originally published on October 5, 2016, and updated in 2021 with current menu and settings information.