Gears of War 4 launching on the PC is a big deal in more ways than one.
The Gears of War series is a crown jewel for Xbox, and one of Microsoft's flagship exclusives. This marks the first time a Gears game launches on computers the very same day it launches on consoles—a milestone that, taken in conjunction with Forza Horizon 3's day one PC release, proves that's Microsoft's dead serious about its fantastic, device-spanning Xbox Play Anywhere initiative.
Gears of War 4 also gives Microsoft and developer The Coalition the opportunity to atone for a grievous sin. While Gears 4 may be the first Gears game to release simultaneously on PCs, it's not the first Gears game to release on PC. Earlier this year, Gears of War: Ultimate Edition crashed onto PCs as the first-ever formal DirectX 12 release, and well, Gears of War turned DirectX 12's PC debut into an unmitigated disaster. The game was plagued by performance problems and compatibility concerns, and it flat-out didn't work with several prominent Radeon GPUs at launch. All that was if you could even install the game—several users found themselves stymied by cryptic error messages when they tried to install the game via Windows 10's Windows Store.
But every cloud has a silver lining. The Coalition obviously learned its lesson, because Gears of War 4 is downright marvelous as far as PC ports go.
Gears of War 4 ($60 on the Windows Store) unlocks on October 11. Buyers who preordered the Gears of War 4: Ultimate Edition ($100 on the Windows Store) can start playing on October 7. Nvidia, which supplied PCWorld's review copy, is also bundling Gears of War 4 free with all GeForce GTX 1070 and GTX 1080 purchases through the end of October. You'll need the Windows 10 Anniversary Update installed to run this DirectX 12-exclusive game.
Gears of War 4 PC options
The Coalition said Gears of War 4 was built from the ground up with PC performance in mind, and the truth in that statement becomes evident the very second you open the game's settings.
Further reading: PCWorld's Gears of War 4 review
You'll find a whopping 40 different graphics options lurking in Gears of War 4's Video and Video – Advanced tabs, letting you fine-tune virtually every aspect of the game's visuals. (One of those options, for enabling async compute, won't appear if your graphics card doesn't support the feature. All modern Radeon graphics cards do, as well as Nvidia's GTX 10-series GPUs, though older GeForce cards such as the GTX 970 do not.) If you don't feel like doing the gruntwork yourself, fear not: Gears of War 4 scans your system and presets everything to a recommended configuration, which proved pretty spot-on in practice.
Look at all of these!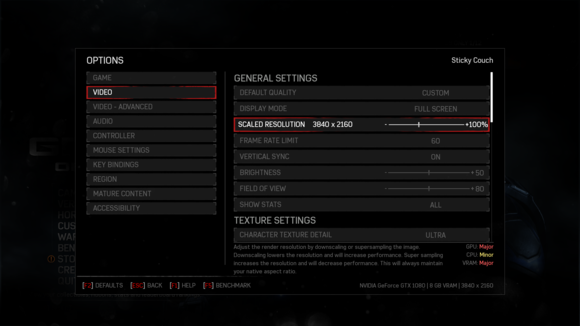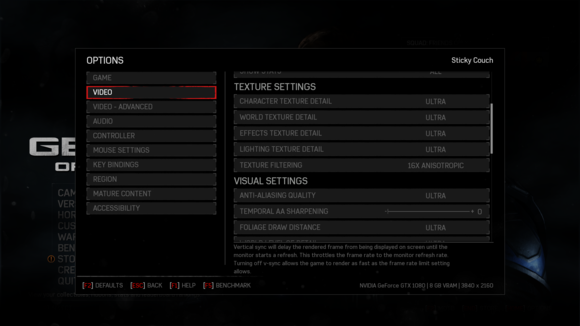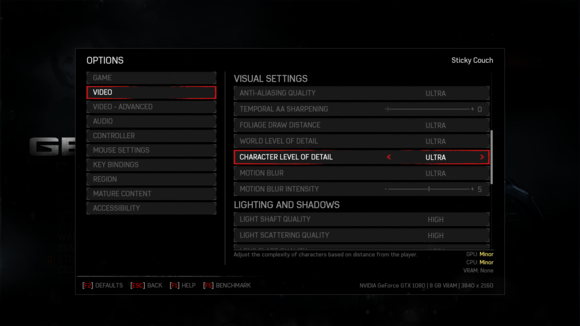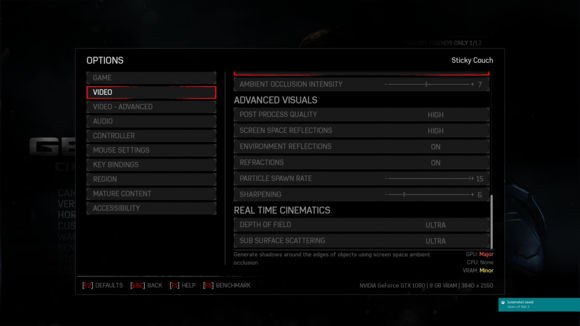 Each graphics option includes a detailed report on the effect it has on your PC's CPU, GPU, and RAM—a particularly nice touch when you're trying to dial in the best performance for your rig. Even better, a yellow exclamation point appears next to the setting to let you know if you're pushing something too far. (If you're looking for more help, Nvidia's released a detailed Gears of War 4 performance guide that shows the different levels for each graphics option side-by-side.) The game also supports dynamic resolution scaling, which can intelligently tweak the resolution to keep your frame rate at optimal levels.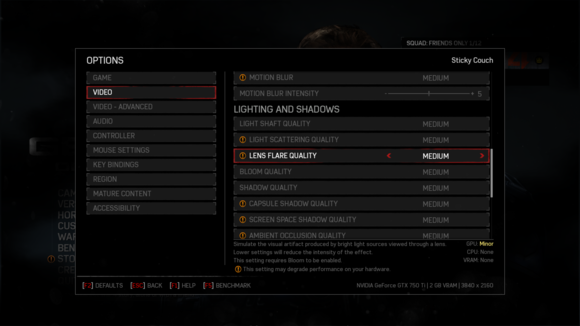 Rocking a beastly rig? Gears of War 4 includes future-proof "Insane" levels for the Screen Space Reflections and Depth of Field options. They're designed to stress systems, built for today's pricey multi-GPU PCs and the powerful graphics cards of tomorrow. The game supports swanky G-Sync, FreeSync, and ultrawide displays as well.
Exploring the options menus reveals even more PC-centric goodies, revealing the care put into Gears of War 4's PC port. You can rebind every key to your heart's desire, tinker with mouse settings, expand the game's field of view up to 100, and enable FPS or full performance stat tracking overlays. Heck, there's even a colorblind mode and split-screen co-op—an utter rarity on PCs.
One small bummer: Gears of War 4 doesn't support multi-GPU SLI or CrossFire setups out of the gate, though the developer plans to add it in a future patch. That shouldn't come as much of a surprise, sadly, given the shoddy current state of multi-GPU support in games.
Gears of War 4's PC port is also glorious once you actually start, you know, playing the game. While the game can't quite challenge the likes of Crysis, Doom, and Rise of the Tomb Raider for the PC graphics crown—it's definitely a console-first game, with weird textures in some places, and funky blood effects—it looks pretty damned good overall, and more importantly, this well-optimized game runs buttery-smooth. I encountered no performance problems on either my personal Core i5-3570K gaming PC or PCWorld's dedicated graphics testing machine. Hayden Dingman, who reviewed Gears of War 4 the game (not the PC port) for PCWorld, also reported smooth sailing on his rig.
And what a wonderful difference it is playing Gears on the PC.
As a longtime fan, I'm happy to report that plugging in a controller delivers the same weighty gameplay feel that the series is known for. The characters feel like walking tanks, but in a good way, and the haptic feedback gives weapons a fierce punch. Switching to keyboard and mouse is a revelation, though. Suddenly, the game feels so much faster and more precise, as you'd expect (though the lack of haptic feedback there is a bit jarring).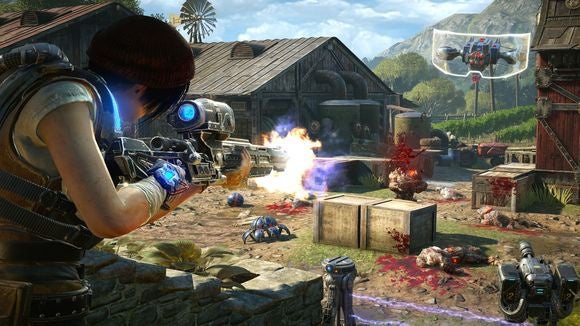 Combine those finer, faster controls with the ability to widen the FOV and jack up the resolution and Gears of War 4 on the PC becomes the definitive way to play—though it also makes you understand why The Coalition limits crossplay with consoles to player-versus-environment settings like Horde mode and the campaign, rather than expanding it to competitive multiplayer as well. PC users would slaughter console players.
Gears of War 4 PC benchmarked
But don't take my word that Gears of War 4 is a top-notch PC port. The game scales wonderfully across a wide range of hardware, and comes with a robust built-in benchmark to test and record performance.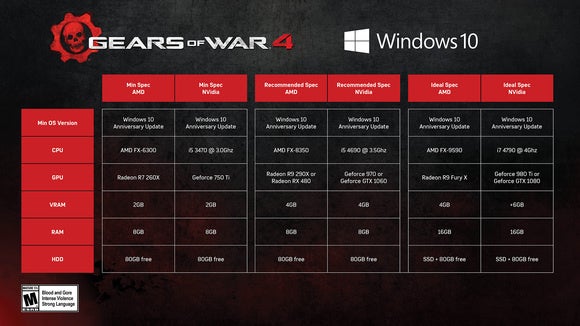 Don't overlook that whopping 80GB of storage space required for the game—it's not lying. Oof. (And that massive install size makes those muddy-looking textures in some places even more disappointing.)
To put the game through its paces, I decided to stick to the modern version of the graphics cards listed in the official minimum, recommended, and ideal specs. I don't have an R7 260X on hand, so we tested Sapphire's Radeon RX 460 Nitro OC instead. And I tested both the GTX 970 as well as the newer 6GB GTX 1060, as the former doesn't support Gears of War 4's async compute feature, which I left enabled for every card that could handle it. (Read: Everything but the GTX 750 Ti and EVGA GTX 970 FTW.)
We tested the EVGA GTX 1060 3GB Gaming on PCWorld's dedicated graphics card benchmark system. Our testbed's loaded with high-end components to avoid bottlenecks in other parts of the system and show unfettered graphics performance. Key highlights:
We tested the game using a prerelease GeForce 373.02 driver, which are Game Ready for Gears of War 4. On AMD's side, we used the most current Radeon driver, 16.9.2. As this article was being prepared for publication, AMD pinged me to say that new Radeon 16.10.1 drivers will be released "very shortly" with optimizations for Gears of War 4, Mafia III, and Shadow Warrior 2. We disabled V-Sync, dynamic resolution, and frame rate caps during testing.
You'll find the in-game benchmark by pressing F5 while inside the Video options. The benchmark runs through a pair of short action scenes involving numerous soldiers and vicious aliens from the Swarm, complete with massive environmental damage occurring as a result of furious "wind flare" storms swirling around the scene.
Here's how the graphics cards stacked up.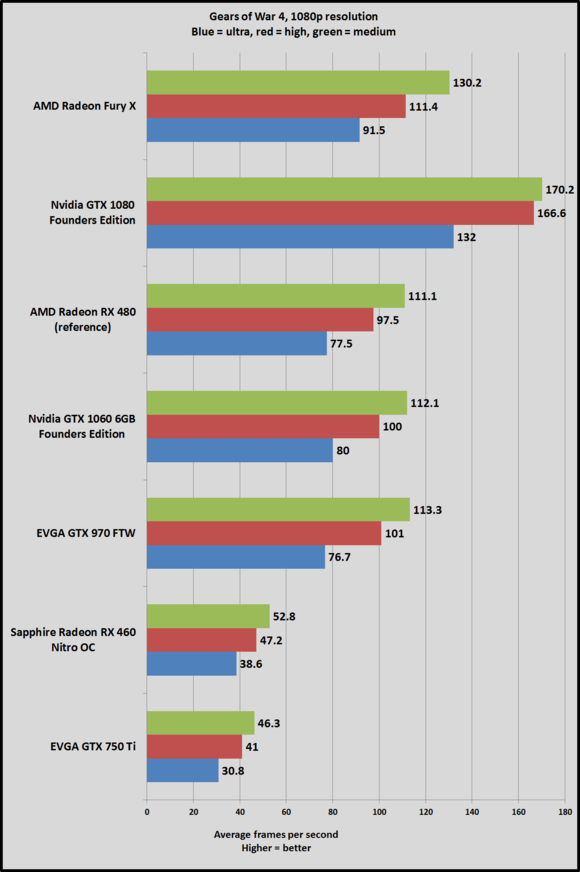 Like I said: Gears of War 4 runs like a champ, especially if you don't crank everything to Ultra (which doesn't deliver a massive difference in overall visual quality over High, anyway). That said, even the low-cost RX 460 and aging GTX 750 Ti clear 40 frames per second at 1080p/High—no mean feat when you consider that the Xbox One version of Gears of War 4's campaign will be locked at 30 fps, and its multiplayer to 60 fps.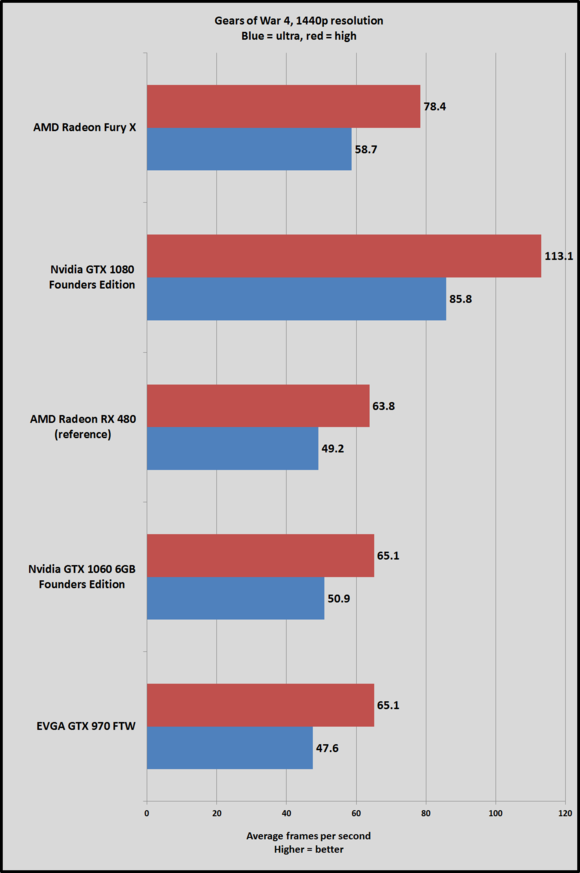 The mid-tier GTX 1060, GTX 970, and 8GB Radeon RX 480 all blow well past 60 fps with everything maxed at 1080p resolution, and clear that golden standard with High settings at 2560x1440p, as well. There's only a slight difference in performance between the GTX 970 and GTX 1060, though it's unclear whether or not that's tied to the differing async compute support or mere generational differences between the two GPUs.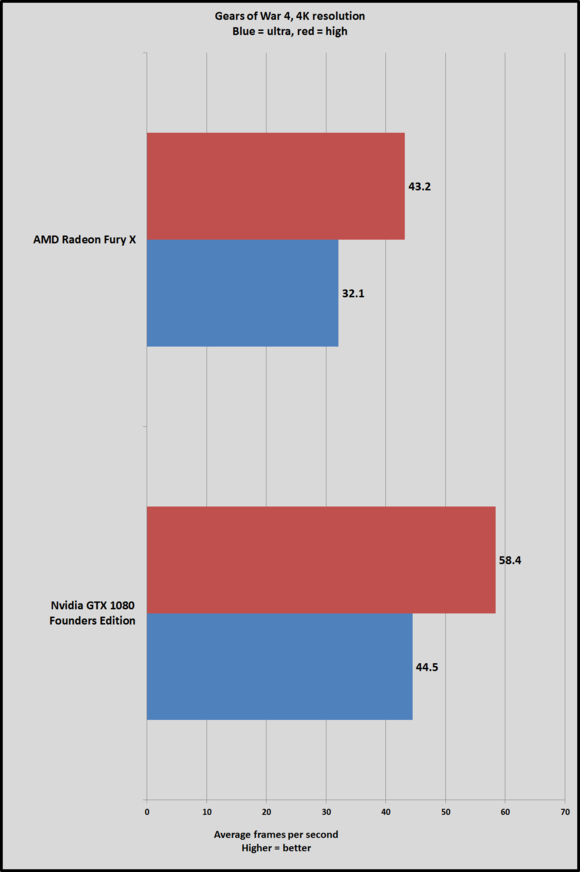 One thing is clear however: The game handles memory management superbly, presumably due to its used of Tiled Resources. No graphics card overshot its available dedicated memory, regardless of resolution or texture quality, and each made damn near full use of its RAM pool. For example, running the benchmark with Ultra graphics settings at 4K resolution ate 5.6GB of memory with the spacious 8GB GTX 1080, and just 3.52GB for the space-constrained 4GB Radeon Fury X, with no glaring loss of visual quality in the latter.
Speaking of which, don't pay too much attention to the massive performance difference between the Fury X and GTX 1080. It has nothing to do with this game. The Fury X was released to rival Nvidia's older GTX 980 Ti, and AMD won't roll out a GTX 1080 competitor until its Vega GPUs land in 2017. That said, do pay attention to how evenly matched Nvidia and AMD's mid-range graphics cards are. Radeon cards often spank GeForce cards in DirectX 12, but not here. Nvidia actually owns a small performance advantage, though that may change once the new Radeon drivers land.
Not that it matters much. Every card runs like a champ with Gears of War 4. And the game's thoughtful PC-centric touches extend to the game's benchmark report, which provide a detailed overview of your system's CPU and GPU utilization, along with a helpful snapshot of all the major video settings.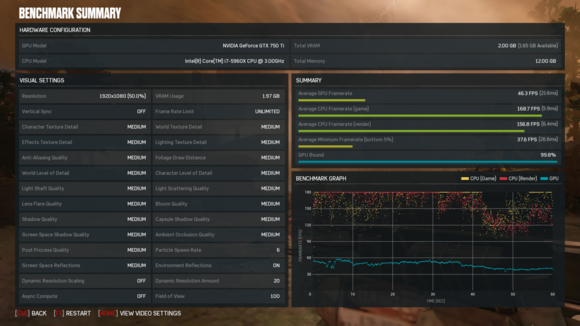 On a rig with a Core i5-3570K and an EVGA GTX 1080 FTW, I've been playing the game at 4K resolution with everything except Screen Space Reflections, Shadow Quality, and Ambient Occlusion Quality—a.k.a. the GPU killers—cranked to Ultra. The in-game FPS counter shows I've been consistently getting 50-plus frames per second, which occasional spikes down to 45-ish fps and up to 65-ish fps depending on what's going on in the scene. It's a G-Sync monitor, which helps the game feels buttery smooth even though it's not a consistent 60 fps.
Once again, if you're looking to optimize your graphics settings manually, Nvidia's Gears of War 4 performance guide is a wonderful resource.
Long story short: Gears of War 4 is what every PC port should aspire to be. It's rife with features that take advantage of cutting-edge hardware, and it's brimming with tweakable options.
As for the game itself? You'll have to read PCWorld's Gears of War 4 review for our official verdict. But as a person who bought several replacement Xbox 360 consoles to play the entire Gears saga with my brother (damned Red Ring of Death and disc read errors!), it feels awfully satisfying to be able to play the latest entry on my beloved PC. This Xbox Play Anywhere thing is shaking out to be a pretty killer feature for Microsoft's ecosystem.