Sony hasn't said why it named its new wearable "N." Perhaps it's for your "neck," which it gently hugs. Or for "Nigel," the name of its built-in digital assistant. Or for "never," as in when you'll be able to buy it.
Or maybe "N" just stands for "novel." Because we've simply never seen a wearable that drapes across the back of your neck, blasts music up into your ears, and alerts you that one of your favorite bands is playing the dive bar on the next block. And we may never see it, because it's just a prototype—but one you can help test, too.
So if you see techies wandering around San Francisco listening to strange worm-like devices draped around their necks, think nothing of it. As for us, well, we tried it and remained unscathed. We think.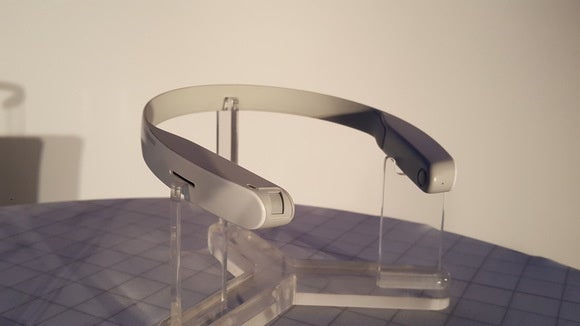 Why this matters: N represents something new and scary for Sony as well: transparency. Previously, Sony's R&D department would huddle with senior management and the group would decide what to do, according to Naoya Okamoto, general manager of Sony's Solution Development Department. Now, consumers make that decision. The N wearable is part of Sony's new Future Lab program, a sort of paid beta test where consumers in the Bay Area pay $100 per year to borrow prototypes like the N from Sony, test them daily, and report back. Yes, you can be a Sony N beta tester, as long as you register at the Sony website and sign a lengthy disclosure agreement.
What N is
Sony says N is three things: the wearable itself, an optional pair of open-ear headphones, as well as "personalized radio," which is how Sony describes Nigel, the personal assistant.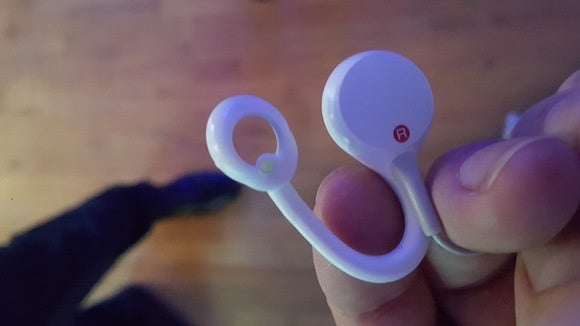 N looks vaguely like a pair of 1980's Sony Walkman headphones scrunched around your neck. Roughly six inches in diameter, Sony says they weigh about 77 g (0.17 lb)—light for a few minutes around your neck, but probably less comfortable while jogging or cycling.
What's most noteworthy about them are the four directional mics that can tell when you're speaking, not someone else, as well as the pair of 600 mW speakers that are mounted inside them, facing upward. When you play music, those speakers fire up and into your ears, providing a surprisingly rich, directional sound that's certainly audible to the world around you. That's where the open-ear headphones come in: They allow you to hear the world around you, while still playing back notifications and reminders. They plug into the N via a microUSB connector.
Inside the N are 8GB of storage space (mainly for music), an undisclosed CPU, plus a host of sensors: built-in GPS to track your activities, an accelerometer, Bluetooth 4.1 and even NFC. The battery life stinks, though: 3 to 5 hours when using the speakers, or 6.5 hours when using the headphones, according to Sony.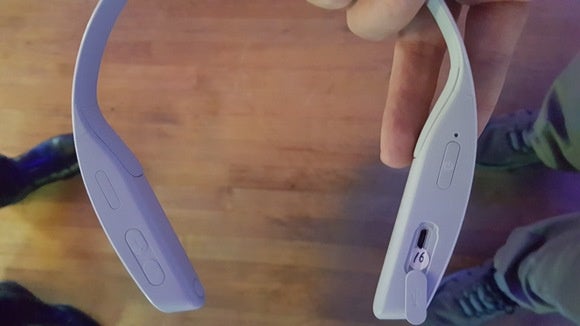 There's also an 8MP camera—which, as anyone who followed the saga of Google Glass knows, was a major problem for some. Sony's Brad Thorson—whose official title is "ringleader"—says Sony solved that problem: First, a physical shutter hides the lens when not in use, and when photos (8MP JPGs) or video (720p, limited to one minute's duration) are being shot, a red light turns on.
When you do take a photo, however, the N lines up your shot, focusing on what it thinks you're looking at and even firing off a burst of shots at your command. That's where N's digital assistant, Nigel, begins to show up.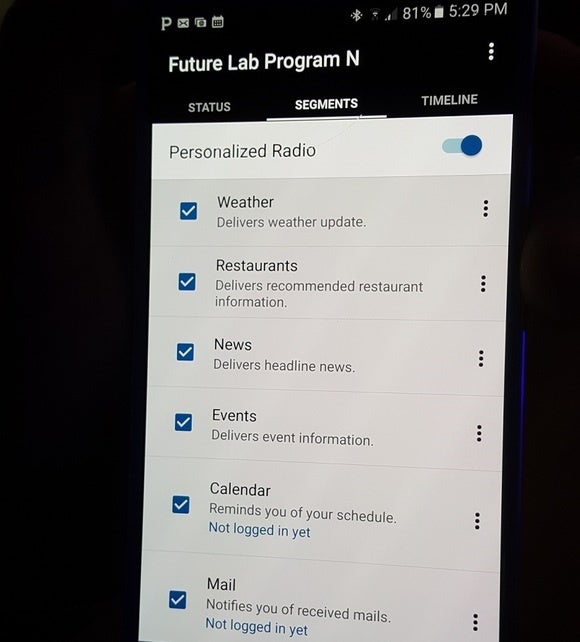 'Listen up, Nigel'
Let's be clear: Sony's Nigel is no match for Siri, Cortana, or Google Assistant. A few weeks ago, it could barely play a song. Now it can do much, much more—but still needs to sweat out a bunch of new features before it can break into the big leagues.
Like "Hey Cortana" or "OK Google," Nigel has his own catchphrase to trigger his attention. And for prototype hardware demonstrated inside a semi-crowded industrial loft, with background music, and without any training, Nigel recognized my voice fairly well. Its weakness right now is its formality: It didn't seem to understand natural language as well as other assistants.
Nigel lives inside the N, but it's still heavily dependent upon your smartphone. Android and iOS apps allow you to pick interests (right now, specifically what types of news you prefer). Nigel understands your schedule, and will read off a summary of your calendar and relevant news in the morning, Okamoto said. If you like, you can ask for more detail on a news story or "bookmark" it for later use, like the Reading List found within Windows 10's Edge browser. If you're out of range of a cell-phone tower, though, you can also place the N into "device mode," and simply play back music stored on the device.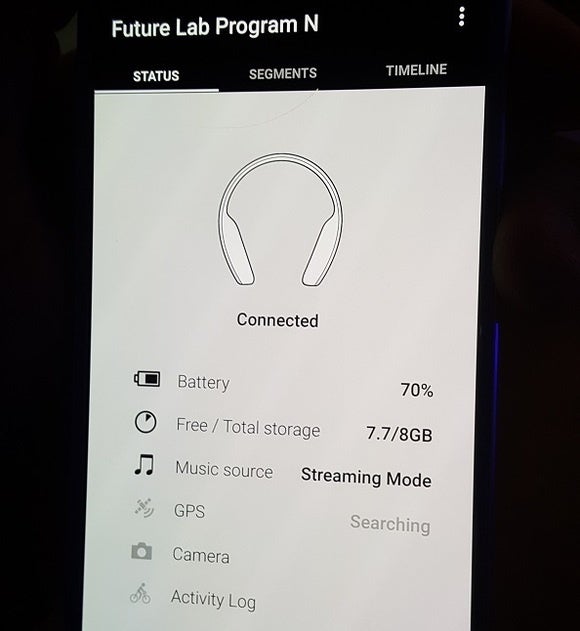 I didn't have time try everything Nigel can do, but here's a sampler: It can read email and SMS messages (but can't dictate them, yet), answer questions about the weather and your schedule, and access and read back Facebook posts that appear on your Wall. It also interacts with Strava, the running and cycling app.
Sony says another key feature will be N's ability to advise you of goings-on about town as you wander the city. So far, though, that capability is limited just to greater San Francisco, and there was really no way to test in the limited space.
At this point, N isn't much more than an intriguingly feature-rich, though flawed prototype. It's not a product, yet, and there's no guarantee that it will ever be. And that's not Okamoto's fault. Sony's distinguished engineer said that his job is to simply build technology to enhance the experience. It will be up to Sony's product teams to allow Nigel and the N to flourish, or consign them both to an early grave.