Microsoft is making a really weird choice with Edge extensions right now. The company is testing new additions within the Windows Insider program before releasing the extensions to mainstream Windows users. That means new extensions are slow to come to the Windows Store. Hopefully, this is only a short-term strategy for Microsoft as it figures out how make extensions work in Edge.
Nevertheless, you can still install unreleased Edge extensions, as long as you can get them to open in the Store. Recently, I installed Tampermonkey and Turn off the Lights in Edge even though they're not officially available in the Windows Store.
If you're not familiar with them, Tampermonkey is a popular user script extension that can add unofficial features or different looks to websites. You can use Tampermonkey to add a black theme for Facebook, for example, or remove "soft" paywalls on certain news websites. Turn off the Lights, meanwhile, dims extraneous parts of a website like YouTube or Vimeo when you're not viewing a video in full screen mode.
How it works
Before we get into the details keep in mind that these new Edge extensions in the Insider program are still in beta mode, so they may be missing features or capabilities. Let's dive in, using Tampermonkey as our example.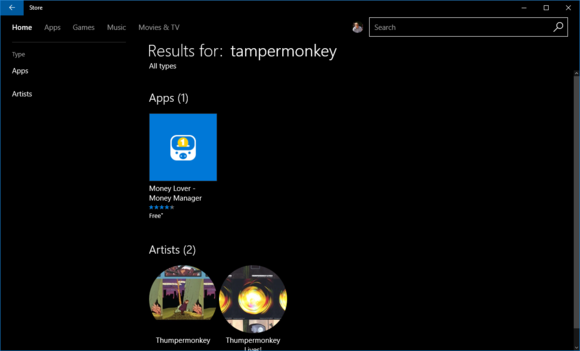 If you search for Tampermonkey in the Windows Store you'll notice that the store doesn't bring up any results.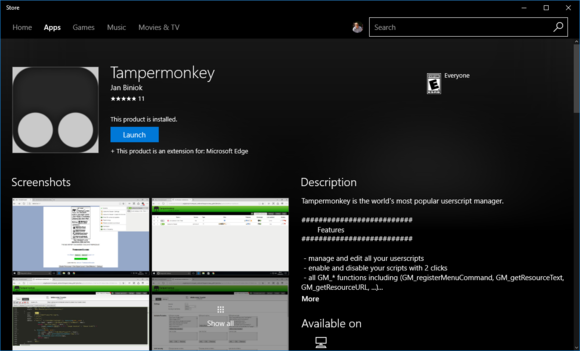 However, if you follow this link to Tampermonkey in the Windows Store, it will bring you to the Tampermonkey page in your browser, and then the Windows Store app should open automatically.
TIP: This won't work if you've disabled the ability for links to the Windows Store to automatically open the Windows Store app.
Once the Store is open, you will probably have to wait longer than usual for the Install button to show up. After you see it, however, you can download and install Tampermonkey just like any other Edge extension.