Chances are you've got more than one cloud storage account. Maybe you're using Google Drive for your personal files and Box for work stuff. Or you might use two or three different services to keep redundant backups of your most critical files.
Whatever your system, juggling multiple cloud drives can be daunting. What you need is a cloud storage manager. These tools enable you to search, sync, and transfer files between all your accounts from one central hub. Here are three of the best.
MultCloud
Whether you want to move files among several cloud accounts or transfer all your data from one service to another, MultCloud lets you do it without having to log in to each account separately and manage multiple operations.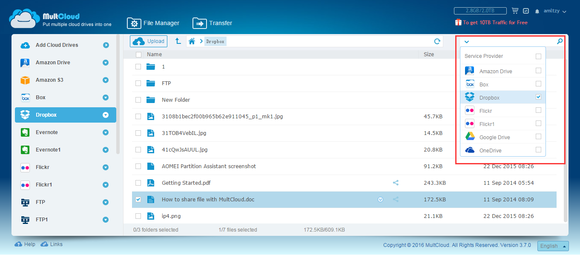 With a single login, you can transfer files directly between cloud drives without having to download the files locally. You can even schedule transfers for files that need to be backed up regularly. MultCloud also works like a file manager for all your various cloud drives, allowing you to download, upload, cut, copy, paste, and move your files in each drive from the same interface.
MultCloud works with most major cloud services including Google Drive, Box, Dropbox, and Amazon. The free edition caps data transfers at 10TB. For $8 per month or $70 per year, the Premium edition offers unlimited data transfers, scheduled file transfers, and other perks.
AnyCloud
When you have multiple cloud accounts, it's easy to forget where you stored a particular file. Searching each account individually is a hassle, particularly if you need the file for an impending meeting or other deadline.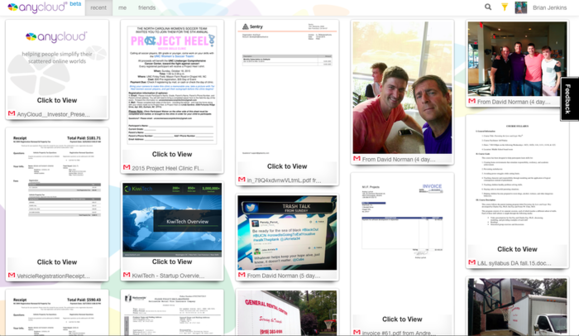 AnyCloud provides a unified dashboard from which you can search for files and other content you have dispersed across the web. Connect it to your cloud storage accounts, as well as your social networks, email, and photo-sharing services, and you can easily locate what you're looking for in AnyCloud's image-centric interface.
AnyCloud is free (a premium offering is in the works) and syncs with most popular services including Dropbox, Facebook, Instagram, and most Google products.
CloudHQ
A benefit of having multiple cloud storage accounts is that you can use them to create redundant backups. But backing up files to each service separately is time consuming and tedious. CloudHQ relieves this burden by automating the process.
Once you connect this service to your cloud accounts, you just select what you want to keep synced—from a single file to an entire drive—and choose one or more of the destinations. From there, CloudHQ does all the heavy lifting, keeping everything in sync.
CloudHQ works with a variety of cloud platforms including Dropbox, Google Drive, and Evernote. It's free for individuals and offered in three paid tiers for business use with a 15-day trial.