At a Glance
Expert's Rating
Pros
Mostly quiet
Top-notch performance across the board
Dual PCIe SSDs
Cons
Can't handle 4.2GHz
Fan control is wonky
Our Verdict
MSI's GT73VR Titan comes loaded with next-gen technology that runs fast and quiet for the most part. Our only complaint is with the overclocking issues, but even if you leave it on stock settings it's still one extremely sweet gaming notebook.
With the arrival of Nvidia's new Pascal-based mobile GPUs, we're seeing an onslaught of high-end laptops that, for the first time, are able to give desktops a run for their money. We're also witnessing the arrival of all-new features in gaming laptops, thanks to the prodigious power afforded by the high-end GTX 1080 chip. With more than twice the power of Nvidia's previous flagship mobile GPU, the GTX 980M, the GTX 1080 paves the way for higher-res panels, higher refresh rates, and of course insane levels of performance.
Case in point is MSI's new GT73 VR Titan. It pairs the new GTX 1080 mobile GPU with a 17.3-inch G-Sync panel that runs at 1920×1080 resolution at 120Hz, making it the first laptop we've laid our paws on that sports a high refresh-rate screen. As such, it should deliver crazy-smooth, high frame-rate gaming at an unprecedented level. (MSI also sells the notebook with an IPS 4K display at 60Hz, if you prefer a higher resolution over high frame rates, but it costs $300 more than this config.)
The configuration
Panel aside, this is a pretty standard config for an ultra-loaded desktop replacement notebook. In addition to the GTX 1080, it includes an Intel Core i7-6820HK CPU: a mobile Skylake chip that runs at a 2.7GHz base clock with a 3.6GHz boost clock and sucks down only 45W of power. Yes, some gaming laptops go with an actual desktop part, like the i7-6700K stuffed inside the Origin EON17-X. But before you bristle at the notion of a mobile chip denigrating the purity of your battle station, consider that slightly lower clock speeds translate to much cooler operating temps, which translate to less noise.
The CPU is paired with a whopping 64GB of DDR4 running at 2,133MHz. A bit overkill, admittedly, but hey, you can load 5,000 photos into Photoshop if that's your kind of workload.
On the storage front, MSI has endowed this notebook with a combination of drives that helps explain the staggering $3,599 price tag. It's outfitted with two 512GB Samsung M.2 SM951 PCIe NVME SSDs in RAID 0 for the OS, as well as a 1TB 7,200RPM 2.5-inch hard drive. The two SSDs are good for up to 3GB/s of sequential read speeds, and about 2.6GB/s of sequential writes—in other words, it's the fastest SSD combo money can buy right now.
In the face of such decadence, upgradability seems like a non-issue. Still, in a few years you might want to pop off the backplate and install some new gear. On our test model there was a sticker over the bottom cover that voids the warranty if broken, so upgrades aren't really part of this notebook's deal. That said, we did take the cover off and it looks like there's only one empty bay with no wires leading to it. Only the RAM seems readily swappable, but since there's already 64GB here, there's no point.
Inputs and outputs
When it comes to ports and outputs, the term "fully loaded" once again applies. On the back of the notebook, between two exhaust ports that wouldn't look out of place on the Millennium Falcon, you'll find Thunderbolt 3, HDMI, miniDisplayPort, and a Killer NIC. There are also a total of five USB 3.0 ports, audio outputs, an SD card reader, and a lock slot.
Naturally, since we're living in the age of RGB lighting, this notebook has it. It's similar to what Origin offers—instead of per-key lighting you can control three zones across the keyboard and number pad—but it also features a perimeter light around the trackpad as an additional zone. You can also select from a few presets such as Breathing and Wave, which are fun to watch.
The keyboard is made by SteelSeries and features island-style keys that rise above the deck a few millimeters and are soft to the touch. They were fine for typing, but I much prefer keys that are sunken down lower and feel like they are going into the body of the notebook when depressed. It's a personal thing, I know.
The trackpad, on the other hand, is quite pleasing, and felt eerily accurate throughout my testing. It supports gestures too and is a breeze to use. But the left-and-right click buttons beneath the trackpad are probably this notebook's biggest failing. They are incredibly stiff, and require way too much force to click.
Wireless connectivity includes both Bluetooth 4.1 as well as dual-band 802.11ac with MU-MIMO courtesy of the Killer Networking 1535 card. There's also a thumping sound system that gets louder than we ever thought possible for a laptop. It has great bass and clear highs, and sounds fantastic. The battery is a smallish 75Whr unit, so you'll need to tote the gigantic three-pound power brick for any usage that exceeds a few hours.
Performance
Now let's talk turkey. We've reviewed a number of laptops that feature a Core i7-6820HK CPU, including the Asus G752VS and the Acer Predator 17X, but none of them were equipped with the GTX 1080. The recently reviewed Origin EON17-X rocked the GTX 1080 but was paired with a desktop CPU—the Core i7-6700K—which was overclocked, to boot. But the Origin and MSI are extremely similar otherwise, even down to the dual PCIe SSDs, so this seems like the natural comparison. How much difference does the desktop CPU make compared to the mobile part? Let's find out!
3DMark Fire Strike Extreme
This synthetic test is a staple of many reviewers' testing regimen because it's as accurate as it is stressful. It's primarily a GPU benchmark, however, as opposed to a game that allows the CPU and memory to heavily influence the score.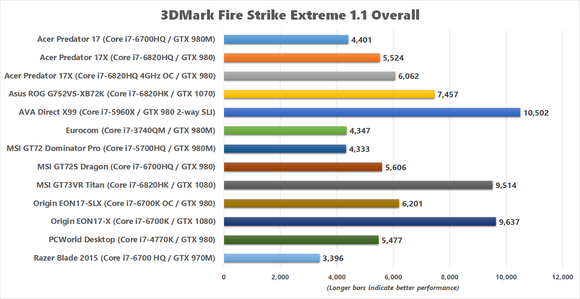 Thus the GT73VR was essentially tied with the Origin EON17-X, with just 100 points separating the two machines. The EON17-X had the upper hand, but in this test that's the slimmest of margins and well within the margin of error. Since they both use the same GTX 1080 GPU, the parity was expected. It's also noteworthy that the GTX 1080 machines held a 25 percent advantage over the last GTX 1070 equipped machine we tested, the Asus G752VS.
Tomb Raider
In Tomb Raider, the Core i7-6700K in the Origin EON17-X was able to assist the GTX 1080 quite a bit, as that laptop scored a decisive victory over the GT73VR Titan. The performance difference between the two machines, despite having the same GPU, was a surprising 11 percent, with both notebooks pushing more than 150fps at 1080p.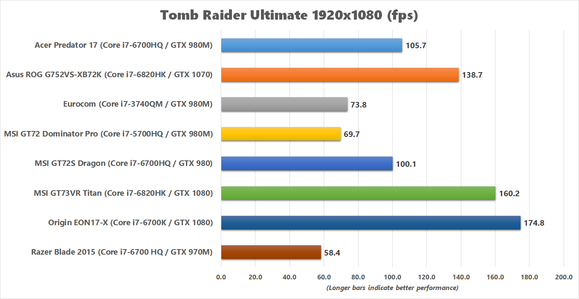 It seems the extra clock speed of the CPU helped, because when we turned up the clock speed of the GT73VR the gap closed to just six percent. It's also worth noting that, compared to the GTX 1070-powered Asus G752S, the MSI GT73VR was only 16 percent faster.
Middle-earth: Shadow of Mordor
Tomb Raider is a bit long in the tooth, so I also ran Shadow of Mordor with the 4K HD Content pack installed. This free texture pack needs at least 6GB of GPU memory to run properly, so it's a killer and the type of game the GTX 1080 was made for.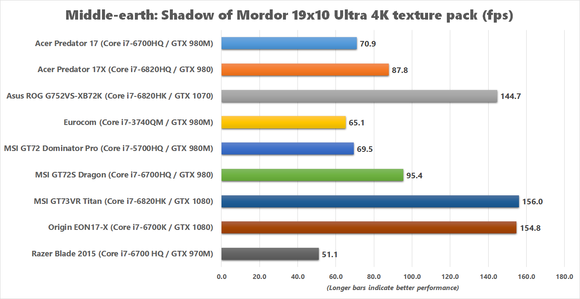 In this test the CPU didn't seem to play a role whatsoever, as both GTX 1080-equipped machines were within spitting distance of each other. Compared to the GTX 1070, the GT73VR was only eight percent faster, so there's not a huge difference between the two GPUs in this game at this resolution.
Handbrake
Here I encoded a 30GB MKV file into an MP4 using the Android Tablet preset in Handbrake, which basically runs the CPU at 100 percent for an hour until the test is complete. It's as real-world as you can get, and a great benchmark for CPUs, as it scales very well with clock speeds and core count. It makes for an interesting head-to-head between the i7-6700K and i7-6820HK, which are essentially the same chip except one is for the desktop running at higher clock speeds. You'd think the desktop part would wipe the floor with the mobile part, but that's not quite what we saw in our tests.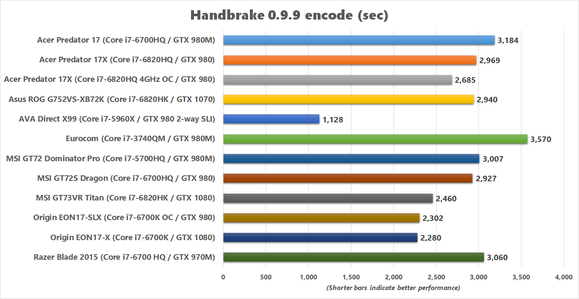 Overall, the Origin EON17-X with its 6700K CPU was faster than the stock-clocked MSI notebook, but only by three minutes. That's a very small margin, and when we overclocked the MSI GT73VR up to 4GHz for the duration of the test the margin was reduced to just one minute, making it effectively a tie as both systems took roughly 40 minutes to complete the encoding process. Overall this is a big win for MSI and its decision to use a mobile processor instead of a desktop part since it's just as fast, and the system was mostly inaudible throughout testing, even at 4GHz. The Origin system sounded like it was about to lift-off from our desktop.
The one caveat to this is the Origin EON17-X, which as reviewed had issues running at its factory overclocked speed of 4.5GHz. Origin PC blamed a recent Windows update and was still working on a fix at press time.
Overclocking
MSI includes a software utility hilariously named Dragon Center that lets you tweak a bunch of the notebook's settings, including overclocking the CPU (and the GPU). By default the CPU will boost up to 3.6GHz, but MSI provides sliders to adjust the multiplier for each core all the way up to 42, resulting in a clock speed of 4.2GHz.
The first issue I encountered was that whenever I moved the multiplier sliders to 42, the notebook hard-locked. It did this with the system idling too, not under load. After a forced reboot the system would set the multipliers at 40 instead, allowing the CPU to run at 4GHz, which is a decent overclock from the stock speed of 3.6GHz. But it begs the question as to why MSI would offer the option of running the CPU at 4.2GHz if the system can't even handle it. For what it's worth, we also tried running the GT73VR at 4.1GHz and it would reboot whenever the CPU was under full load, so that was also a non-starter. Acer's take with its Predator 17X may be safer for overclocking noobs, which lets you set a maximum of 4GHz on its Core i7-6820HK chip.
Conclusion
Naturally, the combination of eight logical CPU cores running at 4GHz, two PCIe SSDs, a GTX 1080, and 64GB of RAM ain't cheap, hence the $3,599 sticker. That's about as costly as a laptop can get (not counting the even pricier 4K version at $3,999). There's a much more affordable config with the same parts except for just 32GB of RAM and a single 512GB SSD (along with the 1TB HDD) for $3,199 MSRP ($3,095 on Amazon), and that's the one we'd choose—a 512GB SSD is fine and most people don't need 64GB of memory.
Since GTX 1080-based notebooks are still hard to find (believe me, I looked), it's tough to say whether the MSI is priced fairly. The Origin EON-17X also costs around $3,500 but has half the SSD capacity, and half the memory, though it has a 4K display. Still, it seems fair to say the MSI GT73VR is priced fairly in the realm of extreme hardware.
What's more, I was impressed by how quiet the MSI GT73VR's is under load, which made the Origin EON17-X by comparison seem distractingly noisy. Even with the CPU at 100 percent, the GT73VR was barely audible. Of course, when the GPU fires up, you'll hear that.
Overall, the MSI GT73VR Titan is an extremely solid platform. It's loaded with next-gen technology, runs quietly for the most part, and hovers at the top of all of our benchmark charts. My only complaint is with the 4.2GHz overclocking option, which turns out to not be an option at all. Otherwise, this is one extremely sweet gaming notebook that seems to have what it takes to dominate its class.