Alienware co-founder Frank Azor has fond memories of the comany's early days. It was a wild time of building kick-ass PCs, gaming, lots of sci-fi shows and generally, having a good time.
"It was four guys in a tiny little office, sending in a couple of review machines, magazines saying they were great, and the phone beginning to ring very, very slowly. We would sell about one computer every day, maybe," Azor said.
October 15 marks 20 years of Alienware's existence. Now a part of Dell, Alienware has matured into a PC gaming powerhouse. It is also driving big changes for virtual and mixed reality, which Azor believes will drive PC growth in the coming decades.
"We helped build the PC gaming industry to where it is today. By no means was it a single company effort, but we were a key contributor. We'll do the same for VR," said Azor, who is now general manager for Alienware and XPS PCs at Dell.
When Alienware opened its doors, gaming PCs were niche. Now, they are hot items: slick-looking and packed with the latest technologies. Gaming PC shipments are flourishing while the PC market is slumping. Top PC makers—which ignored the market—are scrambling to catch up with tricked-out laptops and desktops of their own.
One big reason gaming PCs are hot right now: cutting-edge performance makes them ready for VR, a big opportunity for IT vendors.
Azor draws parallels between VR and the gaming industry. As the VR community grows, there will be more investments, content, devices and user-friendly ways to experience 3D content.
"We saw this in gaming 20 years ago. We lived through it," Azor said. "VR and mixed reality are going to be as revolutionary to our lives, to the PC and the technology industry as gaming."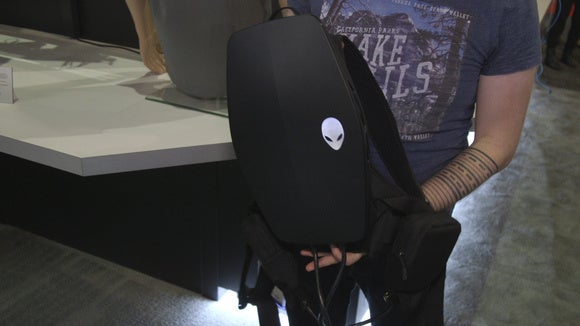 Dell is taking a measured approach to VR. Many issues regarding headsets, pricing and user experiences have yet to be resolved.
"There's so much to learn still. We don't want to be haphazard about jumping in and doing something careless and making some mistake," Azor said.
Dell's road to VR starts with Alienware PCs. The company has shown innovative, free-roaming VR systems that have small PCs slotted in backpacks. Dell works with Oculus and Vive on headsets, and doesn't plan to create its own head-mounted display.
But gaming remains top priority for Alienware, and it has amassed a large community of followers over the last 20 years. PCs like the Area 51 have iconic designs, and the alien logo is easily recognizable.
The sci-fi craze of the mid-90s gave Alienware its name. Co-founders Nelson Gonzalez and Alex Aguila were big fans of the Alien movie series and shows like The X-Files.
"Nelson's perspective was, we're going to build the most bad-ass, cutting-edge PC as we possibly can. We tend to think of aliens having superior technology to us," Azor said.
Alienware's early gaming PCs sold for more than $3,000, which was crazy at a time when the goal was to bring down PC prices.
A few small gaming PC companies like VoodooPC (now defunct) and Falcon Northwest were competing with Alienware on price and features. Over time, Alienware excelled on design, while desktops like the expensive Mach V from Falcon Northwest stepped ahead in performance.
Alienware started the "color revolution" in gaming PCs, noted Kelt Reeves, founder of Falcon Northwest. Gaming desktops mostly were dull, beige boxes, but Alienware added several ColorWare cases to desktops in 2000.
Bright, colorful gaming PCs are now commonplace. Ironically, Alienware is now conservative on color, and offers systems mainly in black and silver, Reeves said. That is more in line with Dell's PC lineup.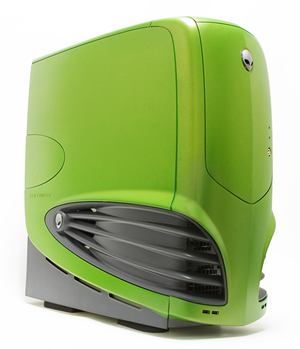 Alienware's first gaming PCs were made of off-the-shelf components and cases that were validated, personalized and sent to customers. A major breakthrough was the unconventional Predator desktop chassis, which was the company's first product designed in-house.
"We hadn't created a product from ground up and that really challenged us," Azor said. The Predator desktop took company officials to Asia to source components and learn about tooling, parts and manufacturing.
Alienware in 2003 delivered another breakthrough product with the Area-51M laptop, which was one of the first laptops dedicated to gaming, with graphics that could be upgraded. It had impressive specs—a 15.4-inch screen, 3.2GHz Pentium 4 processor, 1GB RAM, 60GB hard drive and Nvidia's GeForce FX Go5600 GPU.
The biggest milestone was Dell's acquisition of Alienware in 2006, an event that legitimized gaming PCs as a major market.
"Before Dell's buyout, gaming PCs were thought of as niche products offered only by small independent companies to a few enthusiasts. A couple of big-box PC company attempts to make gaming PCs years earlier had flopped, like the NEC Power Player system," Falcon Northwest's Reeves said.
At the time of Dell's acquisition, Alienware had annual sales of about $172 million and around 800 employees. Dell's acquisition inspired HP to buy Voodoo, which failed and was ultimately shuttered.
Ten years after the acquisition by Dell, Alienware has expanded its gaming offerings, experimented with new designs and started targeting its PCs at an audience beyond avid enthusiasts.
Dell has continued to invest in Alienware, encouraging the development of unique products like the Alienware Graphics Amplifier, an adapter chassis to hook up the latest GPUs to laptops and desktops.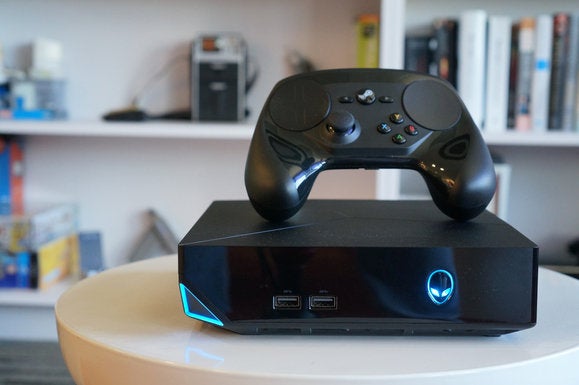 Alienware is also coming out with risky products like the Steam Machine, which is a console-like Linux gaming PC based on a design from Valve. Steam Machine has a committed user base, though it's nowhere near as popular as Windows PCs for gaming.
"Steam Machine was a huge risk. It's a risk that hasn't necessarily paid off in terms of unit sales as much as everybody had hoped for, but it's a risk we continue to invest in," Azor said.
People love Steam Machine for its console-style interface and ability to play and share games bought years ago, Azor said.
In a way, Dell's ownership hasn't changed a thing at Alienware. For Azor, every day feels like going back 20 years when the company was born. The passion for gaming remains, but the surroundings have changed.
"I'm a father, I'm a husband, I'm a gamer. I go to work everyday to go fuel my habits. Those are the three priorities for me."