Hey Civilization fanatics: Maybe try going outside this weekend. You know, before Civ VI releases next Friday. Might be a good idea to get some sunlight.
The rest of you? Keep on reading this wrap-up. This week we've got a release date for Tyranny, polygonal Lara Croft, and Overwatch's excellent Halloween event featuring the terrifying Dr. Junkenstein. This is gaming news for October 10 through 14.
Petty theft
This weekend's Steam freebie is Smash + Grab, a beat-em-up multiplayer game and the latest from Sleeping Dogs developer United Front. I haven't checked it out yet but…well, maybe I will this weekend. It's free until Tuesday, after all.
And for anyone who owns a Vive, Raw Data is also free-to-try this weekend. I'd recommend it—it's one of the better (read: more polished) VR shooters at the moment, though its Early Access status means there are still bugs and balance issues to be worked out.
The Dark Side
Every couple of months EA drops another expansion for Star Wars: The Old Republic and I think to myself "…If only this were a Knights of the Old Republic game." It's a feeling I've held onto for about five long years now, and this latest (beautiful) trailer for the upcoming Knights of the Eternal Throne expansion has only made it worse:
The Darker Side
We're right in the thick of autumn, big-name games dropping left and right, and there's none I'm more excited for than Tyranny—Obsidian's "The battle between good and evil happened, and evil won" CRPG built in the Pillars of Eternity engine.
And it'll be here less than a month from now. As revealed Thursday, Tyranny launches on November 10.
I'm a little teacup
Last we'd heard of the Max Fleischer-esque cartoon-game Cuphead, the developers had tacked platforming onto what was originally a game made entirely of boss battles. Quite an undertaking, to just "add platforming," and thus it comes as little surprise the game's been delayed into 2017. Let's all shed one large, cartoon tear to mark the occasion.
Prey too
Want to play Prey 2 as a lady? Well, we already knew you could but now Bethesda's redone its trailer as such. Here's Morgan Yu, looking a bit different than last time:
Prepare for singleplayer
Respawn must feel real broken up that Titanfall didn't have a singleplayer campaign, because they just cannot stop talking about its inclusion in Titanfall 2. Here's a snapshot of Respawn's "Single Player Gameplay Vision" to go alongside the cinematic trailer from a few weeks ago.
Broverwatch
A co-op mode? In Overwatch? Apparently so. The game's Halloween event went live this week, and along with a bevy of skins, icons, sprays, et al is a new game mode, "Halloween Terror" starring one Dr. Junkenstein. Be sure to play between now and November 1 if you want that sweet, sweet loot.
Tomb Raider's 20th
I guess the perks of having a game hit your platform almost a year late include "DLC Packed Right In The Box," as evidenced by the Rise of the Tomb Raider 20 Year Celebration for PS4. But hey, you can buy the new story mission right here if you're so inclined.
More important is the fact it gets you "five classic Lara Croft skins," one of which is represented in this incredibly absurd screenshot that I can't stop laughing at: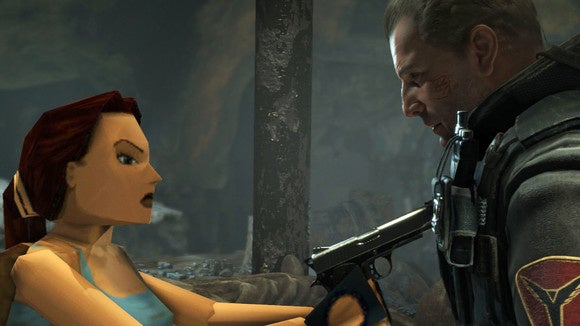 Almost makes me want to play the whole game a second time through.