While AMD's enthusiast-class "Vega" Radeon graphics cards are still a far-away dream destined to launch next year, Nvidia's putting the finishing touches on its killer GTX 10-series lineup with the release of a pair of new graphics cards: The GeForce GTX 1050 and GeForce GTX 1050 Ti.
These graphics cards are aimed toward giving prebuilt "big box" PCs enough oomph to game, with a mere 75-watt power draw that negates the need for extra power connectors. As such, they're suitably budget-friendly. The GeForce GTX 1050 Ti will cost $139 when it launches on October 25, and the GTX 1050 a mere $109 at its November 8 release.
Further reading: The best graphics cards for PC gaming
Meet the GeForce GTX 1050
That puts the similarly priced Radeon RX 460 dead in the GTX 1050's sights, but the rivals took two very different approaches to their affordable cards. While the $110 and $140 versions of the Radeon cards differ only in memory capacity—the former offers 2GB, while the latter packs 4GB—the two GTX 1050s offer different performance levels as well.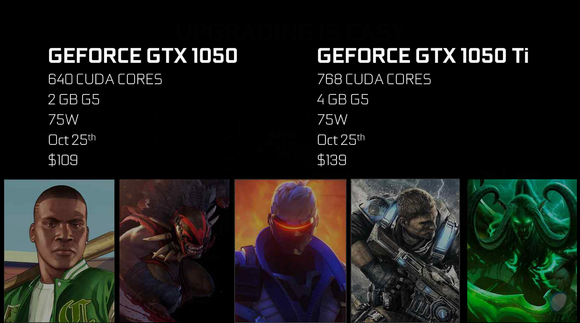 The 2GB GTX 1050 packs 640 CUDA cores clocked at 1,354MHz, and can boost up to 1,455MHz to increase performance. The 4GB GTX 1050 Ti, on the other hand, contains 768 CUDA cores clocked at 1,290MHz to 1,392MHz. (For comparison, the $200 3GB GTX 1060 holds 1,152 CUDA cores at up to 1,708MHz.)
Both are built around a new "GP107" graphics processor that offers all the same features as Nvidia's other "Pascal"-based GTX 10-series cards. That means goodies like Ansel super screenshots, Fast Sync, simultaneous multi-projection, performance-boosting multi-resolution shading, and more, all of which we covered in detail in PCWorld's GeForce GTX 1080 review.
But enough with the numbers! What sort of gaming performance can we expect to see out of the GeForce GTX 1050 and GTX 1050 Ti? Nvidia claims you'll see a sizeable jump compared to its legendary GTX 750 Ti, another upgrade-centric card limited to 75W.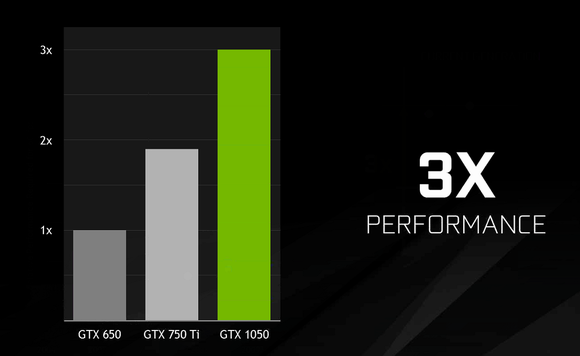 Note that Nvidia's graph doesn't mention the GTX 950, which actually wasn't considered a GTX 750 Ti replacement. That said, some back-of-the-envelope math suggests that if Nvidia's performance claims hold true, the GTX 1050 should outperform the GTX 950 as well.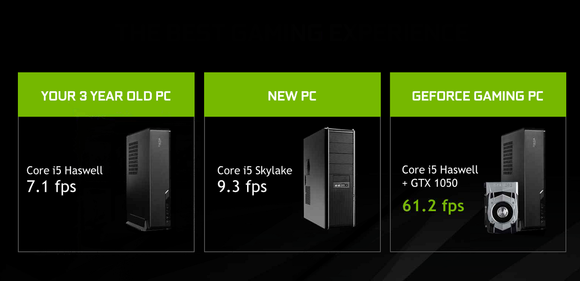 Because the GTX 1050 and GTX 1050 Ti both consume under 75W, they can draw all needed power straight from a PC's motherboard, making the cards a hassle-free upgrade for people with prebuilt "big box" computers. Going from integrated graphics to a discrete GPU offers a hell of a performance jump, as you'd expect. Scads of GTX 750 Ti graphics cards were sold for just this purpose—heck, I coaxed a couple of people into buying them myself—and the GTX 1050 appears ready to seize the mantle from its predecessor.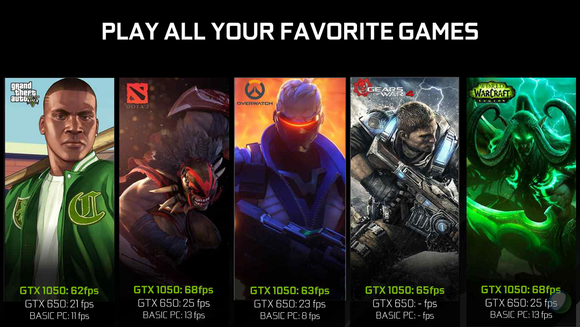 Here's the GTX 1050's 1080p performance in actual video games. Be wary of Nvidia's numbers here: In a briefing, a representative said GTA V was run on Medium graphics settings, for example, while Dota 2 was cranked to High. That said, balancing between fidelity and frame rate's a necessary evil in graphics cards in this price range, and it's nice to see the GTX 1050 hitting 60-plus frames per second in major—though certainly not strenuous—games. It's worth noting that Nvidia's GeForce Experience 3.0 software can optimize your games with a single click, though you'll likely to need to tinker further for best results (it often sets bizarre screen resolutions) and you need to register to use GFE now.
"Out of the box the GTX 1050 and 1050 Ti are both blazing fast, with the GTX 1050 Ti on average 40 percent faster and more than 128 percent more power efficient than the closest competitive product at stock speeds," Nvidia's GTX 1050 announcement post brags, explicitly naming that "closest competitive product" as the Radeon RX 460 in the footnotes.
As for VR, it's uncertain whether the GTX 1050 series will be compatible with the Oculus Rift's newly lenient PC requirements. GeForce product manager Justin Walker says he'd expect the GTX 1050 Ti to meet the grade, but Nvidia is still working with Oculus to test the new graphics cards. If you're looking to get into VR we'd still suggest in investing in a $250 6GB GTX 1060 or better, anyway.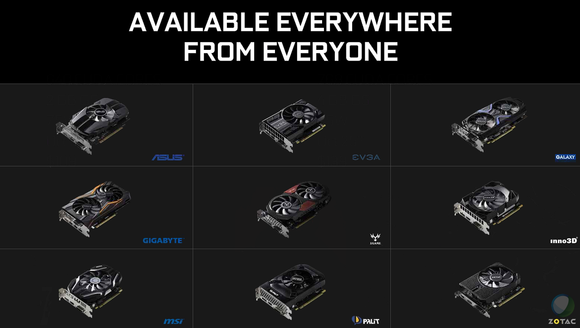 Nvidia won't be offering Founders Edition versions of the GTX 1050 or GTX 1050 Ti. Instead, you'll see a slew of custom models from Nvidia partners like EVGA, Asus, and Zotac when the cards launch on October 25.
As with the deluge of Radeon RX 460s, some of the custom GTX 1050 cards will include an extra 6-pin power connector to push overclocking limits further. Interestingly, Walker says the frugal power needs of the GTX 1050 could make the card a potential fit for passive, fanless cooler designs—though there's nothing like that planned right now. Something for the future, maybe?