Gears of War 4 or Forza Horizon 3? Picking which game to play when you boot up your Xbox One is tricky enough. But thanks to RedWater Technologies and the wave of third-party Universal Windows apps coming to the Xbox One, you've now got another choice: Checking your email.
MailOnX is a $10, mostly functional email client designed specifically for the Xbox One. In fact, it's an Xbox exclusive, surprisingly enough. There's no PC or tablet versions available at this writingdespite the app's Windows 10 universal underpinnings.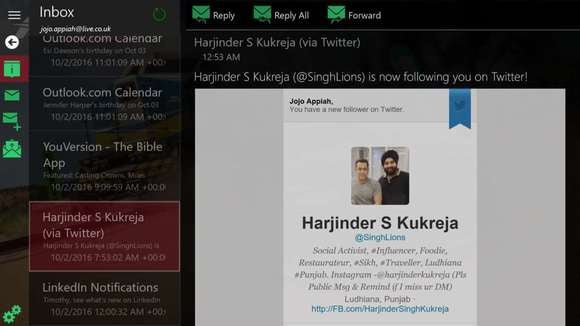 According to MailOnX's description, the app features almost everything you'd need in a mail client. You can manage multiple email accounts from providers like Outlook.com, Yahoo Mail, Gmail, iCloud, and Office 365. You can add an email signature, read mail offline, set-up filters, and even lock the app so family members or roommates can't access your mail accounts.
In a nod to the console's roots, MailOnX also offers some game images that you can use for wallpaper inside the app. As far as input goes, MailOnX supports the regular Xbox One controller as well as the $35 Xbox Chatpad keyboard add-on.
There's still room to improve though. MailOnX currently lacks a few key features, as Windows Central first reported, including support for in-game notifications and a way to view sent email.
Why this matters: MailOnX is more of an oddity than anything else. For one thing, Microsoft could bring Windows 10's free Mail app to the Xbox One at some point, negating the "need" to spend $10 on a third-party solution. The more important issue is whether anyone truly wants to read email on their television screen and type out responses on a controller when you could simply pull your phone out of your pocket. Universal Windows apps make everything from email to spreadsheets possible on the Xbox platform, but most users probably won't look for much beyond entertainment apps and games for their console.