Amazon has a new treat for Prime members that also helps the company improve its online offerings over other image-focused services like Google Photos. The new U.S.-only feature is called Family Vault, an online space where users can bring their photos together. Prime members can invite up to five people (including non-Prime members) to join their vault, and then organize everyone's photos into a single collection.
Family Vault also extends the benefits of Amazon's Prime Photos to all users. Anyone who joins a Prime member's family vault gets unlimited storage for images, as well as an extra five gigabytes for video and non-image related files. Family Vault users can add photos and videos from their devices automatically via the Amazon Photos apps, or manually upload images one by one.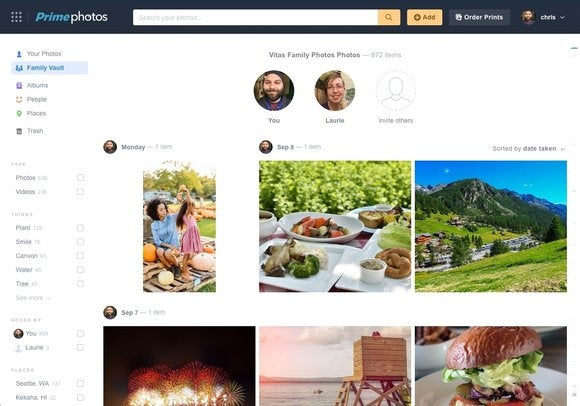 Amazon's latest Prime offering solves a problem with many online photo services, which lack a way for users to pool images into a single space. This makes it much harder for parents, for example, to gather photos of their kids into a shared destination. Instead, these photos often remain separated on various phones, tablets, and computers.
The story behind the story: Family Vault is also another way for Amazon to lure shoppers to subscribe to Prime—a subject we've covered many, many times before. Amazon surely hopes that Family Vault users will further pad Amazon's bottom line with purchases of printed photo albums and cards. It's also trying to eat into Google Photo's business, which entices people to upload with enhancements like automated photo editing, novelty GIFs, and most recently, animations from videos.