At a Glance
Expert's Rating
Pros
Doesn't need extra power connectors
Superior performance to its Radeon counterpart
Power efficient, cool, and quiet
Cons
2GB of onboard memory isn't very future-proof
G-Sync monitors cost significantly more than FreeSync displays
Our Verdict
MSI's overclocked GeForce GTX 1050 graphics card outpunches its AMD rival for significantly lower cost, and can seamlessly slip into prebuilt "big box" computers. It's a great budget gaming option.
After months of focusing on the high end, Nvidia's GeForce GTX 10-series is finally trickling down to the masses. The $109 GeForce GTX 1050 and its bigger brother, the $139 GeForce GTX 1050 Ti, are a pair of affordable new graphics cards designed to ease introductions into PC gaming.
At those prices, it's clear that Nvidia's aiming directly at the Radeon RX 460's jugular—prompting AMD to launch preemptive price cuts. But the GTX 1050 and GTX 1050 Ti are more than fresh foot soldiers in the never-ending war between AMD and Nvidia. While the older GTX 950 required the use of an extra six-pin power connector for most of its life, the GTX 1050 and GTX 1050 Ti assume the mantle of the popular GTX 750 Ti by sipping a mere 75 watts of power, allowing them to draw all needed energy via your motherboard alone. That means you can slap Nvidia's new cards into a prebuilt "big box" PC from the likes of HP and Dell to transform them into full-fledged gaming machines with minimal hassle—a trick that 2GB variants of the Radeon RX 460 can also perform.
Can Nvidia's GeForce GTX 1050 and GTX 1050 Ti dethrone their Radeon rival, much less live up to the GTX 750 Ti's immense legacy? Let's dig in.
Meet the GeForce GTX 1050 and GTX 1050 Ti
To add to the intrigue, the GTX 1050 family isn't built on the same underlying technology as the rest of Nvidia's GTX 10-series. Taiwan Semiconductor Manufacturing Company (TSMC) fabricates the GTX 1080, GTX 1070, and GTX 1060 using the 16nm manufacturing process and Nvidia's "Pascal" GPU architecture, but the GTX 1050's brand-new "GP107" graphics processor is built using the 14nm process at an undisclosed manufacturer (likely Samsung).
The benchmarks will reveal whether that makes a difference in performance. At first blush, the GTX 1050 and GTX 1050 Ti hit far lower overall clock speeds than the rest of the GTX 10-series, all of which boast at least 1,500MHz base clocks and boost clocks hovering around 1,700MHz or higher. By contrast, neither GTX 1050 card achieves 1,500MHz even when boosting, though Nvidia says it was able to "hit speeds in excess of 1,900MHz with ease" when overclocking the cards internally.
Check out the $110 GTX 1050 and $140 GTX 1050 Ti's full specs below.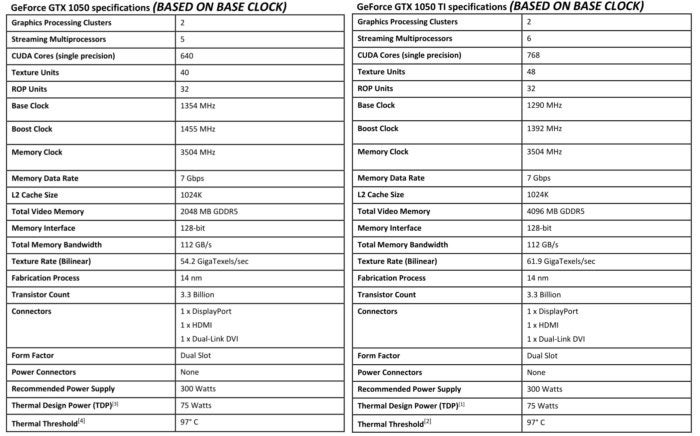 AMD's $110 Radeon RX 460 and $140 RX 460 differ only in memory capacity—at their heart, the "Polaris" GPU in both versions are the same. Nvidia also uses 2GB (GTX 1050) and 4GB (GTX 1050 Ti) memory capacities to differentiate between its two cards, but each offers different performance levels as well. The pricier GTX 1050 Ti packs the full-fat version of the GP107 GPU, with 768 CUDA cores and 48 texture units across its six Pascal streaming multiprocessors. The cheaper GTX 1050 features a higher clock speed, but shaves off a streaming multiprocessor, resulting in 640 CUDA cores and 40 texture units—exactly half the internal hardware of the $250 GTX 1060.
Both cards offer 7Gbps memory speeds over a 128-bit bus, buoyed by Nvidia's superb bandwidth-saving delta color memory compression.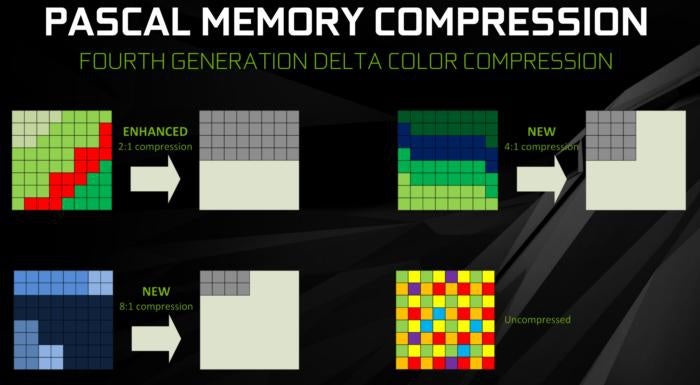 But more importantly, both cards draw under 75W of power, allowing them to slip seamlessly into many prebuilt boxed PCs. The 2GB Radeon RX 460 can too, of course, though the majority released at launch bolstered performance by requiring an additional six-pin power connect, negating that upgradability advantage. Card makers will be able to add six-pin power connectors to customized GTX 1050 and 1050 Ti variants, as well, but both of the cards tested today draw their full power from a motherboard. Adding a discrete GPU to a prebuilt PC provides a massive boost in gaming performance, as illustrated in the Nvidia-supplied graphic below.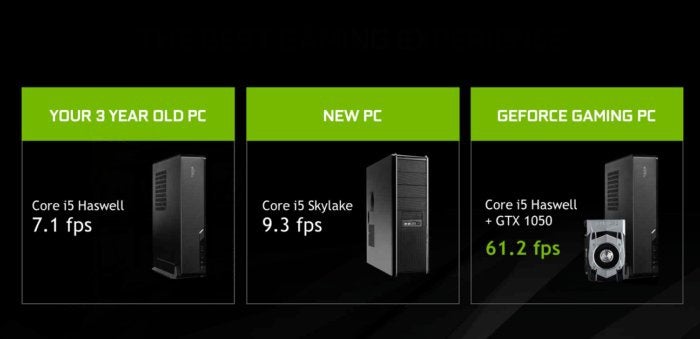 The GTX 1050 and GTX 1050 Ti offer all the same features as Nvidia's other "Pascal"-based GTX 10-series cards, including goodies such as HDR support, Ansel super screenshots, Fast Sync, simultaneous multi-projection, performance-boosting multi-resolution shading, and more (again, all of which we covered in detail in PCWorld's GeForce GTX 1080 review). The default port configuration consists of one DisplayPort 1.4, one HDMI 2.0, and one DVI-D connector, but as with the GTX 1060, the GTX 1050 family doesn't support multi-GPU SLI configurations.
Nvidia isn't releasing a Founders Edition version of the GTX 1050 or GTX 1050 Ti, and a wide variety of custom boards from a wide variety of graphics card makers will be available when the lineup launches Tuesday. We tested two no-frills, single-fan graphics cards.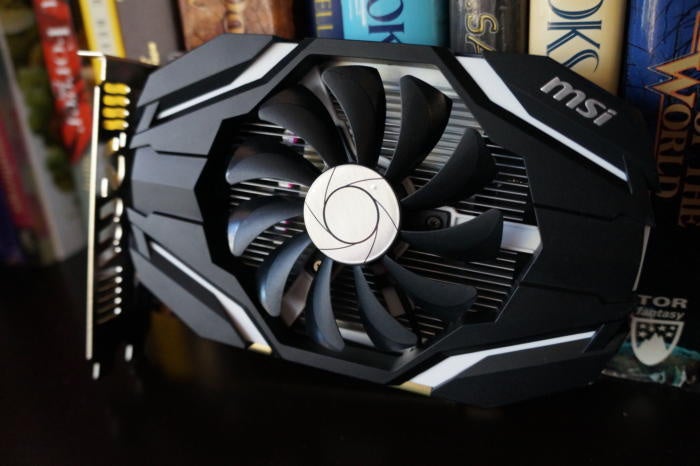 The MSI GTX 1050 OC with 2GB of RAM adds a roughly 50MHz overclock (to 1,404MHz base/1,518MHz boost) without any extra cost. It will be priced at $110 when it launches at some point before November 8.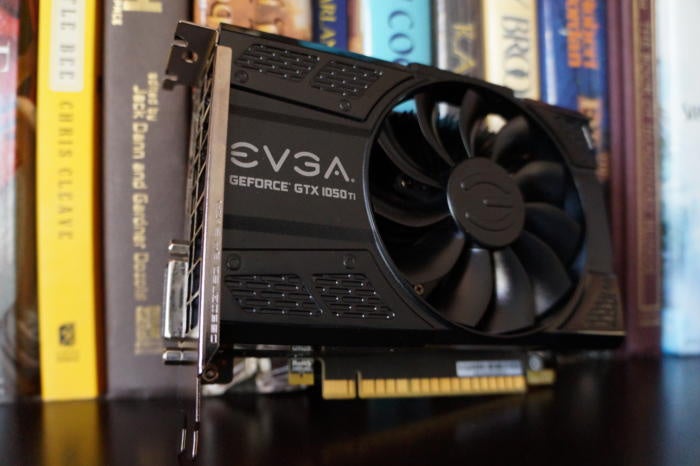 The EVGA GTX 1050 Ti SC Gaming ($150 on Newegg) with 4GB of memory ups things a bit further over the stock GTX 1050 Ti, to 1,354MHz base/1,468MHz boost, with the help of EVGA's ACX 2.0 cooling technology.
Nvidia says the GTX 1050 lineup is capable of playing modern games at 60-plus frames per second at 1080p resolution, at either Medium or High graphics settings. Is it true? Onto the fun stuff!
Next page: System configuration, performance benchmarks
Our test system
We tested the MSI GTX 1050 OC and EVGA GTX 1050 SC Gaming on PCWorld's dedicated graphics card benchmark system. Our testbed's loaded with high-end components to avoid bottlenecks in other parts of the system and show unfettered graphics performance. Key highlights:
We're comparing the $110 MSI GTX 1050 OC and $140 EVGA GTX 1050 Ti against Sapphire's $140 4GB Radeon RX 460, XFX's $220 Radeon RX 470 Black Edition, and the GTX 1050's predecessors, the EVGA GTX 750 Ti and EVGA GTX 950 SSC. (Remember, however, that the GTX 950 wasn't considered a direct GTX 750 successor like the GTX 1050 is, and demands a six-pin power connector—as does the 4GB RX 460). All of these cards are custom-cooled, overclocked models.
We benchmark every game using the default graphics settings unless otherwise noted, with all vendor-specific special features—such as Nvidia's GameWorks effects, AMD's TressFX, and FreeSync/G-Sync—as well as VSync and frame rate caps disabled. Based on the target performance of the GTX 1050 and GTX 1050 Ti, we're looking at 1080p results alone today, including Medium fidelity.
Test 1: The Division
The Division, a gorgeous third-person shooter/RPG that mixes elements of Destiny and Gears of War, kicks things off with Ubisoft's new Snowdrop engine.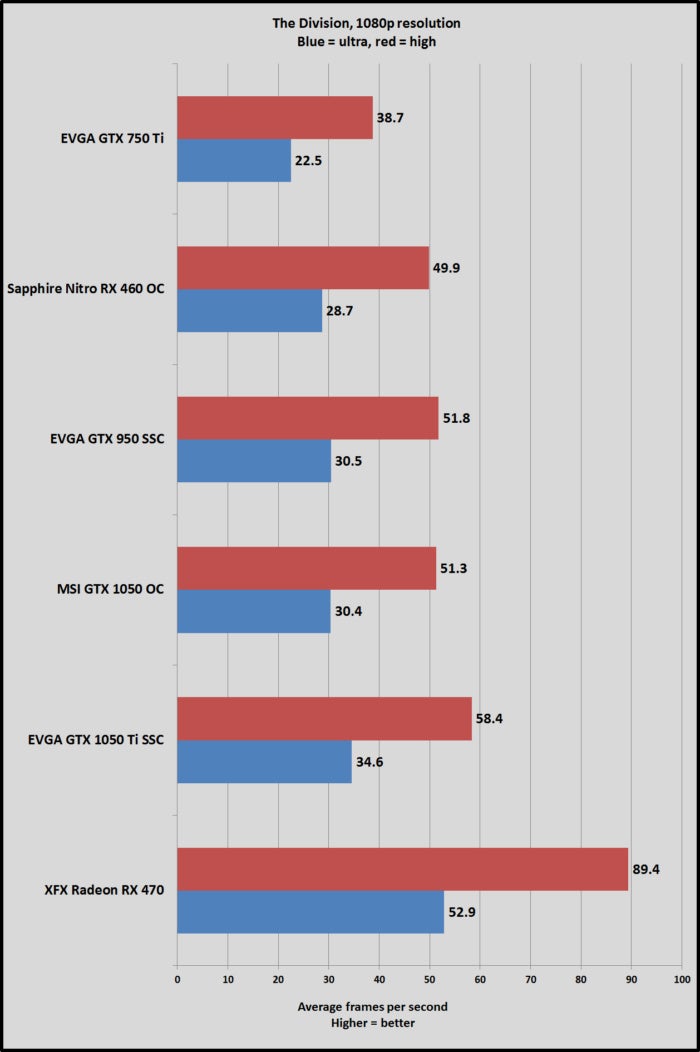 The GTX 1050 comes out slightly ahead of the RX 460 here, while the extra horsepower inside the GTX 1050 Ti widens the gulf. Both of Nvidia's new cards clear a console-matching 30 frames per second at Ultra graphics settings, while the GTX 1050 Ti indeed flirts with 60 fps if you drop the eye candy down to Medium. The $110 GTX 1050 also essentially ties the older GTX 950 in the closest matchup between the two very evenly matched cards.
Also note how much of a whupping the GTX 1050 family puts on the older GTX 750 Ti, and how much of a leap in performance stepping up to a $180 to $200 Radeon RX 470 offers. You'll see similar results in every game tested.
Next page: Hitman
Test 2: Hitman
Hitman's Glacier engine heavily favors AMD hardware. It's no surprise; Hitman's a flagship AMD Gaming Evolved title, complete with a DirectX 12 mode that was patched in after the game's launch.
Important note: Hitman automatically caps the game's Shadow Maps and Shadow Resolution to medium, and Texture Quality to low, on cards with less than 4GB of onboard memory. Because our sampling represents a mix of 2GB and 4GB cards, we tested at Medium settings with Texture Quality set to low in both DX11 and DX12. The 4GB cards tested here could boost image quality across the board in this game.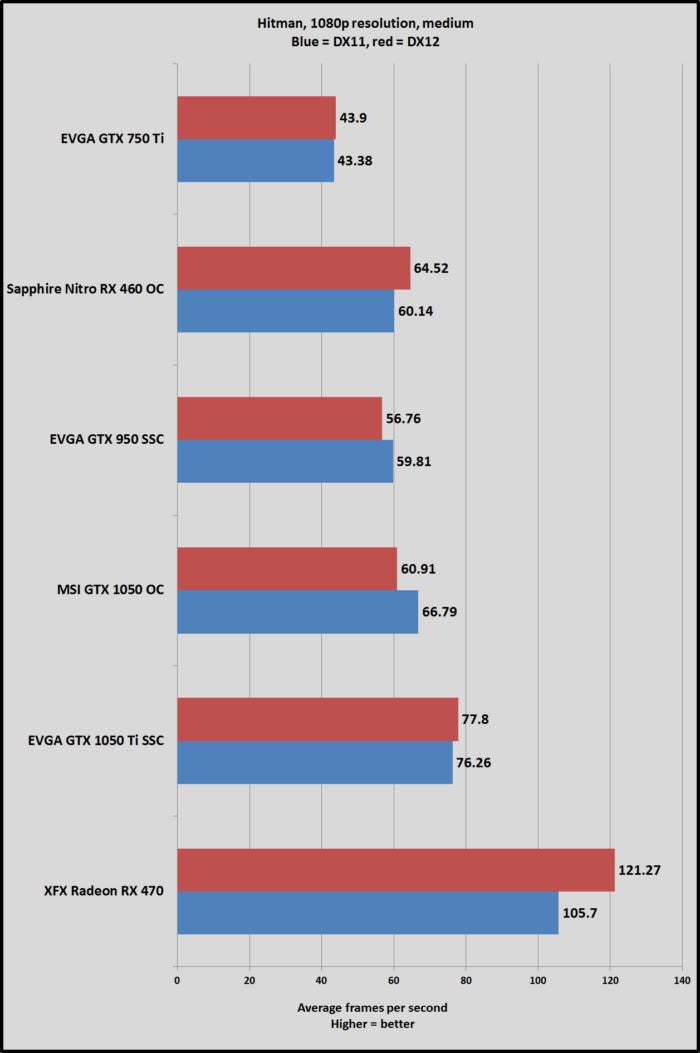 The 2GB GTX 1050 sees performance dip in DirectX 12, but that's common in 2GB cards. Comparing the Radeon RX 460 and GTX 1050's best results (DX12 and DX11, respectively) shows Nvidia's card holding a slight performance advantage. Once again, Nvidia's new budget card barely beats out the last-gen GTX 950.
The $140 EVGA GTX 1050 Ti holds a commanding lead over the 4GB Sapphire Nitro RX 460 OC, even though it costs the same and Hitman is an AMD Gaming Evolved title. This isn't shaping up well for the 4GB Radeon RX 460 at all.
Next page: Rise of the Tomb Raider
Test 3: Rise of the Tomb Raider
Whereas Hitman adores Radeon GPUs, Rise of the Tomb Raider performs much better on GeForce cards. It's also the single most drop-dead gorgeous PC game I've ever laid my eyes on. We only test the game's DirectX 11 mode.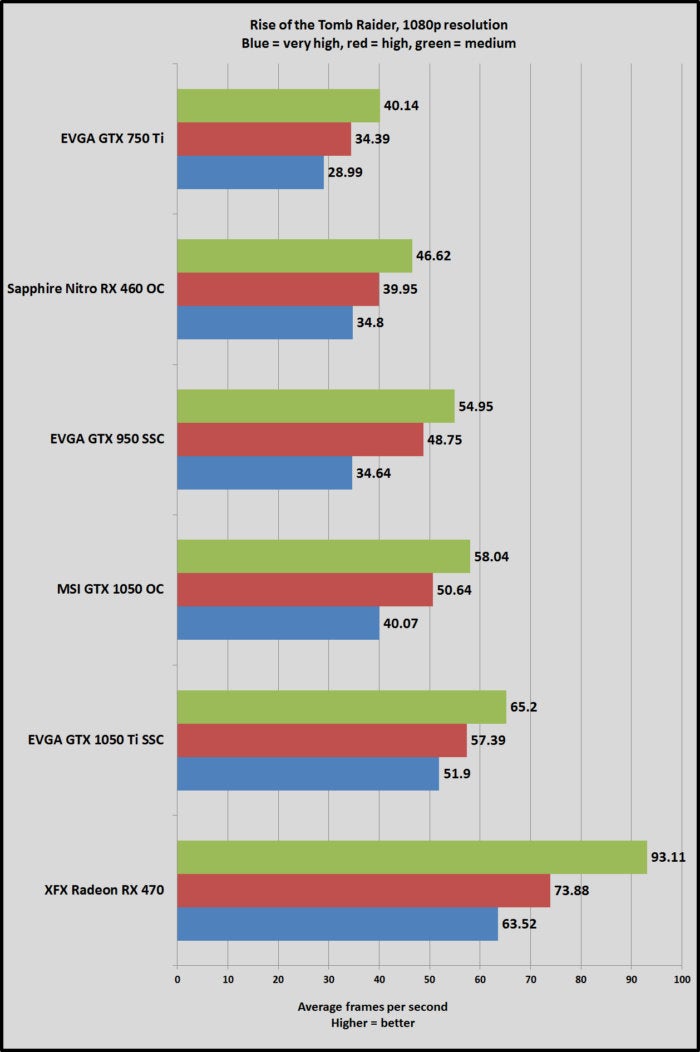 While the GTX 1050 cards were able to overcome Hitman's Radeon focus to deliver a win over the RX 460, Team Red failed to pull off a similar upset in this GeForce-centric game. The GTX 1050 pummels the 4GB RX 460, and the GTX 1050 Ti outright embarrasses it by about 20 frames per second, even though the Sapphire card packed an extra six-pin power connection. Nvidia's new cards also thoroughly outpace the older GTX 750 Ti.
Next page: Far Cry Primal
Test 4: Far Cry Primal
Far Cry Primal is yet another Ubisoft game, but it's powered by a different engine than The Division—the latest version of the long-running and well-respected Dunia engine.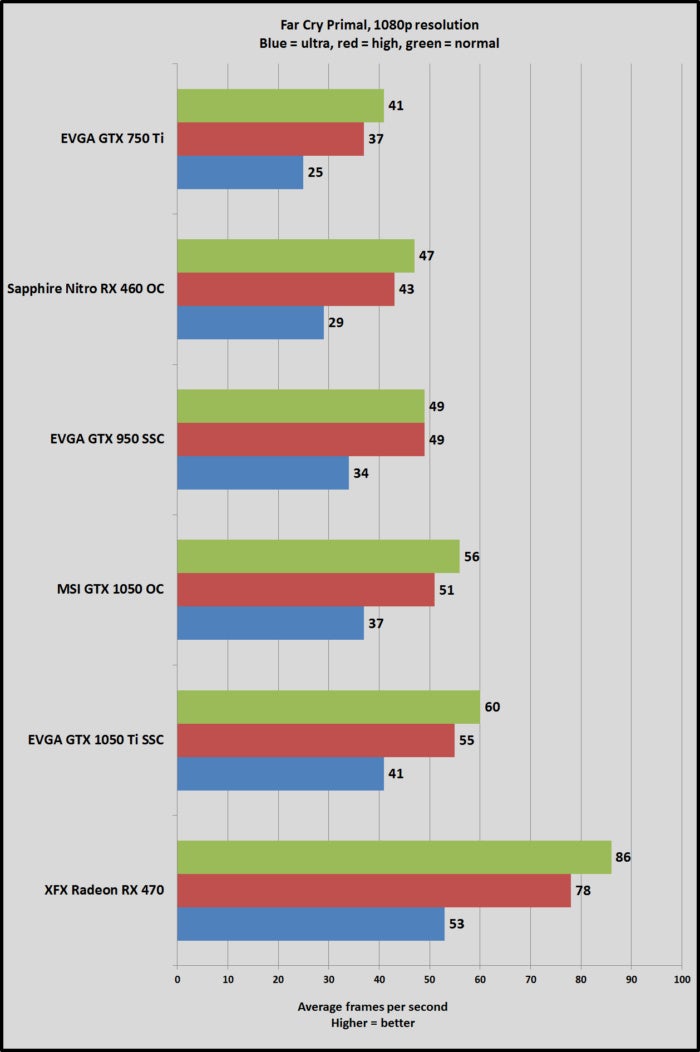 The gap shrinks a bit here, but Nvidia's GTX 1050 and GTX 1050 Ti nonetheless maintain a brisk advantage over AMD's high-end Radeon RX 460 offering. Perhaps more noteworthy, the $110 GTX 1050 and $140 GTX 1050 Ti draw troublingly close in performance, with a mere 4 fps between them.
Next page: Ashes of the Singularity
Test 5: Ashes of the Singularity
Ashes of the Singularity, running on Oxide's custom Nitrous engine, was an early standard-bearer for DirectX 12, and many months later it's still the premier game for seeing what next-gen graphics technologies have to offer. (It's a fun real-time strategy game, too!) The performance gains it offers with DX12 over DX11 are eye-opening on Radeon cards—at least more potent ones.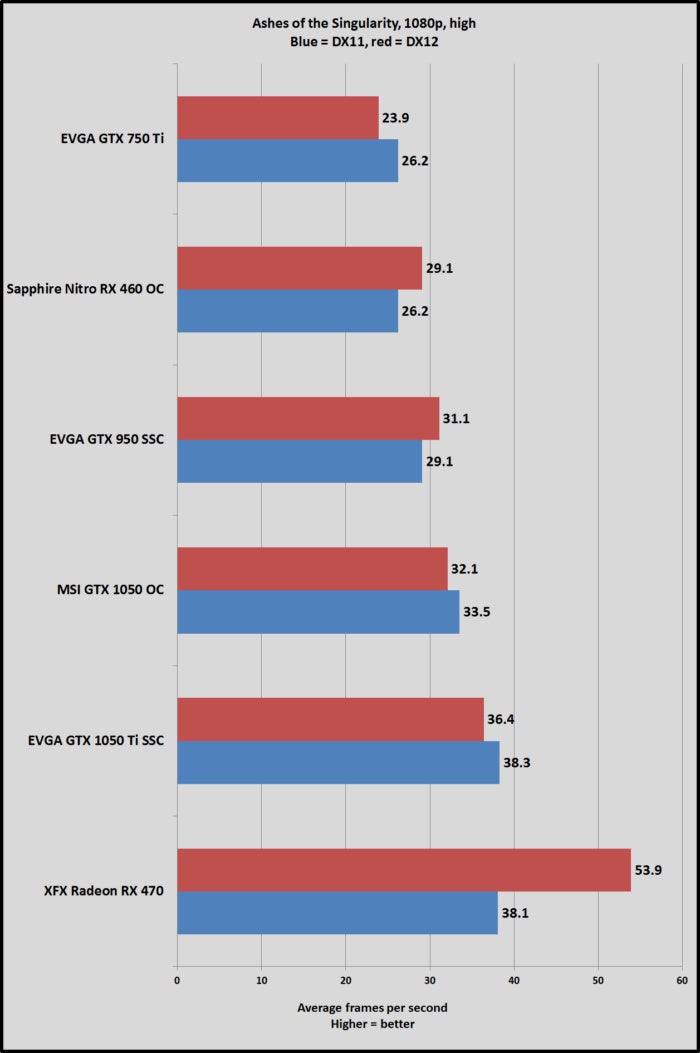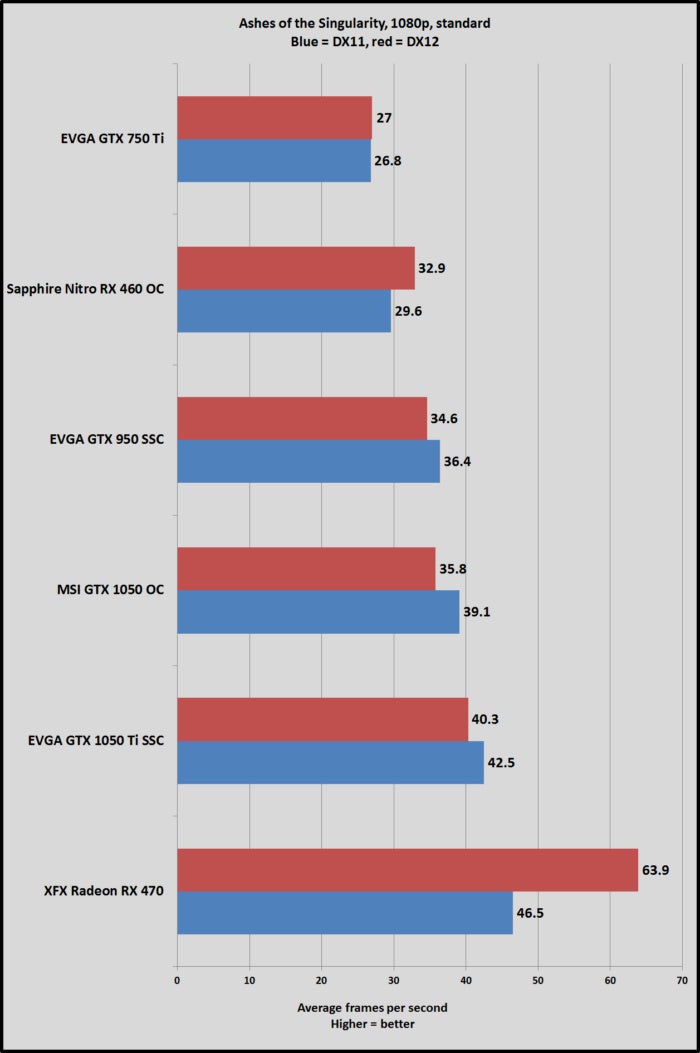 That advantage is mostly nullified at this budget-friendly price point. Once again, even the $110 GTX 1050 trounces the $140 Radeon RX 460 4GB in sheer performance, while the similarly priced EVGA GTX 1050 Ti leads by roughly 10 fps—a relative chasm when we're talking about overall frame rates in the 30fps to 40fps range. Once again, Nvidia's new card embarrasses the Radeon RX 460 even in a game that leans heavily towards AMD cards.
All of the entry-level graphics cards struggle to clear 40 frames per second, much less 60fps. Fortunately, that matters less in slower-paced RTS games like this.
Next page: Gears of War 4
Test 6: Gears of War 4
As the newest entry to our testing suite, the DirectX 12-exclusive Gears of War 4 scales superbly across all types of hardware. Its DX12 implementation is more vendor-agnostic than Hitman and Ashes of the Singularity's, both of which heavily favor AMD.
We test Gears 4 with asynchronous compute enabled on supported graphics boards (GTX 10-series, all modern Radeon cards), but with Tiled Resources disabled. Tiled Resources automatically adjust texture quality on the fly to ensure the game doesn't use more memory than is available onboard your graphics card; it's stellar technology when you're actually playing the game, but introduces unwanted, uncontrollable variance during benchmarking.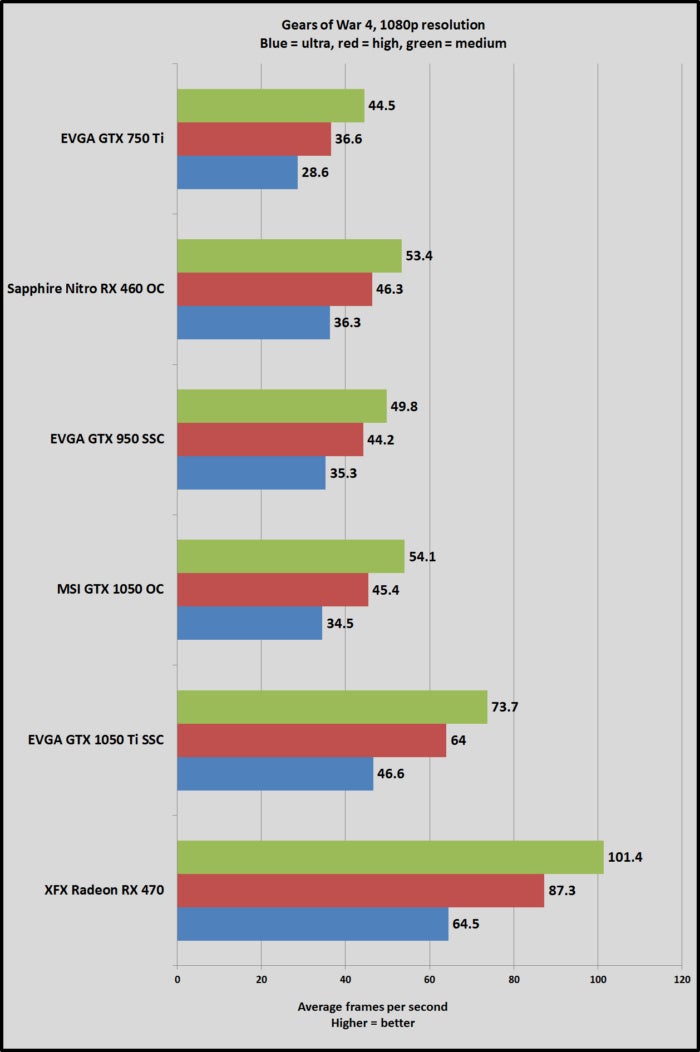 The game uses more than 2GB of memory at High and Ultra settings, which partially explains why the 2GB GTX 1050 underperforms the 4GB Radeon RX 460 in every test except at Medium graphics, where that advantage is eliminated. (Exceeding card memory causes the game to tap into slower system memory, though the frame rate plunges when Gears does so aren't onerous.)
Once again, the EVGA GTX 1050 Ti reigns supreme among these budget-price cards; the XFX Radeon RX 470 provides a big jump in performance, but costs 46.5 percent more.
Next page: 3DMark
Test 7: Synthetic benchmarks
We also tested the GeForce cards and their rivals using 3DMark's highly respected DX11 Fire Strike synthetic benchmark, which runs at 1080p, as well as its brand-new Time Spy benchmark, which tests DirectX 12 performance at 2560×1440 resolution.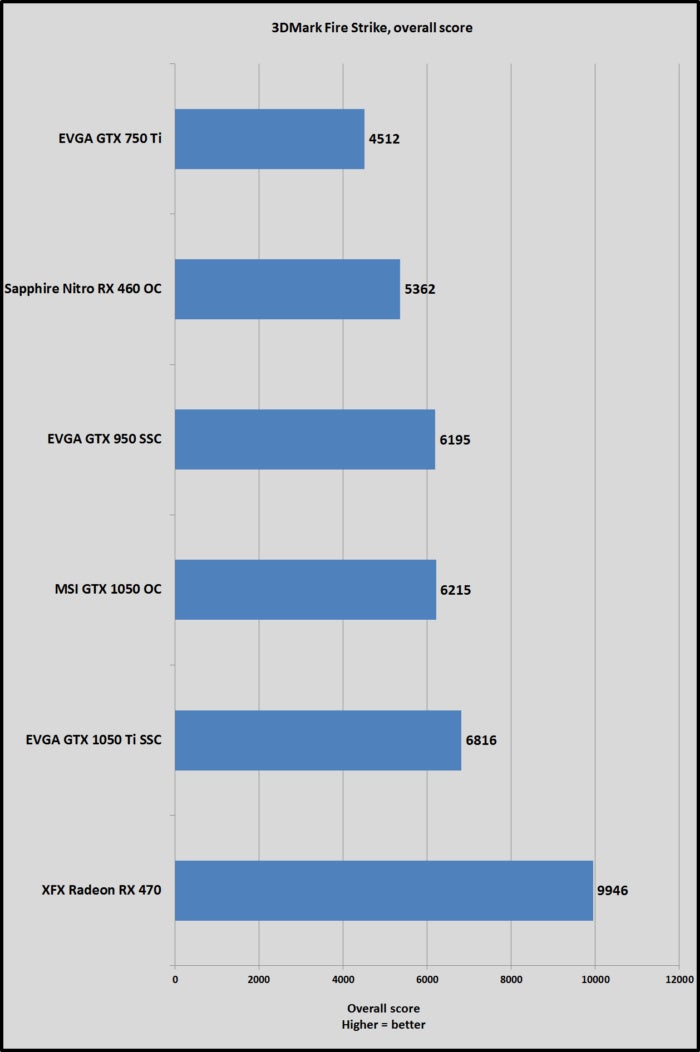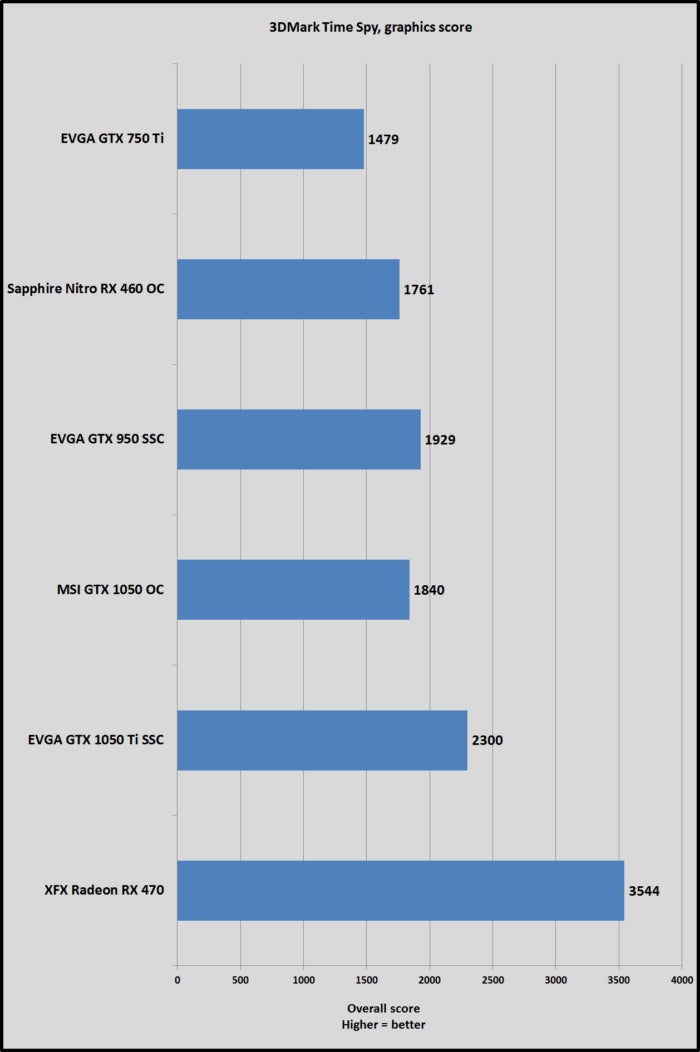 Everything falls about where you'd expect based on prior performance results.
Next page: Power and heat
Test 8: Power
We test power under load by plugging the entire system into a Watts Up meter, running the intensive Division benchmark at 4K resolution, and noting the peak power draw. Idle power is measured after sitting on the Windows desktop for three minutes with no extra programs or processes running.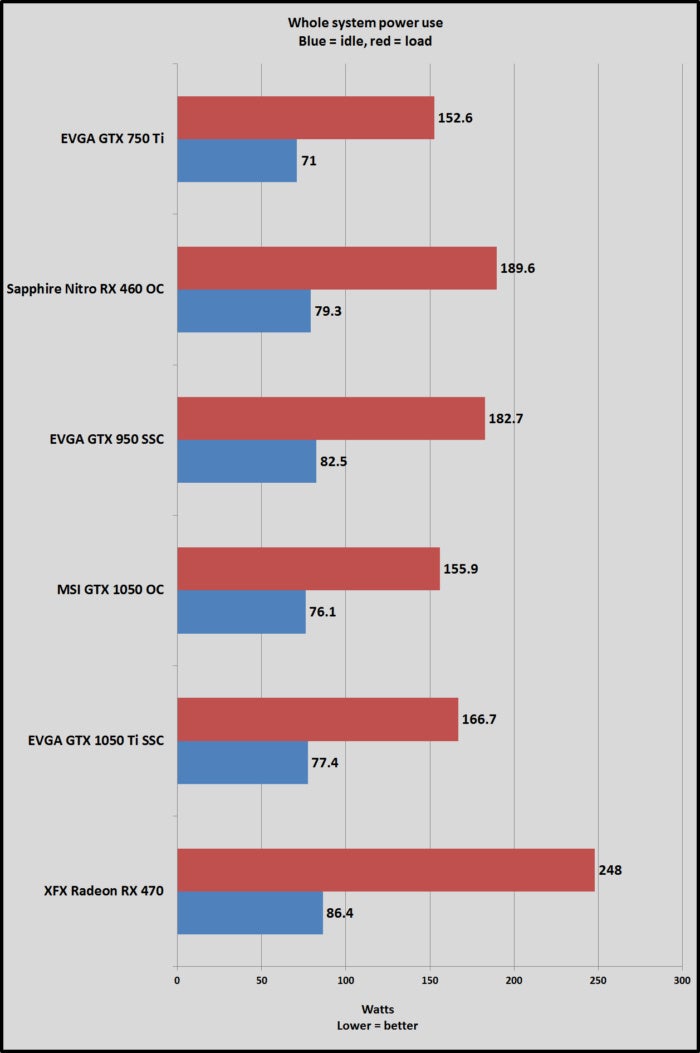 The GTX 1050 proves just as power-efficient as its legendary predecessor despite its big performance leap, while even the GTX 1050 Ti and its huge performance advantage sips nearly 20 watts less than the Sapphire Nitro RX 460 OC. That's not entirely surprising considering the latter requires a supplemental six-pin power connector… but it illustrates that Nvidia still holds a commanding power-efficiency lead over AMD's Polaris GPUs, even using a new 14nm process for this particular chip.
Test 9: Heat
We test heat during the same intensive Division benchmark, by running SpeedFan in the background and noting the maximum GPU temperature once the run is over. Being single-fan solutions, both the MSI GTX 1050 OC and the EVGA HTX 1050 Ti SC Gaming ran quietly even under load.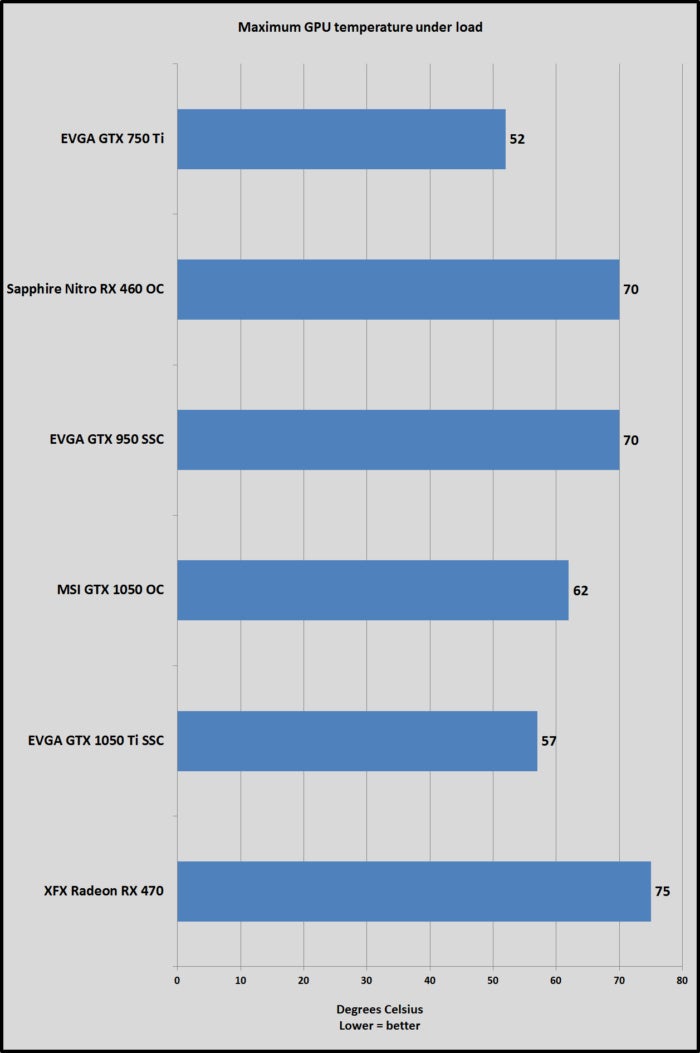 EVGA's ACX cooling solution can work magic, even in the older ACX 2.0 version found in the company's GTX 1050 Ti. The card stays a full 5 degrees Celsius cooler than the lesser-powered MSI GTX 1050, and both single-fan GTX 1050 cards stay significantly cooler than the dual-fan Sapphire Nitro RX 460 OC. In fact, only a single air-cooled card in all of our accumulated test results (beyond even what you see here) stays frostier than the GTX 1050 and GTX 1050 Ti: Their own predecessor, the GTX 750 Ti.
Next page: Bottom line
Bottom line
Nvidia truly knocked it out of the park with the GeForce GTX 1050 and GTX 1050 Ti. Not only are these graphics cards a worthy successor (and worthwhile upgrade) for the legendary GTX 750 Ti, Nvidia's cards are notably cooler, notably more power-efficient, and notably more powerful than AMD's Radeon RX 460.
Heck, even the $110 MSI GTX 1050 OC outpunches the $140 4GB Sapphire Nitro RX 460 OC by an average of 11.69 percent at Medium graphics, split between minor wins in half the games and flat-out embarrassing victories in the other half. The $140 EVGA GTX 1050 Ti SC Gaming—which is the same price as the 4GB RX 460 we tested—widens the gulf even further to a whopping 28.72 percent average performance advantage. And the GeForce cards manage that domination without the help of an additional power connector, unlike the 4GB Radeon RX 460, which means that Nvidia's cards can indeed slip effortlessly into prebuilt big box PCs.
Versus Radeon
It's not quite R.I.P. Radeon RX 460, but it's damned close.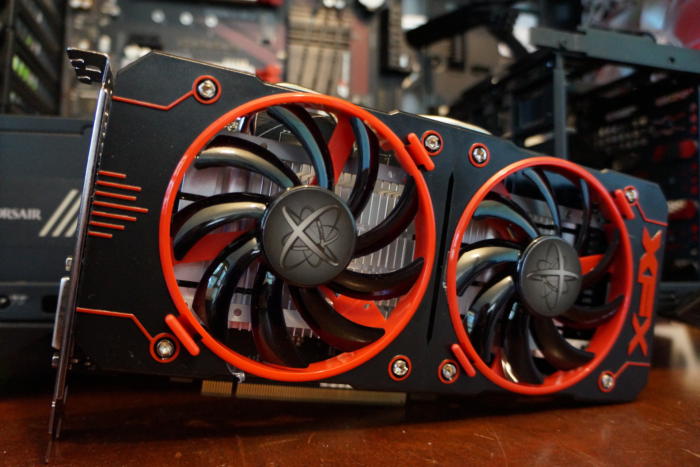 The GeForce GTX 1050 family wipes the floor with AMD's entry-level card in every traditional gaming metric, but AMD's cards still hold a major advantage when it comes to budget gaming: FreeSync monitors. FreeSync monitor are significantly cheaper than G-Sync monitors, starting at around $130 on Amazon for a basic 1080p display with a supported FreeSync range of 47Hz to 75Hz, and the gameplay-smoothing, tear- and stutter-killing joy of a variable refresh rate monitor can't be overstated. If you plan on buying a variable refresh rate monitor to pair with your new graphics card, a Radeon RX 460 and FreeSync display combination could be enticing, especially if you plan to stick with Radeon cards for the long haul.
But I'd recommend buying a GTX 1050 Ti and relying on its nearly 30 percent average performance advantage over the RX 460 and a FreeSync display in the vast majority of circumstances.
Another Radeon advantage: If you plan to slap a second card into your system at some point in the future, the Radeon RX 460 would be your only option, as the GTX 1050 lacks SLI support. Most people who buy graphics cards in this price range would be better off investing in higher performance today rather than accepting lower performance with an eye toward the future, especially if you're slapping a sub-$150 graphics card into a prebuilt computer. Most "big box" PCs don't include extra PCI-E slots anyway.
AMD's price cut for the Radeon RX 470 makes things interesting, as it offers far superior performance to Nvidia's new cards. At its new $170 "suggested e-tail price" (SEP), an RX 470 would only cost $30 more than a GTX 1050 Ti. But be wary: The vast majority of RX 470 cards still sell for $185 or up on Newegg (a 33-fpercent premium over the GTX 1050 Ti), and the cheapest ones charge you for shipping. More crucially, the Radeon RX 470 demands the use of a six-pin power connector, which nullifies its potential for upgrading a "big box" computer into a gaming rig. It also draws significantly more energy than the GTX 1050 and Radeon RX 460 through that connector, and throws off much more heat under load.
The Radeon RX 470 will rock your gaming socks if you have both the budget and the PC for it, but it's a totally different class of card than the entry level GTX 1050 lineup.
Versus Nvidia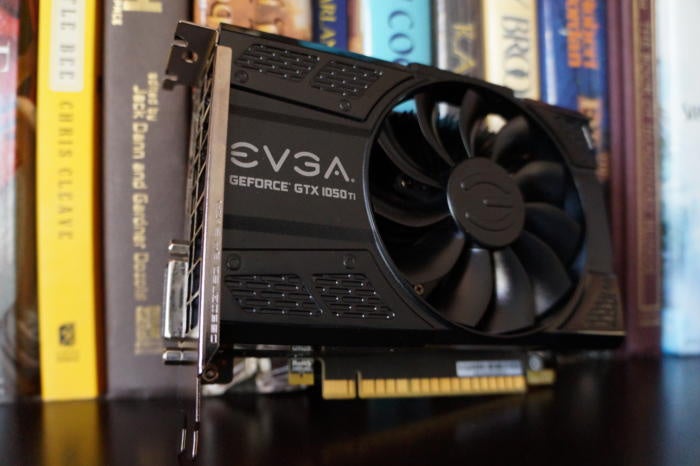 Nvidia isn't just competing with AMD though—it's also competing with older GeForce cards. The $110 GTX 1050 outperforms the older GTX 750 Ti by an average of 34.44 percent across our games suite at Medium graphics, hitting at least 50 frames per second in everything but Ashes of the Singularity. It's a worthwhile upgrade. The $140 GTX 1050 Ti beats last-gen's more potent GTX 950 by an average of 25.95 percent—a modest, but still sizeable leap made all the more impressive because the GTX 1050 Ti is powered wholly through your motherboard.
Snag the GTX 1050 if you'll stick to e-sports or less intensive games at Medium settings, but if you plan on holding onto the card for a few years, I'd suggest spending extra on a GTX 1050 Ti and its more future-proof 4GB of RAM. The GTX 1050 Ti also lets you hit roughly 60 fps with far more consistency than its lesser-powered sibling, as well as sneak in some higher-quality graphics settings. If you don't mind console-like frame rates, both of these cards clear 30 fps even at Ultra settings. Finally, between the card's superb power characteristics and support for HDR, 4K over HDMI, and more, these cards should be killer options for home theater PCs.
Bottom line: The MSI GTX 1050 OC and EVGA GTX 1050 Ti SC Gaming both kick ass. They're hands-down the best graphics cards options in the $100 to $150 price range. There's no need to upgrade to either from a GTX 950, but if you're moving up from an older-generation GPU, or simply want to turn a non-gaming PC into a gaming PC with minimal hassle, the GeForce GTX 1050 and GTX 1050 Ti come highly recommended.