At a Glance
Expert's Rating
Pros
Rich sound, strong bass, high volume.
4GB of onboard storage for music tracks.
Wire-free design is incredibly liberating.
Cons
Control interface is imprecise and annoying.
Battery life is alarmingly short and falls short of claims.
Heart rate data only appears on Samsung phones.
Our Verdict
Oh, it is indeed a flawed product. But there's no denying the allure of great sound, onboard storage, and a fully wire-free design.
You might need a leap of faith to insert Samsung's Gear IconX wireless earbuds inside your ear canals. Indeed, as Note7 owners showed us over the last few months, electronics packed with lithium-ion batteries can do double-duty as incendiary devices.
Samsung isn't the only electronics manufacturer to be bitten by the boom-boom battery bug, but when you put the Gear IconX inside your ears, you can't help but consider that you're placing two 47mAh batteries on either side of your skull, and, well… what if?
But this is the deal with cutting-edge tech. If you want truly wire-free earbuds with good sound, 4GB of storage for on-board music files, and heart-rate sensors for exercise data, you may have to take some risks.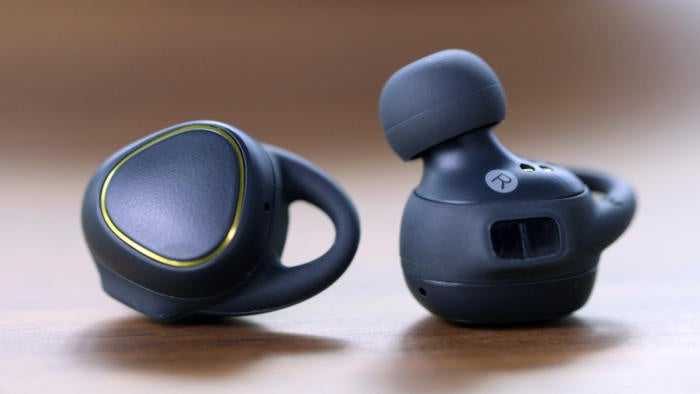 My time with the Gear IconX hasn't been trouble-free. Battery life hasn't met Samsung's claims, the control interface is annoying, and I had trouble with heart-rate reporting. But I can still recommend these earbuds ($199 on Amazon), especially for exercise enthusiasts who already use Samsung phones.
The bottom line is the earbuds sound great, and their positives outweigh their nagging negatives (if only just barely).
Design, comfort, and user interface
I'm a huge fan of completely wire-free earbuds. There are no tethers from earbuds to phone, and no tethers from ear to ear. It's a liberating experience, especially when you're exercising, arms a-flailing. The IconX make good on their wire-free promise, especially because I find them comfortable for earbuds in this category.
Samsung provides three sizes of rubbery eartips for customized fit, along with three sizes of wingtips that help keep the IconX stabilized in your ear sockets. Once properly adjusted, the earbuds just sort of melted away into my music listening and exercise experiences. They also stayed firmly planted in my ears, and I think only a serious tumble would dislodge them.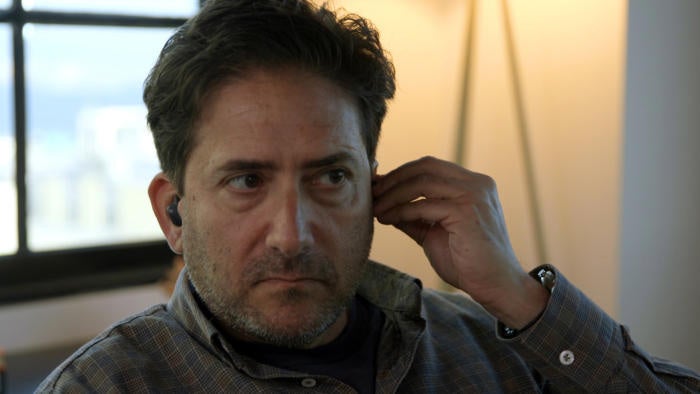 Unfortunately, it's not easy—or comfortable—to control the IconX from the touchpads on the earbuds themselves. You tap once to pause/resume; twice to skip music tracks; and thrice to play the previous song. I've been using the earbuds for the past two months, and still haven't found the exact amount of pressure or finesse to properly execute each gesture. The biggest issue is activating pause when I want to skip tracks.
I think part of the problem is that the touchpads have made me gun-shy: If you tap them with just a bit too much pressure, the impact on your ear socket lands somewhere between annoying and painful.
Mentioned in this article
Gear IconX
Price When Reviewed:
$199.99
Sound quality, dropouts, and ambient awareness
I'm not an audiophile, and I won't bore you with meaningless descriptions of the IconX's highs, mids, and lows. Wire-free earbuds are exercise earbuds, and when I'm working out, I mostly only care about volume and bass. The IconX are blissfully loud—easily loud enough to drown out the noise of exercise equipment. But even better, the earbuds sound lush and balanced across a wide dynamic range. Bass response is strong without sounding over-amplified, even for hip-hop and bass-heavy pop. Nonetheless, it took a happy accident to find the low end.
The earbuds come with the medium-sized eartips pre-installed, and for my ears, those tips deliver horrible bass. But swapping in the larger eartips created a much more snug fit, and bass response improved dramatically. Inexplicably, Samsung doesn't make any associations between eartip size and bass response in its user manual, and while I was happy with the comfort of the medium-size tips, it took some experimenting to discover I needed to size up for better sound.
Because all wire-free earbuds rely on Bluetooth protocols for connectivity, some degree of dropouts should be expected. Luckily, the IconX suffered zero dropouts when playing on-board music, and a relatively infrequent number when streaming music from my phone. Streaming dropouts increased whenever I moved my phone a lot, but these momentary annoyances—for example, three times during an hour-long hike—were never a deal-breaker.
The IconX are outfitted with microphones, making them able Bluetooth headsets for phone conversations. But those mics can also be enlisted by an ambient mode that lets you hear the world at large when music is blasting. I found the mic volume to be unnervingly loud as they picked up the crunching of leaves underfoot as I hiked up Mount Davidson—though I guess I should be grateful that I also heard the approach of speeding mountain bikers.
Music sources: On-board and streaming
The IconX include 4GB on-board storage for your music files, a feature you won't find in most of the wire-free competition. "Usable" memory is quoted at less than 3.5GB, but Samsung says this is still good for about 1,000 music tracks. Supported formats include MP3, M4A, AAC, WAV, and WMA v9.
Playing on-board music helps preserve battery life, which you'll be grateful for, as I explain below. Playing tracks from internal memory also grants a greater degree of personal freedom, as you won't need to carry your phone in your hand or pocket when exercising. All in all, the on-board music function is a killer value-add—with a not-so-killer user interface.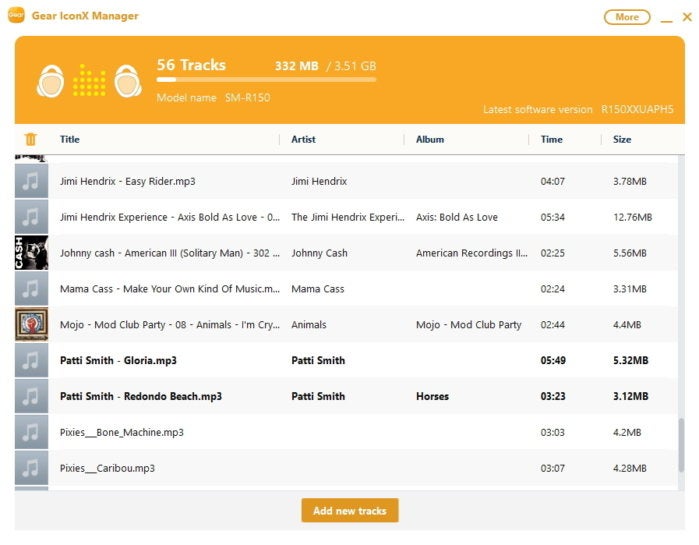 To load music into the earbuds, you connect the IconX to your PC via USB, then fire up Samsung's Gear IconX Manager desktop software, and dump music files from a local PC directory to the manager app. It's an easy process, but the app doesn't support playlists, and you can't change the order of tracks. In fact, if you don't want to hear the tracks in the exact order in which they were loaded into the IconX Manager, you have only one recourse: Choose the Shuffle option in the Gear mobile app to randomize playback.
As for streaming music, the IconX play any audio that would otherwise be piped through your phone's speaker or headphone jack. But, as noted above, the earphones did suffer dropouts if I moved my phone too much, and audio stopped entirely (obviously) whenever I walked away from my phone, and exceeded the earphones' effective Bluetooth range of approximately 30 feet.
Finally, like all Bluetooth earphones, the IconX suffer a bit of latency, and won't sync perfectly with video sources. This means that if you're watching a video of someone talking or singing, there will be a time delay between what you see on screen, and when you hear the words or lyrics. It's not an issue for abstract music videos, but it can be really annoying if you're watching a video interview or concert performance.
Heart-rate tracking and S Health integration
At CES 2014, Intel revealed a prototype for earbuds with built-in heart rate sensors, and the world thought it was science fiction. Today, heart-rate sensors are commonplace on earbuds geared toward fitness freaks, and now Samsung checks off the box on this value-add. The implementation is wonky, but if you're already using a Galaxy phone, you might be happy.
If you want to hear your heart-rate data directly through the earbuds, you can toggle on "Exercise audio guide" in the Gear app. From there, long-press one of the touchpads to start a workout session, and your heart-rate data (along with other exercise metrics) will be shared via a pleasant-sounding robot voice at specific intervals. You can choose between distance intervals (0.5, 1, and 5 kilometers) and time intervals (5, 10, 30, and 60 minutes).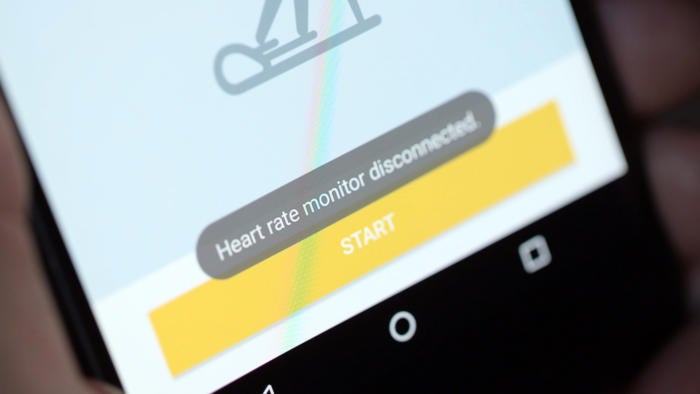 I ditched the American-accented robot for a posh-sounding British woman, but still found it annoying to have my music interrupted by my heart-rate numbers. The audio reports get even more disruptive when you start adding other data points like workout duration, distance, calorie burn, and speed. And you can't stop the robot from blurting out your data right in the middle of your favorite song.
The alternative is to view your heart-rate data in Samsung's S Health app. For example, you can choose to record data during an elliptical workout, and then watch a real-time report of your current heart rate in the app. This approach only makes sense if you have your phone within Bluetooth range, and you're exercising on stationary equipment. But here's the final gotcha: S Health will only recognize the heart-rate data if you're using a Samsung Galaxy phone. The IconX paired fine with the Galaxy S6 and S7 Edge, but when I used the earbuds with a Nexus 6P, Moto Z Droid, and Google Pixel XL, S Health would report "connecting heart rate monitor," immediately followed by "heart rate monitor disconnected."
Battery life and the bottom line
When you ditch your headphone jack for Bluetooth earphones, you suddenly have to worry about battery-life management. Samsung claims the IconX will deliver about 3.4 to 3.8 hours of continuous music when playing tracks off of on-board storage, and between 1.5 and 1.6 hours when streaming music from your phone. For some folks, those run times are already alarmingly short, but I found the earbuds conk out even faster than Samsung's claims.
When playing on-board music, the longest session I recorded gave me 2 hours, 40 minutes of continuous music. And I wasn't logging exercise data, which sucks more juice. When streaming music, I got 1 hour, 34 minutes, which aligns with Samsung's claims, but is still woefully short. Can you imagine a 1.5 hour restriction on your wired earphones? Welcome to 2016.
So, yeah, the Gear IconX are rife with problems. They're difficult to control, and don't always work as advertised. But, damn, they sound great and I can't stress how much I appreciate the freedom of a wire-free design and on-board storage. It's really easy to dump on the IconX, but the fact remains they would be my go-to earbuds for a bunch of exercise scenarios.