Switching from a Windows laptop to a Chromebook is possible only if you can live without any Windows programs.
But Chrome OS's newfound support for Android apps from the Google Play Store has opened up a loophole: A program from Codeweavers called CrossOver Android creates a Windows compatibility layer inside Chrome OS, letting users install and run traditional Win32 software.
As a proof of concept, this is an exciting development for prospective Chromebook owners. But CrossOver is still early in its development. As I discovered while testing out a preview version, getting your favorite Windows programs to work involves an unfavorable roll of the dice.
Crossing Over to Windows
CrossOver Android is based on Wine, the decades-old software that can run Windows programs inside of Linux, Mac, FreeBSD, and Solaris. Codeweavers, the company behind CrossOver Android, currently makes its living building user-friendly features on top of Wine and selling the product to Linux and Mac users.
Development on the new Android version of CrossOver began earlier this year, but the software isn't widely available yet. To access the preview, you must request a sign-up through the Codeweavers website, providing the email address associated with your Google Play Store account. That invite may take several days to arrive.
Even if you have an invite, you still need a Chromebook that supports Android apps from the Google Play Store. Right now, that includes the Asus Chromebook Flip, Acer Chromebook R11 (or C738T), and the Google Chromebook Pixel (2015 model). Many more Chromebooks will get Android app support later this year or next year.
Fortunately, there's no trickery involved in Installing CrossOver Preview on a supported Chromebook. Clicking the invite link in your email takes you to a Google Play Store listing, where you can opt into the beta program and then download the Android app like you would any other.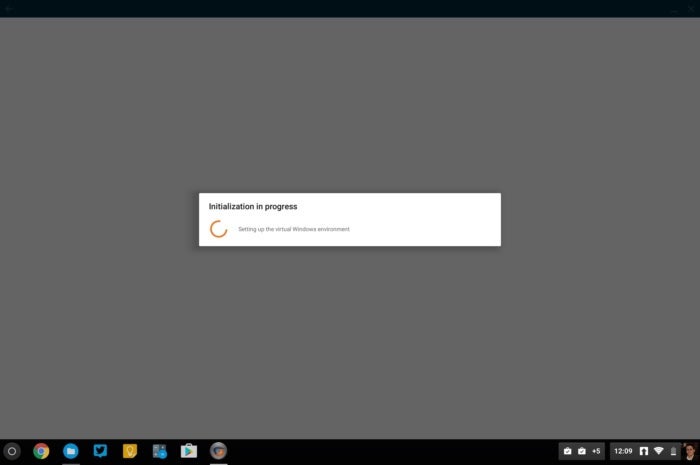 As with Wine proper, CrossOver doesn't require a copy of Windows. Instead, it opens up a Windows-like environment that vaguely resembles Microsoft's operating system, with a Start menu in the bottom-left corner and a desktop for app icons. A notepad, file explorer, and command prompt are built-in, along with a bare-bones Control Panel for adjusting internet settings, configuring game controllers, and removing programs.
At startup, you'll see a prompt to install one of several apps: Steam, Office 2007, Office 2010, or WinZip. Both Steam and WinZip download and install themselves automatically, along with any related software that's necessary to run them. For Office, you must provide your own installation files.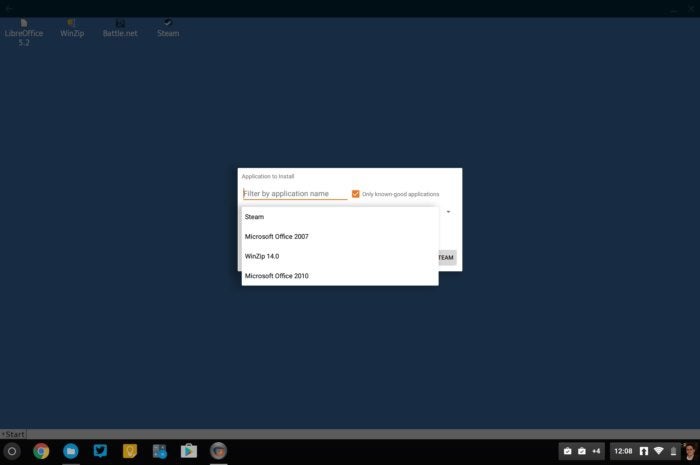 You're not relegated to just those apps, though. Within the software install menu, you can uncheck Only known-good applications and choose from a long list of other programs. CrossOver also includes a file browser, from which you can launch any .EXE or .MSI install file that you've downloaded onto the Chromebook.
That's where things start to go off the rails.
Some hits, mostly misses
I tested CrossOver Preview on a 2015 Chromebook Pixel, which immediately presented a challenge: The 2560×1700 resolution display of Google's luxury laptop resulted in small application windows with tiny, sometimes out-of-whack text. Although CrossOver includes some settings for window management and display resolution, adjusting those settings didn't solve the problem for all programs. (My guess: The programs that didn't look right aren't optimized for high-dpi displays. On my Surface Pro 3, for instance, Steam's window size looks fine, but the text looks fuzzy.)
The bigger issue, however, is that many of the programs I tested failed to work at all. Here's a rundown of what I tried, and what happened with each:
Steam: Installed successfully, although a "steamwebhelper.exe" error appears after opening the program. Steam also failed to recognize the desktop PC on my wireless network for in-home streaming, and would not open in Big Picture Mode.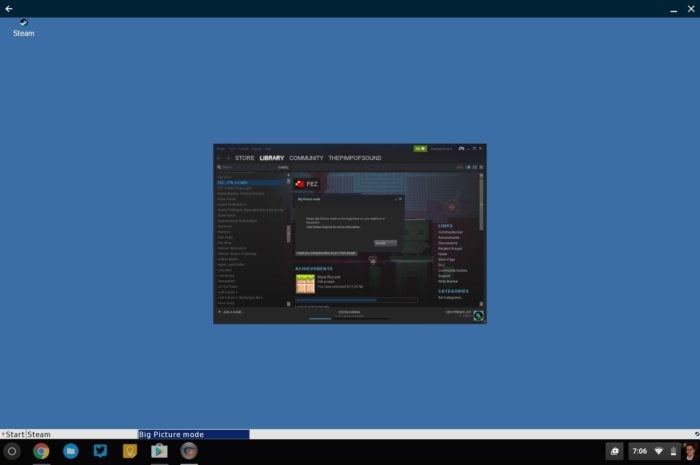 Steam games: I was able install and play the indie platformer Limbo. The other games I tested—Fez, Proteus, Gunpoint, and Mercenary Kings—either failed outright or required additional software such as Microsoft's .NET framework, which I could not successfully install.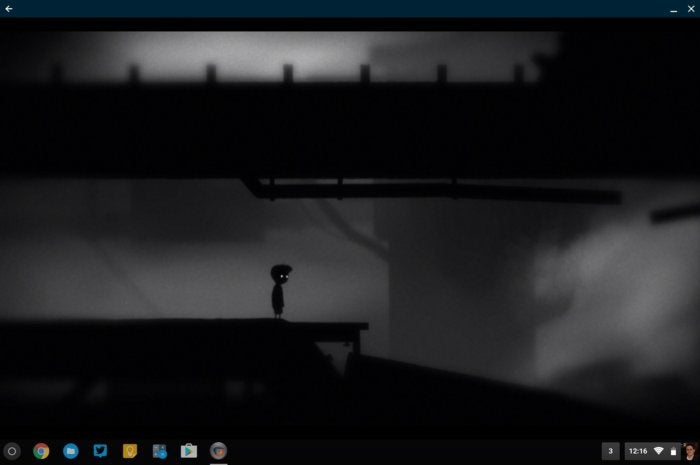 WinZip: Installed successfully, and managed to extract a ZIP file.
LibreOffice: Installed and worked like a charm.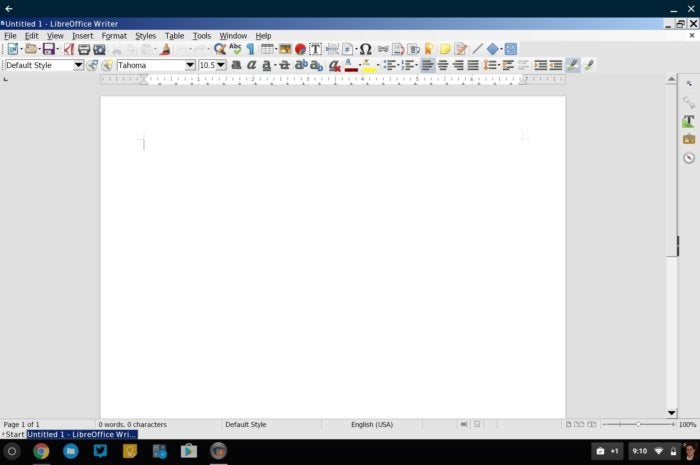 GIMP: Crashed during installation due to an "access violation" error.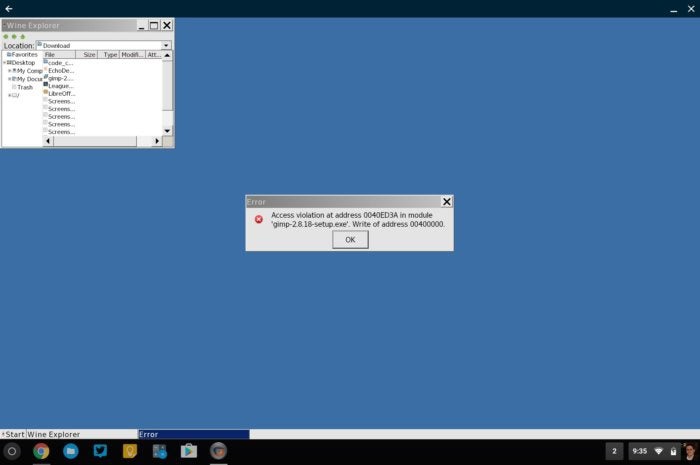 Paint.NET: Installation screen disappeared without explanation.
Diablo III: Requires Blizzard's Battle.net software, which installed but crashed upon launch.
League of Legends: Install screen showed only a black window that prevented any further progress.
LiveScribe: This note-taking program, which I rely on heavily for interviews, installed successfully, but crashed immediately every time I opened it.
To recap: Out of the eight programs I tried to install, only three of them worked. And if you count individual games within Steam, the success rate is just four out of thirteen.
Why the Windows loophole matters
In fairness, it's early days for CrossOver Android, so we can forgive the fact that many programs don't work. If Codeweavers were charging money for this software—as it does for the Mac and Linux versions of CrossOver—that'd be a different story.
But assuming Codeweavers can whip its Windows emulation into shape, it could be a big boost to folks who are on the fence about Chromebooks. While the Google Play Store already offers plenty of apps for productivity and file extraction (including mobile versions of WinZip and Office), some users still need particular features from the desktop version.
There are also plenty of Windows programs that don't have mobile versions at all. Personally, I can't get all my work done without LiveScribe, whose microphone-equipped pen lets me take interview notes with synced audio. It's the one program that prevents me from taking a Chromebook on work trips, which made its failure to run in CrossOver all the more tragic.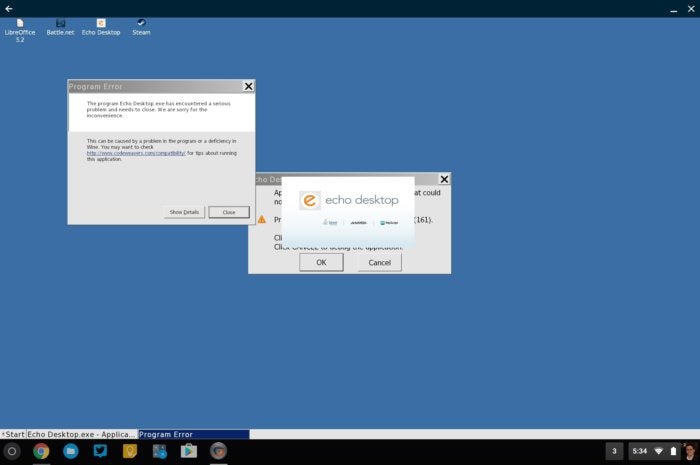 Why not just use a Windows laptop ? The best thing about Chrome OS is that it doesn't have any of Windows' overhead and bad habits (like automatic restarts that wipe out all your work). The idea of a leaner operating system could be alluring if you spend the vast majority of your time in a web browser, especially if you can still call on the occasional Windows program when necessary.
The challenge for Codeweavers will be to support not just blockbuster programs like Photoshop and Office, but the kinds of niche applications that keep people bound to the Windows ecosystem. With that extra crutch, Chromebooks could become much more appealing.