The gorgeous, powerful Surface Studio all-in-one PC may be a new form factor for Microsoft's hardware division, but in many ways it follows in the footsteps of its predecessors.
When Microsoft first launched its Surface tablets, the devices were more than just another laptop. The Surface series originated as aspirational devices, a no-guff imploration from Microsoft for PC makers like Dell and HP to embrace Windows 8's newfound capabilities, to do more—or Microsoft would take the lead itself. PC makers were pissed, to put it mildly. But over time, Surface became a multi-billion dollar business for Microsoft. Laptops and 2-in-1s from other vendors slowly became more Surface-like, with some—such as Lenovo's Yoga Book—pushing even further into radical designs that embrace Windows 10's touch-friendly features.
Mission accomplished.
So now Microsoft's turning its attention towards traditional PCs with the Surface Studio all-in-one, the company's first-ever desktop computer. It's yet another aspirational device built for a harmonious existence with the Windows 10 Creators Update's new content-creation features.
The Surface Studio takes direct aim at Apple's swanky Retina iMac. It's built around a 28-inch, 4500×3000 screen measuring a mere 12.5mm thick and housed in a forged aluminum enclosure—making it the thinnest LCD monitor ever built, Surface boss Panos Panay says. That's 63 percent more pixels than a 4K television, with a seamless 192 pixels-per-inch density, and all those pixels can be rendered in either DCI-P3 or SRGB mode on the fly with a single button press. If you know what that means, you're the Surface Studio's target audience: "creators and professionals," according to Panay.
Microsoft designed the Surface Studio's screen at a 3:2 aspect ratio to enable the AIO to render images at what it calls "True Scale." An inch on the screen translates to an inch in real life, letting creators see what their work will truly look like in the real world. The Surface team even designed the chrome arms holding the screen aloft to be as discrete as possible, so your sole focus remains on that gorgeous screen and the work at hand. The "zero gravity" springs inside those arms make shifting the screen smooth and simple, and the display can be laid all the way back to a 20-degree angle for a more natural position while drafting.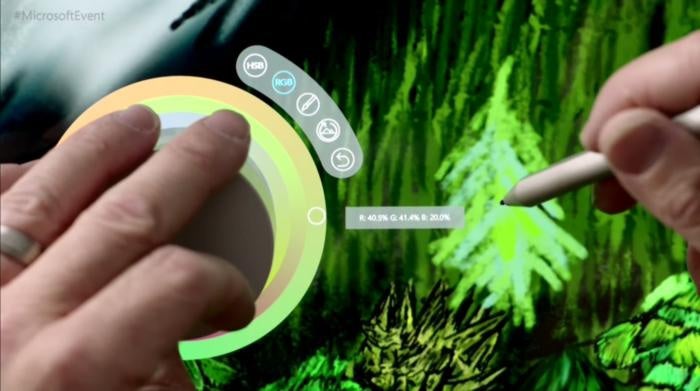 A crazy new input device dubbed the Surface Dial—which looks like a gray hockey puck—was introduced to supplement the Surface Studio, with support for the accessory built directly into the Windows 10 Creators Update. The $100 Dial provides easy access to various creation-friendly options while your other hand's on the keyboard or the Surface Pen, letting you flip through pages, swap brush styles, or recreate sketches with a twist of your hand.
The Surface Pro 3, Surface Pro 4, and Surface Book will also be compatible with the Surface Dial.
Inside the Surface Studio AIO
Powering that many pixels takes significant hardware oomph, and the Surface Studio doesn't disappoint. Microsoft's all-in-one packs a quad-core Core i7 processor, a 2TB "Rapid Hybrid Drive," an Nvidia GeForce GTX 980M, and up to 32GB of DDR4 RAM—a crucial addition for image and video editing—in its most tricked-out configuration.
Further reading: Microsoft's Surface Studio AIO by the numbers: Pricing and configuration details
The inclusion of a GTX 980M over the newer, more powerful GTX 1080 is a bit of a bummer. But the graphics processor should still be more than sufficient to handle creation tasks with ease, and even gaming—a use case the Surface Studio bolsters with native support for the Xbox One's wireless protocol, enabling you to pair a wireless controller to the AIO and put those Xbox Play Anywhere games to work.
The Surface Studio ties into Windows 10's core capabilities, too—not just the new 3D content creation and gaming features in the forthcoming Windows 10 Creators Update. The all-in-one packs a camera with support for Windows Hello biometric authentication support, and an integrated linear mic array so you can bark out commands at Windows 10's Cortana digital assistant. You'll also find audio input, an SD card slot, ethernet, mini-DisplayPort, and four USB 3.0 connections on the rear of the Surface Studio's base.
Much like the original Surface tablets, the Surface Studio pushes the boundaries of what's possible while taking aim at a competing Apple product—the 5K iMac, in this case. But this time, PC vendors are already experimenting with drawing-focused creation devices. Witness the HP Sprout and aforementioned Lenovo Yoga Book. The Microsoft Surface Studio looks damned sexy and like an impeccably imagined Windows 10 Creators Update avatar, but you have to wonder how Microsoft's hardware partners will react to this encroachment into traditional computing.
The price of the Surface Studio may alleviate those concerns a bit. Microsoft's slick all-in-one will be available for preorder today starting at a cool $2,999 before launching in "limited quantities this holiday season." A fully loaded version costs $4,199.