At a Glance
Expert's Rating
Pros
Stunning OLED display
Superb all-around performance
Small and compact
Cons
Keyboard gets warm under taxing worklaods
A bit heavy for its size
Our Verdict
This 5-pound laptop is one sweet little machine, even if it's a bit heavy for its size. If you can deal with that weight, you get an extremely well-rounded machine that excels in every way possible.
Best Prices Today: 13 (2016)
Not long ago, we got our hands on a 2-in-1 notebook with an OLED screen—the Lenovo Thinkpad X1 Yoga—and were mesmerized by its display. It's one of those technologies that once you see it with your own eyes, you can never go back to the old way of things. You become that person at parties who says, "You're still using an LCD? I used to have one of those in 2015."
With the launch of Alienware's all-new 13-inch notebook, the Alienware 13, mobile gamers can now finally experience the revelation that comes with gazing upon an OLED panel. Though this technology has had some issues coming to market, it's been trickling out over the course of this year—and putting LCDs on notice. Once seen as crisp and high-res, LCD panels suddenly seem pixelated, washed out, and nowhere near as vibrant when compared to OLED. The Alienware 13 was my first time experiencing an OLED panel in person, and I assure you it's stunning—to put it lightly.
In addition to the snazzy display, which also supports touch gestures, this surprisingly small and dense notebook sports top-shelf hardware throughout. Its Nvidia GTX 1060 GPU makes it VR-capable (it's the first sub-14-inch notebook we've seen that is), and it also supports Alienware's Graphics Amplifier technology, if you decide you need more ponies under the hood in the future.
The display
The basic deal with OLED displays is that they reproduce much richer colors than LCDs, and also deep, dark black, which makes an LCD's black look gray by comparison. Overall sharpness and saturation are also way beyond what I've seen on LCDs over the years. OLED panels are more energy-efficient than LCDs, too, so it makes perfect sense for a notebook to be rocking one of these.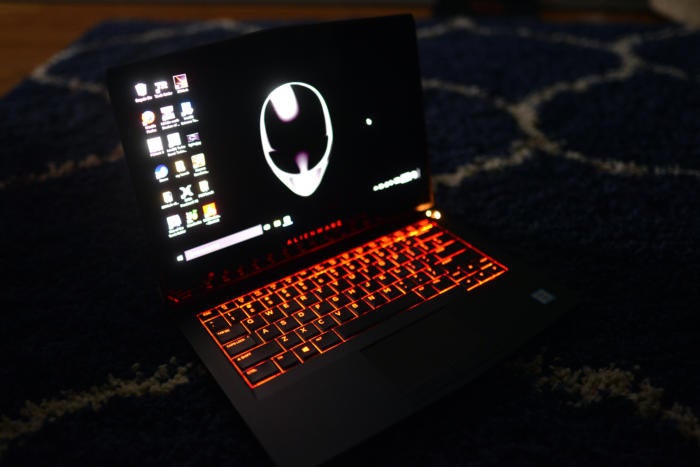 This Alienware laptop has an OLED panel that runs at 2560×1440, despite being just 13.3-inches in size. If you're not in to OLED due to price, its "velvety" look, or what have you, Alienware also offers the 13 with either a 1366×768 TN or a 1920×1080 IPS panel, both LCD.
I recommend the OLED option, though. Like that line in Ferris Bueller's Day Off says, "It is no choice. If you have the means, I highly recommend picking one up."
The chassis
Like the display, the Alienware 13's chassis offers something unique. Instead of being a bland, plastic slab, the Alienware 13 is angular and has the look of chiseled metal. And despite being still mostly plastic (the lid and underbelly are all aluminum, though), it feels incredibly rigid. The overall construction just seems dense, like there's not a single area inside the notebook that's hollow.
This feeling of density is also due to the Alienware 13's weight, which tilts the scales at almost 5.5 pounds. That's heavier than other 13-inch gaming laptops by about a pound or so. But the solidity is reassuring, and even things like the display hinge are tight and offer zero flex whatsoever.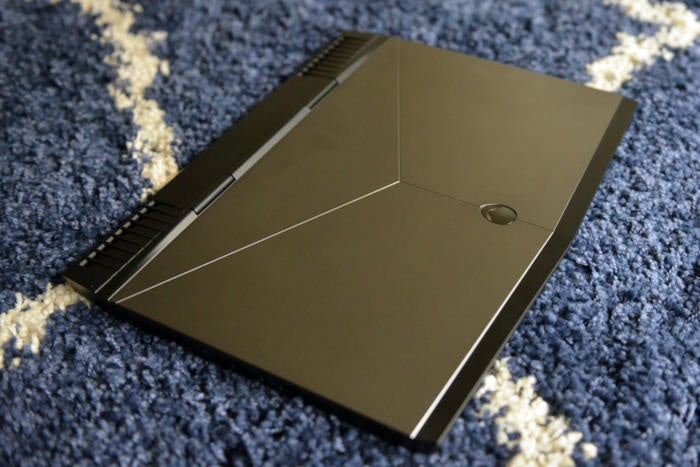 Speaking of the hinge, it's part of a redesigned chassis for this updated model that Alienware calls a "hinge forward" design. The screen sits about an inch forward from the rear of the chassis (instead of flush, like on the previous model), so the laptop looks like it has one of those extra-big batteries installed. Alienware says this design choice allows it to offer more rear ports, larger fans for increased cooling without additional noise, and an improved speaker system.
The company also says that the redesigned chassis is "up to 21 percent thinner" than the previous model. In my opinion, the new look is much more streamlined and a big improvement over the previous (and chunkier) model. Alienware also improved the finish on the plastic used for the palm rest to prevent fingerprints and smudges, and it works beautifully.
As far as ports go, this 13-inch laptop has almost as many ports as a bigger system. There are two USB 3.0 Type A ports, one Thunderbolt 3 port, a USB 3.0 Type-C port, gigabit ethernet, HDMI 2.0, Mini DisplayPort 1.2, audio out, a lock slot, and also jacks for a microphone and headphone. There's also an Alienware Graphics Amplifier port.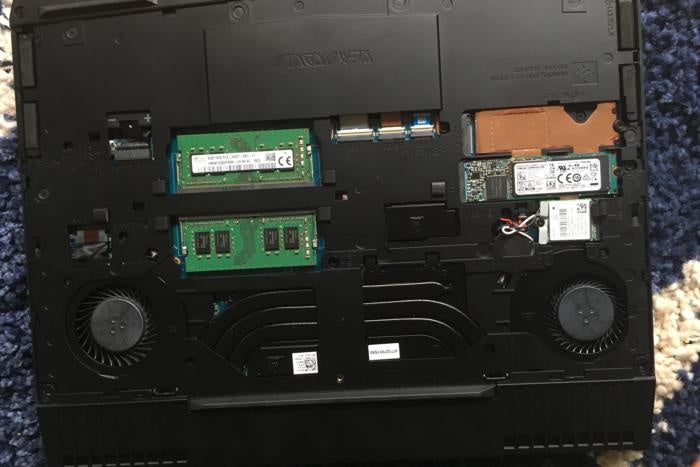 The laptop is also easily upgradeable, though the only components you can really access are the memory and the SSDs. In our test system, one of the M.2 modules was empty, and the RAM was in plain sight after removing the bottom lid.
The hardware
Of course, this laptop has more going for it than its display and chassis. Under the hood you'll find an Intel Core i7-6700HQ—a quad-core mobile part with HyperThreading, for eight logical cores. Its base frequency is 2.6GHz, but it can boost up to 3.5GHz when it needs to. On the GPU front, the 13 packs a GTX 1060 mobile part, which is designed for high frame rates at 1080p with settings cranked. This version of the 1060 comes with 6GB of memory in case you want to game at the panel's native res of 2560×1440.
Our review model also had 16GB of DDR4 RAM running at 2,400MHz, but you can configure one with as little as 8GB if you're on a budget. For storage, it ran a lone 512GB PCIe-NVME SSD from Toshiba, but you can also opt for dual 1TB PCIe SSDs: one for the OS and one for data. When we fired up AS SSD, the drive benchmarked about 1.4GB/s in sequential read speeds, and 900MB/s write speeds.
Keyboard, trackpad, and speakers
The RGB lighting on the Alienware 13 deserves special mention, since it's got more features than you'd normally expect. Not only can you select the color of zones across the keys, but you can pick the color of the trackpad, the Alienware logo below the display, and the alien head on the lid of the laptop. All in all, it adds up to eight different lighting zones, which is double what is typically offered.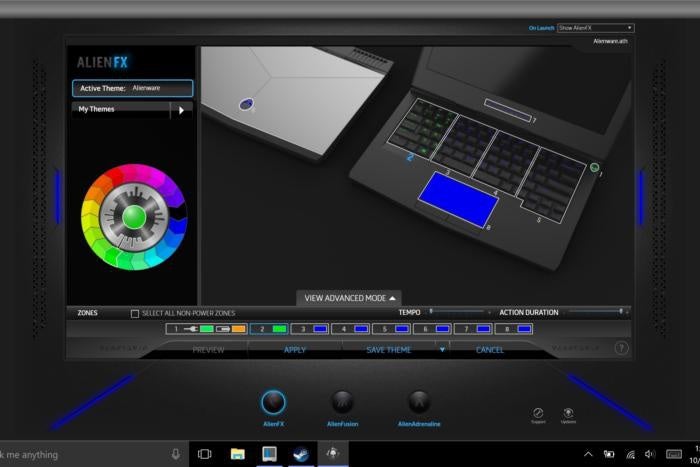 The TactX keyboard is superb. Though it's not mechanical, it has a similar travel and actuation design, with "steel-reinforced" keys (whatever that means). The bottom line is that the keys feel perfect in my opinion. I typed on this machine all day, and it was glorious.
The trackpad is a little skittish for my taste, but reducing its sensitivity helped a lot. Generally, I had no issues using it. It supports gestures, too, and switching from a MacBook Pro's trackpad to this Alienware's felt pretty natural.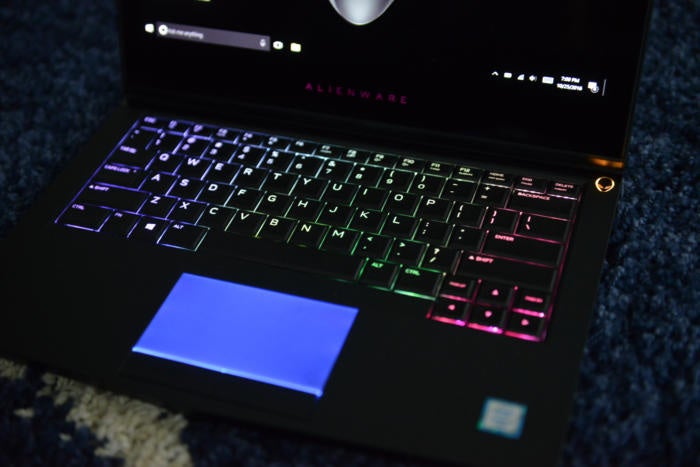 The speaker system is surprisingly good for a laptop this small. Alienware includes sound customization software for both gaming and multimedia, and it's quite effective, allowing you to customize the sound easily. I was impressed with the overall volume and the clarity among vocals, bass, and midtones. I'm not an audio snob, but I thought these speakers sounded better than the sound systems I've heard on much larger laptops.
Performance
Okay, let's get down to the nitty-gritty. We ran this baby Alien through our usual gauntlet of gaming and CPU tests to see how the overall system held up to torture. We don't have many 13-inch gaming laptops to compare it to, so the benchmark charts include results for bigger systems. Its closest peer here is probably the 15-inch MSI GS63VR Stealth, which has the same CPU and GPU.
3DMark Fire Strike Extreme
This synthetic test is usually quite accurate in helping sort GPUs by their overall ability. Since the GTX 1060 is a midrange GPU, we're using the Extreme test as opposed to the more gnarly Ultra test.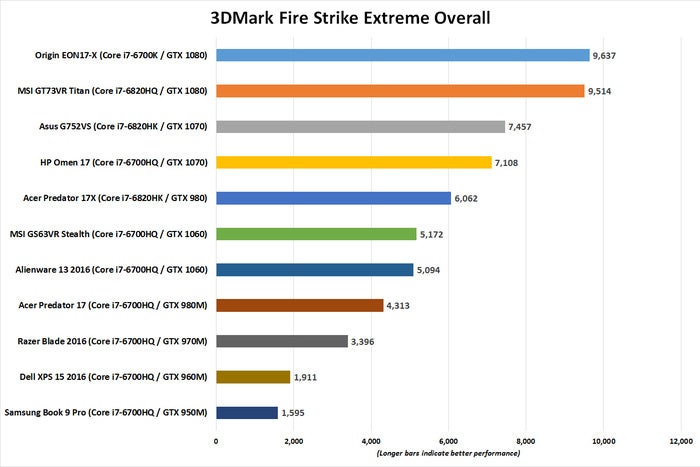 In general, laptops perform as you'd predict in this test, so if there are any irregularities with a laptop's hardware, they usual reveal themselves here. Because the benchmark focuses primarily on GPU performance, we expected the Alienware 13's GTX 1060 to match the performance of other laptops with the same GPU (most notably the MSI GS63VR). As you can see, the two notebooks were extremely close, with the MSI holding a minuscule 1.5 percent advantage, which is within the margin of error for this test.
Tomb Raider
This game has aged, but it can still put some strain on a GPU. Because it's an older game, we run it using the Ultimate preset, which used to be reserved for flagship GPUs but can now be run with cards like the GTX 1060.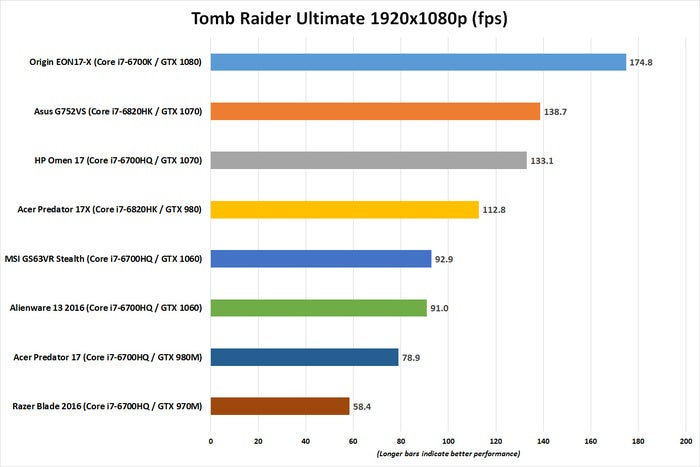 Despite the GTX 1060's midrange status, it's still quite powerful, and was able to run this game on Ultimate at 91 frames per second. That's an amazing boost for what you can expect out of these smaller gaming notebooks. Not surprisingly, both GTX 1060 laptops we've tested so far offer the same level of performance, with the MSI notebook running at 93fps.
Middle-earth: Shadow of Mordor
We also tested the Alienware 13 with this newer, more demanding title—its 4K texture pack can gobble up a GPU's onboard memory.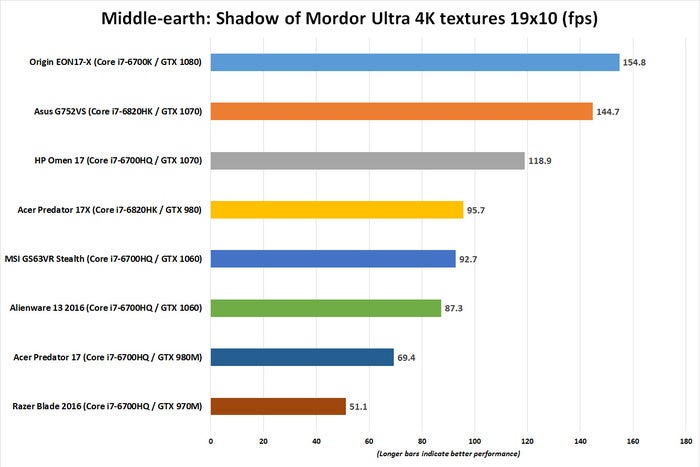 At 1080p, the Alienware 13 still ran this game at 87.3 frames per second. That's plenty awesome, but, again, a bit slower than the MSI GS63VR, which was 5 percent faster despite sporting the same hardware. Perhaps the MSI has better cooling and allowed the GPU to spin up a bit more.
Handbrake
This real-world encoding benchmark is a CPU test through and through, measuring how long it takes a system's processor to chew through a 30GB MKV file and spit out a smaller MP4 file using Handbrake's Android Tablet preset. This test scales well according to clock speeds and core counts—so the more, the better on all fronts. It's also a good test of a notebook's thermal design, as better cooling will allow the CPU to run at higher clock speeds and thus finish the test faster.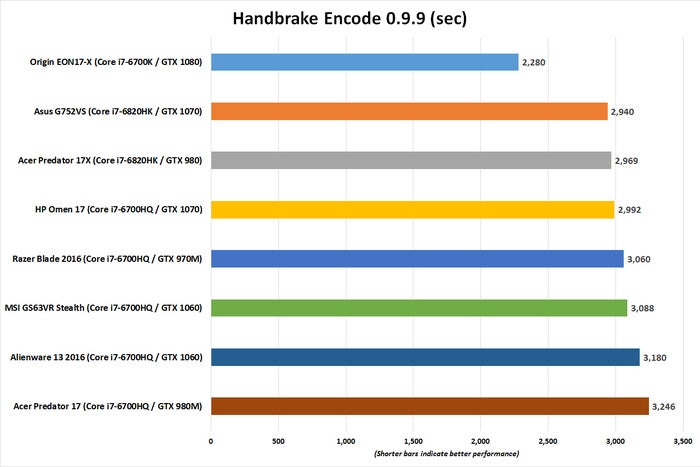 The Alienware 13 took 53 minutes to complete this test, again just a tick slower than the MSI GS63VR's 51.5 minutes. This kind of backs up our theory about the MSI having marginally better cooling, as we noted the Alienware 13 didn't run at its maximum clock speed of 3.5GHz during this test. It instead hummed along at about 3.1GHz for the duration.
Battery Life
Despite its small size, the Alienware 13 packs a hefty 76 watt-hour battery. For comparison, the Origin EON17-X, which is the size of a small ocean vessel, has a 79 watt-hour battery, and the MSI GS63VR offers just 65 watt hours. We don't normally pay too much attention to battery life in gaming laptop reviews, but a system this size is certainly designed to be taken on the road, so this information is as important as any about gaming performance.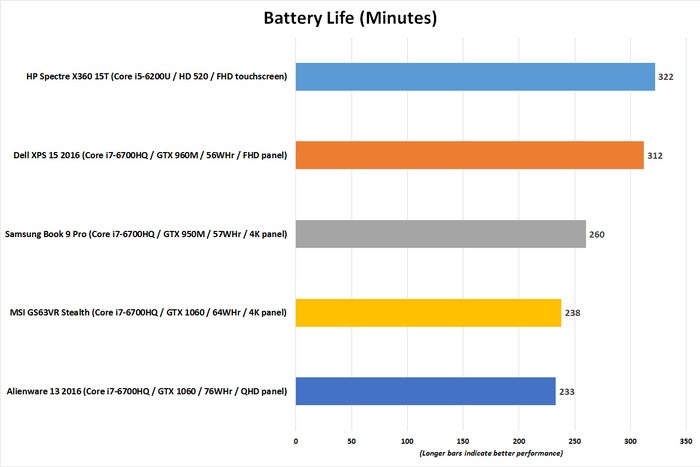 With the keyboard lights disabled, I ran our 4K video rundown test, which involves playing a 4K movie file on loop until the battery dies. The screen brightness was set between 250 and 260 nits, which is about what you'd set it at in an office environment, and I left audio on with earbuds plugged in.
The Alienware 13 lasted about four hours in this benchmark, which falls into that area between "terrible" and "awesome" from a real-world perspective. However, it's what we expect from a battery of this size, in a machine with this level of hardware. It's certainly long enough for a movie or two on a flight. You won't always have to chain yourself to an outlet, like you would with some ultra-powerful gaming notebooks.
Conclusion
The Alienware 13 is one sweet little machine. For its size, it's a bit heavy, but in exchange you get an extremely well-rounded laptop that excels in every way possible.
From its slick design to its performance, battery life, and OLED display, it's exceptional in every metric we usually examine. I'd say the only real "issue" I had with the Alienware 13 is that it can get a bit hot when gaming—enough heat billows out of the chassis that you can feel it on the keyboard. It's not too bad, since most of the heat generates at the top of the laptop, near the display's hinge, and the palm rest never gets warm. But you can feel some warmth on the keys after about 30 minutes of running it under load.
Also, just for fun, I ran a few tests at the panel's 2560×1440 native resolution. If you thought the GTX 1060 was strictly made for 1080p gaming, think again. The 13 ran Rise of the Tomb Raider on the highest setting at 42fps, and Shadow of Mordor at 60fps on Ultra.
That's amazing for a 5-pound notebook, and though you'll want a set of headphones to block the fan noise, this notebook is an extremely competent mobile battle station. At $2,099, it's expensive, but we'd rather have this than one of the monstrosities that usually populate this product category. We have nothing against ultimate firepower, obviously, but we really like the 13's balance of power, gaming prowess, and portability. That's a difficult balance to achieve, but Alienware has hit the nail on the head this time around.
Best Prices Today: 13 (2016)